While there may be a more relaxed dress code and fewer white tablecloths at fine dining establishments today, the quality of service and the menus remain in the upper echelon of dining.
The $10.5 billion fine dining segment of the restaurant industry appears to be a segment in flux, in part because of the effects of the COVID-19 pandemic, but also because customer expectations continue to change. Chefs and owners see a customer base that embraces a more casual attitude toward dining, yet still expects to be "wowed" when dining at four- or five-star restaurants.
"We no longer call it fine dining," says David Chislett, executive principal for Colorado-based Ricca Design Studios. "We refer to it as 'finer dining', the argument being the fine dining of old is dead. It is relatively rare today to have white tablecloth restaurants. There is still the high-quality service and food, but not all the trappings of fine dining."
Chislett explains the driving force behind this trend is basically a generational shift from Boomers to Gen Xers and Millennials, who have the disposable income but not the desire to get dressed up just to go to dinner.
"Customers are looking for the service to match the dollars they spend," Chislett adds. "They may be dressed business casual and the server may have jeans on, but the expectations are still the same. The challenge is understanding the market as the demographics shift and responding to it appropriately."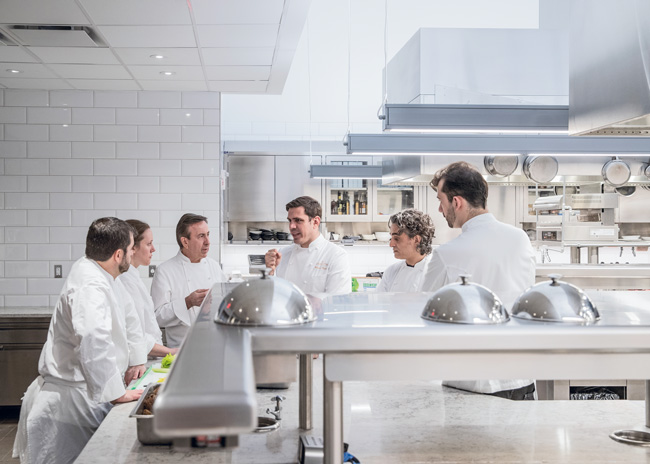 Daniel Boulud (third from left) instructs fellow chefs in the kitchen of Le Pavillon in New York City.
The Scourge of COVID-19
But fully absorbing this cultural change has taken a back seat to dealing with the effects of a global pandemic. COVID-19 has had a deleterious effect on eateries in all segments. As businesses begin to operate again in a semblance of normality, restaurants struggle to regain revenues lost while they were shuttered or at least seriously hamstrung by social distancing rules, mask mandates and customers who, even after vaccines became widely available, remained hesitant to gather in indoor spaces or large groups.
This has been particularly true for the fine dining segment. Arguably the hardest-hit restaurant group, operators saw revenues decline by nearly 43% in 2020, according to the IBISWorld report, "Fine Dining Restaurants in the U.S." The Los Angeles-based research firm's data revealed that more than 850 restaurants closed either temporarily or permanently last year and predicted that average "profit" for the year could total as much as negative 9%.
Still, foodservice designers who work within fine dining say much cause for optimism remains, even as the aftereffects of the original COVID-19 shock reverberate. But they acknowledge operators still must overcome some challenges.
"There are supply chain problems," says Leif Billings, vice president, Northeast region, of consulting firm Next Step Design. "If you are building a restaurant, lead times have become a huge challenge. We are seeing lead times of 20 to 26 weeks for some items. We have seen some factories shut down, then reopen, then close again because they can't get product."
Billings adds that, in addition to delivery delays, prices for many items have skyrocketed. For example, stainless-steel prices have soared 300%, "and fine dining restaurants use a lot of custom fabrication," he notes. However, he adds that the costs of lumber and millwork have begun to come back down.
Another major problem is labor. According to IBISWorld, the segment lost 40% of its workforce in 2020, and staff seem reluctant to return. The research firm expects fine dining operators to increase wages in an effort to attract more workers but adds that this challenge could persist for the next five years.
One major bright spot for this segment has been restaurateurs' ability to shift gears and — like other segments — capitalize on takeout and delivery service. While most iterations were of the simple order-online-and-pickup-curbside variety, some operators went out on a limb successfully by doing delivery.
One example, according to Billings, was Cote Korean Steakhouse in Manhattan. The owners broke down the restaurant's downstairs bar and set up a meal-delivery service. They packaged all the ingredients for a Cote meal, along with cooking instructions. Cote began by delivering locally but has since made the service national.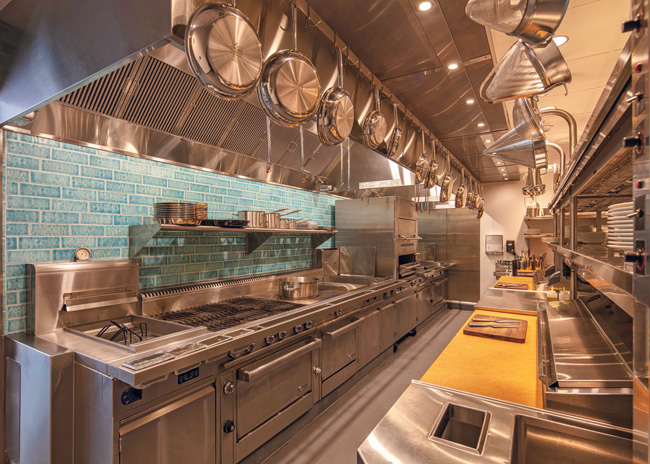 Hunter Wells, chef/owner of Hunter Restaurant in East Norwich, N.Y., calls the kitchen's straight-line design "the heart of our house."
Quest for Fire
Apart from COVID-19, fine dining continues to see shifts in the back of the house as chefs and owners look for new ways to dazzle customers. In so doing, some designers report one trend popular 5 to 10 years ago is slowly fading away: the open kitchen.
"The trend of exhibition cooking is reversing," says Sean Callnin, executive principal for Ricca Design Studios in its Greenwood Village, Colo., office. "Even high-ends don't want to show off their kitchens, or even part of their kitchens." The reason, he notes, is that open kitchens are static. Once they are open, they are not easy to change, and operators are discovering they like the ability to pivot quickly when trends suggest it.
"Not having your kitchen open allows for quick conversions, repurposing of equipment," says Callnin. "This means that your most important pieces of equipment are your most versatile." He includes in that category multiuse convection ovens, flattops and fire protection systems that are installed in such a way as to allow equipment to be moved around easily.
But a growing number of operators are turning to equipment that will allow them to use that oldest of cooking methods: fire.
"Almost every high-level operator we're dealing with wants some level of solid fuel for their restaurants, even if it's just a simple charcoal grill that costs a couple of hundred dollars," says Billings. "You get amazing flavors from solid fuel that you can't get from gas. They are building them in their kitchen suites and even putting them on their garde-manger stations."
Chislett says a South Carolina restaurant known for its charcoal-fired oysters installed two charcoal ovens, one on each level of the restaurant. "They invested heavily in those, even though customers can't see them, because they are critical for the menu," he explains.
And when solid fuel isn't an option? You improvise, says Billings. When chef Hari Nayak moved away from his original plan to install a solid fuel cooker in his New York City restaurant, Sona — the cost of the exhaust system was prohibitive — Next Step Design worked with an equipment manufacturer to develop a gas-fired "knock-off" of the charcoal oven he originally intended to purchase. The oven comes complete with smoker drawers and uses ceramic briquets to mimic the real thing.
"The chef is happy," says Billings. "It's not the oven he wanted, but it's not preventing him from executing his menu."
Best of the Rest
The old ways are still bringing plenty of cutting-edge equipment to fine dining. Sous vide technology has been embraced by many chefs. Billings says that some restaurants have installed sous vide at traditional stations to enhance flavor and speed up the service process.
"And there's always a combi oven on the line," Billings adds. "It used to be, you had to push chefs to install one. Now, they're demanding it. Younger chefs do want the fancy controls, they do want to link it to their phones."
Chislett points out that chefs continue to experiment with equipment, new and old, to try to create new flavors or make old ones bolder.
"There is still a push to a wider variety of cooking methods," Chislett says. "Dehydrators, circulators to spin certain elements out to enhance flavor. Blast chillers are being used in ways you wouldn't imagine to bring foods down to a deep temperature and then, say, pulverizing them. We have technology to infuse vodka, which is being used to infuse vegetables.
"Cooking technology may be 'de-skilling' cooks, but it is also enhancing consistency, so it is helping with the labor issue. And you don't need to pay for higher-skilled cooks if you have the technology to back you up," Chislett says.
Callnin says that the rise of ventless technology has also given chefs and operators a new weapon in their cooking arsenal: "the ability to create stations where you couldn't before, which gives you more menu flexibility."
View this post on Instagram
What's on the Menu?
Fine dining menus are a battleground of sorts between chefs and customers. As Chislett, a trained chef, notes, "People come back to a restaurant for particular items. But chefs don't want to keep making the same food. So many chefs have their 'greatest hits,' but they also create tasting menus that are rotating. It keeps the chefs fresh and crisp and clean, and it gives customers something they can't get at home."
The locavore movement helped chefs. By using local foods as much as possible, they reduce their restaurants' carbon footprint and turn the menu into a seasonal one that is less predictable and keeps customers coming back to see what's new.
But if one fine dining trend is overarching, it would have to be the shift to plant-based menus. Restaurants around the world have been conceived as vegetarian or vegan, and several well-known existing establishments have rewritten their menus to reflect this new reality. The trend has become so common that Michelin has created a rating system to award stars to top-flight plant-based restaurants.
The most recent example is Eleven Madison Park, the Manhattan restaurant opened by Danny Meyer's Union Square Hospitality Group and now owned by chef Daniel Humm. When the restaurant reopened in June, after being closed for more than year due to the pandemic, the menu was not only plant-based, it was completely vegan. Ruth Reichl, former restaurant reviewer for The New York Times, told The Times that the impact of that restaurant's rebirth could rival that of Chez Panisse, Alice Waters' groundbreaking Berkeley, Calif., restaurant when it opened in 1971.
But what does the kitchen of a plant-based restaurant look like? According to Billings, pretty much like an omnivore's cooking space.
"We are currently working on a high-end plant-based concept in New York City," Billings explains. "The overall amount of cooking equipment is possibly just a little bit less than a typical kitchen, but they are using all the same type of equipment: combi ovens, sous vide, binchotan grills, convection ovens, fryers. I think we are going to get away with slightly less walk-in cooler space because you don't have to refrigerate many types of produce versus meat and fish. "One thing that I thought was unique is that they are going to use a meat-aging cooler to age their plant-based cheese."
From plant-based to local ingredients, fine dining menus match much of the same trends seen across foodservice segments. The biggest difference comes in the execution, with service, style and presentation all a major influence in today's finer dining sector.