Frictionless service and market-style models are fast becoming concession norms.
When it comes to concession design, gone are the days of the "belly-up" models that led to long lines and wait times for food. These days, sports venue operators and consultants in that arena continue to build foodservice programs based on the type of experience customers want — frictionless, easy, convenient and best of all, fast.
"What's happened is everyone is switching to the order fulfillment, speed-of-service model where you order on one end and pick up your food on the other," says Kristin Sedej, president of Chicago-based S2O Consultants Inc. Another newer model, she notes, is market style.
Regardless of the model, not all concessions are equal because not all stadiums are equal. "A college football team may have home games only six times a year and an NFL team up to nine home games now, but baseball can have 81 games," says Chris Bigelow, FCSI, founder and president of The Bigelow Companies Inc., based in Kansas City, Mo. He notes that this has an impact on the foodservice operations and on design. All arena concessions share a "need to allow customers to get in and out quickly so they can get back to their seats to watch the game," he says.
Newer design methods enhance the customer order and pickup process for concessions.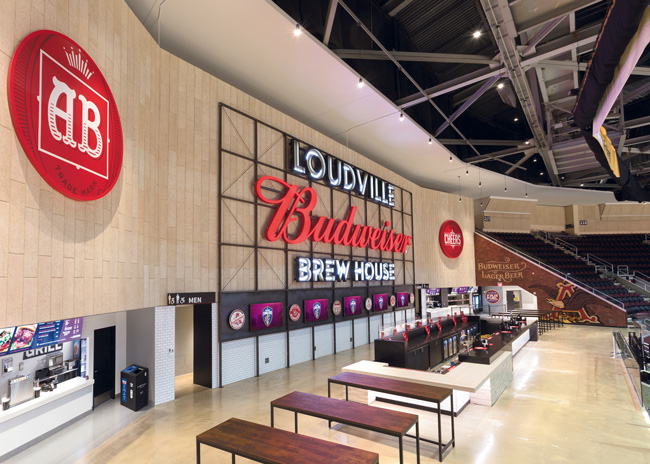 Image courtesy of Budweiser Brew House
Styled-Up Speed of Service
There are two types of traditional concession stands, according to Sedej: belly-up, as mentioned earlier, and speed of service or order fulfillment. "The back of the stand is similar. The front of the stands differs slightly in how the customer places and receives the order," she says.
The move to the speed-of-service model, Sedej notes, was a burgeoning trend before the pandemic but one that the pandemic ultimately pushed forward. During the year-plus-long hiatus from sports arenas, consumers got used to takeout and delivery from their favorite restaurants. Now that many have returned to sporting events, they want to order and pick up their food just as quickly and easily.
"People don't want to stand in long lines," says Antony Bonavita, CVE, executive vice president of venue operations for Rocket Mortgage FieldHouse, home to the Cleveland Cavaliers. The facility worked with Aramark to implement lockers for easy food pickup during a recent renovation. "Personally, if I can order something from my phone and pick it up from a locker, I will do that. The whole experience needs to be more frictionless as people's expectations are that they want everything fast. This is different than even a few years ago, when [concessions] required more people and more points of sale. Now it's all about technology and working smarter, not harder."
The goal for frictionless service has a direct impact on concession stand design. With a traditional design, each POS station shares a fountain drink and ice station, with customers lining up to order and pick up their food in the same spot. With a speed-of-service design, though, guests order on one end and then step down to pick up their orders. "The front counter has a slightly different configuration of equipment and requires [kitchen display system] units, an expediter and a monitor at the ceiling to let the guest know when their order is ready," Sedej says. This way, orders can come through at the counter or from an online app that customers can use to place orders through their phone.
With this model, the space below the front counter remains similar to the belly-up model, which primarily holds soda lines, warming drawers and storage of paper goods, says Sedej. The back counters will have storage bases with hinged doors. They will hold food warmers, pretzel warmers, coffee makers, nacho stations, hot wells, iced tea machines, bottled beverage refrigerators, popcorn makers and warmers, and similar equipment. Pass-through windows with built-in warming cabinets hold prepared items for sale.
The challenge for design consultants is making room for possible changes down the road. "Projects may not be built for two, three, four or five years, and there might be a lag between what's available right now and what's going to be more available in the future," says Sedej. "We have to design for some flexibility, knowing that technology will catch up."
Another update when it comes to speed-of-service concession stand design is the need for more space to hold to-go food and beverage containers, says Bigelow, who notes that he sees a return to the push for biodegradables in the future. And while many operators have switched to individual-size condiments because of the pandemic, Bigelow says some clients have returned to bulk ketchup and mustard dispensers, but with the use of touchless technology or even foot pedals for enhanced sanitation.
Market Style and Shared BOH
Market style represents the latest concession design growing in popularity, according to Sedej. This model, which essentially mixes retail with traditional concession design, features a more extensive grab-and-go program that allows customers to get in and out faster. This approach may also include a small, out-front cooking station or operation, such as a pizza oven where a staffer bakes and slices pizzas for easy grab-and-go. "These concepts allow the customers to put together their own food and beverage needs from self-service refrigerators, freezers and warmers and bring them to a cashier position for checkout, similar to a convenience store operation," Sedej says.
She adds that her clients appreciate this design because it frees up bottlenecks that can happen on the concourse by moving customers into a separate space, and it saves on labor, thanks to the grab-and-go element. Progressive stadium operators continue to test or implement Amazon's Just Walk Out technology, which uses detection methods to allow guests to take what they want and then charges their stored credit card for purchases so they can exit the store without checking out in person. This is the case at the Rocket Mortgage FieldHouse in Cleveland. Other cashierless options for stadium operators include POS checkouts that use scales and self-scanning barcode readers. "This concept has been proven to increase customer throughput and has been incorporated at most of the new or remodeled sports venues in the last 18 months," says Sedej.
Passing labor on to the customer is also the goal behind these burgeoning concession designs. "The most challenging issue for us is the lack of labor right now," says Sal Mendola III, CCC, manager, brands and concept development for foodservice and hospitality company Delaware North, based in Buffalo, N.Y. "We're looking to build [concessions] designed intentionally for flexible labor, and the ability to scale up or down based on demand and what we have in terms of labor supply."
The pandemic pushed operators of all types to scale down their menu offerings but up the flexibility in terms of equipment and design. "It's all about selling more with smaller menus now," says Bigelow.
In addition to upgrading speed of service and implementing market-style concessions, kitchen sharing is another design method meant to enhance speed of service while also saving on labor. "We recommend larger concession stands that have more shared back-of-house areas," says Sedej. This is not unlike a food hall concept or the food courts that were popular in the '80s. "At the end of the day, a food hall is just a group of concession stands."
In this setup, three front-of-the-house stands might share one back-of-the-house area, versus smaller concessions split further apart and further away from a main commissary kitchen. This can even take shape as a back line with one long hood system where a culinary team can handle all cooking for three or more concession areas. According to Sedej, this method helps consolidate labor and allows staff to move from one station to the next where necessary.
Theater Equipment Selection
All concession design essentially focuses on a self-contained approach with most of the bulk prep work done in a back-of-the-house kitchen or back area and brought out or sent out to the stands. Depending on the concept, Sedej says, a concession unit might have hot boxes and hot wells holding precooked pulled pork and other prepared foods and/or warmer drawers for hot dogs.
Other key elements of a concession stand's equipment package include a three-compartment sink and hand sinks, as well as refrigeration and some workspace, as well as some sort of ice maker or an ice cabinet for bagged ice.
What will change in the not-so-distant future, however, is more cooking — or at least finishing cooking — happening right at concession stands so that customers can smell the food and see the action.
"I'm seeing more interest in more theater through on-site cooking," says Bigelow. To support this approach, the stand should include equipment that allows the operator to cook multiple menu items. "For example, conveyor ovens may have only been used for pizza in the past, but now concessionaires are figuring out other things they can cook in them. They want equipment that's not just limited to one menu item." Oh, and everything still needs to be on wheels for easy cleaning.
Ventless cooking equipment could play an important role in this type of out-front cooking, where venting and hood options might be limited. "Ventless was growing before the pandemic, but now that's been expedited," Bigelow says. "It seems like if there is a ventless option for any piece of equipment, [the operator] will take it."
Mendola says Delaware North has implemented more ventless technology in the stadium and sports facilities it supports throughout the country. "We love ventless technology because it's becoming more affordable, and everything is about food theater — ventless allows us to offer more hot and fresh food cooked directly in front of [our customers]. And that gives us an opportunity to offer better food that's more exciting and with a perceived higher value."
Market-Style Concessions at Comerica Park
Delaware North opened two new markets as part of its concession operations at Comerica Park, home of Major League Baseball's Detroit Tigers. The market-style outlets offer a mix of hot, fresh-prepared food items, as well as grab-and-go options, and use a streamlined self-checkout system. The markets — branded as Miller Lite Market and Blue Moon Bistro — offer a variety of domestic and craft beers, packaged snacks, soda, candy and retail items. Each market also features hot, ready-made food items such as stuffed gyros and shawarma, chicken shawarma nachos, Delaware North's proprietary Fat Rooster chicken sandwich, hand-crafted cheeseburgers and fried chicken poutine.
"We debuted the markets in time for Opening Day, and fans have responded really well to them," says Sean Pattwell, operations manager for Delaware North at
Comerica Park. "It might be a bit different than the traditional concession stand experience, but [fans] love the convenience, flexibility and ease of the market. They can satisfy their snack needs and get back to their seats pretty quickly to continue watching the game." The markets at Comerica Park are the latest examples of a concept that Delaware North has implemented at sports venues across the country, including Lambeau Field in Green Bay, Wis.; KeyBank Center in Buffalo, N.Y.; and TD Garden in Boston, which Delaware North owns.
Delaware North also opened two checkout-free convenience stores at TD Garden in Boston using Amazon's Just Walk Out technology. MRKT, located on Levels 4 and 7, is stocked with an assortment of snack and drink options and leverages the combination of technologies including computer vision, senior fusion and deep learning to eliminate checkout lines and allow fans to shop and pay without stopping to check out. The technology allows shoppers to quickly enter the store using their credit card and then detects when products are taken from or returned to shelves and keeps track of them in a virtual cart. After a shopper leaves the store, they are charged for the items they selected. The exterior of the MRKT spaces is framed by glass walls, making it easy to see what is in stock and how many other shoppers are inside. The entrance is outfitted with electronic gates where customers can insert their credit card to access the store and the merchandise. TD Garden associates serve as greeters and provide in-store assistance.
"This market service style is long overdue," says Sal Mendola III, CCC, manager, brands and concept development for Delaware North. "Any kind of bottleneck is detrimental — we are always thinking about how do we get the most transactions but get [fans] back to their seats quickly so they're not disappointed if they miss anything. Everything has to be built for speed and volume — that means the [market] has to have distinct points of entry and exit and everything should be in arms' reach with small pivots. For us, this style has been very successful."
Bumped-Up Beverage
Whereas in the past, concessions staff would fill up your soda right at the front counter POS station, more concessionaires these days have implemented what's been dubbed as hydration stations, where customers buy a cup and can fill and refill their nonalcoholic beverages on their own closer to their seats.
"This buys us more front counter space and reduces labor," Sedej says. "It also makes customers happy because of the perceived value of the free refills."
While the pandemic may have made people more skittish about self-serve, the continuing advent of touchless beverage technology should help avert those issues. In addition, Sedej says, some clients have implemented what she calls "beverage markets" — essentially a line of refrigerated display cases on the back wall for holding beer cans. "We're seeing less draft beer and more bottled product, and this helps cut down on those hard-to-clean, long beer lines," she says.
Rocket Mortgage FieldHouse
In April, Aramark launched a pilot program involving an app for patrons at the Cleveland Cavaliers' Rocket Mortgage FieldHouse that allows them to find driving directions to the stadium, purchase merchandise, book a ride home and order food from their seats. The Fahrenheit Mobile Locker Room allows fans to order food and drinks and then pick up their orders from a designated food locker in the arena. The menu was designed by Rocco Whalen, chef of Fahrenheit restaurant in Cleveland.
"Fan adoption to mobile ordering in stadiums and arenas has historically been low primarily because of the need to download a separate mobile app," says Mike Conley, Cavaliers and Rocket Mortgage FieldHouse senior vice president and chief information officer. "The integration with SeatGeek not only eliminates this barrier but does so with a seamless and intuitive platform that fans will enjoy using just as much as they enjoy the delicious food they pick up from their heated locker."
The concessions at Rocket Mortgage FieldHouse also feature fully automated locations with kiosk ordering and artificial intelligence-powered, self-checkout technology as well as self-pour drafts throughout the concourse.