Monorail system replaces conveyor-style approach to serving patrons; allows restaurant expanding seating while maintaining staff levels
For some restaurant operators, the idea of automating aspects of their businesses represents a dream for another day. For a sushi restaurant in Bothell, Wash., that dream has become a reality.
Sushi Hana is an 11-year-old restaurant that includes salads, side dishes, noodle soups, rice bowls and even some fried items. As the restaurant's name implies, though, sushi is the star of the show. In fact, the restaurant's 80-plus sushi items account for more than 80% of its revenue, according to Sarah Lee, owner of Sushi Hana.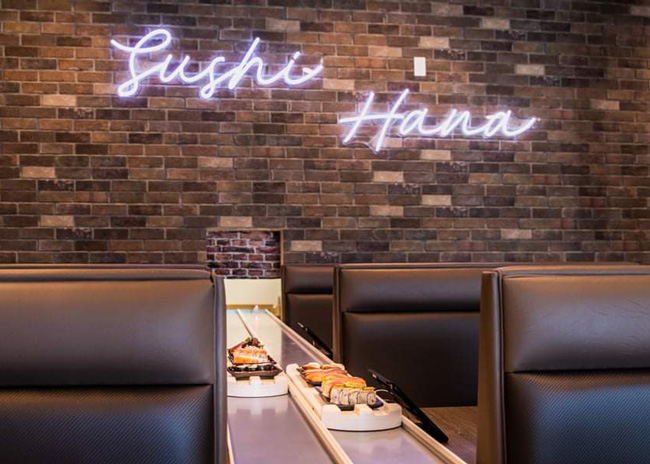 Like countless other restaurants, the arrival of COVID-19 forced Sushi Hana to make some operational updates. For example, prior to the pandemic one of the restaurant's more prominent features was a sushi bar, which included guest seating. Situated in the center of the restaurant, the sushi bar gave customers a good look at the culinary team preparing various sushi items. Staff would use colored dishware to plate the sushi items before covering them and placing the food items on a conveyor belt that rolled through the restaurant and past guests' tables. When guests saw something they liked, they simply grabbed the food item before it passed by. Servers would take orders for drinks and other non-sushi items and run them to the table.
At the end of their meal staff would add up the empty plates, combine that with beverages and other items ordered and produce a tab. It was a pretty straightforward approach that suited Sushi Hana well. "The conveyor belt, it was very successful for us," Lee says.
But a global pandemic has a way of changing the way one looks at their business. Such was the case here. "COVID made me think of things differently. It was a menu of premade sushi and it was passing by a lot of people before someone would eat it," Lee says.
A front-of-the-house revamp did away with the sushi bar and increased capacity to 150 seats from 81. "That's a huge change," Lee adds. Sushi Hana replaced the conveyor belt with a five-line monorail system that delivers sushi items guests order directly to their tables. Sushi Hana added tablets at each table, which allows guests to order what they want when they want it without waiting for a server to visit or for a certain kind of sushi to pass by via the conveyor belt.
How it Works
When guests order something, staff quickly prepare the food in the kitchen that sits behind the restaurant's back wall. Sushi items get placed in hinged, clear plastic case on the monorail and it gets sent directly to the table of the person who placed the order. Lee describes the monorail as being much like a train delivery system: When the monorail stops at guests' tables, they simply lift up the door, grab their food and eat. And 10 seconds later the monorail returns to the kitchen. "We did not want to change the concept too much. And when we saw a demo on the product, we thought it could be fun," she adds.
Naturally, implementing newer technologies, like a monorail system, can prove time consuming when it comes to securing the necessary government approvals. "It was difficult getting the permit for this. It took a lot of explanation and documentation for the health department, but they really like it now and feel it's even safer than the conveyor belt because it's covered," Lee says.
While Sushi Hana can now serve almost twice as many customers at once, its staffing levels have stayed the same. The restaurant used to have four to six servers on the floor at one time. Now it only needs four. The other two people work in the back of the house helping prepare food, etc. "We need more people in the kitchen than before. We used to be able to prepare in advance more food items," Lee says. "But now when we make everything fresh to order we need more people preparing food." Servers still take drink orders, including alcohol to comply with local ordinances, and run other non-sushi food orders, such as hot broth items, to the tables.
More Automation
Sushi Hana's use of automation does not stop with the monorail system. The restaurant's equipment package also includes a machine that makes rice balls and another that creates sheets of rice for maki rolls. These units predate the monorail system. While sushi is known for being hand crafted, Sushi Hana had very specific reasons for turning to these two pieces of equipment, including speed.
"Speed of service really matters for us," Lee says. "We want our customers to begin eating in less than five minutes after they sit down. If you make a rice ball by hand, it takes the best people 30 seconds to a minute to do so. But the machine can make eight to ten rice balls in a minute. And the rice sheets for the rolls save us a lot of time, too."
Since revamping the front of the house and implementing the monorail, Sushi Hana has seen several other benefits and made a few additional operational changes, according to Lee. "With the monorail we make the food more to order. [It] takes anywhere from three to seven minutes to get the food but it's fresher because it's not premade. With the monorail we have zero food waste, so we are saving more than before. This also led us to increase the portions from before because there's less waste. With the conveyor belt we had a lot of waste. There were RFID chips in each plate, and we tracked how long they were on the conveyor belts and tossed items."
In addition to enhancing speed of service, the rice baller and rice sheeter contribute to greater product consistency. "We cook the rice separately and season it. Then we load the rice into the machine, and it conveys it to the roller, which turns it into a sheet or ball depending on the unit," Lee says. "We can control the size of the balls and thickness of the sheets. Whoever makes it, though, it's always the same size."
Lee also says daily cleaning and maintenance of the rice baller and sheeter is pretty straightforward. "We take apart the machines each night and wash them. Every morning we reassemble them," she says. "It only takes two minutes to take apart and reassemble. Just need to make sure the sensor is cleaned properly otherwise it won't let you make anything."
Overall, these changes have been a hit with Sushi Hana's customers. In fact, the restaurant plans to soon open another location. "People love the monorail and feel the system is pretty cool," Lee says. "People always have questions about how it works and like to see the trains moving back and forth. I really, really like this system. It's fun."