Is it the right time for restaurants to begin building up their tabletops? These foodservice professionals are giving a resounding yes.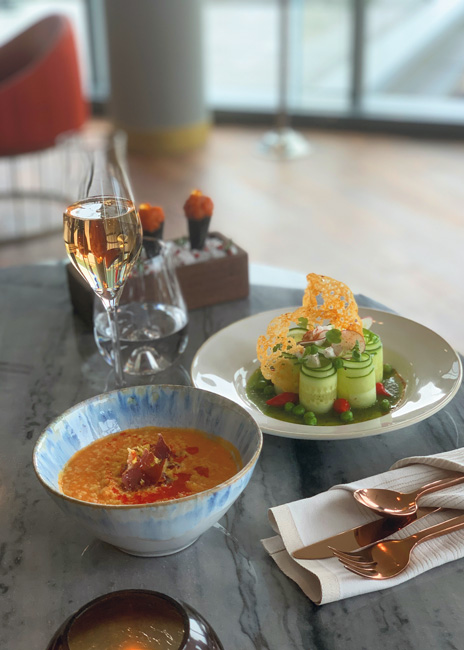 MDRD in Grand Rapids, Mich., offers a fine-dining menu with unmatched views of the city and requires a tabletop that can support such attributes. The tabletop makes use of various colors, textures and more to elevate the presentation of the cuisine and the dining experience. Photos courtesy of Avant Sales & MarketingKetchup, this is mustard. Mustard, please meet ketchup.
Salt and pepper. Nice to see you both. Heard that you work well together.
And is that a wine glass we see? With a cloth napkin tucked inside? It's been a while. Missed you both.
With COVID-19 restrictions and regulations lessening or disappearing fully by the day, consumers continue to dine in restaurants in larger numbers and leave cleaning the table and doing the dishes to someone else for a meal or two.
This transition begs the question: Is now the correct time for restaurants to begin building up their tabletops?
The answer is a resounding yes for many industry professionals like Julie Pandl, a business development manager and tabletop specialist for Boelter Foodservice Design, Equipment & Supply, a foodservice equipment and supplies dealer based in Glendale, Wis.
"That's what I've seen my customers doing. I feel like we're getting closer to being over the hump with COVID, and the clubs and restaurants have the sense that we're nearing the end of COVID, so they're making the decisions to get their tables set and stay ahead of the increased business that is heading their way or already there," Pandl says. "For the most part, I've seen my customers setting their tables, particularly the country clubs and especially for training purposes. They have made the decision to set their tables earlier on. You get an influx of kids [working] in the summertime and to have to train them when you're busy is difficult."
Pandl's experiences are similar to others who work in tabletop. They, too, agree the time is now to resume setting tables in various foodservice operations. "Yes, absolutely. Let's get back to normal. Everyone has been challenged the last 15 months," says Greg Blasgen, sales associate, for Edward Don & Company, a Woodridge, Ill.-based foodservice equipment and supplies dealership that's celebrating its 100th anniversary in 2021. "I've gotten good at making pizza at home and making my own sauce and my own crust. But there's something to be said for the dining experience. People just don't go for the food.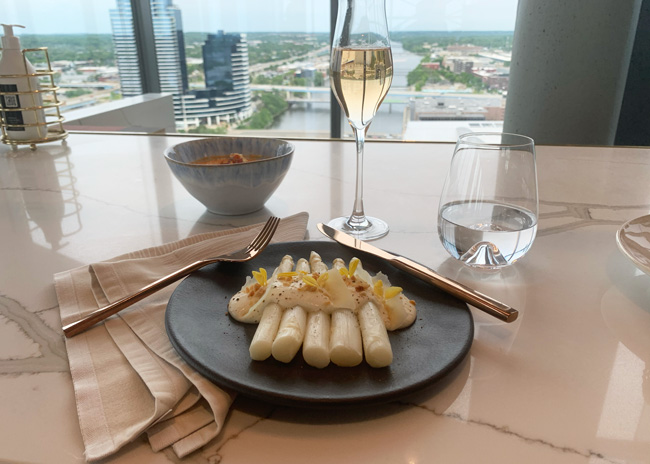 Photos courtesy of Avant Sales & Marketing
"If you set the table, it gives people more confidence," Blasgen adds. "It's time for folks who are going out, they want the experience of dining and of being served. That process helps to elevate that experience. It was scary as hell when [COVID] first came out and there were all these unknowns, but we're a lot more knowledgeable about this. People know they can drink out of glasses at the restaurant like we always have. It's been sanitized."
Just because operators are starting to set their tables again, don't expect everything to rush right back to the way it was pre-pandemic. Expect something of a more gradual process, says Nancy Johnson, group sales manager, Southwest, for The Wasserstrom Company. While The Wasserstrom Company is based in Columbus, Ohio, Johnson works from Phoenix. "We are definitely seeing operators presetting their tables once again, but it seems to be on a regional basis depending on where that state or city is in terms of restrictions," Johnson says. "First on the table were flatware roll-ups, then came share plates and now wine and water glasses are slowly reappearing.
"We have seen an uptick in sales of glassware, so I think operators are gearing up to put those back out if they haven't already. I think we all miss seeing the shine and shimmer of crystal and silver when we do go out to a special dinner. We're ready for the complete experience again."
Pandl agrees and adds, "People are putting a lot less on the tabletops." At the same time "many have customers asking for salt and pepper shakers. Less is more is kind of trending. The reasons are obvious: efficiency, cleanliness and and operators are considering whether people really need all that stuff on the table."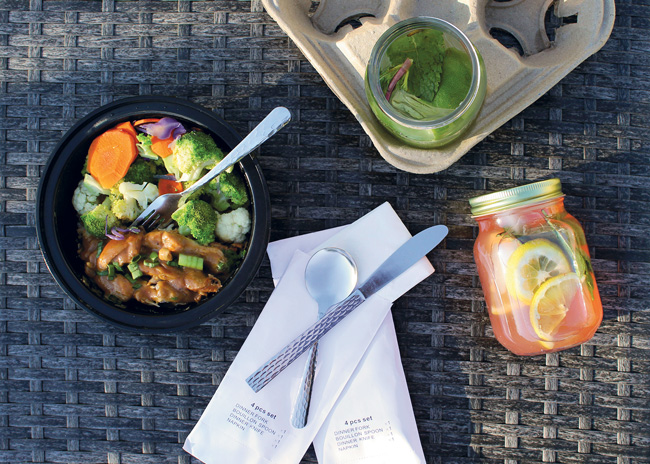 Operators' approach to setting their tables again also reflects their individual outlooks. "As much as we would like to [fully set the tabletops], we're going to see some operators still move ahead with cautious trepidation and optimism, looking at some of the creative ways to get halfway," says Jeff Johnson, a partner and vice president with Avant Sales & Marketing, an Ohio-based independent manufacturers' rep firm. "That may be stemware inverted on clean linen and/or covered beverage solutions or a mix of both, silverware rolled rather than set and use of glass [nonporous] dinnerware for options. I still think we will see the accessories like caddies missing from tables, flower vases, signage and any unnecessary items, so to speak."
The ambience at Basil Pizza and Wine Bar in Perrysburg, Ohio, strives "to promote real conversation and in-the-moment enjoyment of great food." And this warm and inviting tabletop plays a key role in delivering on the restaurant's brand promise. The wood tabletop serves as a casual backdrop for the various shapes, sizes and colors of the plates and serving items. Photo courtesy of The Wasserstrom CompanyBut there's also a part of Jeff Johnson that is more than ready to see tabletops flourish as they have before. "Hell yes, it's time," he says. "It's time to reset these tables with vigor, creativity in color, elements, textures, blends, shapes and a rustic abandon that screams, 'We made it. Welcome back, please sit down, pick up your glass and celebrate with us.' The tables should reflect a welcome mat of community togetherness that is the canvas for the bounty of the food of the season of perseverance. The dinnerware, glassware and drinkware as well as the accessories should all be evaluated, chosen and arranged like it is a new opening, to be as memorable as the food and beverage programs themselves."
In developing or refreshing their tabletops, operators should seize the opportunity to get creative and leverage the resources at their disposal. "Adding shapes, colors, textures, new drinkware, etc., doesn't have to break the bank either," Jeff Johnson says. "By getting a tabletop pro involved, the operators can get some great and affordable ideas to reset their brands and open with this message of this amazing tablescape that we have created for the guest to sit down and enjoy after a year from hell. These new experiences of breaking bread and cheering each other should again be moments of liberation and memories. Get those smartphones ready."
Before the customers use their smartphones to document everything about their dining experience through pictures and social media, however, they may need their smartphones for another purpose: deciding what they will eat and drink. "I think nice menu covers will always be a staple in fine dining, but I think we'll still see digital and disposable menus for a while," Jeff Johnson says. "We're also looking for creative ways to properly display menus in front of guests rather than on smartphones. A menu in the hand is the first thing a guest encounters, and that's important."
Two other critical factors: cost-effectiveness for operators and consumers' understanding of the strict sanitation practices being undertaken by their favorite dining spots. "You explain to people how a commercial dishwasher works and explain how the process works," Pandl says. "They have been using them since the beginning of the restaurant industry, and the more you can do to show people what you are doing — especially with glassware and flatware — will help alleviate their fears. There is the visible portion when those who are cleaning are using clean towels and gloves to clean everything. We trust these machines and have been using them for a very long time."
Over time, though, seeing a preset table will become more common and comfortable for consumers. "As more and more restaurants open up and people go out for meals, the more they will get accustomed to seeing plates, glasses and flatware being used," Nancy Johnson says. "This will ease the way for schools, healthcare and others to return to china and glassware based on local guidelines.
"Again, different regions of the country will adopt usage of reusables on differing timelines, but we are already seeing this in areas like Arizona, Texas and other states that opened up earlier than others," Nancy Johnson adds. "I do think that on some level, diners know that reusable items are better for the environment, and that helps with reintroducing them to these types of facilities … There are all kinds of plateware that can be used, and we want to morph from disposable back to china, glass and silver."
As they reopen more fully, operators will start to enhance their focus on sustainability and even budgets. "Single-use is not very eco-friendly and cost-effective. The cost is being driven up by using more and more of it. Some items are harder to get," Pandl says.
As for going away from single-use disposables to more permanent dinnerware and eliminating any objections to that process, Jeff Johnson has a plan that both protects the environment and keeps costs down for operators. "The objection is environmental impact and the cost of waste," he says. "The cost of waste for disposables is extremely high for operators. At first, we'll see reusable options like ceramic and glass containers with reusable lids. This will be incorporated into grab-and-go formats and loyalty programs, which are perfect for noncommercial operations. For example, a loyalty program could be a customer buying a reusable container that they bring in. They bring the container back, they get their meal in a fresh container and turn the old one in. It's a great way to support the environment, and you get away from disposables, which aren't good for the environment."
While the approach may differ by operator or even region, the one thing everyone can agree on is that it's great to see the tabletop reemerge and claim its place as the most important three feet in the house.