Using uncommon cuts of beef, pork, lamb and chicken has become more prevalent as restaurants focus more on reducing food waste and cost.
Two Off-Cut Operators
Austin, Texas-based LeRoy and Lewis Barbecue describes itself as an inventive barbecue truck known for making off-cuts shine. Co-owner, pit master and chef Evan LeRoy incorporates elements of fine dining and from-scratch cooking into the menu. Staff slice meat to order and serve it by the pound. Beef cheeks are its main beef offering on weekdays.
"These cuts are often in large supply and at a lower cost compared to traditional, more sought-after cuts," LeRoy explains. "The biggest challenge in using off-cuts is familiarizing the guest and getting them over the 'ick' factor in order to try it."
LeRoy and Lewis' off-cut meats, like kidney and liver, also bulk up other ground or braised meat dishes and add depth of flavor and bulk at a low cost. "I usually grind organ meats and cook the cheeks low and slow to break everything down," LeRoy says.
After defeating cancer, chef Steve McHugh opened Cured in San Antonio where artisanal cured meats are the cornerstone of the menu. The menu includes a range of underutilized cuts, from blood sausage and kidneys to liver.
"Finding ways to present underutilized cuts of meats on the menu is a great way to support local, small producers. And by finding ways to utilize the whole animal, you are eliminating waste, so it's also a great environmental practice," says McHugh. "It also really inspires creativity in the kitchen, from new preparations to the unique pairing of ingredients. And it can also be really cost-effective."
At Cured, sous vide often comes into play with underutilized cuts of meat because it helps break down the natural fibers. Staff prepare hanger steak, for example, by first using the sous-vide method and then grilling it.
"When working with underutilized meats, you really have to understand the anatomy of the animal," McHugh explains. "Different cuts of meat require different treatments. It's important to understand what to braise, what to cook in the oven, etc. If you understand the technique and the process that best complements the cut of meat, it will yield tender, delicious results."
The curing chamber at Blackbelly. Photo courtesy of Blackbelly
Concept Close-Up: Blackbelly, Boulder, Colo.
Blackbelly in Boulder, Colo., which started as a farm-to-table catering company, evolved into a full-service restaurant in 2014, followed by a butcher shop and market a year later. Chef and owner Hosea Rosenberg sources meat and ingredients from local farms and ranches with a focus on utilizing sustainable meat. "We are a whole animal butcher shop that is committed to using every part of the animal," he says. "We sell the premium parts in the butcher shop, use the trim for sausage making, utilize bones for bone broth and prepare pig skin for cracklins."
Q: What types of underutilized meats are on your menu?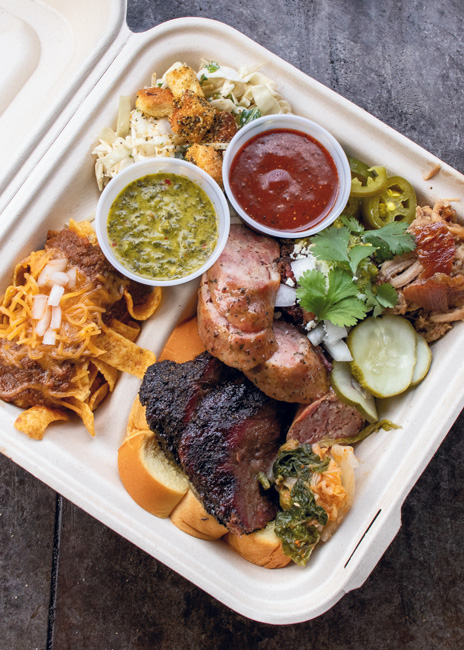 Image courtesy of Bradley RobinsonA: We convince people to try new cuts. We buy whole cows, and one has 2 tenderloins or 20 filets. Yet, there are so many other muscles on a cow for making Denver steak, flat iron or bavette. These are great cuts for those who know how to use them. Our job is to educate the consumer that they can buy something amazing and spend less. The tougher cuts like short rib and chuck eye are good for braising. We use trim from beef and pigs for sausages and terrines.
Q: What are the benefits of using these cuts?
A: We're buying the whole animal, so we're paying a low price per pound. We'll roast bones for stock in addition to selling bone broth. We have house-made charcuterie since we're licensed to dry cure meats, and this is one way to use cheaper cuts. We take the back legs of pigs and the eye of round of cows and cure it. Additionally, we will use bavette, which is the flap muscle under the cow. It's incredibly marbled, and we do steaks with it.
Q: What type of equipment is integral in preparing underutilized meat?
A: Any piece of meat from our butcher shop can be cooked with a grill, slow cooker, smoker or in a cast iron pan, including fatty and tough meat. You just need to know how to treat it. I also put everything in the smoker — short rib, chuck roll, rib-eye steak. Underutilized meats are best cooked slowly, unlike premium cuts that can be prepared quickly.
Q: What are your more unusual offerings?
A: We work with local ranchers who save us their pig ears. We get cases of these and braise them for 24 hours in a pot with water, celery, carrot, onion, garlic and herbs. When they get tender, we slice them very thin, then coat the ears in cornmeal before deep frying them. This is one of our most popular dishes. We also get femur bones from cows, which we split lengthwise, soak in salted water, and serve with bread, shallots and accoutrements. Customers drink Manhattan cocktails through the marrow bone hole.
Q: What are the biggest challenges when working with underutilized meats?
A: Sometimes we'll make a sausage or terrine that's out there with a whole leg or head. We count on our waiters to sell these items since they can make something weird sound very delicious. It's really just a matter of convincing people to try something new, like a foot, ear or tail. It's a leap of faith.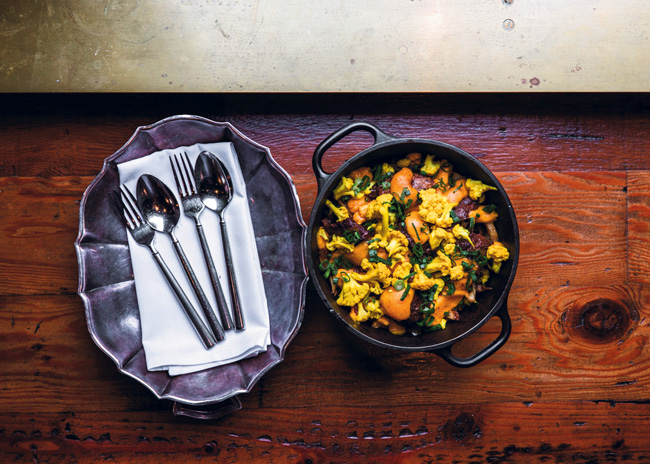 The slow-cooked pig cheek poutine at Cured consistently earns high marks from food reviewers and customers alike. Image courtesy of Rick Cortez
Underutilized Meats Primed for Menu Inception
Exotic jerky
Giblets
Heart
Tongue
Oxtail
Boar
Rabbit
Sweetbreads
Scrapple (pork scraps and trimmings)
Guanciale (pork cheeks or jowls)
Merguez (mutton)
Tasso (hog shoulder)
Source: Datassential's October 2020 Menu Adoption Cycle
Smoked beef cheeks are a main menu item at LeRoy and Lewis Barbecue. Photo by Logan Crable
Lesser-Known Cuts of Meat
Bavette (flap steak, sirloin tip)
Coulotte (top sirloin cap, churrascarias)
Flat iron (top blade steak, butler's steak, oyster blade steak)
Teres major (cow's chuck portion known as "poor man's tenderloin")
Picanha or rump cap (boneless cut taken from the cap of the top sirloin)