For some chefs and operators, providing extraordinary guest experiences hinges in part on taking extraordinary operational steps, doing what few competitors are willing or able to do to set their menus and their brands apart.
Lou & Mickey's features a dry-aging room as a front-of-the-house feature that supports the artisanal steakhouse story parent company King Signature Group wants to tell.For these outliers, bringing signature elements of menu production in-house is the surest way to set themselves apart from the fray. From dry aging and cutting their own steaks, to making fresh pastas and breads on-site — even milling their own flours — they're driven by the extra quality achieved on the menu and extra credit received from guests.
Taking such steps demands unique design, equipment and staffing efforts as well as extraordinary levels of investment. But creating exceptionalism, they'd argue, doesn't come cheaply or easily.
Two years ago, San Diego-based King Signature Group took its commitment to integrating in-house dry aging up a notch. Parent of California steakhouse concepts 555 East in Long Beach, Meat on Ocean in Santa Monica and Lou & Mickey's in San Diego, as well as the five-unit seafood-centric Water Grill, King's has made prime steaks that are dry aged and cut in-house a calling card.
"It goes to the story we want to tell with our steakhouses, which is a very artisanal one," says Mark Augarten, vice president of operations for King Signature Group, the full-service, upscale restaurant division of King's Seafood Company. "Before we opened Meat on Ocean in 2017, we traveled throughout Argentina and Europe researching different steakhouses and determined that dry aging would be a differentiator for us. We built our first display dry-aging room in that restaurant. It's where we personally age and take care of our meat, and it's visible to guests in the front of the house. Adjacent to the dry-aging room, our in-house butchers have their own area equipped for cutting and weighing steaks, also visible, and next to that area is our display kitchen. It's a completely unveiled steakhouse experience. Guests can see their meat aging, being cut and being cooked."
Proven to be a popular feature at Meat on Ocean, King's has since extended its dry-aging initiative to 18-year-old sister restaurant Lou & Mickey's, an institution in San Diego's Gaslamp Quarter. In 2018, a partial renovation was undertaken to convert an area of the front of the house (which previously held a crew member station) into a 250-square-foot display dry-aging room — smaller than Meat on Ocean's 350-to-400-square-foot room but equally integral to the guest experience.
Both restaurants position the rooms for maximum visibility. Glass walls, chalkboard-style signage and glowing back walls lined in pink Himalayan salt ensure guests see the special rooms, while staff training helps ensure an appreciation of their importance to the dining experience.
"We definitely wanted dry aging to be front and center with guests," Augarten says. "We train our crews to point out and briefly explain the rooms to guests on arrival. It's integrated into their 'menu tour.' And we train our managers that it's a great way to introduce guests to our brand. Our restaurants are very busy, and sometimes guests wait for a table, or maybe they just show up early or are simply inquisitive. We encourage managers to bring them over to the room and explain what happens there and why it's so special."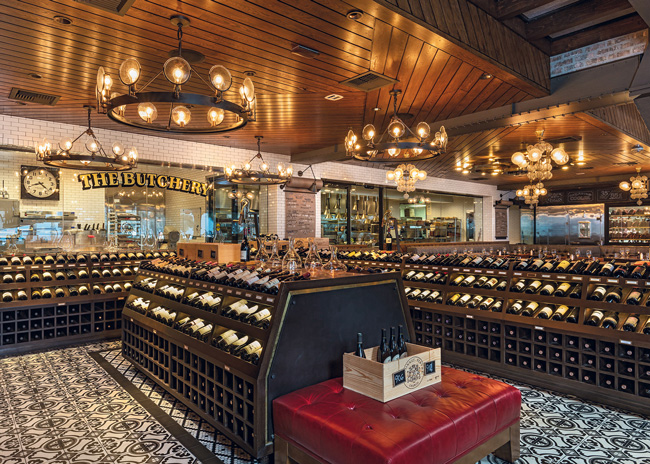 Meat on Ocean bills itself as a completely unveiled steakhouse, where guests have maximum visibility throughout the restaurant.
Behind the Sizzle
While dry aging and hand-cutting meats helps tell a culinary artistry story at Meat on Ocean and Lou & Mickey's, these extra on-site elements demand a high level of expertise and investment in both technology and labor to ensure success. Prime meats, after all, represent high-ticket inventory items and missteps would be costly. Creating and managing the protected environment inside the rooms is a top priority.
Brian Okada, King Signature Group's culinary director, likens part of the process to keeping sourdough starter alive. "The mold spores in the dry-aging rooms are more than 100 years old. We sourced them from a steakhouse in Chicago to start the program," Okada says. "The rooms have to be very carefully managed to keep those spores alive. When COVID-19 hit and our restaurants closed, we had to keep product in there, continuing to rotate new items in and move some product out just to maintain the environment inside. Pre-COVID, we had aged meats 30, 45 and 60 days. During COVID, we aged up to 120 days and now the long-aged program is a specialty that guests have embraced, particularly as we sell all of our dry-aged products by the ounce. They can sample and share and experience meats aged for different periods of time."
Each restaurant has a manager who is almost solely responsible for maintaining the dry-aging room. Fans and carefully calibrated thermostats control the room's environment, and technology helps to ensure proper temperature and air circulation are maintained.
"It's a pretty complex dynamic, and control is critical," Augarten adds. "Me and Brian and a few other people in our company have monitors on our cell phones. If a room is ever out of temperature or humidity, we're alerted via email to take a look. Almost always, it's a temporary dip that quickly corrects itself, but we have such an investment in the meat in there that we have to be completely connected to the conditions inside."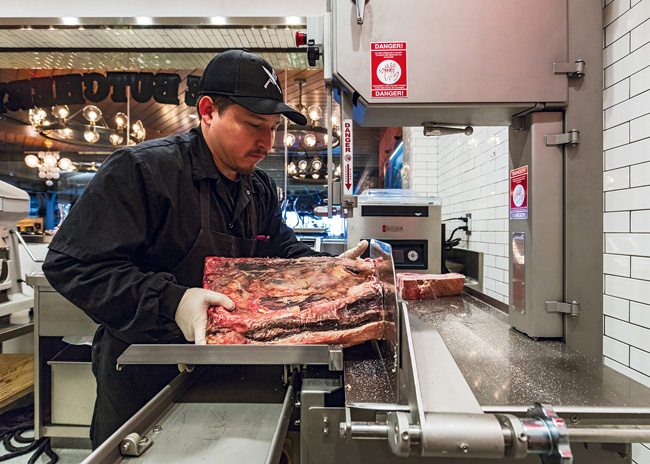 Adjacent to the dry-aging room, professional butchers at Meat on Ocean break down sub-primal cuts of meat in an adjacent butchery area, also visible to guests.
Integral to King's investment in dry aging is in-house butchery. Professional butchers handle trimming and cutting the dry aged sub-primal cuts of meat into individual portions, working with the chefs and the restaurants' inventory control system. Special scales are used to weigh products to a fraction of an ounce. Once cut, the various steaks are tagged for cut, weight and age and held in a separate walk-in cooler until being transferred to refrigerated drawers on the cook line. Trimmings and pieces too small to menu as steaks go into other items, such as meatballs, sausage and steak tacos, to ensure full utilization.
"We developed scales that have a printer incorporated," Augarten notes. "The labels contain all of the information specific to a particular piece of meat, as well as a barcode. The opening chef's morning routine is to do a laser scan of all of the steaks on hand and generate a report showing how many of each cut we have and at what ages. It gives us a quick view of what's in inventory, and that drives what's going to be butchered that day."
That report guides purchasing, as well, Okada adds. "We look at our sales history and that inventory report and make purchases based on that information. With dry aging, there's a lot of careful timing involved, and we rely on lots of data to help manage our purchasing."
Dry-aging rooms at Meat on Ocean and Lou & Mickey's, both part of King Signature Group, have back-lit walls of pink Himalayan salt, which helps to extract moisture from the meat and intensify flavor. Mold spores in the rooms, sourced from a Chicago steakhouse, are more than 100 years old.
Room with a View
At SheWolf Pastificio & Bar in downtown Detroit, pasta and breads made fresh on-site serve as signature differentiators for executive chef and co-owner Anthony Lombardo, a 2019 James Beard Best Chef Award nominee. But, just as many steakhouses serve prime, dry-aged beef while few invest in aging and cutting their own on-site, Roman-inspired SheWolf takes fresh pasta a gigante step further. The restaurant, opened in 2018, showcases its pasta making in a glass-enclosed room and, unlike most restaurants — even those touting house-made pasta — SheWolf tips the scale by milling its own flour.
For Lombardo, making the extra effort to do so ensures a level of craft and authenticity that guests appreciate and can't find elsewhere locally.
"When we were planning SheWolf, we always knew that fresh pasta was going to be the focus," Lombardo says. "If you think about it, pasta is really, really simple. There's not a lot that goes into it — flour, water, maybe egg. Not a lot of chefs pay much attention to the type of flour they're using to make pasta. I spent some time traveling Italy and doing research. Once I started learning about milling and how to do it, I realized we could actually do it right in the restaurant, use different grains to create different flavor profiles and control the whole process in-house."
More than a dozen pasta shapes and styles are made fresh daily at SheWolf, where executive chef Anthony Lombardo and resident pasta pro Seth High create an extraordinary experience by using specialty grains and milling their own flour.
Lombardo and his team equipped SheWolf's 8-by-15-foot pasta room, which sits separate from the kitchen but equipped with a pass-through window, with specialized equipment. The hero is a burr-style grain mill that can grind roughly 50 pounds of flour per hour. Pre-COVID-19, the restaurant milled a couple of hundred pounds of grains per week and is gradually recovering to that level. Two commercial extruders, one for regular pastas and one for gluten-free varieties, churn out a dozen or more different pasta shapes, and a sheeter creates tender egg dough sheets used for raviolis and other stuffed items. A mixer, large butcher-block counter with undercounter refrigeration, perforated sheet pans and speed racks for drying pastas, storage bins, and assorted cutting tools and dies displayed on a peg board round out the room's equipment and supplies inventory.
But while any fresh-pasta-focused restaurant could utilize the tools of SheWolf's trade, even more important to the restaurant's success is its in-house expertise and its willingness to trade cost and labor efficiency for the ability to produce a truly differentiated product.
"One reason you don't see many places milling on-site is that it's very difficult to achieve super-consistent results when you're milling grain unless you're a huge commercial operation," Lombardo says. "It's going to be a little different every time. So when it comes to making breads, you need a very talented baker who can make adjustments and ensure consistency. The same is true with pasta. You need a pasta maker who can adjust moisture content and humidity in the room to achieve the desired final product. The hydration of every grain is unique, and we're milling eight different grains. We have different recipes for each pasta shape and type of bread, so we need to know how to adjust accordingly. It takes a different sort of culinary expertise. Our main pasta and bread maker, Seth High, is very skilled."
SheWolf Pastificio & Bar in Detroit features a glass-enclosed room where fresh pastas are hand-crafted from a variety of flours that are freshly milled on-site. Photos courtesy of SheWolf/Lisa Arcori
Lack of shelf stability with freshly milled flours is another reason Lombardo says his on-site operation will likely remain an outlier, as is yield. Unlike commercial flours, SheWolf does not use any supplements or preservatives, yielding flours higher in nutrient and oil content but also more perishable. SheWolf must use the flours it makes within four days or store them in the freezer.
And, with the exception of whole wheat flour, waste can be significant as the tougher bran left behind after sifting is typically discarded. "Except for whole wheat flour, there can be a lot of waste when you mill, which also keeps people from doing their own," Lombardo says.
But the ends, he insists, justify the means. "There is a lot more flavor, texture and nutrients. The water that we boil our pastas in becomes almost like a flavorful stock because of all the nutrients. And we're able to produce unique flavor profiles using grains like spelt and farro in addition to wheat."
King's Augarten echoes that sentiment relative to his group's dry aging and butchery. In King's case, purchasing a sub-prime and breaking it down on-site does have cost savings, which he says helps to offset the extra specialized equipment and labor. Regardless, he adds, "for the overall health of the business, taking these extra steps has been a very, very good decision. It's not an easy process, and there are a lot of barriers to entry but it creates a truly differentiated guest experience. We're committed to it as a good business decision, but we're even more excited about it for how it parlays into the guest's experience and the pride that we take in the work that these restaurants are doing. That's immeasurable."