Since jumping into ghost kitchens in 2019 via Kitchen United, and later CloudKitchens, Pasadena, Calif.-based Dog Haus has grown its digital-kitchen footprint to nine locations across three states.
Known for its chef-crafted hot dogs, sausages and burgers, the chain has also jumped into the virtual restaurant space, launching seven new proprietary microbrands since March 2020 under a corporate entity called The Absolute Brands. Each virtual concept spawned from a Dog Haus specialty, with a small menu built around it (i.e., the core brand's Bad Mutha Clucka chicken sandwich now anchors its own virtual brand, with a menu offering a variety of chicken sandwiches, tenders, wings and sides). Partner Quasim Riaz says much has been learned — and much is still being learned about operating on the digital-first frontier. But more virtual brands will come, and ghost kitchens will stay.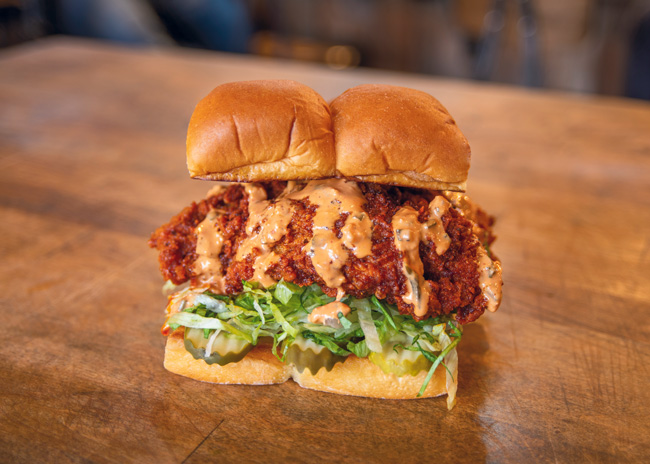 The Absolute Brands' virtual concepts spawn from a Dog Haus core menu specialty. The Bad Mutha Clucka chicken sandwich, for instance, now anchors its own virtual brand. The menu offers a variety of chicken sandwiches, tenders, wings and sides. Photos courtesy of The Absolute Brands powered by Dog Haus
Q: What does the Dog Haus team like best about ghost kitchens?
A: It's a great way to get a restaurant up and running fast, but it's also a great way to transition into a market. So, if we have a development agreement in Boston, for instance, and we know that getting a store up and running could take six to nine months, the operator can go into a ghost kitchen there, start delivery and begin penetrating the market. By the time they open their brick-and-mortar, they'll already have some brand recognition.
Q: What advice would you offer on succeeding with ghost kitchens?
A: Make sure you establish good relationships and negotiated contracts with delivery service providers (DSPs) because you're going to be dealing with them constantly. Also, think hard about marketing. You need to do traditional marketing, but also have a very strong digital presence on social media because that's the only way you're going to get customers. To that end, we look at the DSPs not only as a delivery tool, but a marketing tool. A lot of customers find you through their apps, which comes at an additional cost, but we chalk it up as a marketing expense.
Q: You've rolled out seven virtual brands in just over a year and are working on more. What's the strategy there?
A: Well before COVID, we were working on other brands under the Absolute Brands umbrella, brands that could use the same equipment, basic processes and mostly the same ingredients as Dog Haus. We'd planned to run them out of ghost kitchens, and a few of them were pretty much ready. The branding was there. The recipes and training videos were there, etc. When the pandemic hit, we decided to pull the trigger and let franchisees start doing the virtual Absolute Brands out of their restaurants too. Most jumped at the chance.
Q: What's one big sore spot for brands trying to meet growing demand for digital-first, delivery-focused restaurants?
A: Delivery times. I don't know how that gets solved, but there's often a real lag. That's for the delivery service providers to figure out, but something has to change.