Shaking up a segment grounded more on convenience than culinary appeal, ghost kitchen and virtual brand juggernaut C3 (Creating Culinary Communities) has partnered with globally renowned chefs to create a portfolio of new digital restaurant brands.
An offshoot of sbe's Katsuya restaurants, sushi-focused Krispy Rice is one of C3's most popular virtual brands.
Operating from retail centers, hotel kitchens and food halls, it's one of the fastest growing digital-first restaurant companies in the world, according to its founder and CEO, Sam Nazarian, who also founded global lifestyle hospitality firm sbe. Since launching in 2019, C3 has established 15 digital brands and nearly 250 digital kitchens across the U.S., with more than 1,000 in its domestic expansion pipeline. The company also recently unveiled its new approach to merging digital and physical restaurant experiences.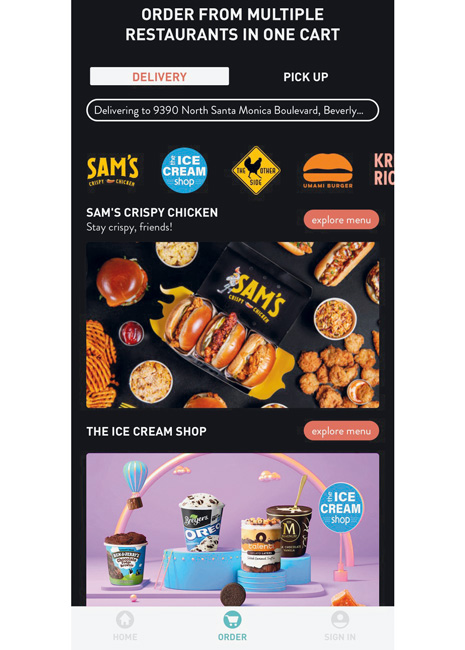 C3's new app, CITIZENS GO, enables customers to order from any of the company's virtual brands in a single transaction with no hidden delivery fees.Q: Which of your virtual brands are most popular so far?
A: Umami Burger, Sam's Crispy Chicken, Krispy Rice and Kumi, which is a new Japanese-style street-food concept that launched this summer in Los Angeles, Costa Mesa and Oakland, Calif., and Chicago. We have a lot of new brands in the pipeline too. They're available for delivery and pickup via all delivery platforms and through our new mobile app, CITIZENS GO. It allows diners to group menu items from multiple C3 concepts into a single cart and without any hidden delivery fees.
Q: What types of markets are proving to be strong opportunities for C3?
A: Our model is designed to scale nationally and globally, in major cities and in the suburbs. We develop our brands so that they're able to adapt to our ghost kitchens or whichever kitchen environment we take over. With the rise in demand for delivery and F&B options available digitally, the suburbs have become more impactful and are a growing market for us.
Q: What have you learned from operating multiple brands out of one kitchen?
A: The pandemic really brought to light how highly underutilized most kitchens are, with many operating at only 15% to 20% efficiency. With our digital kitchen model, up to 10 brands can operate out of a single space, maximizing profit and generating an estimated $1 million in revenue per brand. To execute this well, it's best to streamline operations to work as efficiently and cost-effectively as possible.
C3 offers multiple virtual, chef-driven brands with limited but distinct menus, all internally owned and operated, from single kitchens in retail centers, hotels and food halls.
Q: You're now developing food halls that merge digital kitchens with experiential brick-and-mortar operations. Tell us more.
A: They're the first-of-their kind immersive culinary centers, called Citizens. The first is set to open mid-summer in New York City. It's a 40,000-square-foot food hall with two full-service restaurants, a grab-and-go market, and multiple bars. Each of our food halls will also operate all of its digital restaurant brands from a dedicated ghost kitchen and offer pickup and meal delivery via the CITIZENS GO app. We will open a second, 24,000-square-foot Citizens Food Hall in Atlanta in 2022, and more are planned for Miami, Seattle and California markets. Our team believes that mobile ordering and delivery are here to stay.