Among national and regional restaurant chains today, those not making plays in the virtual brand and ghost kitchen arenas are quickly becoming exceptions. But small, independent operators and entrepreneurs continue to find a home in ghost kitchens too, shifting their focus from that most fundamental barometer of success — butts in seats — to clicks on apps. Here's how four diverse brands are tapping in and what they've learned by crossing over into the virtual sphere.
New York City
Hummus-centered eatery Shai Hummus functions as a virtual concept. The brand shares kitchen space with multiple other concepts. Photo courtesy of F. Becker HospitalityChef Franklin Becker is a traditional restaurant guy. He's led kitchens in highly acclaimed New York City establishments and co-created successful concepts, including fast-casual chain Little Beet and its full-service sister, Little Beet Table. He has authored cookbooks and appeared on TV's "Top Chef Masters" and "Iron Chef America." When the pandemic hit, he was deep into planning multiple brick-and-mortar restaurants, and like everyone else, he quickly pivoted.
"If the pandemic taught us anything, it's that we need to think about generating earnings outside the four walls of our existing businesses," Becker says. "Everyone has a different outlook on this industry now, and everyone has to be nimble."
By last fall, Becker was testing two virtual restaurant concepts in Philadelphia, Benny Casanova's Square Pies and Shai Hummus, an Israeli hummusiya (hummus-centered eatery). He soon pivoted again, switching his virtual brand development efforts to his home turf of New York City. "We partnered with CloudKitchens in Philly, but pretty quickly decided to step away from there and focus our business on New York. Here, we partnered with Zuul, and by February, within two months of signing with them, we were up and operating," he says. "We now have four distinct brands being produced from their space."
Those concepts include Shai Hummus, Galinha (Portuguese-style barbecue chicken and meats) and Universal Taco & Wings. The fourth, in which Becker is an investor partner, is Butterfunk Biscuit, a biscuit sandwich concept developed by his former sous chef, Christopher Scott.
Zuul's 5,000-square-foot SoHo facility includes 9 separate kitchens, of which Becker's group leases 2. Together, they operate with three or four employees per shift. Zuul provides basic kitchen infrastructure — hoods, ware washing, sinks, storage — as well as an interactive technology platform and management of delivery relationships. Tenants supply their own cooking equipment and handle all of their own operations.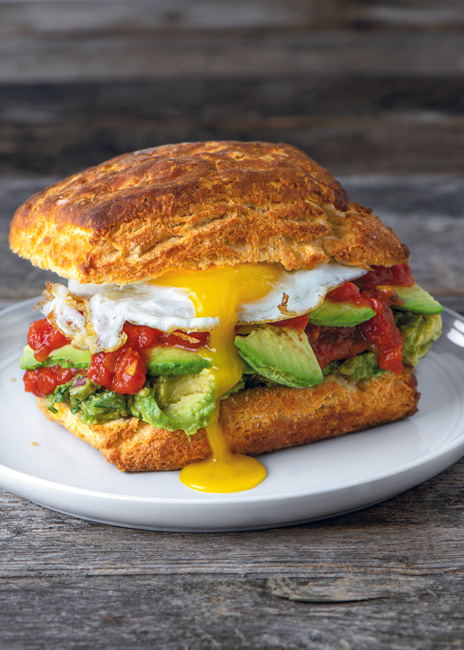 The avocado toast biscuit from virtual concept Butterfunk Biscuit. Photo courtesy of F. Becker HospitalitySpeed to market and low upfront costs are the biggest benefits ghost kitchens have to offer, according to Becker, who was able to quickly launch four virtual brands for approximately $360,000, as compared to the nearly $3 million he says would have been spent to launch brick-and-mortar versions. And even with several hands in the pot, he feels the ghost kitchen cost model can work.
"We do have to pay Zuul and the delivery providers, who bring in about 60% of our volume. But, in a traditional restaurant we also have rent, and labor is exponentially higher, as are utilities and other operating costs," Becker says. "So it kind of evens out."
The biggest challenges with entering the delivery-only space, he adds, have been finding and testing packaging — to ensure a restaurant-quality experience by the time food reaches customers — and marketing. "Trying to do a virtual brand from scratch is tough in terms of developing a following. That following can only see you via the internet," he says. "Old-fashioned guerilla marketing will only go so far. You need major SEO and SEM campaigns and major organic social, which is costly."
Despite such challenges, and despite moving ahead with brick-and-mortar development, Becker plans to keep virtual brands and ghost kitchens as part of his new-normal business strategy. Ideally, he envisions shifting virtual brand production to his own brick-and-mortar restaurant kitchens and using third-party ghost kitchens primarily to test new markets before investing there. "For us, it's likely to evolve and change into a slightly different, hybridized model," he says, "but it's definitely a long-term play."