Now that research has shown little-to-no risk of transmitting the virus through hard surfaces, we have seen reusable containers come back to campus.
---
When COVID-19 first hit the college and university segment, operators had to close their dining rooms and shift to a takeout-centric approach, just like their peers in almost every other foodservice segment. While these steps may have been necessary to slow the spread of COVID-19, they also had the potential to impact operators' sustainability efforts.
Leading by example, the University of Pittsburgh's mascot shows off its reusable containerIn fact, like so many in the foodservice industry, the University of Pittsburgh and its foodservice partner Chartwells Higher Education stopped using reusable containers in the early days of the coronavirus pandemic to limit the transmission of the virus. That led Pitt Eats, the school's dining services operation, to use 1 million disposable containers in the fall semester. Students weren't allowed to combine food from different stations into one container either. So, if they went to three stations, they left with three nonreusable containers. Something had to change.
"We took a step back to see where we could make the greatest impact cutting our use of paper products and saw it was in the all-you-care-to-eat residential dining facilities," says Lisia Spellman, Pitt Eats sustainability director.
Now that research has shown little-to-no risk of transmitting the virus through hard surfaces, Pitt Eats and Chartwells have teamed up to bring reusable containers back to the University of Pittsburgh. In doing so, Pitt Eats introduced the reusable plastic boxes at the all-you-care-to-eat residential dining facilities. Prior to the pandemic, the containers were only available at the university's retail operations.
The program dates back to 2017 when Pitt Eats set out to meet its goal of serving 50% of to-go meals in reusable containers by 2025. The introduction of the program at dining concepts The Eatery and The Perch in February 2021 provided the most significant progress toward that goal to date with 10% of meals at those locations being served in the completely reusable containers.
University of Pittsburgh students are encouraged to opt into the reusable container program on campus.
Here, Spellman shares additional insights into Pitt Eats' reusable container program and how it was relaunched.
Q: How does Pitt Eats' reusable container program work?
A: Since the program is backed by the university, students get their first token, which they turn in for a reusable container for free. When a participating student arrives on campus, this person goes to a cashier in a dining operation to enroll in the program and receive the first token. You go to the station where you want to eat and exchange your token for a reusable container. After you finish your meal, you go to one of four machines that collect the used containers and place your container in there and then you receive another token. The machines are in our dining halls and some of our retail operations. Our employees wash the containers for reuse. Students can purchase additional tokens if they would like to have more than one reusable container.
Q: While this program was in place prior to the pandemic, it was paused due to safety concerns related to COVID-19. Discuss what it was like trying to resume this program.
A: We tried to restart the program in the fall of 2020 but did not get approval from the health department to do so until the spring semester of 2021. To get the program running again, I was able to speak directly to the Allegheny County Health Department to explain how it works. At first, they thought the program consisted of students bringing their own containers to campus. Once they understood we provide the containers and use a commercial dish machine with water temps that go up to 185 degrees F, the health department felt it was safe for us to resume this program. To ensure our employees are safe, we make sure they wear the proper PPE — including gloves and masks — when they collect the containers. We did get a little employee pushback at first, but once they understood how the program works and saw we have the proper processes and training in place to keep them safe, they felt comfortable.
Q: How did things go in the spring semester?
A: We restarted in February and had 648 students register to use the reusable containers during the spring term. The biggest dining hall was using 200 to 300 containers per week. And since the restart of the program, we have had more than 4,000 containers exchanged across campus. On average, one reusable container accounts for 300 single-use paper containers.
Q: In addition to a reduction in single-use food containers, what other benefits have you realized from this program?
A: One benefit is an overall reduction in waste. We advise students to use the reusable container for the biggest part of their meal. Then use the compostable containers for the other aspects of their meals. This approach led to decreased food waste.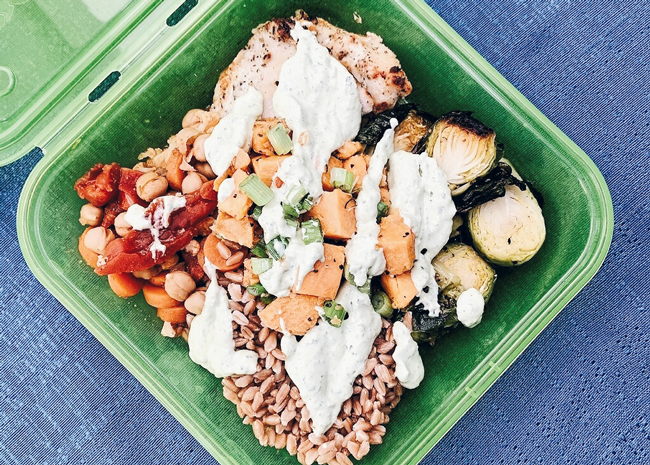 The University of Pittsburgh's reusable container program has led to an overall reduction in food waste.When you are in an all-you-care-to-eat facility, students may take more than they can eat. They will grab the food because they can and may not be thinking it through. In reality, though, it often does not work that way with the reusable containers because students become more cognizant of what they are taking. So, they are more inclined to take what they will actually eat. And from a production standpoint, it's going to give you a truer idea of what students are eating.
Students were able to reduce waste in the dorms because they were not having to throw away as many single-use plates, etc. Yet students could still take out as much food as they want. A lot of universities have sustainability goals, and this can help keep them on track in a post-COVID world where to-go dining and mobile ordering will remain prominent.
Q: What advice would you offer other operators considering a similar program?
A: Just go for it! It's a great program to reduce waste and promote sustainability.