Condiments typically support a variety of uses, and trending flavors tend to stick around for a while.
What's Trending
Sriracha is still growing on menus, increasing its menu penetration 35% in the past four years, with chefs finding new applications for it.
One of the fastest-growing condiments on menus in the past four years, chimichurri has increased its menu penetration 43%. Operators use chimichurri on meat entrees, tacos, bowls and even on nachos and breakfast dishes.
Hot and spicy flavors continue to trend on menus. Nashville hot grew more than 700% on menus in the past four years and has become far more common at major chains.
Sweet and spicy condiment flavors, like mango habanero and hot honey, continue to trend because they give consumers the best of both worlds.
On the sweeter side, options like matcha, almond butter, maple and sea salt caramel are hot condiment flavors. Matcha is up 140% on menus in the past four years.
Aiolis are now on 28% of menus.
Truffle as a flavor is up 17% in the past four years.
Source: Datassential's "Condiments, Sauces, and Dressings" keynote report
Signature Sauces
"Not only are condiments utilized as sandwich and burger toppings, but they also can be used as dipping sauces, glazes for proteins and in just about every daypart," says Mike Kostyo, trendologist at Chicago-based Datassential. Adding a unique condiment to a dish turns a common item into a signature one. "We call that 'safe experimentation,' and it's a surefire way to create menu items that score high in both purchase intent and uniqueness," he says.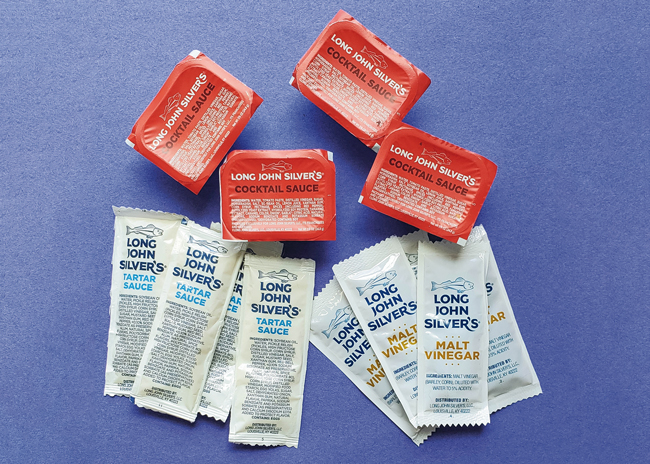 Image courtesy of Long John Silver
New Normal Condiment Protocol at Long John Silver's
The pandemic has led some quick-service chains to alter their condiment distribution protocol. Staff at Long John Silver's used to dole out core condiments — tartar sauce, cocktail sauce and ketchup — automatically and generously with its meals, but that practice has changed.
"Typically, our restaurants automatically gave ketchup with fries, however, now they ask the guest if they need ketchup for their fries," says Stephanie Mattingly, Long John Silver's chief marketing officer. "Currently, our condiment stands do not have bulk sauces or packets, and sauces are being distributed at the counter when guests receive their food."
In addition to seeing a massive shift to portion control solutions instead of bulk, the chain is contending with a significant rise in cost in an integral condiment ingredient — soybean oil.
"Soybean oil prices are at all-time highs due to an extreme lack of supply of refined oil, which is being driven by a rebounding foodservice sector along with brand new demand from renewable diesel refiners," Mattingly explains. "Some soybean oil refiners are now turning away foodservice business in favor of renewable diesel refiners who are willing to pay large premiums to secure supply."
Chef Dean James Max Talks Signature Condiments
Chef Dean James Max, principal at Deerfield Beach, Fla.-based DJM RestaurantsPandemic-related supply chain issues trickled all the way down to condiments, which resulted in many jokes about ketchup packets being culled up from the back corners of consumers' kitchen drawers. For chef Dean James Max, principal at Deerfield Beach, Fla.-based DJM Restaurants, which develops and operates farm-to-table restaurants, the shortage led to creating a blend in-house to compensate for a brand that was unavailable.
"People tend to recognize the flavor of a particular sauce, so we did the best that we could for the eight weeks while the branded sauce was unavailable," he says. He believes house-made hot sauces may become more commonplace.
Q: What unique condiments are on the rise?
A: In my area of full-service and counter-service restaurants, we see an interest in house-made hot sauces on the increase. This could be based around our concepts in fast casual, oyster bars and Mexican fare. Spicy flavors also are popular. With the idea of freshness, we have been serving more chimichurri as a sauce takeaway since it's fresher and healthier than other options. It can go with anything — fish, chicken and vegetables — since it's just vinegar, olive oil and herbs. We'll mix it up and use cider or sherry vinegar and add jalapenos or hot peppers for heat. We make a grilled green onion chimichurri.
Q: What equipment is integral to producing your signature condiments?
A: We typically use food processors and blenders to produce our hot sauces. Immersion blenders also are a staple for preparing condiments. For our salsa, we've gone old school with the mortar and pestle. This is because a blender creates a too-fine consistency, while the food processor results aren't as smooth as we like. We tend to get a perfect texture with a mortar and pestle.
Q: How do you package signature condiments for takeout and delivery?
A: We put everything in 1- or 2-ounce disposable ramekins. The little containers are pricey, so we have a standard number that we hand out. This is easier to control than if these were set out in the self-serve area.
By the Numbers
42% of consumers say they look forward to signature sauces served at particular restaurants and a whopping 9 out 10 say they would buy them at retail, if available.
31% of operators
surveyed charge extra for at least one condiment, sauce or dressing, and 58% say trendy condiment varieties are worth
a price premium.
39% of consumers prefer to see name-brand ketchup in restaurants.
43% are interested in trying new condiment flavors and varieties on burgers.
39% learn about new condiments, sauces and dressings from restaurant menus.
31% eat sriracha at least once per month.
Source: Datassential's "Condiments, Sauces, and Dressings" keynote report