"When everything returns to normal" is a phrase we hear a lot these days. But "normal" continues to become the "new normal" as restaurants and foodservice operations adapt, change and modernize to meet both the old normal demands and the new ones created during the pandemic.
As off-premises continues to lead the focus of many foodservice operators, business and industry feeders rethink how to best serve workplace employees with a takeout-oriented model.One of the biggest changes that's occurred during the COVID-19 pandemic is the amount of off-premises business happening across all foodservice segments. Experts predict consumers' appetites for enjoying restaurant-quality food at their homes or offices — or home offices, for that matter — will remain healthy. This means operators will need to adjust their kitchens and other aspects of their businesses, adding and subtracting equipment as necessary and paying particular attention to their packaging.
Because of declining numbers of workers in offices, contractor Sodexo now offers a program called Eating Delivered through The Good Eating Company, a business the contract feeder acquired in 2017. "This is a B2B business for C," says Mike Gillespie, president of Sodexo Corporate Services West, meaning it's a business-to-business company for consumers.
Eating Delivered allows employees at Sodexo's client companies to order meals via an app. Staff at Good Eating's commissary prepare the menu items and deliver the food in bulk to the client's kitchens, where the food gets chilled or rethermed. Depending on the location, the food is delivered cold and rethermed for pickup, or delivered hot and held. Employees all order in a given time window. To make this program viable, Sodexo says it does require a minimum number of orders.
Allowing customers to order food in this way means kitchens in the business and industry segment can be much smaller, Gillespie says, with perhaps not much more equipment than a couple of retherm units, refrigerators, and equipment to finish product, including grills and ovens.
The Sodexo program has been running in London since last May and in Canada since February. Sodexo plans to go live with the program this spring in New York City. "This is a good example of how this pandemic has changed on-site foodservice," Gillespie says. "If you have 80% of employees flexing where they are on any given day, you don't need all that space for a dining room, kitchen, servery — and we can take that production off-site where it's done well."
Greater app usage by customers throughout the pandemic period supports the redesign efforts at MOOYAH Burgers, Fries & Shakes, which feature a separate entrance for off-premises pickup.
On the Shelf
MOOYAH Burgers, Fries & Shakes, a Plano, Texas-based fast-casual concept, has seen enormous growth in customers using its app to facilitate off-premises dining in the past year. It has launched a redesign of its restaurants to better suit mobile ordering.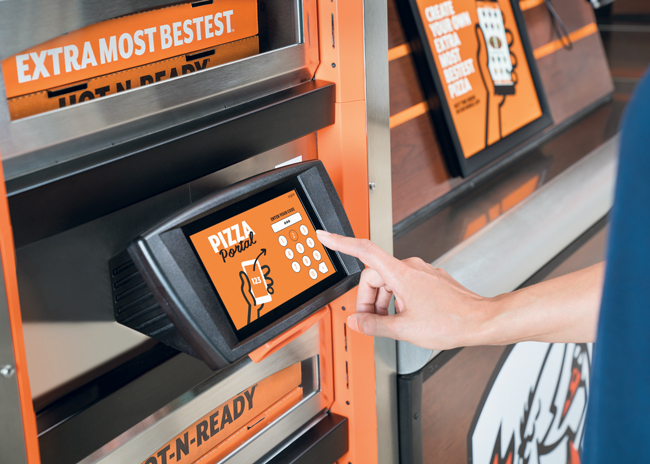 Little Caesars' contactless pickup program holds pizzas in heated compartments.This resulted in the addition of doors leading into the restaurants from a small patio. Once through those doors, customers encounter ambient shelving units holding their bagged food orders. Some franchisees added ambient cubbies, but MOOYAH prefers the shelves because they're faster for employees and customers and they take up less space.
The shelves reside toward the back of the restaurant, keeping dine-in and to-go customers separate and making them easily accessible by staff. In the event someone needs to wait for their food, there's some bench seating near the shelves, too.
Little Caesars' contactless pickup program holds pizzas in heated compartments."Digital has been the overall strategy we've been focused on for the better part of 12 to 18 months," says Tony Darden, president of MOOYAH. "Our new store design features separate entrances and exits for folks that order pickup and to-go, and delivery drivers, so they don't have to come through the entire restaurant. We're trying to reduce the friction in our restaurants and allow our consumers to access us the way they'd like."
Once the pandemic is over, Darden expects some customers to revert back to eating indoors at MOOYAH restaurants but doesn't think we'll turn back the clock completely. He believes that at the end of the day, off-premises sales will be higher than they were pre-pandemic and dine-in will be a little less.
Your Pie, a down-the-line fast-casual pizza joint, introduced heated shelving at one of its stores in Athens, Ga. Going forward, all new Your Pie locations will feature them. "We're looking into multiple different designs that locations can choose from," says Ashley Williams, director of training for the Athens-based brand. "Once we find more cost-efficient options, more locations can have heated shelves."
The corporate office recommended its franchisees purchase pickup shelves and found inexpensive options at local home improvement stores, but the Athens franchisee wanted to keep food hotter. So, the owner invested $1,500 in heated shelves, which reside close to the kitchen and beverage station and next to an ambient shelving unit. This placement makes it easier for staff to monitor this area. Up to 12 orders fit on the shelves. If they contain hot and cold items, they sit separately on their respective heated or ambient-temperature shelves.
Fast-casual pizza chain Your Pie is working to incorporate heated shelving at all stores.The heated shelves measure about 6 feet wide by 7 feet tall and won't fit in all Your Pie locations, though Williams says guests "will get a better-quality product if the pizza is able to stay warm the entire time but still have the convenience of being able to grab their order and go with minimum contact."
And to show the integrity of the food, the corporate office trains all teams to add tamper-proof seals to all boxes and bags. "We're also looking into different ways we can make this process more seamless and efficient because we believe the guest expectation of tamper-proofing is an important aspect of easing health and safety concerns and is not going away anytime soon," Williams points out.
Off-premises dining is leading operators to include more shelving in the back of house. This is one trend that shows no signs of slowing, says Chuck Taylor, director of operations for Englewood Construction, a commercial general contractor in Lemont, Ill. He also sees restaurants adding more dedicated assembly and packaging areas, tables and employees for this task. These are usually simple stainless-steel worktables with some shelving below for bags and containers, and some bins for straws, utensils and other items. "Organization is key," he says.
Outdoor Equipment
Presbyterian Senior Living, Westminster Woods, in Huntingdon, Pa., managed to feed its residents outdoors through the warmer months by buying outdoor cooking equipment and setting up two tents.
This mixed-level facility faced an additional challenge with the COVID-19 pandemic: Its residents were a captive audience with nowhere else to eat, so some fun and variety had to be brought to dining. Throughout the summer until November, foodservice staff relied on a few key pieces of equipment to cook many items. That equipment included a pizza oven, charbroilers and boilers, which prepared dishes such as a shrimp boil. "We tried to write the menus based on what we could cook on that equipment," says Paul Sprowls, director of dining services with contractor Cura, a part of the Elior North America family of companies.
Residents would either drive up and take their food to-go or drive up and eat in nearby tents, with the majority opting for the former. To keep dining exciting for residents, Presbyterian also held some outdoor events, including the Wok Wagon, a trailer that travels to four locations on the campus. Other events included a cheese and wine spread, a bagel bar, and a watermelon and lemonade stand. "We tried to do something once a week when the weather was nice," says Robert Pennington, assistant director of dining services.
The biggest challenge this facility faced was packaging waste, says Sprowls, since initially, every meal was served in a foam container. He did some research and moved to a reusable hard plastic product. When done with their meals, residents return the packaging, and the staff wash and sterilize it.
The culinary team at Presbyterian Senior Living took the cooking outside last summer with a series of outdoor events for residents.
College Campuses Adapting
To meet reduced capacity restrictions in the Commons at the Canon Center, Brigham Young University in Provo, Utah, switched two of its food court stations to takeout only.
"We turned it into a more retail-style," says Chris Nukaya, director of student dining. Initially, he says, the foodservice department was worried about the perceived value of the takeout food compared with the students' usual all-you-care-to-eat meal plans, but students have happily accepted it and about 30% opt for it at each meal period.
A wall of cubbies dominates the design at off-premises focused Box'd, a contact-free Mediterranean-style casual-dining concept. A challenge with this program has been the packaging, says Nukaya, because the products the university used previously weren't very portable and students were likely to be traveling with the food. "We needed products that would be leakproof but also keep food hot," he says. "We wanted a clear top because we didn't want it to feel like they were getting a box of food; we wanted it to feel like they were getting their favorite food. So we wanted packaging that resembled that and didn't make it feel like the same old catering food — that they felt like they were getting more of a retail experience."
The takeout program has been so popular that Nukaya had to change the way food prep was done. Initially, it was all done in the university's prep kitchen. Due to the volume of orders, he shifted the prep work to the two takeout stations to avoid a bottleneck in the prep kitchen.
University of Notre Dame in South Bend, Ind., added pickup windows to its dining halls and most of its retail concepts, such as Smashburger, Starbucks and Au Bon Pain. Those that serve hot food often have heated shelving just inside the window, too. Almost all of the windows have been retrofitted, which was inexpensive, says Chris Abayasinghe, campus dining senior director — around $200, mostly for tables and shelving. "Long-term, I do not believe mobile ordering is going away," he says. "It's democratizing the ability for folks to have access — and access on their terms."
Because of this, Abayasinghe expects to see more retherming equipment in the back of house. He foresees using more food products that are already seasoned and flavored, where foodservice staff simply "bring them up to temperature quickly," he says. "There will also be the continued value of holding equipment for both heat and humidity."