In our conversations with foodservice designers lately, it seems — at least for some — deadlines are approaching faster as projects put on hold during the pandemic are ramping up.
Deadlines in the design world have always been hurried, but the trend of shorter and shorter timelines shows no signs of slowing down. There seems to be a lot of pent up demand, and now everyone wants to put the gas on and speed things along.
A handful of foodservice designers share a few tips on how to stay organized and communicate with project teams and clients to meet fast-paced deadlines.
Build in more details upfront.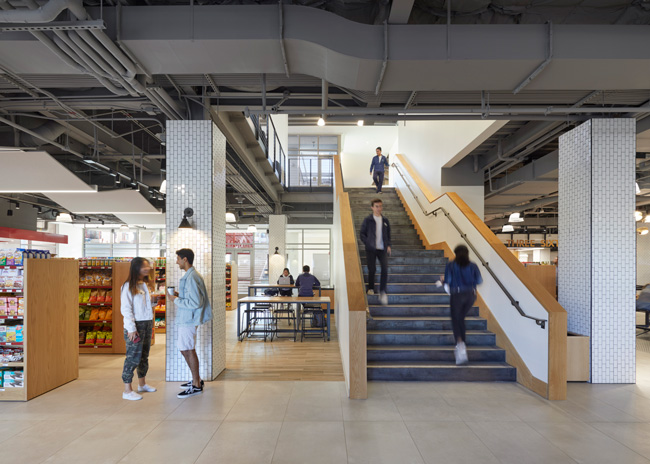 Working closely together, HDH, STUDIOS Architecture and Ricca Design Studios redesigned the University of California San Diego's Canyon Vista Marketplace. Image courtesy of Lawrence Anderson Photography Inc."Putting out robust documentation early is the best way to tackle fast-approaching deadlines," says Ryan Mikita, FCSI, principal, Ricca Design Studios, New York. "The more detailed we are at the schematic or concept level, and the more information we can provide up front, the faster our coordination." This includes engaging with other trades and wider teams at an earlier time in the project cycle in order to estimate square footage and refrigeration, electrical and other utility needs and details to prevent busting the budget later.
In addition, Mikita and his team will begin identifying potential manufacturers during the concept stage, rather than pinpointing general equipment pieces. "By doing all of this work upfront, we can eliminate RFI's [requests for information] and questions coming back and be able to give our schematics to the design development team to get the ball moving sooner," he says.
Leverage collaboration software and organizational apps.
While Mikita admits he can be "old school," preferring to keep a running to-do list that "never seems to end" for his own needs, when working with his associates, the team uses a cloud-based spreadsheet and collaboration program to assign tasks, track project progress, manage calendars, share documents and aggregate information from multiple projects at a time using a simple interface or dashboard.
"We have a number of pages set up that can manage and schedule deliverables, and we can also use it to log our work in [our building information modeling system] as well as to keep track of square footage, budgets and other information," Mikita says. In addition, Mikita points out his team is expected to engage with whatever software clients use, including video conference programs, construction management software, project management software, etc.
Chris Wair, design principal, Reitano Design Group, Indianapolis, also prefers to manage his own running to-do list in addition to a shared, company spreadsheet with project details and deadlines. "Every morning I sit down and note what has to be done today and put those tasks at the top of my list," he says. "We get so many interruptions during the day that it's helpful to be able to refer to something."
The Sterling Bay team partnered with teams from Lombard, Ill.-based Quest Food Management Services and Indianapolis-based Reitano Design Group to develop The Farehouse Market. Photo by Kevin Hartmann
Schedule regular catch-up calls and meetings.
Mikita's team meets remotely twice weekly to go through deadlines and assignments in a collaborative platform. "We'll take Monday to go through a month's work of deliverables, looking at what's due in the coming week and then circle back on Wednesdays to track progress," he says. "About 75% of my week is coordination meetings. We make sure we are aligned internally and on the same page when it comes to expectations and deliverables before we communicate with the client."
Wair notes his team also ramped up coordination meetings as of late. "We used to have production meetings once a week, but now they are definitely a couple times a week," he says. "As business ebbs and flows, we can increase or decrease the time for those meetings, but we still like to touch base, even briefly, so everyone knows what we're doing and what deadlines are approaching.
Manage supply chain expectations.
This past year has seen some slowdown in the equipment supply chain, particularly when it comes to refrigeration, says Mikita. "We've been hearing about some supply problems with walk-ins and the chemicals needed for piping," he says. "Fortunately, for some of those projects we are only in the early stages, so we're hoping this issue will be resolved in six months, but for other projects, lead times are being cushioned a little." In those cases, Mikita says his team is not afraid to be transparent and manage expectations with the client upfront so there are no surprises closer to deadlines.
Cini-Little International Inc.'s project Hamilton Princess Beach Club. Photo by Nhuri BashirKatja Beck, senior associate, Cini•Little International Inc., has also noticed the extended lead times for equipment, "not only for foodservice spaces, but for general building materials," she notes. As a result, "general contractors anticipate a longer construction phase, so the time allowed for the design is reduced in order to meet unchanged project completion dates. I do find that the design phase timeline for projects is becoming shorter and shorter. And, I believe that they might become even shorter with projects that were delayed because of the pandemic and are ramping up again now or in the coming year."
For Wair, dealing with the faster deadlines and longer lead times means he's had to work more directly with the manufacturer at times. "We have very strong relationships with manufacturers' reps, and copy them on all of our emails and communications, but sometimes we need to cut through the layers and go to the factories directly to get faster answers to questions," he says.
"Everybody is in the same boat — even the electricians, the plumbers, the contractors are all feeling the pace of projects picking up, and this was starting to happen even before COVID-19," Wair adds.
Accelerated deadlines will remain part of the foodservice design landscape for the foreseeable future. By staying organized in whatever way works best for you, dealing with questions and details earlier in the design phase, and communicating regularly, though, project teams can rise up to meet the challenge.