New ideas, ingredients (healthy and not) and innovations keep the Mexican segment on-trend.
When examining current and future trends in the fast-casual Mexican segment — or any restaurant segment, for that matter — it's impossible to ignore the elephant in the room. But while COVID-19 has prompted a number of industry-wide pivots, savvy fast-casual Mexican operators are also embracing new ideas, ingredients and innovations beyond those involving the large pachyderm. And their timing couldn't be better.
"We asked consumers which foods they were missing the most from restaurants during COVID restrictions, and Mexican cuisine came out on top, just ahead of seafood and Asian cuisine," says Mike Kostyo, trendologist for Chicago-based Datassential. "Mexican fast-casuals are in a good place to offer consumers an option that they really want and miss right now, whether that's through delivery or as they start to head back to restaurants."
Additionally, according to IBISWorld's August 2020 "Mexican Restaurants" report, the Mexican restaurant segment performed well during the five years leading up to 2020, as Americans have grown increasingly fond of Mexican cuisine. Mexican-style food has become a mainstream constituent of the American diet. IBISWorld's projections call for fast-casual restaurants to outperform full-service Mexican restaurants over the next five years as consumers continue to put a premium on speed of service. Overall, projections call for the Mexican restaurant industry to grow at an annualized rate of 6.8% to reach $75.8 billion by 2025.
he bright decor at Fuzzy's Taco Shop keeps the ambience light and airy. Newer menu items tap into trends such as the Nashville hot chicken craze.
The Rise in Off-Premises Dining
But before fast-casual Mexican operators can experience any growth, they've had to find ways to overcome the current challenges and restrictions. A major part of that has been through off-premises dining.
"Fast-casual Mexican has performed well in the pandemic, but focus has shifted to off-premises sales through pickup, curbside and delivery," says Darren Tristano, CEO at Chicago-based Foodservice Results. "Mexican operators have a strong advantage in the food integrity for travel as burritos and other Mexican favorites can stay hot and fresh longer than many other food types." Tristano also touts the cuisine's ability to be a good option for large family occasions, including dinner and social events that serve groups of three to 10 or more.
Made-to-order food is a tenant at Tijuana Flats. That has presented a learning curve to determining the best approach to utilizing a pickup window, which is something the chain is exploring.
While Winter Park, Fla.-based Tijuana Flats had already offered curbside as a convenience for its guests, it wasn't a formal service per se. "We have a lot of moms with children in the car, and previously they would call the restaurant and ask if we could please bring their food outside," says Eric Taylor, vice president of development of the 25-year-old company, which has 123 restaurants in 4 states. "We were headed in that direction anyway, but COVID definitely accelerated it."
Third-party delivery is another area that Tijuana Flats, like many others, now leverages to serve customers. The decision to work with third-party delivery came after researching ways to use the model correctly and some initial apprehension regarding fees. "Those third-party companies have become partners to help us make things work better and have become a larger part of everyone's business," says Taylor.
Tijuana Flats also plans to add pickup window service. But the chain — like other operators in this segment — must first address the challenge that the made-to-order quality of Tijuana Flats' food presents. "A lot of us who are not fast food are trying to figure out how to utilize a pickup window because when you make food fresh you can't have a traditional drive-thru because the cook time is longer," Taylor says. "It's a been a big learning curve with COVID. Yes, you have curbside. Yes, you have third-party delivery. But how do you use that pickup window as well to provide guests that next level of service."
Fort Worth, Texas-based Fuzzy's Taco Shop, which specializes in Baja-style Mexican favorites at its 150 franchise- and corporate-owned locations in 16 states, faces a similar dilemma as it tests pickup windows. "Because we are a scratch kitchen and cooked-to-order, we have to still honor that," says Samir Wattar, Fuzzy's vice president of supply chain. "You can take a lot of shortcuts, but we don't like to do that."
Fuzzy's has also experimented with third-party delivery, says Laura Purser, vice president of marketing. "We are taking better advantage of tools they provide, and they are helping us across the board to continue to drive sales," she says.
Taco John's, which operates and franchises some 400 restaurants in 22 states, has also embraced off-premises dining. "With guests not able to come into our restaurants, we adapted to mobile ordering and delivery, making it the easiest experience for them," says Brad Bergaus, corporate chef and director of menu innovation. Supply constraints also created unique challenges for the Cheyenne, Wyo.-based company. "We have had to remain nimble to what was available while providing the same quality and amount of food the guest is expecting," he adds.
While the importance of off-premises dining was sped up as a result of COVID-19, it's not going away anytime soon. "The popularity of delivery, drive-thru or takeout options will wane a bit as consumers go back to restaurants again, but overall, they're here to stay. Consumers have gotten used to being able to relax at home and summon whatever they want to eat from their favorite app," says Datassential's Kostyo. "Many of the options that resonated with consumers during COVID should still be viable in the future."
Tijuana Flats plans to remodel 10 restaurants a year to streamline food production and upgrade technology components.
Technology to the Rescue
In order to implement off-premises dining, some operators have had to upgrade their equipment or, in some cases, install new technology and employ changes to their interior design.
"A lot of the segment's technology needs recently have focused on delivery and takeout," says Kostyo. "Some operators are reconfiguring back-of-house space so that there can be a separate or expanded prep area just for takeout and delivery, which often requires new equipment. And more and more operators are adding technology-driven pickup areas or cubbies to the front-of-house space."
While a tech package wasn't part of Tijuana Flats before, it will be in the future, says Taylor. A recently opened prototype in Noblesville, Ind., includes a status menu board for to-go and third-party pickup as well as a revamped back-of-the-house to make food production more streamlined. Kiosks are in the restaurant's near future as well. "Going forward, we are going to remodel roughly 10 existing restaurants per year to bring up to speed," he says.
"Shifting toward technology for call-ahead ordering and leveraging technology applications for ease of ordering versus phone has been a very efficient way for customers to interact with their favorite restaurant," says Foodservice Results' Tristano, adding that he's excited for the continued investment in technology for mobile, kiosks and GPS tracking for orders. "This gives customers an improved way to interact and stay updated on their meal orders."
Additional Transformations
Off-premises dining, however, wasn't the only way Mexican fast-casuals got creative during the pandemic-related dip in business. "We added a marketplace to our restaurants, which was well received and helpful for our guests," says Tijuana Flats' Taylor. "We have the ability to buy toilet paper, paper towels and all the things people needed that might have been sold out in the grocery stores. You could come in and pick up your food and buy some of the basic necessities you couldn't find."
Build-your-own meal kits found a welcome place in consumers' homes too. Fuzzy's had been looking at family meals for two years but had yet to put a plan into action. When the shutdowns started, the team met on a Wednesday and discussed putting together an easy-to-make taco kit, which they felt would appeal to both kids and adults. By Saturday of that week, it was rolled out. Purser credits those at-home kits as helping to fill in financially for the void in catering orders that came from businesses and large holiday parties in previous years. "During the April and May shutdown, it got as high as 4% of sales," she says. "Since then, it's been 1.5% of sales throughout." Fuzzy's plans on continuing to offer the kits with a few refinements here and there.
Datassential's Kostyo views the meal kit approach as worth the effort. "Over three-quarters of those who ordered a family meal bundle from a restaurant for the first time during COVID say they will continue to do so after COVID," he says.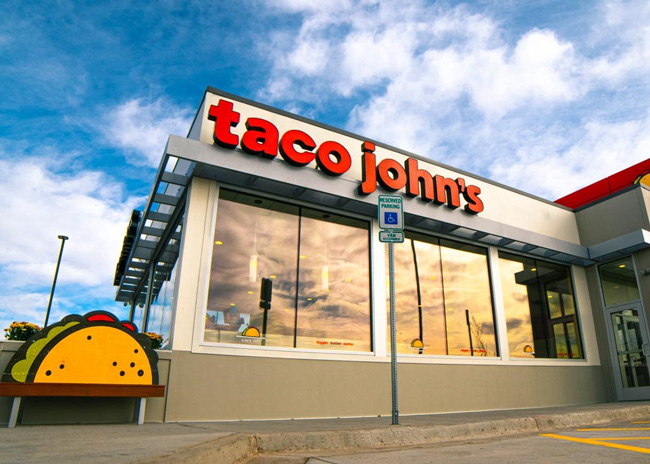 Like many chains, Taco John's continues to embrace off-premises solutions.
Menu Innovations
Like with so many other restaurant segments, finding ways to incorporate more non-meat dishes has also found its way to fast-casual Mexican venues. "We've seen a number of operators introducing plant-based meats to the menu, often because the products tend to perform well in a taco or nacho application with lots of flavors and spices that make it harder to discern a plant-based meat from a traditional meat," says Kostyo.
Fuzzy's exploration of plant-based options includes specific diet approaches. "We are looking at vegan as an option, but making it fresh and using some of our own ingredients to create a vegetarian or vegan taco," says Wattar, adding that a fried avocado taco has been on the drawing board as well as a vegetarian bean-based crumble with no artificial ingredients.
Another approach to menu differentiation is with the introduction of higher-quality ingredients. "We've seen premium protein options really setting Mexican fast-casuals apart, with Chipotle bringing back their carne asada and Rubio's offering options like wild-caught Norwegian lobster," says Kostyo, adding that operators should focus on options that consumers can't or don't make at home. "Many families may have made simple ground beef tacos at home, for instance, but they probably aren't making Mexican street food bowls or fresh coastal-inspired seafood burritos." And, he adds, trending menu items in Mexican fast-casuals using terms like "flame-grilled" and "wood-fired" will continue to drive purchasing of the related equipment and technology.
Seafood is definitely something that's making its way to the front burner at Tijuana Flats', per chef Joel Reynders. The chain plans to introduce shrimp tacos this year. Seafood is an ingredient the fast-casual chain has been considering for a while, says Taylor, but with a no-freezer policy, the company has had to find ways to work within that core brand tenet. These past few months, limited-time offers, including a queso crunch burrito and secret menus, have been met with great results. A new fresh corn-based LTO is up next with a variety of new dishes to be featured around that ingredient.
Fuzzy's has also found similar success with its LTO items. Originally scheduled for the second quarter of 2020, the company's fried chicken tacos made their debut a few months later than planned. One of the tacos tapped into the Nashville hot chicken trend utilizing a kicky garlic sauce and feta cheese, both signature ingredients of Fuzzy's, while the other took a milder approach combining the fried chicken tender with avocado, tomatoes, bacon, ranch dressing and shredded cheese. "They still had Fuzzy's as its core but with just a slightly different flavor profile," says Purser. "I think bringing some flavors from outside of the Mexican world and looking at what overall restaurant brands are doing in general is important."
At Taco John's, corporate chef Bergaus is always looking for new ways to entice customers. "We are seeing elevated proteins by using different cuts, cooking methods and, most importantly, bold flavors. This is an area that has evolved and will always evolve because it is such a universal vessel for flavor, texture and creating memorable experiences," he says. "Our goal is to create flavors you haven't imagined yet."
And according to Kostyo, diners are more than ready. "As a vaccine is released and consumers start to head back to restaurants and worry less about basic needs, they'll start looking for those interesting, exciting options that only a restaurant can provide."