The new year brings another new version of the so-called new normal.
Last year posed challenges never before encountered in the foodservice industry. As America went into lockdown when the pandemic arrived last March, restaurant operators got creative just to survive. New takeout and delivery systems were set up, with counter, bar and table space repurposed to hold bagged orders. Some dining rooms turned into minimarts where consumers could access then hard-to-find staples like flour, sugar and even toilet paper.
In Lawrence, Kan., 1900 Barker went from a cozy bakery-cafe and neighborhood gathering spot to a contactless dispensary of artisan baked goods via a bank-style drawer. "We took a head-on approach to safety and social distancing, and looked to peers as well as local health officials," says baker and co-owner Taylor Petrehn. "We flipped overnight into a takeout, online-ordering-only model." The biggest challenge, he says, was "trying hard to reimagine what normal can look like right now. We plan to invest in whatever makes it sustainable."
1900 Barker, a bakery-cafe and neighborhood hangout in Lawrence, Kan., closed its pickup counter and customer seating area during the pandemic in favor of a minimal-contact pickup window.
In Southern California, lively full-service sports bar Cali Comfort BBQ pivoted to pickup and delivery sales only, boosting average ticket totals with bottled versions of its Mango Margarita and other signature cocktails, and building its social media marketing around the idea that its family meal packages were the ideal accompaniment to big-time TV sports events at home.
On-site foodservice administrators in colleges, hospitals and office buildings alike pared down offerings, reworked traffic flow, eliminated self-service and converted salad bars to grab-and-go counters. In South San Francisco, Calif., biomedical company Genentech shut down its multioutlet foodservice program, run by Bon Appétit Management Company, for a time. But when the skeleton crew on-site started leaving campus for lunch, Bon Appétit reopened a single dining room, with a one-way socially-distanced queue for pickup of free boxed sandwich meals that staffers could eat at their desks or outdoors.
Nutrition staff in K-12 school districts struggled to distribute subsidized meals to students who began distance learning at home. In the Seaside, Ore., school district, the Chartwells-run foodservice department invested in an automated meal processing and sealing system, enabling staff to pack chilled, reheatable meals, along with leakproof fruit and vegetable cups, for distribution to students throughout the district.
With a vaccine on the horizon, operators that have survived the worst are preparing for a transformed post-pandemic future. Many in the industry believe on-premises dining will rebound as pent-up consumer demand finds release.
"Restaurants compete on either convenience or experience," says Dave Henkes, senior principal at foodservice research and consulting firm Technomic. "Even before the pandemic, restaurants that didn't know their value proposition was struggling. Those that have a unique point of differentiation — service, ambience, the beverage program — will be the winners. That will be doubly true after the pandemic, when consumers will be looking for reasons to come back to the dining room."
On the other hand, Henkes says, every full-service restaurant also needs to have an off-premises strategy going forward. Most operators also expect a continuation of the long-term trend toward takeout and delivery. And they're investing accordingly.
LSRs Lead the Way
Large quick-service chains, with deep pockets and a need to please franchisees, set the direction for off-premises dining for the entire restaurant industry; other sectors tend to follow suit from their lead.
McDonald's is rethinking its drive-thru format systemwide. Instead of stationing humans at the drive-thru, it's adding artificial-intelligence technology for customized upselling, testing automated order-taking and a dedicated drive-thru lane for digital orders, and contemplating a conveyor system to alleviate the bottleneck when multiple lanes funnel to a single pickup window. It's part of a transformational process focusing on what McDonald's labels the Three D's: digital, delivery and drive-thru.
A smaller McDonald's On the Go store prototype features a pared-down menu and offers counter takeout, drive-thru and delivery, typically with no seating. And the burger giant's MyMcDonald's loyalty program enables mobile ordering that triggers order prep to begin as the customer approaches the unit, flexible payment options, app-based delivery and targeted deals.
Restaurant Brands International, the parent of Burger King, Tim Hortons and Popeyes, is modernizing the drive-thru experience at all three brands, adding weather protection and digital screens with predictive selling technology (deals are focused on the customer's buying patterns, time of day and local weather). Scanners in front of the screens enable loyalty-program scans and contactless payment, meaning guests can order and pay at the same time and thus speed up the line.
Redefining and Reinventing Full Service
Limited-service restaurants have always focused on convenience, so transitioning to a more takeout-and-delivery-dominated future comes naturally. Sit-down restaurants have typically found it harder to change their stripes.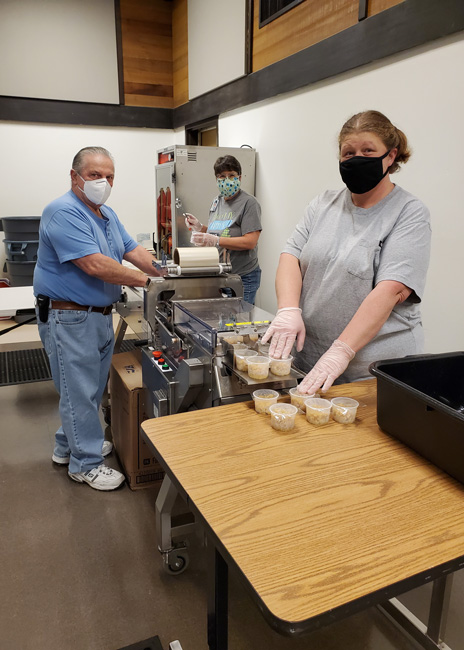 School districts have made equipment investments to cope with the need for food packaged to go. These workers in the Seaside, Ore., school district are operating a new sealing machine to package foods with high liquid content, such as fruit cups. Photo courtesy of Compass Group USAFull-service restaurants have been "trying every which way they can to keep cash flowing in," says Arlene Spiegel, FCSI, who heads New York-based restaurant and hospitality consulting firm Arlene Spiegel & Associates. "They all hate it, but they know they have to change."
Spiegel predicts that in coming years, delivery will represent at least a quarter of sales for all restaurants other than fine-dining places. In a future in which flexibility and quick pivots will be key, she advises FSRs to reengineer their menus to concentrate on the best sellers and items that travel well. "Really rethink your use of equipment, space and labor," she emphasizes.
Spiegel notes that as foodservice has further embraced takeout and delivery, the salvation of many FSRs has been off-premises sales of alcoholic beverages (in jurisdictions where it's allowed). "Being able to sell a bottle of wine or a signature margarita has been really helpful, because margins on alcohol are huge," she says. Tailoring menus to match the adult beverages provides another opportunity for differentiation.
But to-go alcohol sales also imply the need for new equipment and supplies as well as subtle infrastructure changes. "Packaging and delivery systems for beverages will have to change," Spiegel says. "Dispensing equipment for 100 mojitos to be bottled — that's something that restaurants have never had to deal with before. Labeling equipment for labels with ingredient lists, no matter what you sell off-premises. So many restaurants are boosting sales by selling their signature salad dressings or marinades, blending foodservice and retail, becoming groceraunts."
Some full-service brands have made a splash by trading on their name with new retail products. As part of a partnership program to support Houston restaurants, Texas supermarket chain H.E.B. sells exclusive packaged products from Brennan's of Houston (including turtle soup, Creole shrimp and grits, and bread pudding with whiskey sauce), Cherry Block Craft Butcher and Kitchen (Dr Pepper beef short ribs and cheese grits) and Underbelly Hospitality (Korean braised beef and dumplings). The items have been a big hit with Texans, who are now able to duplicate the restaurant brands' upscale meals at home.
Other concepts help generate more sales from currently underutilized kitchens by selling delivery-only products with a separate brand label. Among the most successful are Brinker International concepts Chili's and Maggiano's, both of which have partnered with DoorDash to produce chicken wings, curly fries and fried Oreo cookies for delivery under a new brand called It's Just Wings. Brinker CEO Wyman Roberts reported in a quarterly conference call in August the products were already generating $3 million a week in sales (or about $150 million on an annualized basis) at a cost that amounted to no more than "a couple of small refrigerators in a couple of units." Brinker's success is paving the way for other brands to get into the game.
Similarly, Aventura, Fla.-based Smokey Bones Bar + Fire Grill units sell products for delivery under the virtual brands The Burger Experience and The Wings Experience. Smokey Bones does sell both wings and burgers, but some of the menu items are unique to the new brands.
The virtual-brand strategy used by Brinker and Smokey Bones is in line with consumer research findings: Diners will accept secondary brands from restaurants, but only for menu items that would seem to be logical additions for the parent brand. This suggests that another recent development may be imitated elsewhere — the special reduced-cost licensing deal from Nathan's Famous for other restaurant brands to sell two products from the Nathan's menu.
Regional operators continue to develop new concepts utilizing their existing kitchens, too. For instance, Houston multiconcept operator Goode Company created a takeout and delivery chicken brand called Goode Bird, with items prepared at the company's Armadillo Palace restaurant.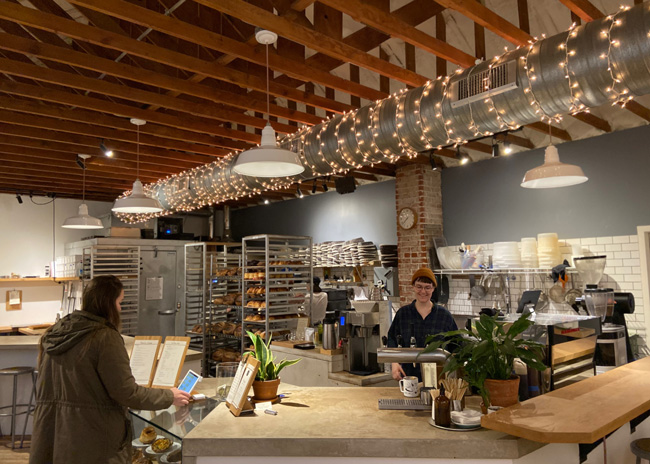 1900 Barker staff repurposed the interior space seen here for production of takeout orders. 1900 Barker says it has no current plans to return to the previous format.
Seeing a Ghost Kitchen Everywhere
A good number of restaurant companies, including high-profile chains like McDonald's and Chick-fil-A, have opened virtual locations or ghost kitchens that cook and sell their own branded food for delivery only.
Chicago chef-restaurateur Rick Bayless is one of the operators who turned to ghost kitchens in 2020. The celebrity chef opened a new Tortazo fast-casual concept in Chicago's downtown Willis Tower in January, but when work-at-home arrangements all but emptied the 110-story skyscraper of office workers, he temporarily converted the space into a ghost kitchen for his O'Hare Airport Tortas Frontera concept. (The Willis Tower space has since reopened under the Tortas Frontera brand.)
For Tortas Frontera delivery orders, Bayless uses Kitchen United, a company that provides kitchen commissary space in several major metro markets to prepare orders for third-party delivery. Panera Bread also works with at least one Kitchen United site as a virtual kitchen for delivery orders.
Kitchen United is only one of the commercial companies opening ghost kitchens for restaurant brands. Others include Zuul, Cloud Kitchen and Virtual Kitchen Co. Partnering with such a company can help restaurateurs increase their speed to market, opening new locations at low cost.
"VKC has revolutionized the way restaurants do business," according to Doug Wong, co-owner of San Francisco-based fast casual Poki Time. "Opening our last location took over a year from start to finish. With VKC, we were able to expand into multiple locations within a matter of weeks. We now cover more customers in popular neighborhoods we couldn't reach before, with no costly investment on our end. We worked with the VKC team to redesign our delivery menu, optimizing for faster prep times and unique packaging."
And at least one delivery service, DoorDash, has opened its own shared ghost kitchens in which several concepts can prepare food for delivery.
But if restaurants could create their own delivery system, they could bypass the delivery services and their profit-eating fees while marketing a unique advantage, suggests Joseph Schumaker, FCSI, founder and CEO of Idaho-based foodservice design and management firm FoodSpace. "I have a family of four," he says. "We often scroll through DoorDash listings and don't all agree on what we want. A ghost kitchen can do four or five or six restaurant concepts — sushi, burritos, personal pizzas, Chinese food — and prepare food that's delivered hot and fresh to the same address at the same time," he says. "Right now, delivery services like DoorDash and Grubhub can't do that; their technology isn't set up for it."