Americans seek the latest functional food ingredients to boost their meals' nutritional content when dining out.
In February 2020, fortified/functional food sales reached $63 billion, while naturally healthy food sales totaled almost $260 billion, according to a Euromonitor report. With today's nutritional profiles, the more unique, the better, as superfoods continueto gain traction in the foodservice industry.
Dietitian Perspective
Dietitians Darcie Ellyne, restaurant concierge at San Francisco-based Restaurant Dietitian, and Monica Auslander Moreno, founder and lead dietitian at Miami's Essence Nutrition LLC, believe a variety of nutritional developments are showing up on restaurant menus.
Ellyne sees more restaurant operators adding new ingredients that cater to different diets, like turmeric for its anti-inflammatory properties, along with menu offerings like kombucha, yogurt, miso, kimchi, pickled and fermented foods, and imitation meats. "Also, bowls are still really popular since they incorporate healthier ingredients," she says.
Preparation methods continue to move away from frying and prepared food to raw ingredients and healthful cooking methods, such as grilling, steaming and roasting. "The 2018 labeling requirements have absolutely had an impact on restaurant meals' nutritional value," Ellyne says. "We're seeing more [sauce] reductions and flavor layering with salt being reduced. More herbs, spices and fats like olive, coconut and nut oils are being used."
Moreno recommends her clients mirror healthy adult offerings on kids menus. "It should be the same menu with smaller portions, not just chicken fingers and fries," she says. "For example, a smaller version of salmon with less spice and sweet potato wedges instead of traditional fries."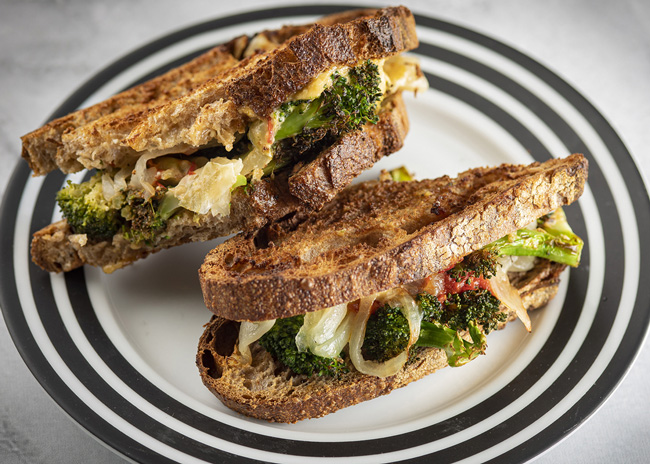 LYFE's broccoli and feta grilled cheese sandwich
Concept Close-Up: LYFE Kitchen
Open since 2013, LYFE Kitchen's three Chicago locations focus on healthful, local fare with functional ingredients. Emily Paulsen, director of marketing and sales for L3 Hospitality Group LLC, which owns LYFE Kitchen, discusses the latest in nutritional foods.
Q: What trends do you see in nutrition in the foodservice segment?
A: The newest thing in nutritional and wellness is adding adaptogens (herbs and some mushrooms that support the body's natural ability to deal with stress) to the menu. We add ashwagandha and maca to coffee, lattes and smoothies. We offer a Golden Latte with organic turmeric, cinnamon, ginger, cardamom, black pepper and local maple syrup. Our beet root powder has an adaptogen blend. As far as add-ons, we've stepped those up a notch. Instead of just adding protein, we're incorporating organic CBD oil or organic hemp seeds. It's a level up nutritionally than what's been done the last few years.
Q: What new nutritional ingredients are you incorporating on your menu?
A: Plant-based proteins continue to be strong, and there are more unique and different options for restaurant operators. We've offered a plant-based burger for the past two years, which is a huge seller. This fall, we introduced plant-based chili and nachos. We worked with jackfruit this summer, which simulates pulled pork, and put it in a taco.
Q: What preparation methods do you focus on to enhance nutritional value of food or make it healthier?
A: From a prep and cooking perspective, we don't use microwaves or fryers. All of our sauces and dressings are made in-house and have no artificial flavors or ingredients. We have no MSG in our dishes.
LYFE Kitchen's Equipment Lineup
Ovens: They represent a critical piece of cooking equipment at LYFE Kitchen. The chain bakes everything from sweet potato fries to crispy breaded chicken since the restaurants contain no fryers.
Blenders: Staff use these to make smoothies. Durability is an issue as the units must hold up well to large volume demand.
Immersion blenders: The chain makes all sauces and dressings in-house, and this is the tool the prep team uses most.