"You grow the most when you are not comfortable," says Bolt Bolton, senior account manager at Costa Mesa, Calif.-based Avanti Restaurant Solutions. She's had to remind herself of that mantra recently as a new client has been pushing her to grow in just that manner — out of discomfort.
Bolt Bolton has worked closely with Roaring Forks Restaurant Group and its 58 Qdoba Mexican Grill locations. Together they have worked through 25 remodels over the past few years.Bolton believes her biggest strength lies in building relationships; the client operates with an extreme price-driven approach to its business. This particular group just isn't interested in the softer side of client services. It's the difference between eating a burger at a fast-food restaurant and one that a Michelin-starred chef prepares at a fine-dining establishment. One focuses more on executing the transaction, while the other offers a more curated and luxurious experience.
Even though the client isn't interested in first-class accommodations, Bolton cannot help but want to provide them the white-glove treatment that she feels represents the best of what Avanti has to offer, something the company has coined "The Avanti Experience."
The way Bolton handles that account — all her accounts, for that matter — with a driven approach to developing and maintaining clients for the long haul, along with her sheer determination to be the best, earned her recognition as the FE&S 2020 DSR of the Year. She reset her 2020 goal amid COVID-19 to hit $8 million in sales by the end of the year; her 2019 sales were $9 million, far lower than the $14 million in 2018. The drop was expected since Bolton handed off her primary fast-casual restaurant accounts (with per-project dollars around $170,000 and lots of stores) to shift into more full-service accounts (more than double the per-project dollars at a $500,000 average but far fewer of them). Her role with Avanti has also evolved with a focus on building new teams.
As for that new client, who wishes to remain anonymous, Bolton has adapted to their culture even though it fights against her impulse to offer them that white-glove treatment, regardless of whether they want it. "It's a different model," she says of that client relationship. "This client just wants the lowest price. They don't want the hand-holding." She's made her peace with the approach and has learned a lot through the process. At one point, she adjusted the pricing strategy to better align with some of the install elements the client felt were not necessary. That was a turning point for Bolton in adjusting her follow-it-through-to-every-last-detail nature of project management. Vetting out this model will determine if these projects are worth continuing to pursue for Avanti.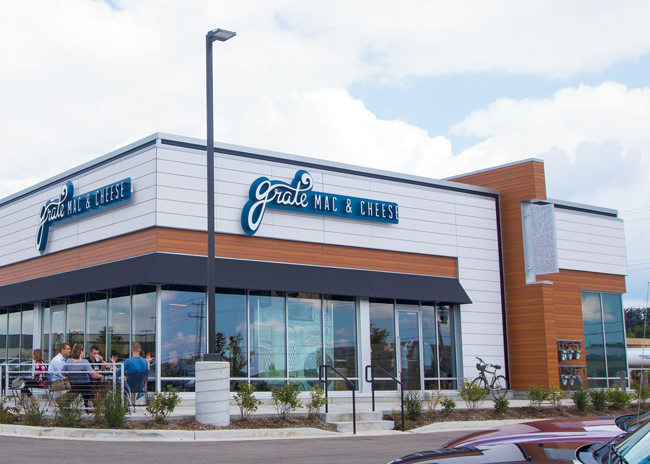 Bolt Bolton worked on Roaring Fork Restaurant's latest concept, Grate Modern Mac & Cheese, from the initial design stage through to the buildout. The mac-and-cheese concept recently added frozen custard as part of its menu expansion, which Bolton continues to help develop.One would think those with less extensive experience in foodservice would leverage Bolton's expertise and background. She has put the years in to walk the talk both on the foodservice equipment side and in operations: 8 years at Avanti and 16 years prior to that working for Jamba Juice. She's seen a thing or two. It's the kind of see-the-problem-before-it-happens foresight that becomes second nature when combined with time and experience.
Bolton walks the client through hiccups in a way they can understand, adjusting her language to create the connections around specific project elements. Take, for example, the install process. To make it relatable, she compares the process to how someone would redo their house. When the jobsite was not ready for the install and the client still wanted to move ahead and attach sinks to the walls, but the floors were not sealed yet — she explained it this way: "Imagine you are putting new floors in a house. Would you put tile down with the couches still there?" The strategy works — well, in fact. The relationship between Avanti and the client grew into an even larger one as Bolton signed deals for six additional projects with them in locations across the U.S. as part of the operator's fast-growth strategy.
Traveling is part of the job Bolton enjoys; she has worked with chain accounts all over the U.S. and Canada. She's excited to get back on jobsites when the coronavirus restrictions ease up a bit more, noting she has only 7 states left on her travel list before visiting all 50.
The Midas Touch
In June, Bolton had one of her best sales calls on a bid project. Everything clicked. It was the kind of inspiring conversation that renews one's spirit. "There was just such a great connection between the Avanti team and the new concept team," she says of that video call. The potential new client was an operator in Boston expanding with a new concept. "It reignited my passion for working with a chain in that capacity. I would love to be a conduit for that group. I crave that kind of personal connection you get with a chain."
There was one "but." The chain was already working with one of Avanti's competitors and didn't really see any red flags in that existing relationship. The odds were against Avanti to get the business. Bolton knew this. "I knew it might not happen," she says. "I just kept thinking, 'Someday I will get to show them the Avanti experience, and it will be fabulous.' I was grinning from ear to ear after that call."
Fast-forward a few weeks. Avanti gets the account.
That's the kind of ever-present Midas Touch effect Bolton exudes. "It is a little magical," says Jenn Pollack, director of Client Onboarding at Avanti, of the way Bolton draws people into her world. Pollack herself earned the rank of FE&S DSR of the Month in May 2012.
Bolton has a knack for pulling things together any time an issue arises, says Garrett Redd, partner, Premier Marketing Group, a manufacturers' rep group (MAFSI 24) in Northern California. "She avoids anyone feeling like they are going to be thrown under the bus when something goes wrong," he says. "She advocates for her customer but does it in a way that keeps all the stakeholders of the entire channel in mind. A lot of people don't do that. She makes sure everyone leaves the situation with no one being mad.
"It's a stressful job," adds Redd. "There's only a small time period to open a chain store, and she's working with multiple manufacturers to pull it off and get it all done. She does it very well."
Don Kosler, territory manager for Western Pacific Distributors, an equipment wholesaler with warehouses in California and Nevada, agrees and points out Bolton's approach is indicative of the Avanti culture. "It's a pretty tough industry," he says. "And the Avanti team always has an upbeat, can-do attitude and work environment. They are spending time while at home now learning about new products and new technology; they are always asking and poking around sooner than most."
Happy Hour
Avanti hosts a 3 o'clock happy hour session on Zoom every Friday, something that evolved out of stay-at-home orders and certainly helps the entire team deal with both professional and personal stress. There's also an open invitation for the team to participate in Wednesday Zoom trivia nights, which includes families, another organic culture component that grew as a result of the coronavirus. Bolt routinely participates in both. She buys into the Avanti culture 100%.
Because of the tight-knit culture, watching Avanti cut about one-third of its 48-person staff — 16 people — when the coronavirus impeded business was tough for Bolton. By July, she was able to rehire one project administrator, who was thrilled to come back. Since then, Avanti has brought back 4 additional staffers, bring the corporate headcount to 37.
Pre-pandemic, a normal Monday morning routine at Avanti's headquarters would often include going around the table to share a one-word comment about how everyone was feeling that day: for example, "stressed" or perhaps "excited." That kind of feelings-centric approach to culture carries through in multiple ways at Avanti, including a commitment to healthy conflict. Essentially, when hard feelings exist between colleagues, they have 24 hours to set up a meeting to discuss it. "At that point, I have to open myself up and lessen my defenses to whatever created a bump in the relationship," says Bolton of the
resolution process.
That kind of culture starts at the top, says Mark Rossi, president of Avanti. He's enormously invested in developing and sustaining a culture that makes him proud. Avanti continues to work hard to maintain that corporate culture while most of the team works remotely. "We are using Microsoft Teams like it's going out of style," says Rossi. "No one wants to go into the office full-time right now."
It's a tough time for relationships, whether peer to peer within the company or client relationships, which are taking a beating, says Rossi. "We are in a heavy relationship business, and we cannot build relationships right now," he says. "We cannot go see anyone." He notes that selling personal protection equipment products are helping with the bottom line at the moment.
Internally, Rossi keeps close tabs on the culture, even executing an internal survey every six months that serves as a culture barometer. It's a company that relies heavily on its values and aligns with people that share similar DNA in that regard. Bolton aligns perfectly.
"We actually pursued her a couple of times," Rossi says, referring to the time period when Bolton worked at Jamba Juice. There was always a professional connection, he says, even though it took a while for the timing to work out. "She's very competitive and likes to win. She's gregarious and frank; she can ask hard questions."
"The thing about Bolt," Rossi notes, "is that her personality is large, and that can make some people nervous. I knew she would make us better. She's willing to bring stuff up that I don't want to hear. That separates her from a lot of people."
What makes her a great DSR, Rossi believes, is her commitment to solving problems, whether they are hers or not. "She's always working to win the customer over."
And, Rossi adds, just like some employees make you better, some customers make you better as an organization, too. "Some customers challenge everything. Do we have to build it in stainless steel? That kind of thing," he says. "Or constantly hammer down the price. The thing about Bolt is, she gives an amazing level of customer service regardless. She goes all in."
One of the things Bolton has learned in the last year is recognizing when she's too invested in a client or project. She's still defining the pain points and when to actually strip down the service level — not an easy task for someone driven to not have a cap in the level of service they offer. And even harder in today's economic uncertainty.
Bolt Bolton outside a Eureka! restaurant. She and the Avanti team have built 11 of the California-based casual dining chain's 25 restaurant kitchens and replaced equipment in many other locations. Eureka! operations were still limited to takeout and delivery as of late July, although the chain was preparing to open patios for full service. Development of some new custom technology to allow for contactless ordering was also in the works.
Client Focused
Things tend to go smoothly with Bolton as part of the team; her customers agree. Accolades from customers include "detail-oriented," "does whatever it takes" and "excellent at troubleshooting." Bolton credits her past experiences in restaurant operations as being instrumental to her success, particularly in understanding kitchen flow and equipment placement.
She definitely takes a very hands-on approach, starting with positioning herself in the back of the house. "I try to work in the kitchen of every client," says Bolton, adding that it gives her a real understanding of why the staff do certain things. "You understand why they only need prep space a certain size — because they only use it in the morning."
Bolton has spent two days making salsa at a Mexican restaurant, countless hours working inside various Qdoba kitchens and has even holed up in the dish room at one Eureka! location, a chain of 25 full-service American-style restaurants in California. It's part of the full Avanti experience. "They really understand how we operate and our flow," says Dave Peters, director of Development for Eureka! Restaurant Group. "Working on-site helps them really understand how our different stations work."
The Avanti team — and Bolton in particular — "get it," says Ron Stokes of Roaring Fork Restaurant Group. The franchisee operates 58 Qdoba Mexican Grill locations in Wisconsin, Illinois and Iowa. Roaring Fork also now operates its own restaurant brand, Grate Modern Mac & Cheese, with two stores outside of Milwaukee. Bolton helped with those new stores and roughly 25 Qdoba remodels over the last couple of years.
"What makes Bolt and Avanti so awesome is the level of responsiveness," says Stokes. "Inevitably, there are going to be issues and delays — things that don't work or don't fit. You need someone who understands how to get things done and has a real sense of urgency because that's they dynamics of planning to reopen." That's exactly Bolton's calling card. "She gets it done and has a great attitude. She's super positive and super resourceful."
Bolton developed that account with a long-term relationship in mind, which turned into some new business as the mac-and-cheese concept came into view. "We've called on Avanti's creativity in terms of equipment planning, back of house and line layout," says Stokes. "It's created a different relationship," he notes, in terms of connecting a new skill set with Bolton and Avanti, one that went from initial layout and design through to store opening. She has since moved away from that account, passing it on to Shawna Snyder, who Bolton helped bring onto the Avanti team.
Bolton enjoyed being a part of the Grate Modern Mac & Cheese development and worked for months developing the equipment package. One unique equipment feature is a walk-in cooler that faces guests. "It shows off the cheese," she explains. "It's very rare and very cool."
Very rare and very cool are also great ways to sum up Bolton. In addition to cherishing her business relationships with clients, she pulls people in on a personal level, too. She understands that is one of her key strengths and plays to it. She can take a corporate vision and translate it in the field, down to details like explaining why a specific unit is placed in a certain spot. Most important, she understands her value and that of Avanti. "What we do resonates, and I 100% buy into it," she says. "We are not always going to be the least expensive, but in building your legacy or chain, you get what you pay for."
---
About Her Name
Here's the true story about how Jennifer Bolton became Bolt professionally. While many nicknames come to life during college years or were childhood nicknames that stuck, this switch didn't happen until much later in life — it came with the start of her job at Avanti Restaurant Solutions.
Literally the first day on the job, Jenn Pollack, director of Client Onboarding at Avanti, declared (nicely) that she was already the Jenn at the company. There was concern that having two Jenns, who at the time shared an account, would be too confusing. Bolt, an abbreviated version of Bolton's last name, was cemented that day as her professional name.
While that initial conversation over naming rights may sound a bit daunting as a first-day-on-the-job conversation, rest assured the two women are "bread and butter," as Bolt describes the relationship. She considers Pollack a mentor. "I owe so much to her efforts, love and leadership," she says.
Bolton also serves as a mentor to Shawna Snyder, an FE&S DSR of the Month in her own right (and subsequently in the running as the 2021 FE&S DSR of the Year). "She has grace, fire, style and a strong opinion," says Bolton of Snyder. "She challenges me to grow as a leader."
---
Insights Into Bolt
On maintaining momentum when the world goes on pause: "I am my most productive when I am organized. I rewrite my task list and review/reset my calendar at the end of every week. I also hold weekly jam sessions with my internal group to ensure we have all of the balls bouncing on all of the plates that are spinning all of the time. We are fully engaged with each other and our workloads so that we can cross-utilize resources when needed to give our clients a stellar experience."
On remote working: "Take the extra couple of minutes to relate to someone — truly ask for a snapshot of their daily life. Connecting can be incredibly meaningful when you ask and also listen from a place of genuine curiosity and goodwill for others. Be prepared to jump on a virtual meeting at any time; keep your Zoom blouse, lip gloss and a hairbrush within an arm's reach (pants optional)."
On rebooting: "I head to the mountains. Sometimes it is as simple as a drive with the windows down and my favorite playlist on as I head up through the forest to smell the smells and feel the wind. Other times I carve out four to five days in my favorite campground. I love to hike familiar trails, sit on the same
giant rocks that I've paused on for my whole life, breathe the fresh
pine-scented air while watching the sun set with my loves."
On her family: "We are JB5! Jason (my husband), Jen (Bolt), Juliana (16), Jackson (14) and Jeremiah (12). Even the pup is a J — Jake! We are an active, fun-loving, adventure-taking, logic-arguing, silly, mess-making, laughing and loud family."