"Despite all the chaos, hospital patients with or without COVID-19 must receive food at least three times a day," says Martha Rardin, MS, RD, CD, FAND, director of Nutrition and Dietetics and the diabetes coordinator, at Hendricks Regional Health in Danville, Ind.
Rardin inspects equipment pre-COVID-19. Masks were required for employees in March.At Hendricks, like at many hospitals, room service dining continues during the pandemic. During the months when high numbers of COVID-19 patients occupied hospital beds, though, Hendricks made a few modifications to its approach. Pre-COVID, patients, loved ones or the Nutrition and Dietetic Department staff ordered the patients' meals by contacting the room service call center. During the COVID-19 surge, only patients and nurses ordered meals. The Nutrition and Dietetic Department staff delivered trays to the units but did not go into the units. "Nurses delivered trays to patients," Rardin says. "We made that decision to save on PPE. We are still doing this meal ordering and tray delivery with COVID-19 and infectious patients even though our number of COVID-19 patients has dropped."
Today staff deliver room service trays to all other patients, including those coming back for elective surgeries. Patients receive their meals within 45 minutes of placing their orders.
La Tara Mathis starts the patient room service trayline at Hendricks Regional Health. Photo by Martha RardinBefore COVID-19, Hendricks also offered guest meals for family members and friends who were staying or visiting. During the heavier COVID-19 months, no visitors were allowed in any part of the hospital. As of mid-July, only one visitor per patient was allowed in the childbirth and pediatric units at Hendricks. That visitor must stay in the room for the duration of the hospital visit. Rardin's team supplies meals to these visitors who pay by credit card for their trays.
At Hunterdon Medical Center in Flemington, N.J., Angela O'Neill, RD, director of Nutrition Services, and her team took a hybrid approach to serve COVID-19-positive patients by continuing to offer the room service menu but receiving orders one meal ahead and delivering batches of meals to units at set times. "Starting March 22, we no longer delivered into patient rooms to preserve PPE, but rather delivered meal trucks to unit stations and nursing staff delivered the meals to patients," O'Neill says.
As the number of COVID-19 patients dropped in early June to only several positive per day, O'Neill's staff was able to return all but one unit to full room service. Just as was the case prior to the COVID-19 pandemic, patients phone in orders or staff take orders and submit to a call center using a tablet. Staff deliver trays within 45 minutes of the order being placed.
In anticipation of a spike in COVID-19 patients, O'Neill and her team developed a standard menu cycle to use if they must move away from the room service menu. So far, the contingency plan has not been implemented.
Timothy F. Bentzel, DHCFA, senior director, Food and Nutrition Services, oversees all the Legacy WellSpan Food and Nutrition Services departments.Legacy WellSpan's York Hospital's staff assemble patient meals using the operation's standard trayline. Foodservice staff deliver trays to patient floors, but nurses, nurses aids and other caregivers serve the trays to patients. "This system has not changed since the pandemic," says Timothy F. Bentzel, DHCFA, senior director, Food and Nutrition Services. Bentzel oversees all the Legacy WellSpan Food and Nutrition Services departments, including York Hospital, Gettysburg Hospital, Surgical and Rehab Hospital, Ephrata Community Hospital, Philhaven Hospital and Good Samaritan Hospital. Several other WellSpan hospitals serve patients using room service.
Lisa Gibson says Sanford Medical Center's restaurant concepts are well set up for a crisis because staff have the flexibility to change menus and hours.At Sanford Medical Center in Fargo, N.D., the nutrition and foodservices team made no changes to the menu, even when COVID-19 cases surged. However, Lisa Gibson, MBAM, senior director of support services and director of Nutrition and Food Services, and her team made a few changes to how they operate. Nutrition staff deliver trays to patient floors, but they are not allowed to go into COVID-19 patient rooms. Nurses and caregivers deliver trays and menu items to COVID-19 patients.
During the spring, Meddles' team at The Ohio State Wexner Medical Center (OSUWMC) in Columbus, Ohio implemented changes to its hybrid room service model. COVID-19 patients placed orders on bedside tablets or by phone with nutrition services staff, including some clinical dietitians. In COVID-19 patient rooms, nursing caregivers wearing PPE delivered their meals and placed disposable serviceware in the trash in the patients' rooms. Foodservice staff continued to enter non-COVID-19 patients' rooms to take orders and deliver meals.
In June, Meddles and her team started asking nutrition aides to resume their traditional jobs to take menu orders and deliver meals to all patients including those with COVID-19. "I want our staff to feel comfortable so we're providing training with an epidemiologist to understand the safety measures they must take. They are already wearing face shields and masks and will have to put on a gown and gloves," she says. "It's a challenge, because they will be in the room for a minute or two and when they leave will have to take off the PPE and put on new PPE to go into the next room.
"We planned to make significant menu changes if food items weren't available, but we didn't have to do that," Meddles continues. "We were expecting a surge of COVID-19-positive patients. We knew that if we got to a certain point in the surge, and if we had to go with the convention center as hospital option, we'd have to implement a nonselect menu that still provided hot and cold food but was easier to produce. OSUWMC also planned to produce cold boxed meals. "We never had the expected surge and the convention center is off the radar for now, so we didn't have to go to the nonselect menu or cold boxed meals."
To Use or Not to Use Disposables
At WellSpan York, staff never stopped using reusable china plates and serviceware.At OSUWMC, patients with or thought to possibly have COVID-19 received food and beverages in disposable plates and cups. Staff working on the units placed the disposables in plastic bags and delivered them directly to the trash room. Today, COVID-19 and infectious disease patients now receive menu items on normal china service.
At Hennepin Healthcare in Minneapolis, nurses and caregivers — rather than foodservice staff — deliver food and beverages to COVID-19 patients and other patients in burn units or isolation units on disposable dishes and trays. "Each day staff use 60 face shields, masks and gowns," Marks says. "This adds up. In the beginning of the crisis we only had a three-day supply on hand. Now we have a four-week supply. As compensation for using disposables, we upscale the trays so they look really nice."
All other patients at Hennepin receive food on china plates and washable trays. "We have a good dish machine and we're paying more attention to monitoring temperatures of the water every 30 minutes," Marks says "We used to monitor the temperature at the beginning, middle and end of the day. We're running a special temperature disc that tells us if temperature meets our safety standards."
At Sanford Medical Center in Fargo, N.D., in the early stages of the pandemic, staff used the hospital's traditional dishware and trays for all patients. That has since transitioned to disposables for COVID-19 patients receiving menu items.
For COVID-19 positive and other symptomatic patients, trayline staff at Hunterdon Medical Center assemble disposables in bags and deliver them in carts to the patient units. "These were disposed of in the patients' rooms," O'Neill says. One non-COVID-19 unit continued to receive regular service ware. Nursing put the trays in the carts after the meal. Foodservice staff retrieved the trays and brought them to the dishwashing area in the kitchen.
"Prior to COVID-19, we didn't use disposables in airborne infection isolation rooms, so we are in discussion with the infection preventive registered nurse about future practices of continuing to use disposables or using regular washable trays and serviceware," O'Neill says. "Currently, only patients on one unit or those receiving aerosolizing procedures are still on disposables."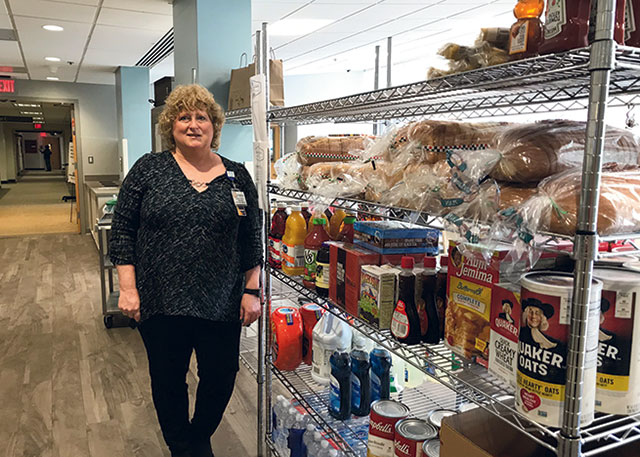 Angela O'Neill visits the Hunterdon Hero's Market, which served as a convenience to help staff who were working long shifts and didn't have time for or desire to go to large stores to shop.
At WellSpan, staff never stopped using reusable china plates and serviceware. "Infection control and infectious disease departments don't require us to use disposables as long as we're using universal precautions," Bentzel says. "We purchased special thermometers for our dish machines to be sure that the final rinse is above 180 degrees F. Other thermometers measure the surface temperature of plates to be sure they get to 160 degrees F."
Bentzel's team also takes extra precautions when washing and sanitizing food trucks. "We use a wash detergent, quat sanitizer and a peroxide sanitizer," he says.
---
For more on Healthcare Foodservice during the COVID-19 pandemic, checkout August 2020's Healthcare Special Report.