The sandwich segment was well positioned to withstand the challenges and limitations of the pandemic. The majority of these operations are limited service, providing easy conversion to off-premises services.
Many menu items fall under the comfort food classification, which began trending when COVID-19 hit the U.S. Consumers are increasingly purchasing indulgent foods to help deliver joy during difficult days of at-home confinement caused by the spread of the coronavirus, according to a March 26 report from Chicago-based market research firm IRI.
Sandwiches offer an additional option for those looking to dine out more affordably. The representation of this segment's three distinct dining formats vary significantly, according to the May 2019 "Sandwich & Sub Store Franchises" report from IBISWorld. The largest segment includes dine-in, limited-service restaurants, which accounted for 59.8% of sandwich operations' revenue in 2019. The share of revenue consumed by these restaurants has declined slightly between 2014 and 2019. In contrast, takeout or pickup locations accounted for 28.3% of industry revenue, while full-serve sandwich concepts made up only 2.7% of industry revenue last year.
"Sandwich shops have strong business-to-business and business-to-consumer segments," says Darren Tristano, CEO at Chicago-based FoodserviceResults. "Due to social distancing, B2B catering has dropped dramatically, yet sandwich shops are suited to delivering good value, and off-premises is very strong for this segment."
Current Challenges
Meat supply shortages have been the sandwich segment's biggest issue in recent months. "It has been slow getting back to the level of supply from a few months ago," says Tristano. "Operators also are seeing higher price points as a result of this limited supply, so they have to pick and choose. Do they want to pay more for proteins or take them off the menu?"
This can be a difficult balancing act for many sandwich operators, whose menus depend heavily on proteins. Some are finding switching gears to compensate can be difficult.
Initially, Town Hall Deli in South Orange, N.J., had no meat supply issues; then May hit and beef prices went from $4 to $5 a pound up to as much as $10 a pound. Known for its New Jersey version of the sloppy joe, which includes two meats to choose from such as roast beef, corned beef, ham or turkey, this was a problem.
"We do a huge volume here with low margins," says owner Matt Wonski. "It's hard enough in this business to prepare and anticipate what it will be, but with the pandemic, it's impossible to predict day-to-day volume."
Town Hall Deli has seen an increase in sandwich customization.
To compensate for the supply issues and unpredictable order numbers, Wonski cut his restaurant's hours to help with labor costs. "We're still doing a huge shipping business across the country [the restaurant ships its homemade cheesecake and New Jersey-style sloppy joes], with sales increasing from 20 to 30 sandwiches a week pre-pandemic to 30 to 40 per day currently," he says. "However, our [delivery/carryout] business is down 50%, so we're essentially breaking even."
Part of the problem is that the current environment has curtailed sales of Town Hall Deli's high-margin impulse items, specifically soda, chips, candy and cookies.
Across the country in Coeur d'Alene, Idaho, MELTZ Extreme Grilled Cheese doesn't rely as much on hard-to-find meats but has been up against other ingredient shortages as well as rising food costs. "Food costs are up 36%, and we haven't increased our prices yet, but it's a challenge we're really starting to notice," says Joe McCarthy, CEO, owner and chef. "The supply chain is slow, and we're dealing with different delivery dates. Some distributors are not delivering on weekends, and there has been a challenge with consistent delivery."
In particular, pork belly and gluten-free bread, the latter sourced from Canada, have been harder to find. Price changes are most likely in the cards, but this requires adjustments to MELTZ's menus, on-site menu board, app and point-of-sale systems to ensure consistency across all ordering platforms. "We want to have our menu prices include taxes, too," he says. "People need to get used to the idea of paying a lot more for food now."
Due to the challenges of social distancing requirements, MELTZ's 32-seat dining room remained closed at press time. "We're currently just doing to-go and delivery service," McCarthy says. "At first, business dropped about 10% to 15% for two weeks, then leveled out, and has increased beyond our typical volume for the last five to six weeks. It has been challenging keeping up with constant order alerts from different streams, like Grubhub, and on our app."
Like MELTZ, Jacksonville, Fla.-based Firehouse Subs utilizes apps and third-party delivery services for its 1,170 locations. "We were set up for the pandemic, even though we didn't know it was coming," says Jay Miller, the chain's director of product development. "Apps and delivery helped us to the point where we've recovered to almost 100% of our business before COVID-19."
Still, Firehouse Subs has experienced minor supply issues but due to the breadth of its menu, this hasn't impacted business. "For example, we may be out of roast beef for the short term, but people can find other things on the menu," he says. "[Supply shortages are] very spotty."
Protein availability shortages have resulted in a pullback on new product rollouts for the short term. "We don't want to promote something that may have a shortage or be impacted by price increases," says Miller.
Ingredient Trends
What is helping compensate for meat shortages is the continued trend toward vegetarian and vegan sandwiches as well as plant-based protein. "Plant-based protein sandwiches are still prevalent, and there are vegetarians and vegans shifting to these ingredients," says Tristano. "This means we expect to see less veggie-centric sandwiches."
While also catering to the vegan and gluten-free segments, which McCarthy says are currently more prevalent, MELTZ's menu includes extreme flavor combinations. "With sandwiches, people still want something they can't create at home," he says. "They are more receptive to bigger flavor profiles that have spice, heat and chilis, as well as international ingredients."
In addition to plant-based options, ethnic ingredients and heat, a predominant trend in recent months has been a move to more comfort foods, and the sandwich segment is benefitting from this. "Prior to the pandemic, sandwiches were definitely starting to become lackluster, but they are back," Miller says.
Part of the resurgence is due to ingredient customization. When Town Hall Deli's catering business was in full swing, its standard sandwiches made up the bulk of its orders. Now with more people working from home, orders tend to be customer specific.
"With people having more time on their hands, they are more apt to customize their sandwich," says Wonski.
Back-of-the-House Support
For the most part, the current climate has not impacted the back of the house for sandwich segment operators.
"There's nothing being unveiled in the cooking area, although warming and cooling equipment has become more important due to expanded delivery and the need to keep food fresh," says Tristano. "Because operators are struggling so much, their ability to invest in equipment will be tough initially."
Town Hall Deli's equipment hasn't changed. "We cook 40-pound birds all day long," says Wonski. Its traditional back of the house consists of two four-burner stoves, one double-door convection oven, two slicers, refrigerators and two walk-ins — one refrigerator and one freezer. In front, there are two more slicers, two low boys, a steam table and a flattop grill. Open display cases for beverages are also up front.
"We need the right tools for the job, which helps overall profit margins," says MELTZ's McCarthy. For this reason, MELTZ just added a new fryer that can handle double batches of potatoes for making its from-scratch chips.
"I don't have a big enough restaurant, or I would have more and better equipment," says McCarthy. "I need to make smart equipment choices; it's important for ticket times and margins. And it's the equipment and the process that makes the money."
One of his most valuable units is a machine that automatically tops 4,000 pieces of bread an hour with MELTZ's signature spread. "Good grilled cheese takes 4½ minutes to cook," he says. "We use a griddle; it's the only way to cook it right."
Firehouse Subs also has not had any production line adjustments, although the chain has switched out its condiment bottles to portion packs and cups prefilled in the kitchen.
Looking ahead, some predict a rosy future for the sandwich segment. "There will be a very big change in a year," says Tristano. "We will have a lot of closed units, but then we will see expansion in those units by chains and independents, with vacancies filled in a year from now."
Chicken Sandwich Wars Continue
It may seem surprising, but the chicken sandwich wars of 2019, which began with Popeye's, Chick-fil-A, McDonald's and others duking it out for top billing, have overcome the challenges of 2020. Among those now in the mix are Tampa, Fla.-based Checkers & Rally's Restaurants (900 locations); Cincinnati-headquartered Buffalo Wings & Rings (65 U.S. sites); and Minnetonka, Minn.-based Famous Dave's (130 restaurants).
At Checkers & Rally's Restaurants, the Mother Cruncher sandwich unveiled this past June was a step up for its quarter-pound chicken patty. The Classic Mother Cruncher includes the chain's signature Squawk Sauce, pickles, iceberg lettuce and tomato on a bakery-style bun. The Bacon BBQ version has barbecue sauce, fried onions, iceberg lettuce, American cheese and bacon.
"[We felt our previous offerings in this category] didn't live up to the hype of everyone's new launches, and this made us want to attack this menu category to be more competitive," says Ryan Joy, the chain's senior director of research and development.
The menu addition changed the way the chain employed its hot holding equipment. "We're utilizing our hot holding unit differently, since the chicken required a unique environment to remain moist on the inside and crunchy on the outside," Joy says. "This unit provides four different levels with varying temperatures."
In response to trends, Checkers' sandwiches have shifted from value limited-time offers to core items with premium ingredients. "For example, we added a smoky barbecue bacon version of our Big Buford burger to the menu," Joy says. "These changes have a comfort food emphasis that aligns with today's flavor trends."
Buffalo Wings & Rings was in tests at press time with a revised chicken sandwich due to the increased attention to these products. The item would fall in line with its chicken-centric offerings. "We expanded on these sandwiches last year but now are exploring a version with a proprietary bun that has a ciabatta texture," says chef Dan Admire. "It has great versatility for use on all our chicken sandwich offerings."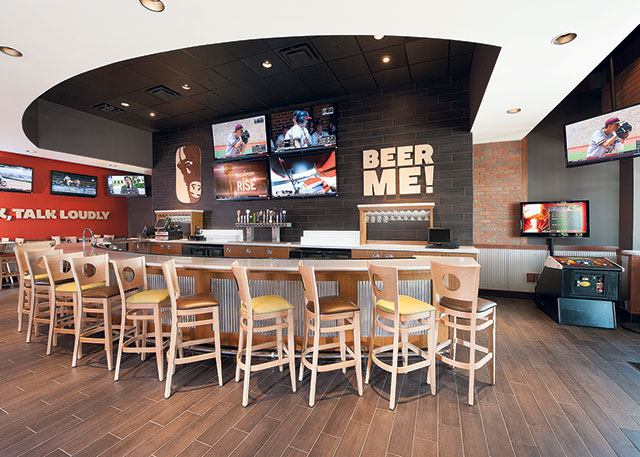 Buffalo Wings & Rings has found its way into the chicken sandwich wars as it continues to extend its chicken-centric menu.
The chain also is in development with cold and hot sandwiches using a variety of breads, including sprouted wheat, cracked wheat and a tortilla wrap, along with different fillings like Korean slaw. "We've developed a few sandwiches with curry preparations, and we're getting into unique sauces like ghost pepper ranch," says Admire. "There's a balance when building sandwiches with bread and condiments. The carrier, which is the bread, is important."
Admire has been working with one equipment manufacturer on a panini machine that would substitute for the flattop grill in preparing some sandwich items. "It wouldn't necessarily be for paninis, but for other hot sandwiches, like hot wraps and pressed sandwiches," he says.
For its chicken sandwich, Famous Dave's had been using the fried chicken recipe of founder Dave Anderson's mom. The company decided it had to raise the bar in this competitive space.
"We're not fast casual, however, we knew we had the best chicken sandwich out there, so why weren't we competing in this space?" says Al Hank, Famous Dave's senior vice president of operations. The chain concentrated its efforts and resources into producing Iris' Comeback Chicken Sandwich with spicy pickles and traditional southern sauce on a brioche bun.
"What's interesting about the chicken sandwich wars is the social feud that insinuated from it," says Hank. "There was clever marketing on behalf of concepts to get into the publicity game, and consumers love that. It becomes dinner conversation, and people want to try all these chicken dishes. "
"There are two big focal points with our sandwiches — customizable, transitioned burgers and sandwiches as build-your-own with a bun and base protein that can be customized," Hank says. "Our menu is positioned for customizing."
Hank adds that the sandwich segment, particularly with burgers, pork and brisket, are growing, and people want options. "But not so many choices that they're overwhelming," he says. "The environment changes daily."