These upgraded food court-style formats provide operators with a low barrier to entry, which may be the saving grace of concepts in a post-pandemic foodservice environment, even if communal dining trends fade.
With a low barrier to entry and affordable startup cost, food halls may prove resilient in a post-pandemic operating environment and remain a relevant segment in foodservice. As with other segments, experts anticipate a transformation due to COVID-19's impact on the foodservice industry as a whole. "With food halls, the communal seating aspect may fall out of favor, as there is a lot the industry has to figure out," says David Henkes, senior principal, Chicago-based Technomic.
Precarious Beer Hall. Photo by Paul Burk
The popularity of these concepts prior to the pandemic gives reason for optimism. Just prior to shelter-in-place orders, 61% of consumers overall said they dined in a food hall within the last month (March), a figure that increases to nearly 4 of 5 for Millennials, according to Chicago-based Datassential's March 2020 "HotShot Report". The choice of multiple cuisines in a single location serves as a main consumer draw, as well as the chance to visit new outposts of popular local restaurants. This also makes food halls a good option for large groups with different food preferences.
For their part, operators, particularly quick-service restaurants, see food halls as a potential path for expansion without having to invest in full brick-and-mortar locations, according to Datassential.
Indeed, variety is the spice of life at today's food hall concepts. For example, Miami's 3-story J&H Food Hall, scheduled to open this year, will have 36 food and beverage vendors. And Precarious Beer Hall in Colonial Williamsburg, Va., combines a microbrewery, restaurant and entertainment spaces (think arcade and stage for live music).
Banking on Originality
Designed for foodservice operators looking for a new market and new concepts testing the waters, J&H Food Hall will include a total of 1,500 seats interspersed on all 3 levels as well as a rooftop terrace when it opens.
"Each outlet is sized to give up-and-coming concepts a place to define themselves and realize their pluses and pitfalls before getting into locations with big overhead," says John Marenic, principal of Charlotte, N.C.-based Marenic Food Service Consulting, the designers of J&H Food Hall. "It also helps them sample a wider variety of clients to see who their market truly will be. Everyone from bakers to ethnic blends will be there."
Operators in J&H Food Hall function in a leased space that runs 12 feet long by 12 to 16 feet wide and and approximately 9 feet deep. Each space includes a 12-foot exhaust hood and a service counter with a hand sink. Operators have access to both gas and electricity with the intent that operators would build out with minimal equipment.
"We know it's the overhead that kills foodservice operators," says Marenic. "Part of the concept we worked on was the idea to give new operators the option to get in there too. In terms of equipment, they just need to bring in a charbroiler and a couple of refrigerators. The investment is minimal."
A main kitchen sits in the basement at J&H Food Hall and includes seven workstations and two main cooking lines. Operators share time to prep food here and then refrigerate it or finish it in their stall. They store ingredients in portable, lockable security cages in the cooler, freezer and dry storage area, which staff can roll to the dock for deliveries and up to their stalls.
With a food hall, says Marenic, established operators can reidentify markets and find out how much money customers will pay for their offerings. This can help them reevaluate ingredients or their menus as a whole.
For those dipping their toes in the water as restaurant owners, food halls like J&H can be an education in what it takes to deliver product to customers and work with the health department and other agencies before making a bigger investment. "Newbies can see the positives and negatives, and everyone can identify their demographic," says Marenic.
The small space can also prove a good testing ground for menu items and operations, says Marenic, offering new restaurateurs a test-drive before opening a traditional brick-and-mortar storefront. "Operators can adjust as needed with this concept, which allows them to gain more profitability, learn actual food costs and see break-even points," he explains. "There is a median in pricing or a certain point where you do so many burgers to make rent."
The camaraderie between vendors provides another advantage in Marenic's view. "Operators also can speak with other vendors in the food hall and get advice or collaborate and market products cohesively," says Marenic. He foresees a mix of vendors at J&H Food Hall, from established local eateries to mom-and-pops and well-known chefs trying out new concepts.
"In this type of food hall, everyone has a different concept," Marenic says. "This could range from someone cooking different meats over open charcoal to another offering tacos and someone else focusing on fish, then another may have just baked goods."
Family-Friendly Beer Hall Space
Food halls can take several different approaches to menu construction, operator selection and the like, says Gene Weissman, vice president of Architecture Inc. in Reston, Va. "We've seen them with one restaurateur trying his hand at multiple menus, such as Italian and barbecue within one hall, and we've seen multiple operators in slots that are contracted out. The latter are on a much smaller scale, with a couple-hundred-foot front-end kitchen and a separate communal kitchen."
Precarious Beer Hall provides a different take on a food hall. It offers live music, a walkup street-style taco bar and arcade. Photos by Paul Burk
Weissman continues to work on one food hall space with an operator who remains undecided about whether to handle the concepts himself or farm out the spaces. "Either way, the spaces can be similar in design and square footage," he explains. "Although if someone were to go with a wood-fired pizza concept, for example, more space would be needed for the oven. So, it really depends on the menu type and what's being served."
Many startups leasing food hall booths don't have a lot of capital, Weissman notes. "Many we see are coming off a food truck business and looking for a small brick-and-mortar investment. These chefs are coming out of trucks with 50-square-foot kitchens, so it's not unique in that sense, but they can expand their menus. Often with these food hall types, the landlord will foot the bill to design and outfit the space to get it occupied with the types of food they want or to have up-and-coming restaurateurs in the space."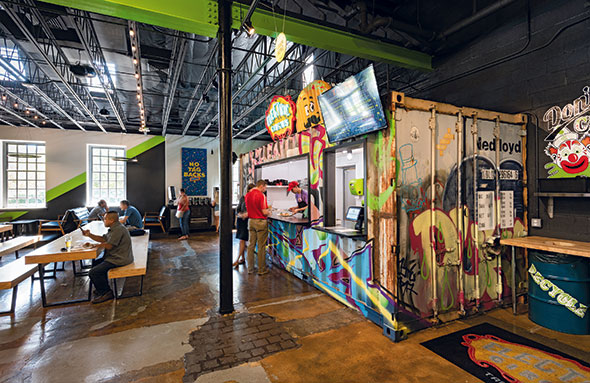 Precarious Beer Hall continued to offer pickup items from its Electric Circus Taco Bar menu, along with Precarious packaged beer, while on-site service shut down due to the pandemic.
Food halls were more organic in the past, Weissman says, whereas now they're much more fabricated. "We're building spaces specifically for a food hall," he says. "By doing so, flexibility in equipment accommodation is the biggest thing, since we don't know who we'll be leasing spaces to in advance."
Menus typically focus on food that staff can prepare quickly. "It's driven by chef creativity and what they can do," says Weissman. "The food truck market has changed the way people cook and eat; portions are now on a smaller scale, and food is available faster."
Precarious Beer Hall in Williamsburg, Va., provides a different take on a food hall. Emulating a traditional German beer hall, Precarious Beer Hall opened in 2019. It resides in a 10,000-square-foot space that formerly held two restaurants and is part of the modernization of Merchant Square in the colonial section of the city.
The beer hall serves as an extension of Amber Ox Public House, a Williamsburg restaurant and brewery founded by Andrew Voss and Chris Cook. It includes a walkup street-style taco bar with handmade tortillas called the Electric Circus Taco Bar and an outdoor patio. Live music and an arcade add to the ambience. The retro arcade keeps children occupied, while adults can sample the beer hall's craft brews. It fits a diverse target demographic and maintains a family-centric approach to the space, says Weissman.
"Amber Ox is more food oriented, and this is more beer oriented, so they can do a sizable production at Precarious," says Weissman, who designed on the Precarious project. "The atmosphere is more vibrant than a typical restaurant."
The design blends industrial with retro. Operating from a historic area and adjacent to a college campus, Precarious Beer Hall's character includes modern, urban influences and subtle undertones of a Bavarian beer hall. The renovation created a brewery and restaurant with a vibrant, vintage interior. It also contains a 10-barrel, on-site brewery with a full packaging and distribution operation. Bright pops of green that mirror the Precarious brand color accentuate the muted colors of brick, concrete and steel. Textures include harder surfaces with industrial undertones, giving
the historic building a light, airy and new feel.
Because Amber Ox focuses more on beer, the 1,500-square-foot kitchen takes up minimal space. It features a long bar with vintage stools as well as massive plywood dining tables emulating a traditional German beer hall. The flooring features a mix of terrazzo and concrete — the same flooring that has been there through two other restaurants in this space and the post office that occupied the space prior to that.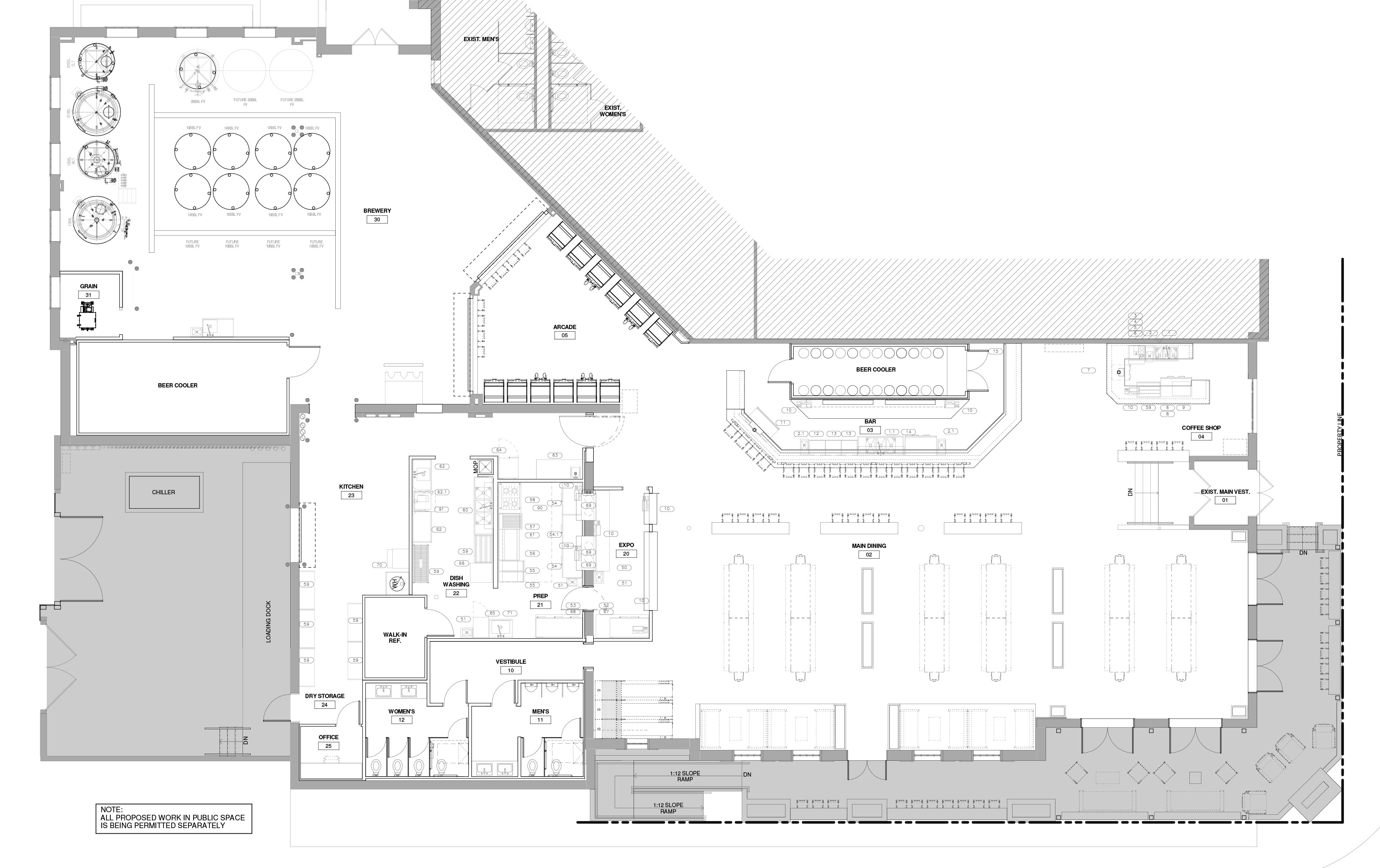 The kitchen in Precarious Beer Hall sits between the main dining area and the brewery. The 10,000-square-foot facility emulates a German beer hall.
The taco stand was retrofitted from a 20-foot shipping container. It's covered with graffiti by street artists from Philadelphia, who also painted the mural in the vintage arcade space.
"The menu is simple, with fast-casual, high-end tacos," says Weissman. "Customers order and then pick up their food and bring it to their communal table."
The back end of the food hall holds the brewery component, which is visible to those in the arcade.
Although its exterior pairs a traditional colonial Williamsburg motif with a very residential appearance, the building was painted a dark gray and all the windows black to adhere to its contemporary palette and urban aesthetic.
Weissman adds that, stylistically, the beer halls he has worked on are similar in nature and scale. "We're working on one in the Fairfax County [Virginia] suburbs that contains four to five venues in one beer hall," he says. "It's one operator brewing his own beer and different food concepts."
It remains to be seen what formats food halls will transform into after the coronavirus pandemic. The trend toward upscale, local and diverse fare, though, should bode well for these concepts in the future.
Hallmarks of a Food Hall
Food halls have widespread appeal, says Marcus Guiliano, owner of Aroma Thyme Bistro in Ellenville, N.Y., and also a restaurant consultant, author and food activist. "The number of food halls is increasing, as is the acceptance of these concepts," he says. "While 20 to 25 years ago, food halls would be found within a mall or retail space, these concepts have greatly evolved to stand on their own."
Food halls themselves have also regenerated in some spaces. Such is the case inside Miami's Brickwell City Center, a mixed-use development. La Centrale opened in 2018 in the space. It was an Italian food hall spread out over several floors that included seven food stalls, five sit-down restaurants, three bars, one gelato shop, a wine cellar and a cooking studio. In January 2020 the space became Luna Park, which still has an Italian food theme, but with more specific concepts. These range from grab-and-go to fine dining and include a marketplace, five sit-down restaurants, a gelato shop, a bar and a wine cellar.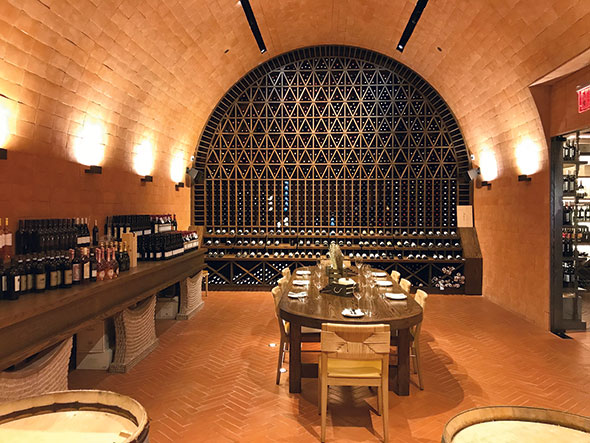 A private event space is tucked inside Luna Park, an Italian-themed food hall in Miami's Brickwell City Center.
Future food halls will likely incorporate more microbreweries and distilleries, Guiliano predicts. "Many food halls are successful because people can grab a quick lunch on their work break, but I see these operations expanding by incorporating entertainment and a happy hour," Guiliano says. He continues to view food halls as perfect places to socialize and hang out after work hours and on weekends.
"Some food halls are more elaborate than others, and there are operators who have restaurants and operate a food hall space," Guiliano says. "As a restaurant operator, I would prepare my food hall menu in my main restaurant, prepping off-site."
A limited menu that incorporates value-added ingredients works best for food hall environments, says Guiliano. "Most food distributors will custom-make anything, not just cut vegetables; they also can follow specs for signature items like soup or veggie burgers. These businesses have a co-packer that produces items in a commissary kitchen and professionally packages it."
Established restaurants can do well with a food hall venue, Guiliano believes. "Logistics and know-how are needed in operating a food hall space," he says. "It's easier for established restaurants that have a built-in audience."
---
Key Considerations for a Food Hall Setup
Here, John Marenic, principal of Charlotte, N.C.-based Marenic Food Service Consultants, provides food hall insights following his most recent project, J&H Food Hall, soon to open in Miami.
Equipment & Supplies: Think about equipment use in tight spaces. Versatile combi ovens can handle a wide range of cooking needs, as can ranges equipped with a convection oven base. Raised griddles provide small cheese melters underneath, saving space and the cost of more equipment. Three-compartment sinks also can serve as prep sinks by covering two sections with cutting boards. Food halls with central kitchens have unique equipment considerations. For example, to produce enough ice for all vendors, J&H's approach to ice allows operators to dump 10 pounds of ice at a time in rolling bins for use in their stalls. The machines are sealed, which makes them tamperproof.
Prep: Consider if food prep will occur in a shared central kitchen or at each stall. If the space includes a main kitchen, what will the approach be to allocating time? Also, how will staff transport food from the main kitchen to their stalls? Other factors include whether operators will share carts and if there will be carts for clean and dirty items. How and where will carts be cleaned?
Cleaning & Maintenance: After food prep comes cleaning. For shared central kitchens, who assumes responsibility for cleaning equipment and common areas between prepping sessions? Is there a designated person cleaning not only work areas but floors, utensils and so on? Also, who judges how clean spaces are? The landlord may want to appoint someone to verify and inspect cleanliness. Dishwashing is another important consideration. J&H tenants will share dishwashing space. In this case, it may make sense if everyone uses and shares the same dinnerware and serving ware. Is the person handling dishwashing paid by the landlord, the food hall operator or everyone leasing space? And when the health department comes in, who will the point person be, and how will issues be handled? When the equipment requires maintenance, who will be responsible?
Storage: With food halls, proper allocation of storage space is more important than ever before. Refrigerators and freezers in central shared kitchens may have allocated space for each vendor, or each stall may be large enough for these units. There will need to be a certain number of square feet designated for each concept's anticipated volume. At J&H, each vendor secures its food in two 5-foot-by-2-foot cages. Utensil storage is also necessary, so consider drawers and overhead space. Dry storage for paper goods and disposables may be necessary as well.
The main kitchen at J&H Food Hall sits in the basement and includes seven workstations and two main cooklines. Operators will share prep time here when the space opens.