The brakes slammed business to a halt for many food trucks early on in the COVID-19 crisis as the types of business and social gatherings which drive traffic also came to a screeching stop. But in many states, food trucks, like other off-premises foodservice operations, have been deemed essential. They continue to serve customers (queued up 6 feet apart) and have stepped up to provide mobile foodservice solutions for healthcare and other frontline workers.
Indeed, the platform's inherent nimbleness can be a strong advantage both in tough times and under normal circumstances. Long embraced by operators and entrepreneurs as a lower-cost way to launch a food business, the segment has over the past several years become one of the industry's best-performing in terms of revenue growth, rising 6.8% on an annualized basis between 2014 and 2019, according to global research firm IBISWorld.
Curry Up Now's food trucks turn out a broad menu of Indian-inspired burritos, bowls and signature dishes, all within the brand's goal of less than two minutes from time of order to delivery to guest. Photo courtesy of Curry Up Now
And why not? Food trucks check a lot of boxes for what today's consumers crave, including menu items that are fresh, local, chef-driven, creative, fun, unique, ethnic, familiar, affordable, high quality and convenient. Thanks to pioneering chefs like Roy Choi, whose Korean barbecue truck Kogi kicked off a food truck era in Los Angeles in 2008, food trucks are now a hip part of the dining scene in cities across the country. They're profitable catering vehicles and even permanent fixtures in noncommercial segments from corporate dining and college campuses to senior living communities.
Traditionally dominated by independent entrepreneurs, food trucks have also become successful tools for chain restaurant operators, who have rolled them out for location, menu and concept testing as well as for ongoing marketing and catering purposes.
One such example is Newk's Eatery, a fast-casual deli chain with more than 100 brick-and-mortar units. In 2017, Newk's introduced a highly customized food truck in the Austin, Texas, market that enables the company to serve guests and market its brand well beyond the confines of its stores. The chain rolls out the truck for promotional appearances and to support four franchised store locations as a mobile walk-up restaurant in the Jacksonville, Fla., market.
Small Space, Big Design Challenge
Nimble as they are, however, food trucks can be uniquely challenging to design, equip and operate. While many brick-and-mortar restaurant kitchens are small, food truck kitchens are exponentially so. Smart design, careful evaluation of production processes and a laser-sharp focus on efficient space utilization are critical. That's especially true considering large-volume catering and public event bookings can mean the potential for some food trucks to serve thousands of people per day from kitchens that range in size from 120 to 200 square feet.
Kyle Hollenbeck, a partner in Phoenix, Ariz.-based Aioli Gourmet Burgers, takes time up front to carefully analyze realistic menu mix and production flow, which is critical to food truck success. Launched in 2014, Aioli Gourmet Burgers has grown to four food trucks and two brick-and-mortar locations. Hollenbeck and partner Chef Tommy D'Ambrosio also added a Mexican street food truck called Modern Tortilla and Oak Wood-Fired Pizza to their food truck portfolio. A new 14,000-square-foot commissary kitchen supports all of the group's operations.
Lessons Learned
"From our first truck six years ago to our newer versions, we've gotten a lot smarter about how we lay things out," Hollenbeck says. "Staff members who get assigned to the oldest of the Aioli trucks now grumble a bit, just because they're not as efficient to work in. We hadn't yet figured out the smoothest flow, and that has to do with menu mix and optimizing operations. We learned a lot through trial and error."
One big lesson learned: Don't skimp when it comes to mission-critical equipment. "You need to understand when it's OK to buy used and when it's smarter to buy new," Hollenbeck notes. "In Arizona, the heat is intense, for instance. Our refrigeration has to be super-durable. And understand that unlike in a restaurant kitchen, where equipment is fixed in place, in a food truck, there's a lot of rattling around. Cheap equipment doesn't cut it and can cause a lot of headaches."
As for the trucks themselves, the Aioli group's preference is to purchase and refurbish used, 23-foot to 38-foot trailer-type trucks. "For us, it's much more cost-effective than customizing a new truck. And if we have engine trouble on the road, it's a lot easier to unhook the trailer and hook up another truck than it is to unload all of the food and supplies inside while the truck is being serviced," Hollenbeck notes. "In a food truck, you're always at risk of not only your equipment going down, but your engine, as well, and you need to plan for that."
The Aioli group additionally opts for electric and propane-powered equipment rather than rely on conversion kits that enable natural gas powered items to work in the mobile environment. And all of its food truck refrigerated equipment runs on high-power, ultraquiet generators.
"Power is an important issue," Hollenbeck says. "We can plug our trucks into the wall to run our refrigeration overnight, which lets us avoid loading and unloading refrigerated products every day. And our generators are quiet, which was another trial and error lesson. Our first truck's generator sounded like a lawn mower. We did an event for a wedding planner, and he came to us afterward raving about our food, etc., but said that if we wanted to work with him again, we had to do something about that noise. We immediately scraped together enough money to upgrade our generator. The ones we use now are very quiet, and we can just refill the gas to keep them powering everything through 8- to 10-hour events."
Newk's 30-foot step van food truck also relies on a high-powered generator and can be plugged in. All of the equipment on board is powered by electricity, a feature that is both space-saving — no on-board propane tank storage is necessary — and environmentally friendly. The truck's kitchen illustrates how mobile kitchens, while small, can be equipped for maximum production capacity. It includes two high-speed conveyor ovens beneath dedicated hoods, a warming cabinet, two undercounter refrigerators, two refrigerated prep tables, a standard prep table, a countertop cold station, a drop-in steamtable, a double-wide refrigerator, soup warmers and a fryer.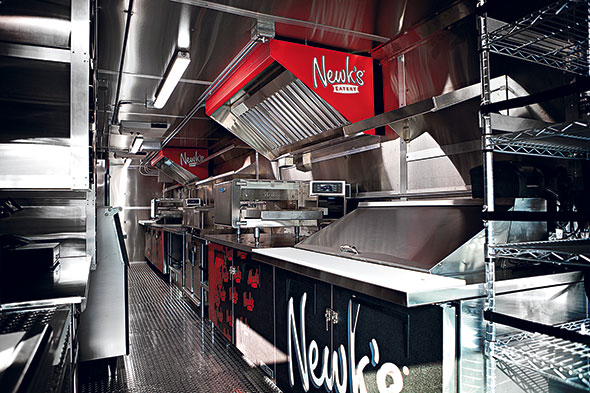 Newk's food truck illustrates how mobile kitchens, while small, can be designed and equipped for maximum production capacity as well as to lend branding and marketing panache.
Built to handle high-volume catering and public events smoothly and efficiently, the truck is also designed to reinforce Newk's branding, incorporating bold graphics, pull-down awnings over customer service windows, onboard audiovisual systems and logos on the truck's exterior and on customer-facing equipment inside. The cherry on top? A massive inflatable Newk's beverage cup.
While Newk's is a more recent entrant into the food truck arena, modeling its mobile kitchen to work with its existing brick-and-mortar menu, operations and flow, brands like Aioli Gourmet Burgers and San Francisco's Curry Up Now built their brands as food trucks before opening store locations.
Founded in 2009 and offering Indian-inspired street food, Curry Up Now today operates 11 restaurants in four states, with more than 40 franchised and corporate units in varying stages of development across the country. While the brand has evolved to primarily brick-and-mortar locations, its food trucks continue as key branding elements, venues for testing new menu ideas, and popular catering and event fixtures.
Built for Speed
While its stores offer more space and a distinctive fast-casual experience, Curry Up Now still models the chain's restaurant kitchens on its food truck designs. "Instead of our food tucks being designed like our kitchens, it's more the case that our kitchens are designed like our food trucks," says co-founder Akash Kapoor. "They're meant to be very functional in a small space. Our entire menu was first served on a food truck, so we've learned efficiencies and speed of service from our truck operations and brought that to the restaurants. In fact, most of our menu has been designed around the truck kitchens and what works for that setup."
The kitchens in Curry Up Now's step van-style food trucks turn out a broad menu of Indian-inspired burritos, bowls and signature dishes, with many ingredients being cross-utilized in different presentations. Kapoor says the ability to provide fast service is essential. "Our goal on the food trucks is that guests should be able to place their order, collect their food and walk away in less than two minutes," he notes.
Mission-critical equipment in each truck includes a steam table, a flattop grill, fryers, burners, a hot box, refrigerators, a freezer and a refrigerated prep table. Kapoor says most of the equipment has been updated to the latest technologies to ensure fast, efficient service.