Outfitting external bars requires planning with an eye toward the elements when selecting materials and equipment.
Due to COVID-19 concerns and local regulations, the bulk of rooftop drinking and dining spaces have ceased operations. The time will come, though, when these spaces reopen, and patrons will likely flock back to them. Rooftop bars and restaurants can be a boon to business. They can significantly expand an operation's space, even if it's only for six to eight months a year. But outfitting a rooftop bar or restaurant isn't the same as finding equipment and supplies for an indoor space. When doing so, operators need to take into account several considerations, including selecting the right equipment and products for the elements.
The Roof, a rooftop bar and kitchen at Ponce City Market in Atlanta.
Consider Quality Upgrades
Because rooftop bars and restaurants are exposed to the elements, high-quality materials hold up better in these spaces. Marine grade stainless steel is the preferred choice for Ted Barber, chief designer with King-Casey, a menu optimization company in Westport, Conn. He tends to use this level of high-quality stainless steel specifically for underbar equipment. "We use the grade of stainless that provides the least pitting and salt degradation," he says. Marine grade has a higher nickel content, he explains, which still pits and degrades, but much more slowly than other stainless-steel products.
For bar tops exposed to the elements on a roof, Barber uses a variety of hard surfaces. These range from polished concrete or terrazzo to a specialty quartz surface made in Italy, UV coating over wood with clear finish, and teak with a clear finish. Sticking with quality products becomes particularly important in a coastal location, he explains, but there's also chemical rainfall to consider, wherever you are, which contains impurities that can also corrode and pit surfaces. Even with high-quality stainless steel, he advises clients to periodically use a heavy-duty car wax on it (avoiding food areas) to protect it.
Avoid wood on rooftop bars, cautions Stuart Davis, vice president, Midwest Division, of Next Step Design, Annapolis, Md. Wood wicks moisture and smells of mildew, which he notes is an almost impossible smell to eliminate.
Avoid wood floors on rooftops, advises Stuart Davis of Next Step Design, because wood wicks moisture. The Rooftop Terrace at The Charmant Hotel in La Crosse, Wis., does use wood to support the wood-fired pizza operation that accompanies beverage service on the rooftop. Photo courtesy of The Charmant Hotel, Aparium Hotel Group
Electrical Care
Barber stays away from gas grills due to all the fabrics that are around on a rooftop grill, especially retractable roofs. He prefers electric grills, especially ones that self-ventilate. It's important to keep several methods of fire protection nearby, attached to a column or hidden by something decorative.
Another safety strategy is to keep electric equipment off the top of outside bars, according to Marcus Calverley, project manager at Great Lakes Culinary Design in Southfield, Mich. Preferably, the bar is under some kind of awning, ideally one that's nonporous and easy to clean, particularly if it hangs over a food area, he says. This has multiple benefits. In addition to screening the bartenders from the sun, the liquor and wine stay in the shade. "You'll burn through ice faster with no awning," he says, "and you're making your ice machine work harder, too."
In terms of electrical, before building, consider service elements, Calverley suggests, especially if the bar or restaurant has equipment that requires higher voltage, like a frozen drink machine.
Centralizing power locations was the strategy Bobby Beuchel used for The Summit, a rooftop venue connected to The 400 Club, which sits above center field at minor league baseball stadium Parkview Field in Fort Wayne, Ind. The facility opened in 2016. Beuchel, a registered architect at Design Collaborative in Fort Wayne, Ind., wanted to provide the necessary power and water for everything in the space, so he located power in central locations so staff could operate mobile equipment with lengthy cords. "Centralizing the plugs allowed them a certain radius for the food warming stations, their heaters and any other equipment that needed to be moved around," he points out.
Look for durable, compact electrical equipment, advises Jonathan McDowell, culinary director of Slater Hospitality in Atlanta. Slater Hospitality operates The Roof, a rooftop bar and kitchen at Ponce City Market, a mixed-use development in Atlanta. His strategy revolves around first putting in as much equipment as possible. Then, he says, "We build our menu around what we have, not vice versa."
Chilled Drinks
No rooftop is complete without an ice machine and a cold drink machine. And, of course, both require refrigeration. Rooftop bar operators should steer clear of soda guns and draft beer, says Davis, for one simple reason: They attract fruit flies. Also, he adds, the trend to higher-end mixology means higher-end mixers and fewer soda guns.
The same thinking applies to cider. "Bars are notorious for being places with liquid and a lot of sweet things you don't want," says Davis. "That's why often, we'll put our rooftop backbars on curbs — 4-inch-high concrete curbs — to elevate the coolers off the ground so if there are spills, they can't go under them. We know accidents are going to happen, so it all comes down to cleanability." If a facility does include soda and beer lines, the operator must decommission them during the off-season and flush and clean lines regularly, according to state laws.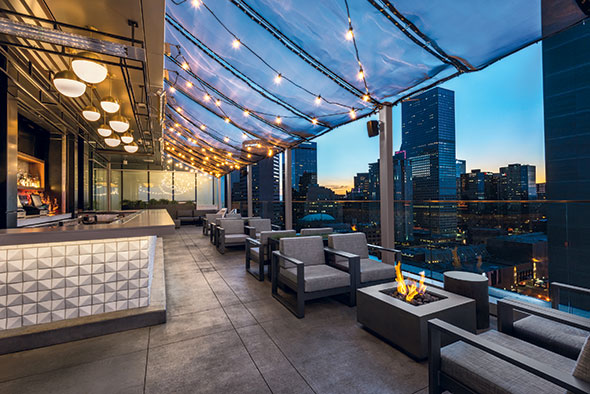 Placing a rooftop bar on concrete curbs increases durability and protects against spills, says Stuart Davis of Next Step Design. That idea plays out at 54thirty, a rooftop bar at Le Méridien Denver Downtown. Photo courtesy of White Lodging
For beer and soda lines, Barber says it's vital to consider the distance from the closest pump room. "Laterally, we can effectively deliver beer 600 feet or more with minimal challenges; the minute you start adding vertical risers above 25 feet, you face the need for additional boosters to overcome the change in required pressures," he says. He also recommends glycol chillers that become integral to the beer tubing bundles and maintain constant temperatures.
For The Summit, Beuchel wanted permanent lines for water and soda, so he identified early on where these stations should be. "They wanted to use the existing soda station room from the building below, so new lines had to be run. These were left to the perimeter of the rooftop in an area that wouldn't deter any views of the game but closely located to the employee that would be working the rooftop," he says. The lines were run from below, penetrating the roof, and permanently fixed to the wall of the existing roof. Quick connects allow the staff to remove the equipment for storage during the winter months.
Ice machines, Davis says, should be always inside, or at least in a shelter. Preferably, they're placed in an air-conditioned back-of-the-house pantry — which staff can also use for liquor and wine storage, a mop sink, and as a bus station. "You can't support a bar without these back-of-house functions," Davis says. Ideally, he adds, the back of the house sits adjacent to the bar itself, but inside the building — probably no more than 25 or 30 feet away.
For ice machines, Barber oversizes the bins so the machine can keep up with capacity, but that capacity is split so the bartender can lift each bin. There are a few ways to achieve the optimum performance from an ice machine, he says: a water-cooled condenser, glycol in lieu of chilled water, or domestic water as long as it's recirculating, air-cooled with a steady temperature around 70 degrees F to achieve maximum production.
For cocktails, frozen drink machines are becoming very popular, says Davis, and he sometimes drops down the backbar to 38 or 40 inches so it's not high, both for visibility and ergonomics. Don't use plastic drink machines, he cautions; plastic will crack in temperature swings, and stainless steel is easier to clean.
Drink machines should always be on display, Calverley points out. "They're flashy pieces, and it's good for marketing. If customers see them on the counter, they know these drinks are available."
Slater Hospitality, which operates The Roof in Atlanta, relies on durable, compact equipment for the outdoor space. Photo courtesy of The Roof
Nighttime and Winter Considerations
Having storage, and enough of it, is vital for rooftop restaurants and bars because many of these venues do not operate up to seven months of the year.
When in operation, staff should lock up liquor and other alcohol at the end of the night, points out Calverley, to save staff from carrying it all back inside every evening. Ideally, this would be a cabinet that allows the operator to display the bottles but with doors that can be locked at night; some even have garage-style doors that roll up and disappear at the beginning of service. "It's a dance between making sure it's visually appealing but still protecting our customers' inventory," he says.
And operations need to consider where to store everything — from grills to umbrellas to chairs — during months when the rooftop is not in operation. "If you're already struggling for space, it's hard to store all this furniture and maybe the transportation of it," Calverley points out.
Collapsible or foldable furniture tends to be best for outfitting rooftop locations, but aesthetically it's often less than ideal because it's smaller and slimmer and doesn't fit some operators' visions of their rooftop. Plus, Calverley adds, "bulky, oversized furniture is very popular, and it's excellent but comes with the equation of available storage space." Generally, he says, this is more common in the south where the seasons are less pronounced, but weather does need to be considered, especially in hurricane zones.
McDowell, however, says he prefers heavy hardwood and metal furniture that's not movable. "Bolt down any smaller tables so you're not endangering your guests with flying objects in the case of high winds," he says. "The look needs to be fresh in an open-air concept, so you need to do a constant upkeep of your furniture by staining and painting." He whitewashes Adirondack chairs to give them a weathered look while also protecting them.
All equipment at The Summit is mobile, which allows staff to easily remove it during the off-season as well as rearrange it for events. During the winter, it's typically all moved to one area of the roof and stored under a partial roof, covered with a tarp. Portable equipment, says Beuchel, allows staff to "clean off more surfaces that may not be normally accessible with fixed equipment."
The covered area for The Summit is simply a metal roof made from tube steel. This was selected, says Beuchel, for its cost and durability. "The metal roof acts as a permanent canopy that provides cover for the food area and can be a small refuge in the event of rain during an event," he explains.
There's an unusual factor to take into account at The Summit: fireworks. These get set off after most games outside the building that contains the rooftop bar and restaurant. This means the equipment and tiles had to hold up to the debris from the fireworks. Beuchel was sure to stay away from cushioning for his chairs and very carefully picked the floor tiles. "We picked darker colors with red in them because there's red clay in the fireworks when they come down," he says, "so we chose that and some green because the baseball team's colors are red and green too."
---
Flooring Considerations
The Summit staff move the mobile equipment on the rooftop under a partial roof and cover it for storage during the baseball stadium's off-season. They also rearrange equipment for events.Easily forgotten, flooring can make a big difference to a rooftop bar.
The flooring at The Summit was tricky, says Bobby Beuchel of Design
Collaborative, since the location was on the roof of an existing building. "We had to come up with a flooring system that was durable to handle the traffic flow of people using the space as well as strong enough to support the equipment for the foodservice and the bar," he says. He relied on pavers and pedestals to provide the platform that would make the floor level for the space and follow the curve of the roof. "The basis is the pavers are raised up from the roof on a pedestal system that holds all four corners of the paver. This system is common for many rooftops."
Because the tiles are on adjustable pedestals that sit on the roof, rainwater can go through the cracks and into the roof drain, and employees can hose it off if there are fireworks or other mess-creating events.
Jonathan McDowell of Slater Hospitality is a fan of a mixture of concrete and durable wood decking, preferably 2-foot squares, "so you can replace a piece easily. The mix is important because of weight restrictions," he says.
For behind the bar, Ted Barber of King-Casey prefers resinous flooring since it's designed to prevent leaks and is easy to repair.