Bakery cafes earn high marks from consumers for keeping pace with industry trends, including a focus on high quality and healthy menu items. In addition to baked goods, such as breads, cakes and pastries, these operations offer meals like sandwiches, soup and salads.
85°C Bakery Cafe
The segment has had its share of consolidation, with JAB Holding Co. playing a significant role. Luxembourg-based JAB acquired the Einstein Noah Restaurant Group in 2014, which operated Einstein Bros. Bagels., Manhattan Bagel and Noah's New York Bagels brands. In 2017, JAB purchased Bruegger's Bagels, and then acquired Panera Bread Co. Panera, in turn, acquired the ABP Corp., owner of Au Bon Pain cafes, in 2018.
Of the top 500 U.S. restaurant chains listed in Chicago-based Datassential's 2019 inaugural Firefly 500 report, 22 were bakery cafes. Panera Bread dominates the bakery-cafe landscape, according to the report, with nearly three times the amount of units than its closest competitor, Einstein Bros.
Paris Baguette, headquartered in South Korea, and Taiwan-based 85°C Bakery Cafe have experienced the most sales and unit growth in the segment. Both have U.S. locations, with strongholds in California. Paris Baguette's sales growth for its 3,500 sites was 38.5 percent, and unit growth totaled 51 percent in 2018. 85°C's 700 locations grew sales 35.7 percent and unit growth 25 percent that year. Jackson, Miss.-based Newk's Eatery, with roughly 100 locations, also gains notice as a fast-growing chain. It experienced close to 15 percent growth in units and more than 17 percent growth in sales in 2018. This chain was also the only one in the segment among the top 10 to hit double-digit growth in terms of sales and units.
According to Bakery Cafes in the U.S., a report from Los Angeles-based IBISWorld, this segment included almost 8,000 operators, had total revenue of $11.2 billion as of April 2019 and, from 2014 to 2019, experienced annual growth of almost 3 percent. The bakery cafe industry has expanded considerably in that five-year period, according to the report, with these typically fast-casual restaurants offering the quality and taste of full-service establishments along with the speed and affordability of fast-food chains. Consumers have been drawn to the health-conscious and customizable options emerging on operators' menus; as a result, industry growth has outpaced others in the foodservice sector.
Making the Menu
Bakery cafes have found most of their success over the past decade by targeting the lunch crowd, with the majority of operators deriving significantly more than half of their daily revenue and profit between the hours of 11 a.m. and 4 p.m., reports IBISWorld. While this will likely remain the most lucrative period for bakery cafes, many will continue to aggressively target the underserviced breakfast markets to avoid price-based lunch competition in an increasingly competitive industry. Operators will attempt to attract consumers with extended breakfast menus and early morning deals. Einstein Bros. and Corner Bakery Cafe both include healthy breakfast menu alternatives for the morning crowd, such as granola, fruit and yogurt.
In 2019, IBISWorld estimated that bread and sandwich products accounted for 50.2 percent of bakery cafe industry sales, while beverages accounted for 20.4 percent. Pastries were estimated at 12.5 percent, and pies and cakes accounted for 7.5 percent.
When it comes to menu offerings, the emphasis should be on quality before quantity, says Ray Camillo, CEO and founder of Atlanta-based Blue Orbit Restaurant Consulting. The recipe for success in this segment remains fairly straightforward. "It's important to keep the labor model simple, but add quality with items like croissants and doughnuts," says Camillo. "Still, the cafe part is crucial."
Having sweet as well as savory offerings ensures multiple day-parts are captured. "Straight bakery operations are in a difficult position, because they're fighting against diet restrictions and the prevalence of low carb diets," Camillo says. "The trouble comes when a bakery cafe is looked at as a sandwich shop competitor or a place geared just for lunch. Disguising the coffee shop as a bakery and having coffee that's proprietary or from a local roaster [can expand the demographic]."
Flour Bakery & Cafe, which has eight locations plus a production bakery kitchen in the Boston area, expanded its lineup of specialty espresso drinks and added vegan and gluten-free menu items. In addition to bread, cookies and breakfast pastries, the cafe offers sandwiches, salads, quiches and grain bowls.
Flour Bakery & Cafe has branched out to include more specialty items, such as gluten-free and low-sugar items.
"We capture morning, midday, afternoon and dinner crowds, in addition to doing a lot of catering," says co-owner Joanne Chang. "The first 10 years, we had a basic menu with specials, but it's been the past 10 years that we branched out into specialty items, including gluten-free and low-sugar items and grain bowls."
And the menu continues to evolve to meet consumers' ever-developing tastes and dietary requirements. "We started offering gluten-free bread, and now have gluten-free lunch items and a couple of pastries," says Chang. "This has allowed us to push ourselves to create items we love within allergy restrictions. However, because we're not a flour-free facility, those who are highly allergic may still have issues." The restaurant takes steps to avoid cross contamination with gluten-free foods, including changing out parchment paper, utensils and cutting boards, but makes customers aware that there is flour on the premises, thus the chance of exposure exists.
Phoenix's Essence Bakery Café, which opened in 2007, has also modified its menu over the years. Initially, the fast-casual breakfast/lunch spot was also open for dinner. "We realized the bulk of our business was in breakfast and lunch due to our location in a business district," says Eugenia Theodosopoulos, chef/owner, who trained and worked in France prior to opening Essence.
Many items reflect Theodosopoulos' Greek heritage and her husband's French roots. The cafe's specialties include croissants, breads, French scrambled eggs and traditional macarons, and spanakopita. "We also offer specials, like today it's a Southwest omelet with jalapeño, ham and French brie with sourdough toast," she says. "Much of these offerings are dependent on what I can get locally. For example, tomorrow we have tomatillo sauce over eggs with avocados, and on Sunday we're doing an omelet with bacon and Machaca cheese."
When Orem, Utah-based Kneaders Bakery & Café first opened in 1997, its menu consisted mainly of breads and pastries. Its offerings expanded to include sandwiches that first year and continued evolving over time until becoming more set about 10 years ago. "Part of it is us rotating seasonal items in quarterly or yearly," says David Vincent, CFO and president of the 59-unit chain.
Kneaders Bakery & Café's under-600-calorie combos are geared for health-conscious customers.
Its core menu items include the best-selling turkey bacon avocado on focaccia — made with turkey that is roasted each night at the store — along with breakfast croissants, French dip sandwiches and barbecue chicken salad. Its popular cinnamon French toast is also sold as a pull-apart bread.
"Lunch by far is our biggest daypart, with breakfast second and dinner close behind that," says Vincent. He attributes much of Kneaders' growth to its service model, which includes digital ordering, delivery and drive-thrus.
Established in Taiwan in 2004, 85°C, which opened its first U.S. site in 2008 and now has 65 locations in this country, has tried adding sandwiches to its baked goods menu in the past and may do so again. "At one point, we offered a mandarin orange chicken sandwich that was popular but seasonal," says Gloria Gorden, director of operations. "We're looking at possibly expanding our concept with meals and combos based on customer feedback and availability through our supply chain."
The chain draws its name from the belief that espresso holds its flavor at 85 degrees C or 185 degrees F. "To us, the name symbolizes our devotion to providing coffee at the highest quality, along with more than 60 sweet and savory bread varieties, cakes and other items," Gorden explains.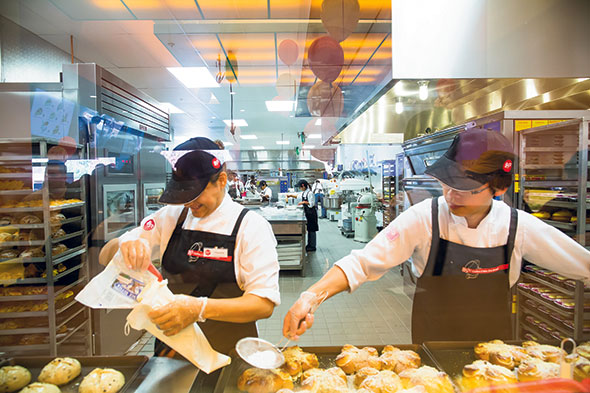 The central kitchen at 85°C Bakery Cafe is set up to accommodate an expanded menu in the future.
While baked goods dominate the menu at 85°C, the chain does offer a hot dog in a brioche bun — and it's one of the chain's best sellers. "We try to be creative with our offerings and have the space and equipment to offer more meals in the future," says Gorden. The chain maintains consistency among all locations.
An Exercise in Equipment
Most operators within this segment produce menu items from scratch rather than buying prepared meals, according to IBISWorld's report. Traditional equipment includes baking equipment, such as commercial mixers and ovens, which also generally have long lifespans and little technological change.
It's simpler to set up cooking equipment for a bakery than other types of commercial kitchens, which generally have more diverse menus, says Camillo. "There's no grease from fryers or protein, and grease trap requirements are less," he says. "Specialized equipment is required for those making their own chocolates, but for baking croissants, bagels, muffins, cupcakes and cookies, a convection or deck oven is about all that's needed."
Yet, depending on the offerings, the back of the house can get more complex. High-volume bakeries require a deck elevator with scissor jack to rotate dough in the ovens, Camillo adds. He explains: "It's about depth. Imagine a conveyor of 8 linear feet with three decks. The top deck may only be 5 feet high, but it's so deep that you have to bring the scissor jack to 5 feet so you can push the conveyor into the deep oven to lay down 8 feet of little dough balls."
A pizza oven can produce high volumes of bread, Camillo notes, adding that he generally recommends electric models for temperature consistency.
"Another must-have is a good mixer, probably an 80-quart spiral, but they can get by with a dough hook," Camillo says. "Also, a specialized water meter that sets the water temperature digitally is important for items made with yeast."
Other staples for an efficient bakery include a 2½-inch thick butcher's block that's ideally 8 feet by 8 feet, with flour and sugar bins underneath, Camillo says. Operators offering baguettes need a roller designated for these products.
"A dough cutter with an arm cuts rolls and gets them ready for shaping," explains Camillo. "A sheeter is needed when creating croissants by hand."
Flour Bakery & Cafe stores all include a pastry counter, sandwich area and kitchen. Every location's back-of-the-house staff handles savory and pastry prep and baking. Back-of-the-house spaces range from 600 to 1,000 square feet.
The central production kitchen that supports all stores measures about 6,600 square feet and includes combi ovens, rotating rack ovens, sheeters and mixers. "Here, we make cookie dough, scones, cakes, dressings and meats that are delivered to our sites daily," says Chang.
For Essence Bakery Café, the Swiss dough sheeter represents the most integral piece of equipment, Theodosopoulos says, adding that she also uses European convection ovens and mixers.
"I'm always discovering new methods for production and learning," says Theodosopoulos. "For example, I just got in an automated bread slicer yesterday; we were previously using a manual meat slicer for our breads, which wasn't practical."
At Kneaders Bakery & Cafe stores, staff bake most bread in Italian hearth ovens; staff use rack ovens to bake sandwich bread and pastries. "Each day, we use a 200-pound spiral mixer for our bread dough, in addition to 60-quart planetary mixers and proof boxes," says Vincent. "Our bakeries are located in a separate room from our main kitchens." Average locations total 4,500 square feet, with the kitchen and bakery comprising three-quarters of the space.
Equipment automation is the focus in 85°C's kitchens. "We have proofers, convection and deck ovens that are semi-automated for different types of bread," says Gorden. "Down the line, we envision more automated equipment, which is important for consistency with large chains."
The Labor Factor
Opting for parbaked items, instead of creating dough from scratch, can help operators with labor issues. "Parbaked is a good way to go for some items, like croissants, which are very labor intensive and require an 8-foot-long sheeter," says Camillo. "Bakers also will end up throwing 25 percent of croissant dough in the trash, due to the way it's produced." But, he adds, the more items a bakery can make from scratch, the better the profit margin.
"You have to keep the baked goods bins full, then may end up throwing out 10 percent of what's made, when an operation's food costs are already at 35 percent," Camillo says. "This is why simplicity is best in the long run."
Gorden at 85°C prefers more experienced labor, especially for making homemade bread, due to the proofing process, as well as for cake decorating. "It's an art that needs perfecting, so training is important, along with adhering to quality standards," she says. For this reason, the bakery's R&D division holds staff training monthly.
To address today's labor challenge, Theodosopoulos at Essence Bakery Café now offers a paid apprenticeship program. It currently includes four high school graduates who completed their schools' Careers Through Culinary Arts Program (C-CAP). The program, currently offered in 150 schools, offers 15,000 students across the country a chance to develop their interest in the culinary and hospitality fields. It gives graduating high school students the opportunity to advance their culinary skills in a working environment. Theodosopoulos' C-CAP program is ٤,٠٠٠ hours, with students working ٤٠ hours a week.
"Prior to this program, I spent a lot of time training inexperienced staff, since it takes at least three months to learn the process," says Theodosopoulos. "This program has enabled me to have a better pool of people to work with and train, because they had a lot of hands-on training, which is valuable in this business."
Theodosopoulos also recently opened a cooking school for those interested in baking. "We have two buildings on our premises, one which will include a residential-type kitchen, so our customers can learn to make croissants, macarons and Greek food," she says. "We plan to offer classes three to four times a week and include guest chefs from across the country."
The future remains bright for these concepts. By 2024, IBISWorld expects the bakery cafe segment revenue to total $11.8 billion and account for a greater share of the broader foodservice sector. Its report states that the industry has plenty of room for growth, and aggressive store openings by major players are set to continue as consumer demand increases.