The word "disruptive" has become one of the most overused terms of the last 10 years, but it's no overstatement to say that in a relatively short time, third-party delivery services have disrupted the way restaurants do business. Grubhub started delivering to consumers in 2004; DoorDash and Uber Eats are both just about six years old. Yet these and other third-party delivery services have revolutionized the way restaurants deal with their customers — and, conversely, have changed the way customers perceive the concept of dining out (and dining in).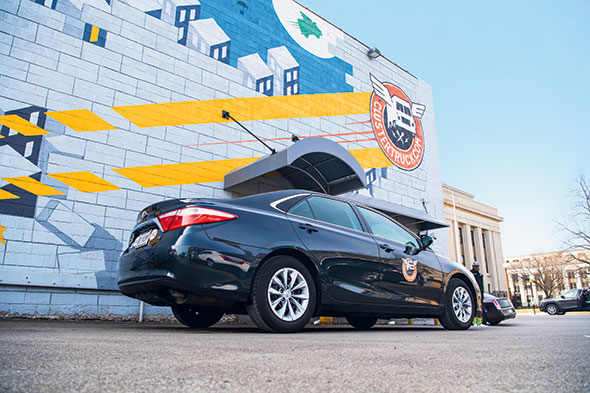 A 2019 study done by Tillster and SSI of 2,000 quick-service restaurant and fast-casual customers found that more than half of them have ordered online for delivery, and about the same number say they order delivery between one and five times monthly. Although this marks a major change in the way restaurants conduct their businesses, delivery brings with it a silver lining of opportunity for those operators who seize it. The same study found that half of customers surveyed want to order directly from a restaurant website or app, thus reducing the role of the third-party delivery service.
Here's how three restaurants are adapting their strategies to address this increasing demand for delivery.
Famous Dave's: A Smaller Footprint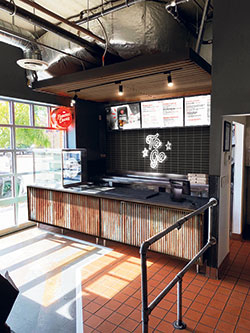 Takeout and delivery are a major part of the smaller Famous Dave's restaurant.In late 2019, the Famous Dave's barbecue chain introduced a prototype that focuses heavily on delivery, catering and off-premises dining. The new unit, located in the Uptown neighborhood of Minneapolis, measures about 3,000 square feet compared with a footprint of 6,500 square feet to 7,000 square feet for a typical Famous Dave's store. The company is "focusing heavily on off-premise," says Al Hank, senior vice president of operations for Famous Dave's, adding that changing consumer behavior drove the new design. "Our customers are choosing to interact with us differently today and are increasingly interacting with us on the off-premise side."
As proof of this evolution, Hank notes that "five or seven years ago, 30 percent of our business was off-premise. Today that number is sitting at 50 percent." Delivery, he says, currently accounts for between 10 percent and 15 percent of Famous Dave's business, and he expects that number to rise to 25 to 30 percent within the near future.
Besides the increased emphasis on delivery and catering, the prototype focuses more on the bar than other Famous Dave's locations. This space features community tables and an expanded menu of both alcoholic and nonalcoholic beverages.
As with most redesigns today, the kitchen takes a major hit in terms of size. The new unit's kitchen consumes less than 1,000 square feet, which is roughly half as small as the average Famous Dave's kitchen, according to Hank. Doing so "caused us to get creative and utilize different kinds of technology and multipurpose equipment. We brought in a smaller-size smoker and simplified our menu due to the size of the space."
"We're testing new packaging and holding equipment like heated shelving to ensure that our food remains hot until the very last second that it leaves our stores." — Al Hank, senior vice president of operations, Famous Dave'sWhile working on its own delivery programs accessible through the company's website and app, Famous Dave's is not completely cutting third-party services out of the equation. By partnering with an outside software company, the chain is able to integrate third-party delivery services into Famous Dave's POS system, eliminating the need for separate tablets. For those customers who prefer a more old-school method of access — the telephone — the chain continues to invest in call center and rapid reordering technology as well.
Famous Dave's continues to examine several areas in the pickup process where it can save time or produce items more efficiently. "We're testing new packaging and holding equipment like heated shelving to ensure that our food remains hot until the very last second that it leaves our stores," says Hank. The Uptown location already has a rapid pickup station installed to facilitate grab-and-go orders. Famous Dave's is working on separate third-party delivery pickup areas to increase the efficiency of those drivers — and keep them out of the walk-in customer traffic flow, Hank adds. The chain is also considering designated pickup lanes, separated into prepaid and catering orders.
The increased emphasis on off-premises dining has changed the mindset at Famous Dave's, Hank says. "We're working toward an improved experience for our guests that fits their needs. We're shrinking our stores to ensure those needs are met and investing in technology to execute an efficient and convenient restaurant," he says.
Wayback Burgers: Bringing the Restaurant to the Customers
The 155-unit Wayback Burgers chain takes traditional delivery services for a spin via its food delivery truck that features an onboard kitchen. The original idea was to link the vehicle to one of the chain's brick-and-mortar units, allowing the truck to serve as a mobile billboard for that location, says Patrick Conlin, president of Jake's Franchising/Wayback Burgers. "It would be a marketing opportunity for people seeing it, with the hope they go online and order on the app," Conlin says. "Then the truck would go to your house or business, cook up the food fresh and come to your door. Just like it was made in the restaurant."
Franchisees saw the first-generation truck at Wayback Burgers' national conference in 2018.
The first prototype of the truck was delivered to Wayback in 2018. It was an electric-powered vehicle: "a souped-up golf cart, if you will," says Conlin. Top speed for the vehicle was about 25 mph, and on the back of the chassis was a full kitchen: grill, fryer, refrigerator/freezer, hand sink and a small storage area. The outside of the truck was wrapped in Wayback graphics.
During testing, however, Wayback found the speed limitation was a drawback. Because of that, says Conlin, "you really cannot go on a highway. It has some problems going up hills if you're in a hilly area." Wayback's second-generation truck, which is currently in development, will run on gasoline or compressed natural gas so it can travel faster and on more terrain than the electric version. Additionally, the new version will have a slightly larger kitchen, measuring about 10 feet long. Of course, these enhancements will also enhance the price tag. While the original electric version would have cost franchisees around $35,000, Conlin estimates the new one will most likely cost between $50,000 and $60,000.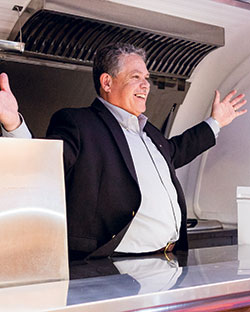 "If you're not in the delivery business, you're losing market share to your competitors." ­— Patrick Conlin, president, Jake's Franchising/ Wayback BurgersAnother minor snag that came up during testing of the truck was the daily cleaning procedure. Most of the Wayback Burgers stores operate in or near strip mall shopping centers, and the assumption was staff could clean the trucks at those locations. "One of the centers said, 'You can't be hosing down trucks here.' That became an issue that we hadn't thought of," says Conlin, who adds that they're working on establishing a central location where the trucks can return for cleaning.
Despite the complications, Conlin says that franchisees continue to show interest in the truck. But final testing needs to happen on both the truck and its ordering app, ViDDL-iT. The chain does anticipate the first second-generation truck will hit the streets in the second quarter of 2020.
Although Conlin says Wayback has not made any changes in its brick-and-mortar units to handle delivery, he's a firm believer in the idea that delivery will only increase. "I consider it the Amazon effect on the restaurant industry, where people have gotten used to going on their phone, computer or tablet to order anything," he says. "If you're not in the delivery business, you're losing market share to your competitors." Additionally, he believes that delivery can help drive traffic back into the brick-and-mortar units: "If you do everything right, you can hopefully get some certain percentage of those people into your restaurant so they can get the full experience."
ClusterTruck: Only Delivery
ClusterTruck isn't a restaurant, nor is it a ghost kitchen or commissary. It is "a vertically integrated food delivery company," says Chris Baggott, co-founder and CEO of the Indianapolis-based company. "We run like a restaurant; we're just a delivery-only restaurant."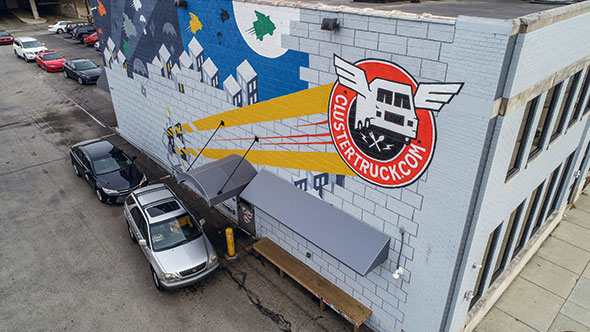 Drivers line up at the ClusterTruck central kitchen in Indianapolis.
ClusterTruck doesn't work with third-party delivery companies or restaurant brands; rather, it controls all the aspects of the process, from software development to cooking to delivery. To do so effectively, it limits the area to which it will deliver. "We don't want to make any delivery longer than six minutes," Baggott says. A few deliveries each day might go into seven or eight minutes, he says, but that's about as far as they'll go.
ClusterTruck began the software development process in 2015 and opened its first kitchen in Indianapolis the following year. It's currently in three more cities: Denver; Columbus, Ohio; and Kansas City, Mo. In each city, ClusterTruck has one large kitchen. Yet it differs from a ghost kitchen in that "we've organized it around cooking style, not cuisine style," Baggott says. And the company sells everything — from breakfast burritos to pad thai and pork tenderloin sandwiches — under the ClusterTruck name.
In a move that some might say puts ClusterTruck a little closer to being a "real" ghost kitchen, in late 2019 it announced a partnership with the Kroger grocery chain. ClusterTruck will provide a co-branded delivery service for Kroger, offering its standard menu with no additional service or delivery fees.
Typical ghost kitchens feature individual kitchen areas set up for each restaurant with separate equipment in each area. The ClusterTruck kitchen, however, operates using one single cookline that produces a variety of different cuisines. The company's typical equipment setup includes a saute station, a 12-burner stove, a flattop grill, five fryers, a pizza-making area, a salad station, a walk-in cooler and a freezer.
ClusterTruck kitchen staff produce different cuisines on the same line.
ClusterTruck also controls the delivery process, hiring its own subcontractor drivers who use their cars and bikes and get paid on a per-delivery basis. It's not unusual for drivers to make four to six deliveries in an hour, especially during rush periods. "Stand in our kitchen, and you can watch the same driver driving through every 10 minutes," Baggott laughs.
Besides the volume, another reason the job is so attractive for drivers is that they never have to get out of their car. At the ClusterTruck kitchen, the driver simply pulls up to a door on the side of the building where a staff person hands over the food. At the other end, the customer has to come outside to meet the driver to take receipt of the delivery.
"We've organized it around cooking style, not cuisine style." ­— Chris Baggott, co-founder and CEO, ClusterTruckClusterTruck does shy away from large, single-item orders, such as the office lunch call for 20 pizzas, according to Baggott. "In our reality, there is no more batching of food. People can come into our menu, and they can just get what they want."
Having control over the entire production process and a limited delivery area gives ClusterTruck an edge in customer service, Baggott adds. "If we forget the mayonnaise, I can get the mayonnaise to you in five minutes," he says.
That level of control over customer service, along with the speed of service, makes for repeat customers, Baggott says. "If you can get this high-quality, hot food delivered in 16 minutes from the time you hit the button, of course you're going to be loyal to us. You're never going back to the third party."