Move over chicken fingers and mac and cheese; kids' menus have become more diverse, incorporating appealing ingredients in formats that are palatable for the younger set. As quick-service chains revamp their offerings with more nutritious vegetable sides and fruit desserts, independents continue to reformulate their kids' menu items to be more diverse. Along with better-for-you options, more ethnic dishes with globally inspired ingredients are starting to appear on these menus.
Health-Focused Operator Talks Kids' Menus
Bryn DavisBryn Davis infused the conventional fast-food model with healthy options when he founded Bryn & Danes in Philadelphia in 2008. The five-unit chain features a better-for-you menu and offers an enhanced kid-driven approach.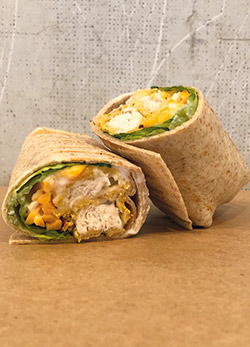 Q: What sets your kids' menu apart?
A: At first glance, our offerings are like those on a conventional fast food menu, only we took kids favorite foods and made them healthier. For example, our corn dog is 100 percent vegetarian with half the calories and a tenth of the cholesterol of the traditional type. Our chicken strips are not only baked, but totally gluten free. The food looks, feels and tastes what they're used to, but it is healthier.
Q: How do you develop these items?
A: We are constantly looking at our kids' menu and have a culinary team creating different items. Although we're seeing a leveling off of gluten-free items, plant-based dishes are more prevalent and impacting kids' menus today. This is something we're concentrating on, as we have partnered with companies that produce these alternatives.
Q: Is there equipment integral to kids' menus?
A: It's more the lack of equipment since we don't use fryers, grills or griddles. We seek to simplify our production, so each location has two to three speed ovens. Preparing healthy foods doesn't have to be time intensive.
---
New Twists on Kid-Friendly Fare
U.S. restaurants are creating more adventurous kids' menus that incorporate popular ingredients and new takes on old favorites. It's not always easy appealing to young palates, but these eateries have seen success.
The Summer Shack, Boston: After a lobster lesson from staff members, kids hone in on the $10 prix-fixe seafood menu with grilled Florida gulf shrimp or locally sourced
fish sticks.
Tilla, Minneapolis: Kids' menu favorites include turkey meatloaf and Canadian northern pike fish and chips.
Urbana, Washington, D.C.: Kids can create their own pizzas with healthier toppings such as Tuscan kale or chicken from local Amish farmers.
Zingerman's Roadhouse, Ann Arbor, Mich.: From Ari Weinzweig and Paul Saginaw of the famed Zingerman's Deli, this restaurant offers a separate kid's menu, along with smaller portions of adult items, such as barbecue and gourmet grilled cheese.
Source: The Food Network
---
Facts & Figures
Kids meals amount to only about 1 percent to 2 percent of sales and this has remained stagnant, according to Bob Goldin, a partner and co-founder at the Chicago-based food industry consulting firm Pentallect.
---
5 Prominent Offerings on Kids' Menus
The leading 5 trends in kids' meals on restaurant menus in the U.S., as forecasted by professional chefs in a 2019 Statistica report:
Ethnic-inspired kids' dishes: 64%
Gourmet items in kids' meals: 63%
Healthful kids' meals: 61%
Whole grain items: 60%
Grilled items: 49%