A number of terms continue to define foodservice today: artisanal, farm-to-table, global and regional, to name just a few. Almost all of them tie in one way or another to the concept of authenticity. Today's consumers demand their food not just taste great but also connect with its origins, whether that be in terms of ingredients or prep method. That's particularly true when it comes to ethnic dishes.
Redefining Authentic
What exactly defines "authentic" when it comes to ethnic dishes and just how far does an operator have to go to claim authenticity? There are probably as many answers to that question as there are cuisines. True authenticity comes from a combination of factors for Karen Malody, owner and principal of Culinary Options in Portland, Ore. Those factors include the ingredients in a dish, the equipment used to prepare the food, the dishware it's served upon and the decor of the establishment.
For John Franke, owner of Franke Culinary Consulting in Dallas, defining authenticity also means considering — and honoring — the traditions behind the food. "Is it real? You can say that you have authentic tandoori chicken," he says, "but if you bought it in a bag and didn't cook it the right way, is that really the same thing?"
The trend toward open kitchens often helps convey the concept of authenticity. If diners can actually see food being prepared in equipment that's appropriate to the cuisine, the consumer easily forms a connection with authenticity. "I don't think you have to have your entire line look like a village in India or Guatemala," says Franke, "but there has to be some particular authenticity to it where people can see it." Since many of today's customers have grown up on a diet of 24-hour television food networks, foodie blogs and culinary websites, they have an increased knowledge of prep methods and expect to see authentic prep when dining out.
An additional visual appeal accompanies many pieces of ethnic cooking equipment, which are more interesting to watch in operation than, say, the average grill or combi oven. The most obvious way to capitalize on that visual appeal is to place the equipment front and center, if the design allows for it. "If you have a wood-fired grill, it seems a waste of money to put it inside a kitchen," says Franke. "You really want to show that off."
Brick-oven pizza establishments have operated this way for years; so have Mongolian grill restaurants, where customers usually have to bring their bowls of raw food directly to the grill and can watch staff stir-fry it. At some of the units of the Din Tai Fung chain on the West Coast, the production and steaming of dumplings happens in a glassed-in kitchen area so diners (and even passersby outside) can watch the process as it takes place. "I go so far as to say that if something isn't customer facing, don't bother," Malody adds.
When placing equipment in front of customers proves impractical, marketing can help. That's how Kama Bistro in La Grange, Ill., communicates authentic cooking. It uses the menu to promote items that staff cook on a charcoal tandoor oven since the actual tandoor sits in the kitchen out of diners' line of sight.
Smart Marketing
Having an authentic piece of equipment in the operation gains importance when it's part of the restaurant's image and marketing plan. The most obvious way to do this is by including that equipment in the restaurant's name. Chinese restaurants have used the term "wok" in their names for years. Today, chains such as bd's Mongolian Grill and Tandur Indian Kitchen have made the prep equipment part of their name and marketing strategy.
Garrett Lennon, owner and principal of JLR Design Group in Seattle, uses the example of a brick oven in a restaurant serving Neapolitan pizza to explain why foodservice operators should highlight authentic equipment. "The way that pizza is cooked — it's done in a very high-heat environment, cooked quickly and on the hearth cooking surface — gives the crust its flavor and texture," he says, adding that it is important to promote the cooking method if you advertise your operation as authentic.
Some foodservice professionals will counter that producing a truly authentic dish does not completely depend on the equipment. "I can tell you there's a half dozen chefs out there who can make a Neapolitan pizza in a couple of different ovens," says Ray Soucie, senior project manager for Webb Foodservice Design in Portland, Ore. And, he claims, it can be difficult to distinguish between which pizzas are made in a traditional hearth oven when "you have a qualified chef that knows the tricks of the trade." But he also concedes that if an operation is basing its entire business (and reputation) on Neapolitan pizza, then "it's critical to have that brick oven up front and center. It's part of your marketing as well as your baking."
Authentic Weds Multipurpose
One of the potential areas of concern about any piece of ethnic cooking equipment — especially the larger pieces — is that operators often perceive these items as single-purpose pieces. And with the trend toward more modular cooklines, the sheer bulk of many of these pieces can scare off operators who look for future design flexibility. While this may not be a critical factor for an operation that is totally based on ethnic cuisine, it can be an important consideration for a more multiconcept operation, such as a college food hall.
One way to solve this problem, Lennon says, is to "find good cross-utilization in some of those specific pieces of ethnic equipment. A wok range can be used to cook various pasta dishes, not just Asian and East Indian dishes."
Creative thinking can help even when a restaurant changes its menu, Malody notes. "I have seen a concept with a hearthstone oven shift from pizza to Mexican and vice versa," she says. "People still refer to them as pizza ovens, but that's a far more versatile piece of equipment than people realize."
For true authenticity, having the right ingredients for ethnic cuisine is as important as having the right equipment. Franke sees this as a start-to-finish process that begins with the ingredients traditionally used in the cuisine. If an operation claims to make authentic Neapolitan pizza, he asks, "Are you using 00 flour and San Marzano tomatoes?" Actually displaying the ingredients in the restaurant can not only help convey the idea of authenticity; it's also a low-cost decorating concept.
However, ingredients can be a tricky line to tread. Trendologist Mike Kostyo from food insights firm Datassential says that his company's concept testing shows there can be a difference in what consumers say they want and what they actually end up purchasing. "Words or ingredients that are unfamiliar to customers routinely result in lower scores for the item," he says. "They simply don't know enough about the food to make an informed decision about spending their money on the item."
Funding Authenticity
Authenticity comes with associated costs; those San Marzano tomatoes cost more than the domestically grown canned product. The question the operator has to ask is, "How much will my clientele pay for true authenticity?" For the foodie who wants the "real" experience, price is most likely not an object. These customers "want to see the presentation and the 'show' that gives the sense the food is authentic," says Lennon.
But more price-sensitive customers may be willing to make the trade-off, giving up some of that authenticity for a lower price point. Franke feels that the bulk of consumers "probably don't necessarily care if [food is] super-authentic. If I'm a guy from, say, India, and I live here and I want something authentic, that's a different story. But I think the general consumer is different."
Malody suggests that with the amount of culinary fusion in the industry today, consumers will accept the idea that a dish might not be traditional. Sometimes, she says, "it makes sense to just say, 'We admire the cuisine of Thailand and so we borrowed their classic flavors to create this dish.' "
Fusion concepts aside, since not every operation can afford to go completely authentic, the answer for them may be to adopt the style of the cuisine without overemphasizing the authentic angle. "If you're looking for an authentic Jewish boiled bagel," Soucie says, "you have to boil them. If you don't mind an almost authentic bagel, then a combi oven does a great job and you can sell bagels, just like half the major supermarket chains do."
No matter how an operation chooses to prepare its food, the fact is that it still has to be at least somewhat true to the area of its origin. "If you are really emphasizing authenticity," says Malody, "make sure the items being prepared really taste like [what] an expert from that area of origin would find accurate. Make sure you have done your homework."
After its successful establishment in Brazil, Fogo de Chão brought the churrascaria concept to the United States in 1997. Now, the chain has more than 40 units in the U.S. and Puerto Rico, serving a seemingly endless procession of skewered fire-roasted proteins to its customers. Stuart Rackham, Fogo de Chão's vice president of food and beverage innovation, discusses how authenticity serves as a key to the chain's growth.
---
Authenticity Through the Eyes of a Chain Operator: Fogo de Chão
Fogo de Chão staff roast meat over a traditional horizontal rodizio grill.
Q: How has authenticity contributed to Fogo de Chão's success?
Stuart Rackham: Fogo de Chão is rooted in the southern Brazilian countryside, where churrasco is a way of life. The long-time tradition of families spending time together on Sunday afternoons, grilling meats on open fires, has been the foundation of [our] success in America and around the world.
Q: What equipment do you use to produce fire-roasted entrees?
A: Fogo de Chão grills beef, poultry, lamb and pork over open coals whenever possible. Some local restrictions limit the use of charcoal, and for those churrascarias, gas grills are utilized. The cogwheel rodizio grill lends itself to being able to grill many skewers of meat at once — close to 80 skewers may be cooking at once and the rotation of the skewers ensures even cooking. It's a simple cooking technique that results in amazingly well prepared meats.
Q: How important is it to have authentic equipment?
A: Cuts like picanha (top sirloin cap) or fraldinha (bottom sirloin flap) lend themselves extremely well to the rodizio style of cooking. Having equipment that has been modified for commercial application is a must when delivering an authentic gaucho experience.
Q: What are some of the top things to look for when buying this type of equipment?
A: As with all grills, temperature is key for churrasco grilling. The temperature can be up to 700 degrees F for searing the steaks and as low as 300 degrees F for slow cooking. The advantage with a tiered grill is the ability to move skewers around the grill to be hotter or cooler, depending on the meat being grilled.
A durable cog system is critical for the functionality of a churrasco grill. Without a reliable motor, chains and cogs, the grill would not function. Ease of cleaning the grill is key for long-term use. The way our grills are built, they are easily cleaned at the end of each shift. This is important due to the amount of fat that cooks off during the process.


---
A View of Authenticity from the University Segment: Iowa State University
The foodservice operations at Iowa State University in Ames, Iowa, serve roughly 35,000 students in 26 campus dining locations. The university's kitchens house a wide range of ethnic food preparation equipment, from planchas to pita makers to stone hearth pizza ovens. Scott Bruhn, executive chef for ISU Dining, explains the reasoning behind the university's extensive investment in authentic equipment.
Iowa State University offers students all sorts of ethnic dishes, ranging from gyros to gelato. The university's kitchen houses a range of equipment to prepare these items, including a stone hearth pizza oven.
Q: Why go so deeply into authentic food prep equipment?
Scott Bruhn: It has been our philosophy over the last couple of years to stress authenticity in our menus. The best way to get this is to start with the proper equipment and ingredients.
Q: Does the fact that your students want authentic ethnic food mean authentic ethnic has become mainstream?
A: Most definitely. You just have to look at the way food halls and international fast-casual restaurant concepts have taken off over the last few years to see that these places offer a variety that allows people to try many different cuisines. Social media and television shows have also exposed everyone to international cooking and restaurants.
Q: True authentic cooking equipment can be expensive. How do you fund these pieces?
A: We're fortunate in that our director of dining loves food and has been a driving force in making the purchase of this equipment possible. I think some of the justification to buy this equipment is that it makes a better product in many cases and is worth the extra expense.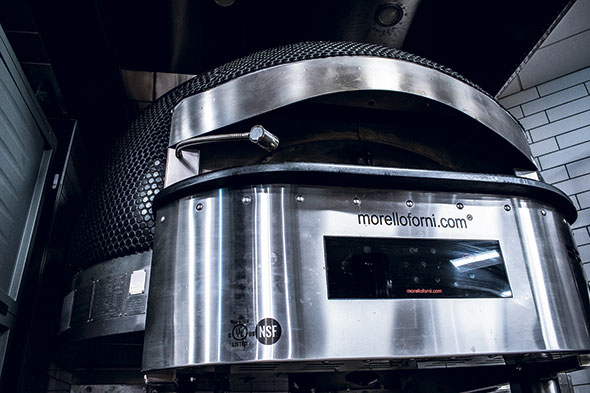 Q: What questions should operators ask when buying authentic equipment?
A: Where can you get it fixed? Make sure whatever piece of equipment you purchase is easy to service in your area.
What kind of training and support is provided with the equipment? Many pieces can be complicated to operate, and to have someone knowledgeable showing you exactly how it works is extremely valuable.
Will the equipment work where you want to operate it? Always check the electricity and gas needs. Some pieces we have purchased are manufactured outside of the U.S. and ensuring your power and gas needs are adequate will save you a lot of money [by not having] to add power or gas.
Is the piece easy to operate? Students make up the majority of our workforce and it is important that these pieces can be operated by people who aren't necessarily cooks.
---
Authenticity at an Independent Ethnic Restaurant: Kama Bistro
Since it opened 10 years ago, Kama Bistro, situated in the Chicago suburb of La Grange, Ill., has expanded from its initial 40 seats to 180 seats. This sophisticated Indian restaurant offers everything from weekday lunch to a Sunday buffet. Chef and owner Vikram Singh shares his view on authentic Indian cuisine and the equipment that supports it.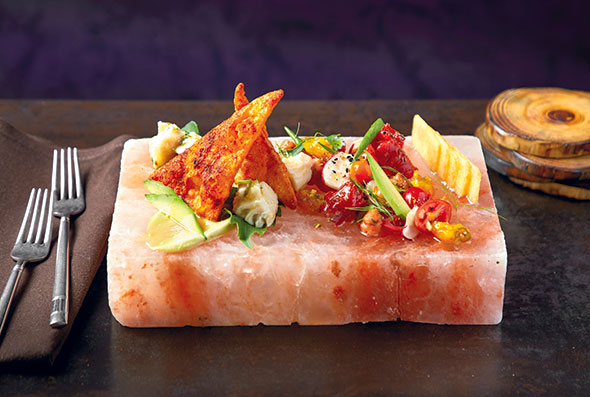 Q: Why does Kama Bistro use a charcoal tandoor grill? Gas-powered tandoors seem more common in the U.S.
Vikram Singh: Traditionally, tandoors have been charcoal. Over here, [gas] is used for a variety of reasons, namely the cost of operation and people not knowing how to handle [charcoal] properly. You need to maintain the temperature; it's not like a gas connection you can turn on and off.
Q: How did you source your tandoor?
A: As Indian cuisine has expanded in the States and some of the American companies have expanded overseas, there are a variety of places to get tandoor ovens. There are numerous ethnic vendors who sell tandoors, so you can just search online and you'll find multiple vendors.
I'm trying to source from India now.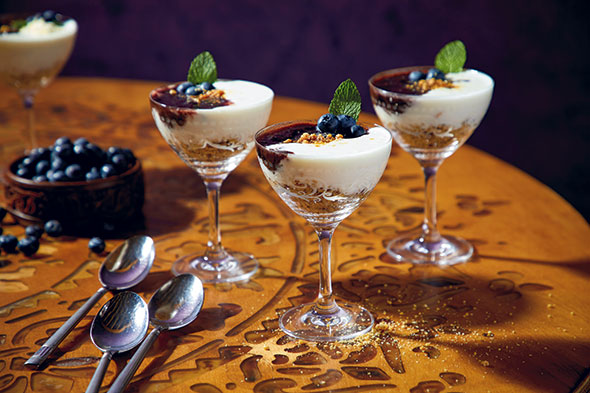 Q: Can a restaurant claim authenticity if it's not using traditional cooking equipment?
A: If you go to India now, they're using state-of-the-art modern equipment. That has a lot to do with the consistency and labor savings you can get out of the equipment.
I think the authenticity resides in the prep, what ingredients you use and the recipes you follow. "Authentic" in India 1,000 years ago was much different than "authentic" in India now. Cooking equipment can change over time.
A lot of times, authenticity is construed as a level of spiciness in the food. Some people might say, "It's not authentic enough because it's not spicy." So, people have their own definitions of what authentic is.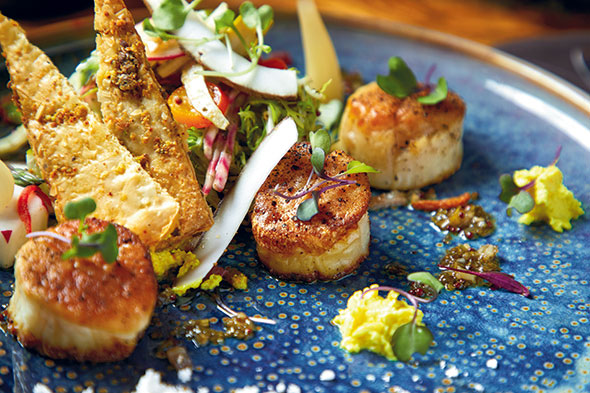 Q: What's important to know when purchasing or specifying a tandoor?
A: There are basic questions, like: Do they have space under the hood [for the tandoor]? What is the level of operation, and what does the menu look like?
A lot of times with tandoors, the inside shell breaks down, so look at the quality of the shell and the insulation. If you have proper insulation, you need less charcoal and your temperatures are going to be more stable.
For a busy restaurant, I think you need two grills. We've got two grills, one solely for grilling meats and one for making breads.