With the movement toward ever-decreasing kitchen sizes, when does small become too small? Is efficiency sometimes sacrificed as a result of reducing the kitchen footprint? Or can equipment completely compensate for the reduction in space? When designing a smaller kitchen, finding the sweet spot requires a combination of efficiency and space saving.
Many college and university dining facilities have moved some prep areas to the front of the house to save space and for visual effect, such as at The Foundry, a food hall-inspired dining facility at Colorado State University in Ft. Collins, Colo. The space features eight microrestaurants. Passport offers an around-the-world menu with dishes such as Osaki Krab Sticks and Jamaican Peas and Rice. Photos by Blue Tie Photo The initial step in assessing the correct size for a kitchen is deconstructing the menu and determining what equipment can produce menu items in the most efficient space. Too frequently, restaurant owners approach kitchen designers without a clearly defined menu, which can lead to disaster. "It's absolutely mind-blowing," says Luke Gradishar, vice president of business development for Grady's Foodservice, a kitchen design and foodservice equipment and supplies dealer based in Pueblo, Colo. Some potential customers, he says, "are willing to spend $100,000, $200,000, $300,000 — and they don't really know what they're going to cook yet."
At that point, Gradishar says, his company sends the operator back to assess not only what they're going to cook, but also how they're going to receive and store the ingredients, keep the finished items warm until service and clean up afterward.
When it comes to determining exactly what will and won't fit in the kitchen, the often-heard keyword is flexibility. A piece of equipment that can perform multiple tasks can be a valuable tool in a kitchen with a smaller footprint, says Gradishar.
But even with single-purpose equipment, "there's usually a workaround," says Dwayne MacEwen, principal and creative director at Chicago's DMAC Architecture. He relates the story of a client who was making pizza in a deck oven, "which takes up a lot of real estate in the kitchen." When the operation started to expand and opened a second location, the client didn't believe installing a deck oven warranted the amount of space it would require. But customers were disappointed that pizza wasn't available in the second location.
The solution was to include the deck oven in succeeding locations and develop signature menu items, such as flatbread and wings, that staff could produce in it. The end result, MacEwen says, made "the 'deck pizza oven' a multifunctional piece of equipment."
Ventless speed-cooking and combi ovens are often cited as being among the most useful equipment for smaller kitchens. "With the emergence of speed-cooking ovens that don't require exhaust hood systems, it's become affordable for operators to offer menu items in a much smaller footprint," says Donnie Theriot, vice president of Kitchen Equipment & Supply Company (KESCO) in Pensacola, Fla.
Gradishar says, "We've been putting a combi oven that's ventless in quite a few kitchens. Now you have a piece of equipment that has multiple functions. It's expensive, but look at the diversity you've just added to your menu."
Allotting sufficient space for product storage is another important consideration in small kitchen designs. "Oftentimes, what gets sacrificed is the area for dry storage," says Theriot.
Nona Golledge, marketing and operations principal for the Bakergroup, a foodservice consulting and design firm in Grand Rapids, Mich., agrees. "Unfortunately, many times storage space is reduced when the footprint is tight," she says. "Inadequate storage space not only creates an inefficient operation but could also cause the facility to be noncompliant with health codes." One way to help with the lack of storage, she notes, is by installing high-density shelving in smaller storage areas.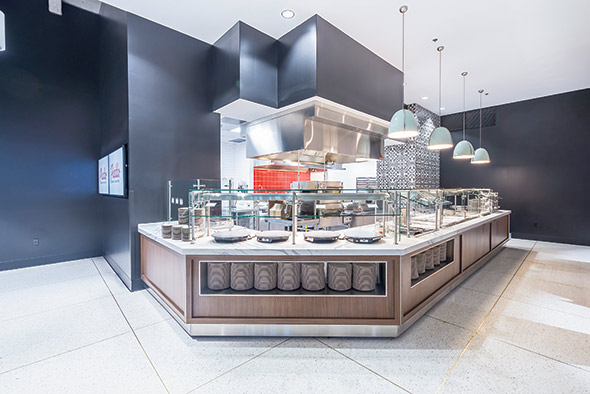 Piatto offers Italian fare.
Theory serves up classic American fare such as burgers and chicken wings.
Is Smaller Really Better?
There's a general assumption that a smaller kitchen with smaller equipment automatically means cost savings. But smaller equipment can mean less production volume, and that can have a long-term effect on an operation's bottom line, says Theriot. "You can throw a lot of money at new technology [such as] smaller cooking equipment," he says. "But smaller is not always best because then you're limiting yourself as to how much you can actually produce."
In addition to quantity limitations, smaller equipment can translate into longer production times, which can have a negative effect on service time and a domino effect on the entire operation. Golledge has seen design teams sometimes question the size or amperage of ovens, for example. "If the equipment is reduced in size or quantity, the client finds they are not able to produce items quickly enough due to a slower heat recovery time and equipment capacity, resulting in slower service and higher operating costs, and, potentially, loss in business," she says.
Rob Reis, design principal and design director for the Hanbury design and architecture firm in Norfolk, Va., agrees that a smaller kitchen does not necessarily mean cost savings. He views it as a balancing act between kitchen size and front-of-the-house seating, with equipment cost being a variable factor. "A smaller kitchen represents fewer square feet — less real estate — while also potentially yielding more seating and higher revenue per square foot," he says. "However, the equipment for a smaller kitchen, [which is] more compact and potentially multipurpose, will likely cost more."
Custom equipment might seem like the perfect answer to smaller kitchen space, but the costs involved in producing the equipment are sometimes prohibitive, especially if the food items being produced in the custom equipment might not be permanent additions to the menu. The reasons for having custom equipment vary, Reis notes. "From my perspective as an architect, it sometimes has to do with the way things look," he says. "From the foodservice design side, it's oftentimes because a piece of equipment will have to do multiple things."
But custom equipment can sometimes be a tough sell, says Gradishar, who feels that buyers tend to stick with the standard equipment "because that's what they've always used."
When carefully thought out, however, custom equipment can help maximize space in a small kitchen. For example, many prep tables today now feature power centers to allow easier and closer connection of smaller electrical equipment, such as vacuum sealers or sous vide circulators. A dish table may have trough-style collection bins attached to it so staff can easily dispose of excess ice and used straws before glasses go into the dishmachine. Saving even a few seconds on minor tasks like those can add up to saved steps and make for a smoother traffic flow in a tight space.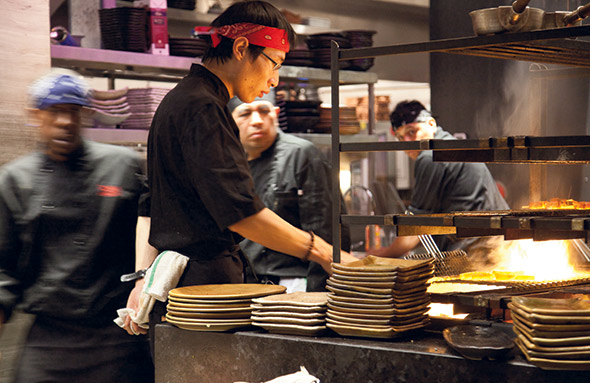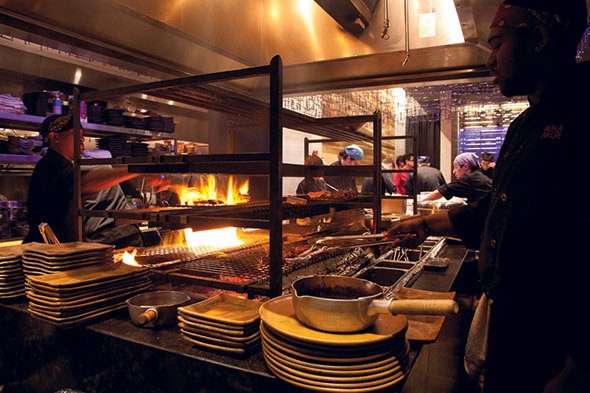 At the Roka Akor Japanese steakhouse in Chicago, much of the food prep happens in full view of customers. Proper placement of dishes and utensils becomes critical when traditional back-of-the-house components move out front.
Moving Up Front
The trend for display cooking and open kitchens obviously brings visual interest to the food preparation process. But one of the additional benefits it offers is the ability to relocate at least some of the food prep and cooking equipment out front, leading to smaller kitchens. And it's more than just a passing fancy or the purview of high-end restaurants — it has brought about a sea change in the way designers and owners think about the kitchen footprint. "Every project I'm currently working on and have done over the last five years has been shifting to the smaller kitchen and the larger demo/presentation kitchen. I have not seen a case where that's the opposite," Reis says.
Even though some equipment may move out of the kitchen proper, designers must still allocate space in the kitchen for dry or refrigerated storage for those ingredients now being used in the open kitchen area, as well as for the associated prep functions that staff will perform out of the customers' sight.
Appearance considerations also come into play when equipment moves out front. Equipment which might include a slight dent or ding that was once perfectly acceptable for the back of the house now has to be cosmetically presentable. Finishes and lighting may have to be rethought. Open kitchens do "sort of up the burden on the level of finish," says MacEwen. In an open kitchen, he says, "we would want [to use] stainless steel instead of fiberglass-reinforced plastic panels, and would want to make sure the color temperature of the lighting is correct but still bright enough for the cookline to operate." What's more, staff must keep the equipment and all the prep surfaces in the open kitchen scrupulously clean, or customers can get the impression that food safety standards aren't being adequately monitored. So while it's necessary to have equipment that's easy to clean (and to keep clean) in any kitchen, it becomes critically important for open kitchens.
Big Is Rare
These designers say they are very rarely asked to design larger kitchens nowadays. Gradishar notes that most requests for larger kitchen areas come from noncommercial operations, some of which are reverting to a single, larger commissary-style kitchen that provides food for smaller, satellite kitchens where rethermalization takes place.
MacEwen says that his firm sometimes fields requests for larger kitchens from restaurants that want to beef up their catering services.
But overall, the trend is definitely toward reducing the kitchen footprint. It's all about kitchen efficiency and, as Gradishar says, finding out how to "put as much in a small box as you can."