When Starbucks launched its Starbucks Reserve Roastery concept, many in the foodservice industry took notice, not the least of which were those already operating hybrid coffee-to-cocktail concepts. Starbucks' notable presence in the space brings attention to the segment.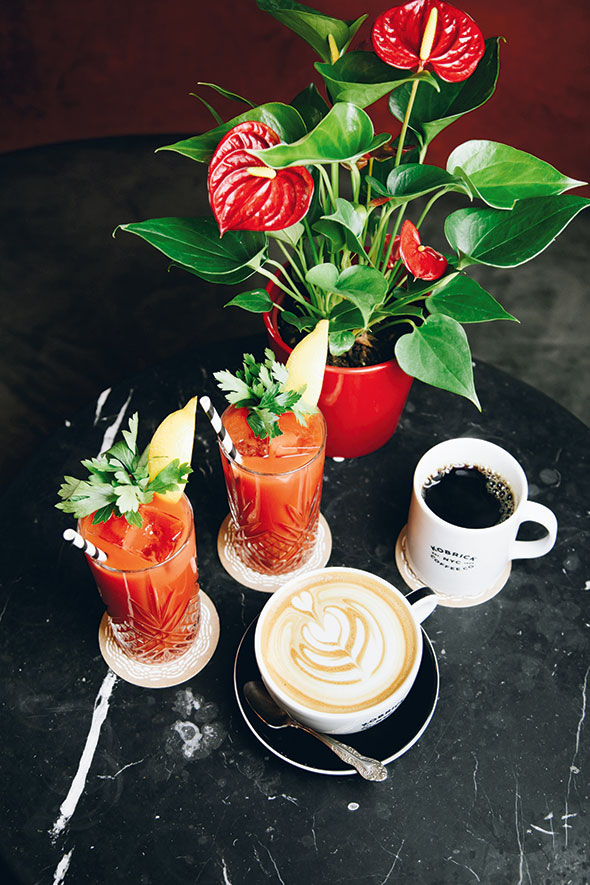 Kobrick Cafe infuses coffee into its Bloody Mary cocktails."There's a great synergy between coffee and cocktails; it's definitely something operators can leverage to differentiate themselves," says Jay Bandy, president of Goliath Consulting Group, Norcross, Ga.
This still-emerging segment has a handful of standout concepts, mainly in big cities.
"We've noticed since we've opened in the last three years that coffee/cocktail bars are becoming more of a trend," says Brian Averbuch, owner and general manager of Kobrick Coffee Cafe in New York City. "We wanted to bring something different to the industry, so we found a great space in a historical neighborhood in line with our brand," he says. "It's a unique concept, not your traditional American-style cafe. We're a coffee cafe by day and cocktail lounge at night, and the space has a 4 a.m. liquor license."
Kobrick Coffee's roots date back to 1920 when it established itself as a roasting company first, selling wholesale coffee to restaurants and cafes throughout New York City. As the coffee industry continued to evolve, a cafe with a cocktail component was established in September 2015. Today, four generations of the Kobrick family run the company along with Averbuch.
Profit Centers
Operating a dual concept can increase visit frequency, extend to more dayparts to increase profitability and appeal to different demographics. "If you're located in a crowded urban area or community, a coffee/cocktail bar is a way to leverage more visits from customers during the week," says Bandy.
Equipment advancements also benefit dual-concept operations. "It's all about space-saving equipment and being efficient," says Bandy. "A higher degree of planning is needed for these workstations."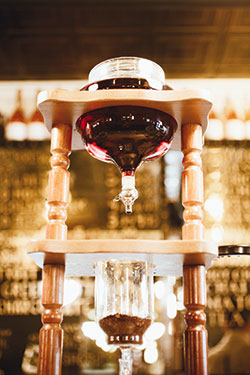 Staff use a cold brewed drip tower to infuse coffee into Kobrick Cafe's Three-Hour Kyoto Negroni cocktail.Maximizing both square footage and hours of operation was one of the drivers behind The Royal in Washington, D.C., a four-year-old concept that functions as a coffee shop by day and cocktail bar at night. "We wanted a mixed-use establishment, one where we could get more usage out of our space or more hours compared to a traditional restaurant," says Paul Carlson, owner and management partner.
The concept serves what Carlson describes as a hyper-local community, with no other restaurants or coffee chains nearby. The Royal operates with only 25 employees despite the extended operating hours and high volume, due to the design. The operator drives efficiency by batch-producing coffee and cocktails ahead of time throughout the day, as well as cross training bartenders and baristas.
Kobrick Coffee Cafe also has the advantage of extended operating hours — 7 a.m. to 4 a.m. daily, except Saturday and Sunday, when it opens at 8 a.m.
Offerings vary by daypart. "We have a menu section dedicated to signature seasonal cocktails that are more crafty and intricate and only offered after 6 p.m.," says Averbuch. "The food menu also changes slightly at 4:30 p.m. from breakfast and brunch, which includes items like avocado toast and paninis, to charcuterie and small plates for sharing."
Kobrick Coffee Cafe staff make the transition from coffee bar to cocktail bar smooth and slow. It starts gradually at about 4 p.m., with the lights slowly dimming, the music becoming louder and more upbeat, and pastry cases moving off the counter to create space for a liquor board and for customers sitting on barstools. The closing of its orange velvet curtains completes the transformation at 6 p.m. By 10 p.m., the staff must enforce a 21-and-older rule.
"We are able to give the place a speakeasy feel, but it's subtle, and customers don't really know that it's happening," says Averbuch. A punch card helps cross-pollinate customers between dayparts by offering a free coffee or cocktail after 10 purchases.
At The Royal, lights dim at 5 p.m. and the staff inform customers that the Wi-Fi will shut down for the day and politely request customers put away computers. The concept does not restrict patrons to 21 and older at any time. A late-night menu of tamales is available at 10 p.m.
Working in Tandem
Versatility and efficiency in all areas, from equipment to staff to menus, give these coffee-to-cocktail concepts a leg up in a challenging environment.
"We felt that no one had taken advantage of this concept and saw trends there that provided insight on where to go with it," says Averbuch
At Kobrick Coffee Cafe, beverage innovation combines both components of the coffee-to-cocktails concept in the form of a signature coffee cocktail menu that goes beyond espresso martinis and spiked iced coffee. "We've taken traditional coffee brewing techniques and incorporated alcohol," says Averbuch. "For example, our Three-Hour Kyoto Negroni utilizes a Japanese slow-drip cold brew method to infuse this traditional Italian cocktail with coffee using our Kyoto-style cold-brewed drip tower."
This entailed building a traditional Negroni cocktail in the top portion of the tower and letting it drip through one of Kobrick Coffee's single-origin coffees at one drop per second to infuse the Negroni with coffee. Despite the cocktail's three-hour implication in its name, the process takes between four and six hours. "We keep it dripping consistently throughout the day so we don't run out, and each batch makes 10 drinks," says Averbuch.
The cafe's Old Slip cocktail is a variation of an Old Fashioned that's infused with coffee. The name "Old Slip" derives from the name of the street of Kobrick's first roasting plant in 1920, which was around the same time the Old Fashioned cocktail was first created. "We infuse bourbon with coffee through a [coffee press]," says Averbuch. "From there, we build a classic Old Fashioned with bitters, a sugar cube and two ounces of the infused bourbon. This is served on the rocks with an orange peel garnish."
Kobrick Coffee Cafe also gains efficiencies from equipment synergy between its coffee and cocktail operations. For instance, staff use the espresso machine all day and night to make cappuccinos and lattes but also coffee cocktails like espresso martinis and spiked lattes. "We use a [pour-over coffee machine] to brew single origins that we get in limited quantities but also cross-utilize this to infuse our house Bloody Mary with coffee," says Averbuch.
At The Royal, coffee shop operations mix not only with the cocktail bar but the kitchen as well. The open-kitchen concept extends into the bar and enables back-of-the-house staff to easily view front-of-the-house components. "This way, we can manage systems to be as efficient as possible," says Carlson. "We are able to have space and come up with a design for things to work in tandem. I've even seen our chef pour beers since the kitchen path is intermixed with part of the bar."
The Royal's dining room/bar's ambience changes from a traditional coffee house atmosphere to a cocktail bar when lights dim and music becomes upbeat at 5 p.m.
The 200-square-foot kitchen includes two stations, with a cook line on one side and expediting path on the other. A separate service station contains the dishwasher, coffee maker, freezers and dish pits.
"This setup allows us to create one central focal point and not separate the front and back of house," says Carlson. "This way, they're intertwined and work together as one; it was the only way we could make it work with our square footage but also logistically."
The operation cross-utilizes both equipment and staff. Both morning and evening staff can work as bartenders and baristas, for example, and a large back bar refrigerator stores milk, juice and beer. Staff also appreciate the nontraditional location of the freezer. "We put in a run-of-the-mill freezer that's typically in a kitchen into the bar area for large ice cubes used for cocktails and creative coffee drinks as well as holding chilled glassware for martinis or creative house coffee espresso drinks," says Carlson. "We have beverages that capitalize on coffee or tea with alcohol and have taken coffee drinks and utilized cocktail techniques. The creativity for both beverages is not so different."
Staff use cocktail shakers for coffee drinks and a steaming wand for hot cocktails during winter. In addition, The Royal utilizes a water tower for both tea and hot toddies. "The bartenders love having this coffee and tea equipment behind the bar because cocktail operations normally wouldn't invest in a hot tower for hot toddies," says Carlson.
Hybrid Challenges
Despite having seemingly widespread appeal, not every coffee-to-cocktail concept comes with a success story. Even Starbucks' Reserve Roastery stores mark the chain's second attempt at adding alcohol to the mix. The first attempt came in 2010 and was dubbed its "Evening" program, which came to a halt in 2017 until the launch of the new Reserve Roastery concept.
Two bar experts in St. Louis learned firsthand just how challenging a dual concept can be. Partners Noah Prince-Goldberg and Rob Somerscales, who run bar consultancy Artisan Well, opened Trust in January 2018 with the intent of running it as a dual coffee-cocktail concept in a shared workspace building. But as of June that year, the two changed course to operate entirely as a craft cocktail bar.
"Running a cocktail shop and a coffee place is challenging because there are many hours to be covered and these businesses are very different creatures," says Prince-Goldberg. "It takes a lot of effort and time to make sure both function as optimally as possible.
"What we learned about coffee shops is the path to profitability wasn't going to work out with our cash flow," Prince-Goldberg continues. "It was taking too long for the coffee shop to earn a profit initially, so it was the profits from the cocktail bar that were keeping the coffee shop open. It also didn't help that we're located between two Starbucks." Rather than continue to work to make the coffee side of the business profitable, he and his partner are sticking to the craft cocktail bar format for now.
"We still have designs on setting up a real food program there and maybe one day bringing in a partner for coffee or relaunching that side of the business," says Prince-Goldberg. "We still feature coffee cocktails since there are so many dynamic things we can do with the depth of flavor in the bean." One coffee cocktail currently on the menu is Barreled Palmetto, a barrel-aged rum Manhattan seasoned with cold brew.
Prior to its conversion to a cocktail bar only, Trust was in the process of building a daytime menu that incorporated coffee flavors and elements. "But in the evening, we weren't planning to run the espresso equipment because it was a logistical challenge," says Prince-Goldberg. "The way those businesses use the same space is very different, so there were flow issues and traffic behind the bar that needed to be properly executed."
Although some equipment synergies exist, Prince-Goldberg notes that the espresso machines are massive and take up a lot of bar space. Another downside for him was the fact that a coffee counter designed for serving coffee beverages and a cocktail bar where customers sit are different heights. "While the bar was being welded and installed, I discovered it was 5 inches too low to accommodate barstools because it was constructed with coffee service in mind," he says. "We also realized we needed more staff to cover a second shift."
Trust still uses its drip coffee machine, however, which provides 190-degree F water for producing boozy hot chocolate with Hawaiian rum and an espresso hot chocolate with rum.
Having enough space to effectively run parallel concepts can be a challenge, especially when it comes to beverage storage, notes Bandy. "At night, operators need room for beer and wine. And there may be issues with liquor licenses, depending on the location. It's not as easy as it looks."
On the plus side, extending operating hours can be a huge benefit, particularly in high-rent cities such as Washington, D.C., where The Royal operates. "There are really high rent prices in our area," says Carlson. "So when separating out the square footage and revenue hours, if we're only open at night, that's only seven hours of a revenue stream. This way, we have additional hours to make money."
Averbuch foresees the coffee-to-cocktails concept continuing to build momentum. "I definitely think coffee/cocktail concepts are a big trend and here to stay," he says. "The evolution of the American cafe is headed toward being open later and serving alcohol."