Population growth in the communities feeding into Jefferson County Public Schools (Jeffco), the second largest school district in Colorado, led to a new school for students in kindergarten to eighth grades: Three Creeks K-8 School in Arvada, Colo. Project goals for the dining program included creating an inviting school meal environment and providing efficient work space for foodservice staff.
The project was nearing completion when Beth Wallace, MBA, SNS, arrived at Jeffco as executive director of Food and Nutrition Services in 2016. Tim Reed, Jeffco's executive director for facilities and construction, quickly got her up to speed on the plan to move away from a long-standing kitchen design model found in many Jeffco schools and transform the design into a more updated approach of service and back-of-the-house efficiency. For example, the dish room in the former model consumed half the kitchen space. Wallace and Reed set out to create more space for food preparation and serving with a more efficient design.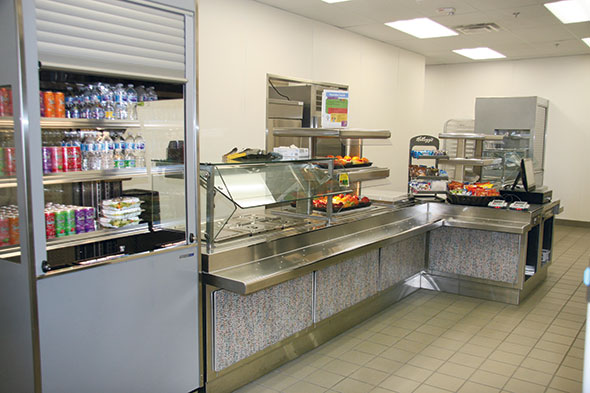 Students help themselves to beverages and salads in an upright merchandiser. They move along the line to entrees, fruits and vegetables, an ice cream freezer and snacks.
The end result provides a welcoming experience for students. Participation is up nearly 8 percent compared with other Jeffco schools with similar demographic makeup. "Unlike many K-12 foodservice operations nationwide, the foodservice operation in Jeffco is expected to be self-sustaining," Wallace says. "The district invests general fund dollars for the expenses of new facilities, including the kitchens. We are expected to run the entire operation — 145 schools with kitchens — at breakeven."
Food Preparation and Service
Food deliveries arrive at a receiving area. A manager's office sits at the back door. "I like the office here because managers can see everything coming in and going out," Wallace says. Staff place deliveries in a walk-in cooler, a walk-in freezer and dry storage. "Every ingredient has its place on shelves so we don't waste any space. We also added extra LED lighting and durable plastic shelving that we can pop off and place in the dishwasher and pop back in." Other features include treadle-hose door openers that enable hands-free entry into the walk-in cooler, stainless steel finishes and quarry tile nonslip floors.
"The overall layout allows for excellent flow while minimizing cross traffic," says Brian Johnson, AIA, PA, principal, Kitchen Tech, Greeley, Colo. The efficiency of the design enables the operation to run smoothly with minimal staff. Like many school districts, Jeffco must operate with fewer employees than in years past due to labor shortages.
Convection ovens and steamers heat many of the hot menu items.
In the cold prep area, staff open bags of vegetables and fruit and wash the ingredients in a prep sink. Staff slice precooked turkey and place other precooked proteins in baking pans before heating them in two sets of double-stacked convection ovens. One of the most popular dishes toasted in the convection ovens is a precooked drumstick that includes a light sauce. Other menu items staff prepare in convection ovens include breads, pizza, chicken nuggets, breakfast sandwiches and baked potatoes.
On the hot cookline, staff use a 10-pan steamer and tilting skillet to cook vegetables and rice. They also use the tilt skillet to prepare soup, macaroni and cheese, spaghetti, pancakes, chili and sauces. "We prepare many menu items using a speed-scratch method of mixing pasta and sauce and two or three other ingredients to create Asian dishes," Wallace says.
Staff use the two-burner range mostly for boiling water and cooking small portions of peppers and other vegetables and melting butter. The cookline at this facility includes a more energy-efficient hood than at older Jeffco schools.
Also in the back of the house, a dishwashing area contains an upright pan and warewasher (the facility does not use dishes), a three-compartment sink, a 1.5 horsepower disposal and spray rinse, as well as clean utensil storage. Additional items here include shelving to store linens and chemicals, a mop sink, lockers and a restroom.
The prep area features stainless steel worktables, sinks, cold pass-through holding cabinets and a walk-in unit.
The Serving Lines
Prepared menu items go into pass-through holding cabinets with glass doors that serving staff access.
"One of the challenges was to increase the depth of the kitchen to include an efficient serving line that staff can easily access from the kitchen but remains separate from the kitchen," Johnson says. "This was accomplished by moving an exterior wall, which allowed for the inclusion of the serving line inside the kitchen."
In many past Jeffco kitchen builds, the servery extended into the cafeteria dining space. "Having servery equipment in the cafeteria takes up valuable cafeteria floor space, disrupts queuing and makes it very difficult for cashiers to communicate with students due to increased noise levels," Wallace says. "Additionally, having serving equipment in the cafeteria is undesirable because it exposes this expensive equipment to various programs and events that are not supervised by kitchen staff."
The improved Three Creeks design restructured dry storage areas, allowing relocation of the cookline to the rear wall opposite the serving line. "This, in turn, allowed the preparation area and full serving line to be moved rearward and fully located within the kitchen doors. Now students enter through the kitchen doors into the servery," Wallace says.
At the beginning of each of two serving lines, which extend horizontally east and west and connect in the middle by a POS system, students help themselves to beverages from an upright, refrigerated merchandiser. The beverage merchandiser holds sparkling juice beverages, bottled water and milk, plus salads.
Two visually attractive serving lines are backlit with LED panels. "With the lighting and curved tray slide, the serving lines stand out and give the student customers a positive experience," Wallace says. The lines contain dual-temperature food wells and serving shelves that can switch from hot to cold as menu items dictate. "We also wanted food wells that automatically fill and drain easily and efficiently," Wallace says. "We had to add drains to ensure proper functioning of the wells."
After students select their entrees, fruits, vegetables, hot rolls, bread and beverages, they reach a drop-in ice cream bin and racks that offer a la carte menu items. They move to the POS area and enter their student personal identification number (PIN) for payment. Entering PINs prompts the system whether students have money on their accounts or if they quality for free or reduced-price meals.
Dual-temperature wells support either hot or cold menu items.
"We didn't want the point-of-sale merchandising to extend out into the dining room because it consumes a lot of space and makes it difficult for staff to hear students who have questions because all the kids are talking and socializing," Wallace says. "Also, if a student gets to the POS and forgets an item from the serving line, he/she has to go back into the line and this slows the speed of moving customers through the line."
Wallace expects the Three Creeks kitchen to serve as a prototype for other new schools. "We must build for long-term, 20- or 30-year flexibility," she says. "That means equipment must be flexible to accommodate menu changes. For example, sliders weren't on the menus several years ago and we don't know what will be popular 5 or 10 years from now." With Three Creeks foodservice participation higher comparatively, she's confident she is on the right track.
Key Players
Owner: Jeffco Public Schools, Golden, Colo.
Jeffco Executive Director for Facilities and Construction: Tim Reed
Jeffco Executive Director, Food and Nutrition Services: Beth Wallace, MBA, SNS
Jeffco Project Manager: Ted Hagen
Architect: Hord Coplan Macht, Denver; Matthew D. Porta, AIA, principal
Foodservice Consultant: Kitchen Tech, Greeley, Colo.; Brian Johnson, principal
General Contractor: GH Phipps, Denver
Equipment Dealer: United Restaurant Supply, Colorado Springs, Colo.
Facts of Note
Jeffco Public Schools: 700+ square miles; 86,000 students; 150 schools, 145 of these with kitchen operations; 31 percent of enrollment receive free or reduced-price meals
Three Creeks K-8 Enrollment: 400 students
Opened: Fall 2017
Size: Total building: 96,659 square feet; kitchen space, 1,523 square feet; dining space, 3,920 square feet
Seats: 560
Average Check: $3.79
Total Annual Revenue: $152,496
Transactions: 44,258, annually
Hours: Lunch, 10 a.m. to 12:30 p.m.
Staff: Kitchen manager and two full-time equivalents
Total Project Cost: $27 million
Equipment Investment: $389,380