Retail, meal kits and wellness reign in healthcare foodservice.
Health and Wellness
Menno Haven in Chambersburg, Pa., won an Environments for Aging Design Showcase Award for its new rehabilitation center replacing the original 1964 nursing home. The project also includes plans for a 35,000-square-foot Resident Life Center, additional Memory Care Houses, and new independent living cottages.
The building was designed with the goal of earning the WELL Building Certification. The designation comes from the International WELL Building Institute and centers on buildings that generally enhance overall health and wellness of those living and working in it.
The dining space in the new building centers on healthy, made-to-order menu items. Menno Haven's dining partner, Cura Hospitality, follows WELL nourishment standards, with a menu that changes on a weekly basis to showcase seasonal foods from local Chambersburg farms. The open kitchen concept allows guests to interact with culinary staff and custom order items based on dietary needs and preferences. Guests can either dine in the cafe or order room service.
Flexible Dining Options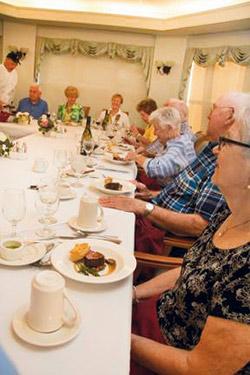 Peter Becker Ches Table SixMore residents at senior living facilities these days seem to prefer flexible foodservice choices, from casual cafes to retail and grab-and-go options that don't require them to be "chained" to meal plans. Greater options also accommodate the needs of different types of diners. Peter Becker Community, a continuing care retirement facility in Harleysville, Pa., offers nine dining packages, each with rewards such as discounts, gift card allowances and more as well as complimentary fountain beverages and coffee. Cura Hospitality runs the program and its foodservice team has also partnered with local restaurants to include more off-site dining.
Healthcare Foodservice Trends At-A-Glance:
Meal kits for staff
Less formal dining
Flexible dining packages
Robust retail and grab-n-go
Meals in a Box
Following on the heels of trending home meal kits, St. Clair Hospital in Pittsburgh launched BOX'D CHEF. It's the hospital's version of a meal kit-like concept, which makes it convenient for staff to take ingredients home to make fresh food.
The program comes by way of Elior UK, part of the Elior Group, Cura Hospitality's global parent company. Each box includes ingredients for chef-inspired recipes made at home in 30 minutes or less. St. Clair's culinary staff pack the take-home cooler bags with premeasured ingredients on-site each day. The service requires no subscription fee. The cost is $15 for a two-person meal, and staff can order and pick up their boxes on the same day if they order by 1 p.m.