Food and nutrition services leaders in hospitals and senior living facilities face daunting challenges in this era of unpredictability about government funding, the effect of mergers and acquisitions among healthcare systems and staff recruiting and retention.
The healthcare system in the U.S. is in a period of mergers and acquisitions, reduced inpatient revenue and increased uncompensated care. To combat these challenges, administrators continue to turn toward master planning and system integration, says Connie Dickson, FCSI, design principal, Rippe Associates in Minneapolis.
The changes all trickle down to impact hospital foodservice. "In this environment, foodservice directors want their departments to be seen as the model for cost-efficiency and patient satisfaction," says consultant Tom Cooley, MA, RD, LDN, principal of TCB Partners LLC in Quakertown, Penn.
Purchasing is one of the primary focuses of system integration and one that affects all foodservice departments. "Consolidation can impact policies, procedures and practices within the department if changes are expected in order to meet a new set of expectations for a new set of senior leaders or bring a new set of policies into the organization," says Mary Fonville, MS, RD, LD, senior director quality, risk management, patient safety and support services, at Harris Methodist, part of Texas Health Resources. "Changes to purchasing groups and/or contracts can impact pricing the hospital pays, how orders are placed or received, and how invoices are paid."
Manna dining room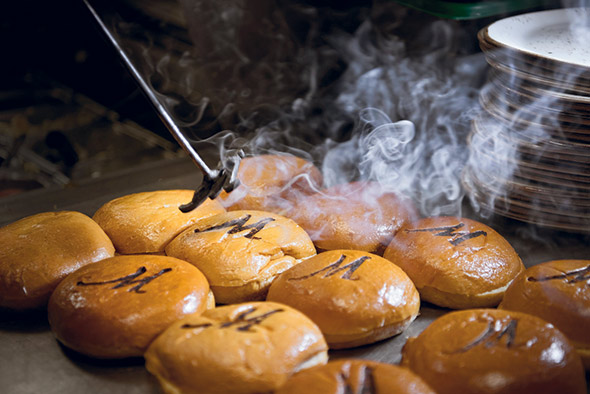 The menu at Manna restaurant, a casual sit-down restaurant located inside Castle Rock Adventist Hospital, reflects the local growing season in Colorado.
Indeed, group purchasing organizations remain a factor in today's healthcare foodservice market for more than just obvious reasons. For example, UCSF Health in San Francisco works with a group purchasing organization not only to get the best prices but to also increase the operation's sustainability spending and look at health and wellness, reports Dan Henroid, MS, RD, director, Nutrition and Food Services. "Mergers and acquisitions in healthcare will continue, though not everyone in foodservice has seen the economies of scale, and especially if you're already using a group purchasing organization," he says.
At St. Charles Health System in Oregon, the growth of its system increased purchasing power and efficiency. "All four hospitals work together on major contracts and primary vendors, and we were able to negotiate better contracts with the buyers," says Thom Pastor, nutrition services manager for Prineville and Madras hospitals. "Prineville and Madras benefitted greatly because they are smaller hospitals that can't get as good pricing on their own."
Evaluating Efficiencies of Scale
Many in the healthcare foodservice segment have strong feelings about whether programs should run as a self-op or contract-managed operation. New leadership often brings change, and the state of mergers and acquisitions in this segment keeps this debate top of mind.
With a passion for self-op foodservice, Lisa Poggas intends to show the financial viability of the model at a time of change at Centura Health in Colorado. Poggas serves as the director of nutritional and environmental services at Parker Adventist Hospital, as well as the director of nutritional services at Castle Rock Adventist Hospital and Centura Health corporate offices. Her goal is to show that self-op foodservice hospitals are "nimble, save money, and keep quality high," she says. "We're all under pressure to save money."
George Cranmer in the test kitchen at Trinity Health's Holy Cross Hospital in Ft. Lauderdale
A team building event at the facility that ended with a chef's coat signing session
The current healthcare operating environment demands increased efficiency, notes George Cranmer, system director at Trinity Health Hospitality Services in Livonia, Mich. He sees opportunities within this large system to use size and scale to Trinity's advantage. "Where there is size and scale, there ultimately is opportunity for improved synergies and efficiencies to improve services or reduce waste in the care delivery model," he says.
Specific to foodservice, Cranmer says, "benchmarking and business acumen of foodservice leaders needs to be strong in this environment. Leaders need to use data to drive decisions. Evaluation of service levels, viability of services and service level affordability will require refinements in foodservice programs to operate in an environment where healthcare dollars are being stretched."
Trinity Health adopted a shared services model in 2016 that provides system standards around all the different components. Cranmer says Trinity continues to develop regions and integrate its 94 hospitals to the shared services model to improve and manage the business. "Key focuses and goals include standardization of foodservice technology as well as clinical nutrition practice and management and strategic oversight and expertise in managing foodservice operations management and procurement," he says.
Costs and Revenue
Of course, foodservice is not alone in these endeavors. "All disciplines are being asked to cut costs and come together to reduce waste and become more integrated in the healthcare delivery system — not just food and nutrition services," says Cranmer.
With an eye toward controlling costs, Poggas says Centura Health has talked about building a central kitchen for its hospitals in the metropolitan Denver area. To date, however, she continues to focus on balancing the costs of labor and food. The Centura foodservice team relies on pre-diced produce, and prepared desserts and other ready-made items to offset the lack of staff for some positions.
Revenue-generating operations remain under consistent scrutiny to "make sure they are actually generating revenue," says Poggas. "If my sales in the cafe don't warrant staying open until 9 p.m., I may need to close earlier."
St. Charles health system is shifting its practices to ensure food prices cover costs at its cafes, Pastor adds. "This is where foregone revenue completes the picture of our financial performance."
A few kitchen staffers and Thom Pastor (far right) from the St. Charles Health System.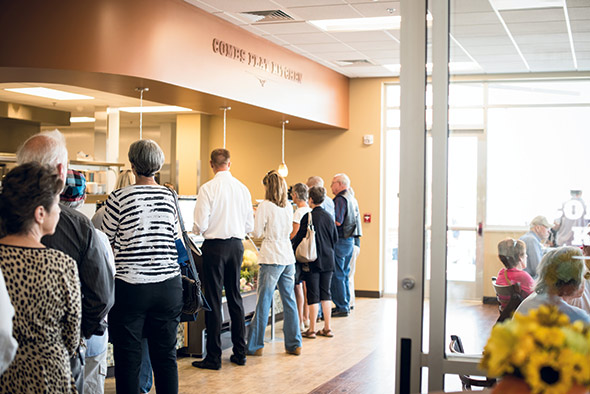 Combs Flat Kitchen, at Prineville hospital, offers breakfast, lunch and dinner daily from 6:30 a.m. till 7:00 p.m.Pastor credits the ability to compare his operations' performance with other healthcare foodservice operators via the Association for Healthcare Foodservice's benchmarking study with helping to track foregone revenue. "This is important to factor into our numbers to see how we're performing," he says.
The foodservice departments at Prineville and Madras hospitals do not receive financial credit for room service meals, Pastor says, who explains those dollars instead roll into the room charge. "That's OK as long as the financial department understands what's happening," he says.
Pastor works to tie in other benefits foodservice brings to the hospital. For example, malnourished or food insecure patients tend to fall more, which leads to longer hospital stays and higher readmission rates. In contrast, he says, "When we have food people want to eat, they don't have as many problems. One hospital in the Southwest is giving people food free for 30 days."
The reality is that many healthcare systems do not consider foodservice a revenue-generating department, Fonville notes. "We don't break even when we consider patient and retail services unless we have a completely separate retail operation," she says, adding that overall, foodservice represents a very small piece of the hospital's expense and revenue.
When looking to cut costs, Fonville considers standardizing products, negotiating additional pricing incentives due to standardization, revising menus to reduce waste, and cross-training staff to do multiple jobs within the department.
Menu, Equipment Changes
In order to contain costs and work with available labor at Parker Adventist Hospital and Castle Rock Adventist Hospital, Poggas will look to both simplify and limit the number of offerings. "We won't be able to offer quite as much variety, but we're still committed to locally sourced produce and proteins," she says.
Modifying equipment packages to include pieces that require less labor is another solution, along with considering renovations to different cafe areas in an effort to reduce labor needs, says Poggas. "We'll have to rely on more high-speed ovens so we can serve customers more quickly and efficiently. If we can't fill positions, we'll have to bring in more heat-and-serve products and put on finishing touches to our liking rather than prepare most of our food in house."
Keeping up with local restaurant trends is also important, says Poggas, specifically for Castle Rock Adventist Hospital, which has many competitive restaurants nearby. She feels keeping an eye on local restaurant trends helps ensure her menus are up to date and in line with consumer preferences.
At Prineville and Madras hospitals, Pastor overlaps patient and retail menus, which promotes variety and efficiency across both channels. "Because we have a single cook line in each hospital, we're making items such as hamburgers, sandwiches and hummus plates that can be ordered by patients and retail customers," he says. "This plan is still in its infancy, but it will be a continued focus in the future."
Pastor made a few changes to equipment and design since joining Prineville, including swapping out $100,000 worth of equipment, changing the counter design and increasing seating. Equipment he deems necessary includes combi ovens, convection ovens, griddles, charbroilers and ranges with burners.
If money were no object, Pastor would have every facility emulate Prineville, where the cafe sits right in the middle of the hospital lobby and includes a dedicated entrance to draw guests from the community. "Because the physical location of the cafe is front and center in the building, we attract people coming in from the neighborhood and from outpatient services. We've increased sales 30 percent above what was anticipated. A key feature in hospital design is putting cafes where people are."
The Prineville facility offers daily specials from a hot buffet. Pastor would like to add a salad bar here as well; one was already added to Madras. Both facilities offer some grab-and-go options.
Equipment flexibility is a must for Cranmer. "In terms of foodservice equipment, the one common theme is portability and multifunctional use of equipment, such as combi ovens and steam tables that can be used hot or cold. They give flexibility to offer various menu items and promote efficiency," he says.
Menus will evolve with SKU and product rationalization to keep purchasing strategies practical and aligned with the distributor, Cranmer believes. He also foresees improved forecasting and better utilization of products across segments and applications. He taps into Lean Six Sigma methodologies in design/redesign and time studies to improve efficiency.
A Lean Six Sigma project can help determine if a change in process or procedure can help alleviate or improve labor distribution, says Fonville. It's a viable option to consider, she adds, since the costs of redesigning the kitchen and bringing in a new equipment layout may prove too expensive. "Also, just talking with foodservice staff may glean ideas to improve work flows with fewer staff members," she says.
Future Moves
Looking ahead, Poggas plans to use more equipment that supports heat-and-serve offerings. She'll also explore ways for patients to place menu orders from their televisions and software that will transmit the order to the kitchen. "Technology can also be used for patient education, ordering kiosks and self-checkout equipment," she says. She foresees more self-ordering and self-checkout systems with an overall goal of using technology to benefit the operation.
Future designs will be simple, Poggas notes, to keep everything flexible and allow concepts to quickly convert from, say, Asian to Mexican. She'd also like to add a station with high-end salad ingredients.
From a flow standpoint, Poggas says, "I would want a setup where cooks move from station to station and help out where they are needed." Currently at Parker, the four existing stations require a lot of labor but are too far apart for staff to help each other out.
In the area of sustainability, Poggas notes a movement to eliminate straws and to operate greener and save energy throughout the entire hospital.
Self-checkout systems are also on Pastor's future checklist. "We plan to implement self-checkout like in supermarkets once we get the software worked out," he says. Getting there means first building a bar-coding system and setting up a self-checkout computer monitor. Once up and running, he expects the system will complement the cashier and dramatically increase speed of service. His wish list also includes an education kitchen that would serve as a community resource where dietitians could teach and a robust salad bar, along with self-service checkout to complement cashier stations.
That common thread of automation continues with Fonville's view of the future. "Automation plays an important role in the processes and procedures in the foodservice department," she says. "Interfaces between electronic health record and electronic programs in the foodservice department for menu management and the patient meal ordering process can help with time/cost management."
If money was not an issue, Fonville would bring in fully automated processes, ensure ample preparation and storage space, and optimize lighting and ventilation. "I'd like lots of room in the kitchen, more than enough storage space, plenty of room to work, areas for staff to take breaks, a delivery system that is dedicated or using robots between foodservice and patients, all the staff we'd want, and high-end retail."
Cranmer extends his vision of the future to a key question: How do we provide support outside the walls of the hospitals and into the communities? He feels that has been a top health focus for years.
"As a healthcare provider, we must proactively manage the health of the communities we serve in an engaging manner. That's where we will see the shift in foodservice," Cranmer says. "How do we improve access to education? How do providers continue to engage and educate communities on the importance of healthy nutrition? How can we be the beacon of support? We can't wait for folks to get themselves admitted into the hospital and then give them support. As members of the community — we are a community asset — how do we proactively educate the community to stay healthy?"
Trinity Health has a few programs in the works that address the community outreach piece. Cranmer says one popular pilot program at a Midwest hospital produces healthy, low-sodium meals; packages them in a logoed container; and makes them available for patients to take home at a nominal price. Another partnership with physician groups provides community cooking demonstrations. "There's an endless ocean of opportunity to engage the communities through other community-based grassroot organizations," he says.
If money were no object for Cranmer, he would have all customer-focused operations where all segments were warm, inviting and "broken away from healthcare norms." He'd add engaged staff to that list, along with well-designed facilities that include new, multiuse equipment and plenty of clean, nutritional offerings and information to help customers make smart choices to manage and improve their health.
Amid the larger ongoing healthcare issues in the country, healthcare foodservice operators continue to look forward and plan for the next phase of foodservice at their facility. They will, undoubtedly, continue to change the public's perception of healthcare foodservice.