Starbucks continues to soar up the sales charts with reported net sales growth of $1.2 billion and net unit growth of 758 units in 2017. It took a little time since Starbucks first entered the coffee market in 1971, but few would now disagree that the Seattle-based behemoth has forever changed the landscape of the coffee cafe market.
Starbucks' dominance, however, does not mean there isn't room for other players to percolate in the coffee segment. "Starbucks is still the category killer; otherwise the most success we're seeing is with the independents," says Darren Tristano, CEO of Chicago-based market research firm CHD-Expert Americas. "In terms of the overall market, the coffee category continues to grow and expand, and it's one of the few quick-service categories that continues to find market share."
As of September 2017, there are more than 36,950 coffee shops and teahouses in the United States, according to CHD Expert's foodservice database. The coffee and tea menu type accounts for 5 percent of the total U.S. restaurant landscape.
Consumers spend more than $25 billion at coffee houses and tea shops each year according to CHD Expert data. The average coffee and tea restaurant brings in revenue of more than $680,000 each year and these beverage operators spend approximately $6 billion on purchasing food, beverages and other disposable products. The data also shows that 40 percent of coffee and tea restaurants are independent while the other 60 percent are chain operators. Within the chain landscape, 89 percent of coffee and tea chain restaurants have 501 units in operation.
The most prevalent coffee and tea chain restaurants in terms of number of units in the U.S. include Starbucks, Dunkin' Donuts, Tim Hortons, Caribou Coffee, and The Coffee Bean & Tea Leaf, according to CHD Expert. Starbucks has a year-over-year growth of 5.2 percent while Dunkin' Donuts has a year-over-year growth of 4.7 percent.
Market Snapshot
A number of trends continue to make waves in specialty coffee shops.
"Nitro and cold brew are big, and more coffee cafes are offering these in liquid form versus brewing it," says Tristano. "Starbucks also is upscaling their roasting concept to better compete with higher-end hipster concepts. In taking the next step to polish up its brand, the chain is raising its price point for those willing to spend $10 or more for a cup of coffee; aficionados will pay for it."
"The quality of home brews is allowing consumers to make high-quality coffee at home and not go out for it as often," says Tristano. "This will be in the shadows and put pressure on coffee cafes."
From a food perspective, coffee cafes now tap into the European bakery concept, overcoming past challenges of incorporating the proper equipment and logistics. Starbucks opened its first Reserve store with a Princi Italian bakery concept in February at its Seattle headquarters location.
"From an equipment and quality offering, [coffee concepts] are moving the needle," says Tristano. "If these operators can incorporate the quality of what they've invested in their restaurants, they can make food quality on par with other cafes and up the price points."
The Players
Among the changes coffee-concept operators note are more requests for customization with drinks and more advanced coffee equipment, such as equipment that enables operators to brew by batch.
With a focus on drive-thru only coffee service, Dutch Bros. Coffee has more than 300 locations in 7 western states. To accommodate the greater number of requests for custom drinks, Dutch Bros. Coffee, a drive-thru coffee concept based in Grants Pass, Ore., now offers featured menu items. The menu rotates monthly and showcases nine drinks that highlight flavor combinations from the chain's secret menu, says Rachel Lahorgue, director of operations at Dutch Bros. "There is an increased desire for customization, and we are embracing this by offering a monthly featured menu."
A privately held drive-thru coffee company, Dutch Bros. has 300 locations in 7 western states and more than 9,000 employees. Its coffee kiosks serve specialty coffee drinks, smoothies, freezes, teas, a private label Blue Rebel energy drink and nitrogen-infused cold brew coffee. The chain roasts its own beans.
Its signature offerings include brewed coffee, specifically Dutch Bros. Private Reserve, a blend of El Salvadoran, Colombian and Brazilian coffee beans; cold brew coffee, likewise drawn from the Private Reserve blend, then handcrafted, chilled and packaged in nitrogen-infused cans; and Rebel, the chain's proprietary energy drink, available in a can or infused in beverages.
Dutch Bros. maintains a limited menu — beverages only — and a small profile — locations range from 400 to 600 square feet. The standard equipment package includes espresso machines, coffee grinders, blenders, hot water towers and freeze machines. Technomic data shows chain growth, with an 8.5 percent increase in sales for Dutch Bros. and a 5.5 percent increase in units last year.
Another independent, Revelator Coffee Company, finds pour-overs are a growing request. Pour-overs literally mean pouring hot water over the ground beans by hand. It's a method Eden Abramowicz, Revelator's director of coffee, finds increasingly common.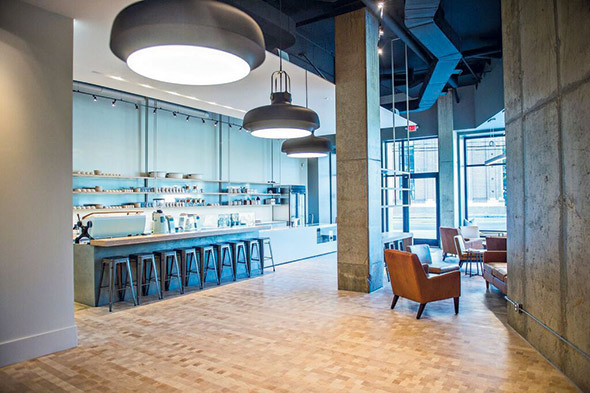 With just over 20 locations in the southern U.S., Revelator has been providing handcrafted coffee for about five years. Photo by John Phillips
"In the last decade, we've seen a move in the industry of cafes offering pour-overs by hand, where they don't have to commit to brewing two gallons but instead can brew by the cup," says Abramowicz. "Now the trend has flip-flopped to batch brewers. Since the equipment technology is so advanced, these units can mimic what baristas are doing."
Both a roaster and an operator, Revelator has roughly 20 cafe locations in Birmingham, Ala.; New Orleans; Atlanta; Nashville; and Charleston, S.C.
"We balance our production, providing some pour-over beverages by hand, while incorporating brewed drip coffee using automated systems," says Eden Abramowicz, Revelator's director of coffee.
In addition to batch brews and pour-overs, this chain offers single origin coffee for customers who seek a unique flavor profile, as well as espresso-based drinks. The beans' country of origin defines the coffee selections.
Revelator's big automatic brewers have USB capabilities so staff can transfer recipes to any location, allowing the coffee to remain consistent. The beverage offer does not change by location, but food offerings vary based on kitchen space.
Revelator does not have a uniform food menu; rather, its locations function as part of their community. This means its New Orleans location offers Latin American-inspired menus. Paloma Cafe has a full kitchen and a three daypart food menu, while Revelators' other coffee shops have a more limited menu based on that site's kitchen functionality. The same model exists in Atlanta and Birmingham, Ala., but with a different take on food based on the chef and location.
Revelator has a hub-and-spoke approach to kitchen space, with about a third of the locations supporting some form of functional food prep in the back of the house. Practically speaking, Revelator has (or is about to have) a full kitchen attached to an all-day concept in all of its core markets. The rest of the layouts involve either a partial kitchen or a small area dedicated to basic food prep, depending entirely on the location's volume and the space.
Sites with full-size kitchens rely on smokers, ovens and flattops.
"I worked with coffee equipment manufacturers on R&D, and it was very counterintuitive; we were always striving to find what we needed [for quality and consistency]," says Abramowicz. "Yet, there are always new advancements coming out."
The biggest challenge is the specific amount of pressure needed when making espresso during the brewing and steaming process.
"It can be hard when everything is engaged at the same time to get the required amount of pressure," says Abramowicz. "Some equipment companies are offering undercounter espresso machines with a lower profile. This provides a different experience, since consumers don't have the same visual cues for dialogue."
Abramowicz believes other coffee equipment advancements, such as scales for weighing espresso shots, ensure greater consistency by circumventing the chance for human error.
G&B Coffee opts for brewing in batches vs. pour-overs "so customers don't have to wait for their orders," says G&B's director of retail operations Jaymie Lao. "It's more about the customer experience than the theater aspect." He adds that the concept also grinds a lot of coffee.
G&B Coffee founders Kyle Glanville (the G in the name) and Charles Babinski (the B in the name) built the concept around what they deem a coffee bar, where customers belly up to the bar instead of waiting in a line. Since opening their first store in 2012, they launched two additional sites under the Go Get Em Tiger brand, which includes a much more extensive breakfast and lunch service. Coffee connects all three locations.
G&B relies on Italian espresso machines and an automatic drip coffee maker that produces two liters per batch. Lao sees a trend toward more developed flavors. "There was a time when coffee was too light for people, so there has been a bigger push for more developed roasts," he says. "Omni or multipurpose espresso roasts are big, since these showcase the coffee."
Another concept in favor of batch brewing is Heart Roasters in Portland, Ore., a roaster/operator with three locations. "We focus on specialty coffee like everyone else, but are trying to make it more approachable for the general consumer who doesn't know much about coffee," says owner Wille Yli-Luoma. "We focus on fast customer service. Specialty seems to be too slow in most places, and customers get frustrated and find another shop."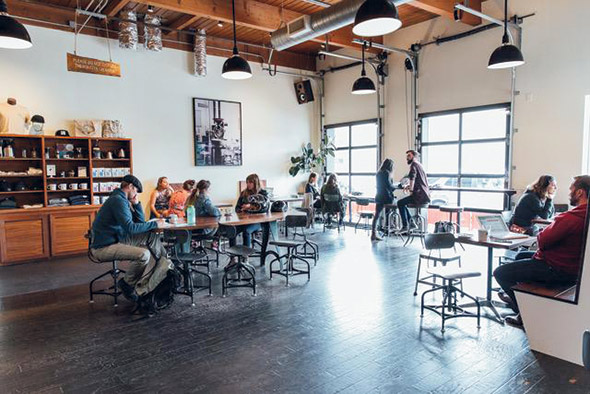 The clean lines and minimalistic decor at Heart Roasters' three Oregon locations reflect the concept's simplified coffee menu.
Stores rotate different batch brew coffees along with offering a traditional menu of espresso-based beverages.
"What sets us apart is the time we take to train our baristas to produce consistent cups of coffee," says Yli-Luoma. "We also are data-driven, keeping track of the days certain coffee beans are roasted and the types of coffee brewed so we can identify trends."
Its cafe location totals 1,800 square feet with a 250-square-foot kitchen. It's the only site that offers food, including pastries and sweets made by a local bakery, salads, yogurt, granola and toast. Kitchen equipment includes a convection oven, hot plates, blenders and a sandwich prep table.
A local bakery provides pastries and baked goods for the one Heart Roasters' site that offers food.
Heart Roasters modified its brewer to work with its batch-brewing philosophy.
"We gathered old parts from other brewers and enlarged the basket size to better calculate and calibrate to what we brew," says Yli-Luoma. "We brew in 1.9 l pots, and coffee never sits longer than 15 to 20 minutes."
"Food is locally sourced from farmers, and we focus on high-quality ingredients that complement our coffee," says Yli-Luoma. "As for the trends, everyone wants to become a roaster. A lot of coffee shops are now roasting their own coffee and it feels like a bubble that is about to burst."