What's new in college and university foodservice catering? A lot, as it turns out.
How about a dining etiquette class? A Death by Chocolate event? A wedding reception? A birthday party?
Menus keep changing. Students, faculty and visitors alike expect a more sophisticated culinary experience — no more getting away with plated dry chicken and two sides.
Serving burgers and chicken to hungry guests at the rainy UMass Founders Day cookout.
Sourcing and ingredient transparency, which began and spread quickly in restaurants, also affects campus catering offerings. Chefs and procurement teams, like their residential and retail dining counterparts, face the challenge of sourcing and showcasing local and regional foods. Add to that the need to accommodate students and visitors who have issues with any of the eight major food allergens.
Collegiate catering departments respond to new trends and challenges with creativity and perseverance. A number of directors and managers point to a sea change that transforms catering departments from offering traditional, run-of-the-mill support services to delivering dynamic, crowd-pleasing culinary events.
One illustrative example: The University of Notre Dame celebrated its new sports stadium last fall. Invited guests who toured the new facility got a delicious surprise when they reached three stadium boxes on the ninth floor. "In the first box, we had a truffle-making session going on," explains Sunil Yaradi, director of university catering. "We had truffles displayed like it was a chocolate shop. Chefs would create truffles to order. In another box, our pastry chef created chocolate artwork. In the third box, we had a variety of finished chocolate desserts. We paired them with pink rosé champagne."
Notre Dame's catering department elevated the traditional box lunch for an event honoring Martin Luther King Jr. Three different types of sandwiches were placed alternately on tables with a crock of Roasted Garden Vegetable Soup in the middle for family-style serving.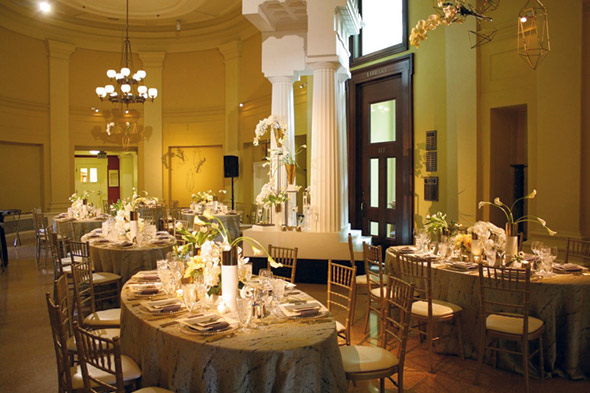 This intimate dinner created by the Notre Dame catering team evokes dining in a five-star restaurant.
Yaradi sees the uniqueness of this event as a trend. "We have evolved," he says of campus catering in general. "Guests might have the usual breakfast, lunch and dinner, but they want to end with a really special event."
Another example of catering departments spreading their wings to provide services well beyond traditional banquets: At Yale University, catering helps ensure its graduates are savvy about dining etiquette in the outside world by the time they leave campus. The residential dining department sponsors one program, Reality Bites, that the catering arm executes. Classes include training in such skills as how to behave in a restaurant during a business meeting and even how to cook at home.
Danielle Shapiro, managing director for Yale Catering, notes that instructors come in from The Culinary Institute of America (CIA) and present classes to help students prepare for life in the world beyond college.
Building Sales to External Groups
One growth area for many campus catering programs comes from groups or organizations outside of the campus community increasingly tapping college and university catering operations for services. Whether a wedding, birthday party or conference, catering departments keep expanding their services well beyond students and faculty. They remain responsible for the usual campus milestones — recruitment events, faculty and student meetings, receptions, and coffee breaks — but more and more, catering sales teams venture off campus to grow business and position campus catering as the go-to service for any great culinary experience.
At Yale, for example, a three-year-old event sales team focuses on marketing campus catering to external companies that need conference or meeting space, according to Christian Fischer, the school's senior director of auxiliary operations, catering and the Culinary Support Center. The outside company, however, does need someone within the Yale community to sponsor it. "They like to have the Yale experience," Fischer says. "We have the ability to create all kinds of events for them across the campus."
The University of Massachusetts (UMass) Amherst also has a conference sales department that brings in business from the outside. Van Sullivan, who serves as the director of retail services and oversees conference services and catering, explains that his team has to overcome some misconceptions on the part of conference planners, who usually don't consider college campuses for meeting sites.
UMass partnered with White House Pastry Chef Roland Mesnier to create a dinner modeled after an official White House state dinner, complete with presidential impersonators.
"It can be a little tough to knock on those doors and say, 'You should really have this event at the university,'" Sullivan explains. However, the fact that UMass has a very highly ranked foodservice department helps.
Given the need for organizations to watch their budgets, Sullivan notes his department can help customers sharpen their pencils in ways that more traditional catering venues can't. "We've been getting more budget-conscious, traditional conferences on campus," he says. "They may have 2,000 to 3,000 people. We've been hosting them at a good clip."
In the summer, when the residential halls are empty and the recreation centers are not in use by UMass students, the UMass catering department can accommodate summer camps as well as traditional and academic conference groups.
UMass has also just renovated its chapel. "We've started doing weddings," Sullivan says. "We can have a wedding of up to 100 people in a really beautiful building. Or, there is a stunning outdoor setting on a pond. We also have a renaissance house on campus, as well as our hotel. We cover the gamut."
Commercial Trends Hit Catering, Too
Jason Kroboth, the executive chef who heads up campus catering at Penn State University, sees a change in the way people eat at events. "They are going from full service to reception casual," he says. This change mirrors the trend toward more casual commercial foodservices as well, he explains. "It used to be fine dining. Now, it's almost all casual."
Chef Jason Kroboth of Penn State Campus Catering with one of the catering team's delivery vehicles. The small fleet of vans, trucks and utility vehicles delivers food and supplies across the campus. Photo courtesy of PSU Marketing
Sullivan at UMass agrees. "We understand when folks want a real fine-dining experience, but in the general day to day, family style is becoming a lot more popular," he says.
Catering clients also want more options on the plate. "It's not just an old center-of-the-plate piece of chicken with some au gratin potatoes and carrots," Sullivan says. "You're going to want to have chicken with three or four items on the plate. Or, even better, the meal served family style."
Indeed, new developments in the world of campus catering fit two categories: trends and challenges. On the trends side, in addition to a move toward more relaxed, customizable events, caterers and their customers now pay greater attention to health, wellness, ingredient transparency and special dietary needs.
"Guests understand health and wellness and generally have a better understanding of nutrition," Sullivan says. "They know what they are eating and are not afraid to let you know."
Sullivan also sees a "far more dignified accommodation of special food requests" than five years ago. In the past, caterers might have treated these requests somewhat disdainfully. "Catering is one of the last areas to get on board with this," he says. "We're seeing much better treatment of folks who ask for something that won't kill them!"
Penn State's Kroboth adds, "Twenty years ago, you might have had a peanut allergy to worry about at an event. Now, with a party of 200 people, you are worried about nuts, soy, eggs, gluten and whatever. When I do a menu with 8 or 10 items, I try to make sure there are things for vegans, vegetarians, and guests who avoid gluten, nuts, and dairy."
Alina Carcea, director of UMass catering, says her team asks clients about allergies ahead of time. "The other night, we had people who are allergic to mushrooms. We had a risotto with mushrooms, so we had to make some without. Some may be allergic to tomatoes, so we have to have a salad without them. We're able to accommodate that if we know in advance."
Like accommodating special dietary needs, tapping the local sourcing trend presents challenges and opportunities for campus catering programs.
Yale's Shapiro explains that while buying local can sometimes be difficult in New England, the catering team does so whenever possible. "We put on an event for Earth Day for our Office of Sustainability. We were able to find everything for the breakfast locally," she says. "We found local butter, local maple syrup. It was good to know that if you really put your mind to it, you can do it."
To that end, the catering department participates in a program called New Haven First. "Our bread company is local. We have a coffee company in New Haven. We can buy the beans green and roast them for certain events. We try to give as much back to the community as we can," Shapiro says.
Notre Dame's Yaradi focuses on promoting local and regional products as well. He sees small farms making a comeback. "This is me talking, but the way the food industry is evolving, I think the farmer will come back to center stage," he says. "There are wine makers who are experts on wine, brewmasters who tell us about beer — why not farmers who educate us about food?" Especially, he adds, with a growing trend toward touting the benefits of plant-based foods.
Dedicated Facilities Have Big Firepower
Given the growing size and frequency of events, many catering departments now require their own kitchen space and dedicated, trained staff.
Yale has its Culinary Support Center. Fischer says it is a 17,000-square-foot facility used by catering along with but separate from other foodservice departments. "It is full service: hot food, cold food, sous vide, cook-chill, with a bake shop and storage," he says.
Penn State uses a former dining hall that has been converted to a catering space. Because of the number of athletic events, the department also has a kitchen in the stadium. And the catering team uses kitchens in venues such as the dean's house for smaller events. The staff also have access to mobile grills and ovens at event sites.
Notre Dame has a "massive facility," according to Yaradi. The Center for Culinary Excellence, opened in late 2014, functions as a stand-alone foodservice operation about a mile from campus. Catering takes up half of that building; the other half includes a cook-and-chill operation, bakery and grab-and-go program.
Virtually all modern campus catering kitchens use the latest cooking technology: combi ovens, induction units, vacuum tumblers, sous vide and cook-chill systems. UMass, for one, is also using front-of-the-house cooking equipment. One example: induction woks. As in the dining halls, Sullivan says people want to see food prepared in front of them. One aid to keeping food hot is an induction unit that sits beneath the surface of a roller cart.
Yaradi says Notre Dame has "tremendous firepower" to support the volume of catering food prep, which staff primarily do from scratch. "We have a lot of combi ovens," he adds.
Planning and organization software help Notre Dame both in expense management and operational efficiency. One app sets out the arrangement of tables at an event for optimal efficiency.
Waste Management: a Key Concern
There are two basic approaches to the management of nonfood waste generated at catered events: the use of china and the use of compostables. "Our new normal is composting," says Penn State's Chef Kroboth. While Penn State uses china occasionally, they have transitioned to high-quality compostable plates, cups and flatware. "We do proper recycling receptacles at an event," he says. "We work closely with the garbage department. They drop off 10 different recycling bins or compostable bins for us. We have educational signs up and staff members available to make sure people are doing the right thing."
Yaradi uses china extensively at Notre Dame events. When they do deliveries, however, the containers are all made of recycled goods. "There is a heightened focus on campus to minimize waste and reduce our carbon footprint," he says.
Yale also uses 100 percent biodegradable dining products. They use china only if the client requests it.
Van Sullivan at UMass prefers china. "It's a pain to transport because it is heavy," he notes. "But at the end of the day, it's a heck of a lot more sustainable. It's great to have compostable disposables, but you are still creating trash. They still require a great deal of carbon, so the less you can do of that, the better."
Food waste presents yet another issue. At UMass, the catering sales team helps clients match orders to actual needs to reduce the amount of food left over at the end of an event. Taking the food waste effort a step further, student food recovery teams pick up leftover food post-event and deliver it to local shelters.
Yaradi says students at Yale, too, are passionate about donating leftover food to local shelters. They pick up food in their own cars to transport it to those in need. His department also uses a digital app to monitor and track waste both in pre- and post-cooking.
Top Challenges: Budgeting, Staffing
Expense management is a challenge for virtually all catering departments. Sullivan points out: "Being on a university campus as opposed to being in a true catering venue, people expect much lower prices. Expense management is a major challenge on a day-to-day basis." He adds, "Revenues are a tough battle. People are feeling stress on their budgets. We're trying to find ways to be efficient."
Every year, UMass catering puts on an all-campus barbecue to celebrate Founders Day. The event usually draws 15,000 people. Last year, Sullivan was asked to cut costs by roughly 30 percent. To make the budget work, his team invested more planning time, gathering resources over the course of a few months. "We were able to get high-quality products, but it took a lot more pencil sharpening," he says.
The financial success of the barbecue was due to the kind of careful preplanning the team gives all events. "We've been able to continue to give the campus great service but within budgetary constraints," Sullivan says.
Chef Kroboth feels the pinch as well at Penn State. "Insurance is going up," he says. "Employee benefits are going up. Rates are going up. Food prices are rising. We want to capture events instead of having them go outside the university, so we have to keep our pricing in line." Despite this, he sees revenues increasing. Part of this comes from cutting operating costs, including labor, and providing more efficient distribution.
Notre Dame's Yaradi cites staffing as his number one challenge. Lack of talented, trained staff is an all-industry issue that has not left catering unscathed.
Regardless of serious challenges and transformational trends, college and university catering departments are succeeding in their evolving efforts to provide viable and exciting campus and community events.