Perhaps no other menu category has evolved as much as the salad, and that's thanks in part to salad bars. No, not the old-school iceberg, tomato, cottage cheese and French dressing-style salad bar withering away in a corner, but the vibrant, fresh, appealing and downright dazzling salad bar that takes center stage today and plays a critical role for many operations.
Rectangular salad bars with two duplicate serving lines and plenty of circulation space enhance speed of service. Courtesy of Foodservice Consultants StudioAnd why not? Salads in general and salad bars in particular satisfy some of the most important consumer demands shaping foodservice. Pick just about any buzzword — fresh, healthful, organic, local, seasonal, customizable, fast, convenient, vegan, vegetarian, paleo, ethnic, specialty — and you'll find a selection of food items that play to it on modern salad bars. Grand dames in the genre such as Sizzler and Ruby Tuesday know well that the power of bountiful, beautiful salad bars can drive sales, and they go to great lengths to keep theirs looking great, performing well and remaining relevant. Schools, healthcare facilities, colleges and corporate foodservice venues all tout bountiful self-serve salad bars. Even fast-casual operations are tapping the trend. The sprouting of a whole crop of fast-growing, next-gen, tossed-to-order salad concepts such as Sweetgreen, Just Salad, Salad and Go, Chopt, Freshii, Mixt, Honeygrow and Salata make salads cool, customizable, craveable and convenient.
In every case, smart design can significantly enhance salad bar functionality and profitability. After all, in most instances the salad bar serves as an integral design element in the front of the house and, given its high-impact visual and operational roles, it demands careful attention to both form and function.
"Salad bars have gotten so big. They're no longer just about iceberg, romaine and cherry tomatoes," says Doug Huber, FCSI, CFA, CFSP, principal at Foodservice Consultants Studio, Montpelier, Va. "Today, you might have five different types of greens, for example, and any number of exotic and specialty items featured on the bar. There's a lot to consider. And operators have gotten smarter about how they use that real estate. If you can design flexibility into the salad bar aesthetic so that it can accommodate different meal periods and think beyond just salad, it can double as a hot food bar, breakfast bar, tapas bar, etc., on an as-needed basis. With some forethought and flexibility built in, the revenue generated per square foot can be significantly increased."
Three Design Drivers: Variety, Volume, Speed
Well before considering any specific design ideas, Huber recommends first considering three big drivers: variety of ingredients, anticipated volume per service period and overall experience desired, especially with regard to speed of service.
Menu is always the first consideration, according to Huber. What kinds of ingredients will the salad bar feature, and how diverse will it be?
"You have to understand the menu direction from a big-picture standpoint," Huber says. "Then you can start to dig into how many and what type of wells you might need, what to think about in terms of mechanical infrastructure, what size pans make sense and what the configuration might be based on available square footage."
Huber adds that designing flexibility into the space is crucial, noting that equipment advancements make doing so easier today than ever before. "You absolutely need to be able to convert food wells from refrigerated to heated," he says. "In the old days, the way you did that was simply put heated wells in throughout and when you wanted them refrigerated you'd just turn them off and ice them down. Now, several manufacturers offer hot/cold wells and even hot/cold/frozen wells that give operators ultimate flexibility."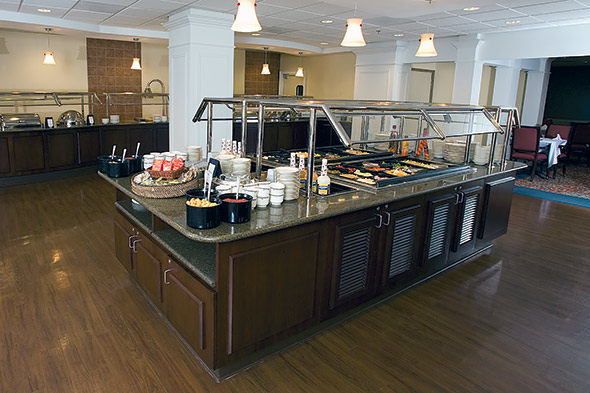 Large scatter-style salad bars with many points of access help to facilitate both variety and throughput in corporate feeding and other large-volume settings. Courtesy of Foodservice Consultants Studio
Daniele Scelza, CEO of DS Concepts, a foodservice consultancy with offices in San Antonio, Texas, as well as London, England, and Rapallo, Italy, also encourages clients to think through the full scope of items they'd like to feature on the salad bar early in the planning phase. Usually, that means much more than just the salad components, per se, and designing for them at the outset makes for a more efficient, attractive and user-friendly experience.
Specifically, Scelza says, consider whether the salad bar will include both hot and cold items and if the facility plans to include add-on features such as a carving station, antipasti area, bread station and hot foods.
If the station will include hot foods, Scelza always recommends avoiding steam, opting for induction equipment and keeping hot food areas segregated.
"It's best to avoid steam and humidity," Scelza notes. "That's especially true today because pretty much all equipment has electronic components that can be damaged by heat and humidity, but also because the steam generated could adversely impact the fresh items on the bar. Induction is best in that setting, and it's also safe and easy to clean. But regardless, whenever a salad bar will incorporate both hot and cold items, we design it so that the technical spaces below the counters for each area are isolated and independent of each other. And you have to always make sure that all of the equipment is well ventilated. Compressors that are inside a closed environment under the salad bar need to be able to breathe."
After menu considerations, volume and speed of service represent the next biggest strategic drivers for salad bar design. How many customers could use the salad bar during a given service period, and what are their expectations for getting in and out quickly? While a full-service restaurant can design for a more leisurely experience, for example, ensuring fast, convenient service — often incorporating takeout — is a big consideration for other operators.
"One B&I project that we did had roughly 4,000 people needing to come through in an hour every day. It was a very meeting-intensive work environment. Most of the customers got out of one meeting at noon and had to be back for the start of another one by 1 p.m.," Huber says. "A lot of throughput was required, a lot of takeout was required, and the operator wanted to offer a very wide variety of items on the salad bar as part of a health-focused menu platform. That type of scenario dictates a very large salad bar because generally when you allow self-service at a salad bar, people don't necessarily move as quickly as employees would. They take their time making up their minds about what they want. You have to keep that in mind and give yourself enough real estate."
In most cases where volume is high and speed is important Huber recommends freestanding designs over straight-line salad bars positioned against a wall. Providing 360-degree access, with generous aisles all around, ensures that guests can comfortably "leapfrog" around each other to get to the items they want to access on the salad bar.
"The trade-off, however, is serviceability," Huber adds. "Straight-line salad bars are designed to be cleaned, refreshed, refilled and maintained from behind and can be placed within steps of back-of-house refrigeration. That's great operationally. Freestanding, island-style bars are a more efficient use of space, but they require more built-in refrigeration, separate drainage and electricity, and employees can't actually be cleaning and restocking during service without getting in the way of guests."
Scelza also prefers freestanding salad bars in instances where volume will be high and speed of service important. And while utilizing ice on bars can be attractive and effective for maintaining temperatures, this format is more complex and labor-intensive, especially in freestanding island salad bars. If space allows, he suggests non-iced, rectangular bars with duplicate offerings on both sides as the best way to avoid bottlenecks.
"For optimum flow and speed of service, the best solution is always to have a two-sided bar with plenty of space around it," Scelza says. "That way, people can use one side or the other, and everyone doesn't have to be moving in the same direction, waiting for the person in front of them to make their selections."
Ensure Ease of Access
This U-shaped, tossed-to-order salad bar design includes steaming and grilling stations for proteins and identical sections on two lines for quick and easy access to refrigerated ingredients. Image courtesy of DS ConceptsIndeed, designing space around the salad bar to ensure easy access by guests and employees alike is as important as the design of the physical bar itself. The last thing any operator — or guest — wants is to have a beautiful, appealing salad bar that's frustrating to use or service due to traffic jams and clogged aisles.
Determining flow begins with how and where to access plates. Depending on the operation, desired guest experience and budget, options here can range from utilitarian-style portable dish caddies or plate lowerator trolleys positioned at the end of the bar, to custom built-in shelves beneath the countertop. And, in operations where the salad bar includes a takeout option, plate storage planning needs to incorporate space for packaging and other to-go supplies as well.
"You have to think carefully about how all guests will use the bar, and carefully design for throughput. In most cases, it requires more space than you may think you'll need," Huber says. "Usually, a 36-inch aisle width is sufficient. But for salad bars or other areas where someone will stand at a counter or a tray slide, I usually try to give at least four feet of space: one foot for the person standing there and three feet around them so traffic can keep moving. In a restaurant situation, you also want to be sure to allow generous space between dining tables and the salad bar area. Nobody wants to be sitting trying to enjoy their meal with other guests hovering around trying to use the salad bar nearby. You have to think about things like that or you'll have real problems."
Real problems can occur, too, with service and maintenance if accessibility isn't carefully considered during the design process. Whether it's finishes or equipment, Scelza advises taking a compartmentalized approach.
"Salad bars can require a lot of service and maintenance," Scelza says. "If something breaks down, and something alays will, how will the technician get in to repair it? You don't want to have to disassemble the whole bar. Everything has to be easily accessed for quick and isolated repair, whether it's in the hot area, cold area, lighting or even finishes, which need to be chosen not just for looks but for durability. Ideally, every component should be able to be accessed and dealt with independently of the others."
Accessibility also comes into play, of course, for guests. That means proper container sizes and placement, and spoons and tongs that are sufficiently long and appropriate to each food item. That not only ensures that customers can comfortably reach what they want but also helps with cleanliness and with cost control, as portioning is easier. Supplies of clean utensils should be stored within or near the bar for easy and quick replacement by staff. To that end, one custom solution that Scelza's team has developed for salad bar clients is to install small water wells for spoons, similar to those used in ice cream parlors, which have water running continuously to keep utensils clean and fresh.
The ingredient side requires an eye toward both quality control and aesthetics. For instance, to keep greens looking fresh and appealing, Scelza suggests incorporating automatic misters, similar to those used in retail produce and seafood displays, above that section of the bar. And, just as with display kitchens, he says salad bars increasingly are designed with high-end, natural-looking finishes and strategic lighting to increase their appeal.
"It's all about making sure the food on the bar looks great because when it does, it sells itself," Scelza says.