Ready or not, here it comes!
Automate or die? We're not quite there yet, but the ability to supplement or replace human labor with automated solutions is fast becoming a lifeline for many foodservice operators. And really, while Jetson-esque robots taking orders, cooking and delivering meals may not come to a restaurant near you anytime soon (a few exceptions aside), automated solutions of one type or another are already all around us.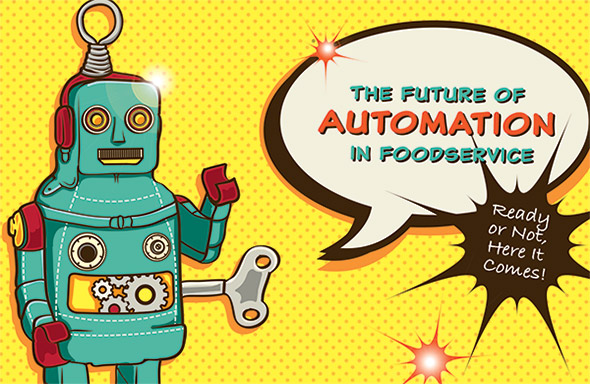 From the nation's largest global brands to progressive healthcare companies, business and industry (B&I) operations and upstart tech-driven chains, the shift of functions from humans to machines confirms that the automation genie is out of the bottle. Applications such as front-of-the-house kiosks and the ability for customers to place orders directly and pay via mobile devices automate processes that have traditionally involved several steps and personal interaction with and among staff. Momentum is building to include sophisticated robotics and next-gen, last-mile solutions — leveraging technology to meet consumer demands for speed and anywhere, anytime access to high-quality foodservice.
Robots working alongside human line cooks and in the front of the house? Restaurant meals delivered by drones, robots and self-driving cars? Chatbots communicating with guests online? Check, check and check. Early adopters continue to test all of the above and more, bringing into focus what promises to be a significantly more automated future for many segments of the industry.
Consider recent moves made by some leading restaurant brands:
Domino's customers could soon get pizza delivery without any human interaction. Already a leader in automated and mobile ordering and payment technologies, the company is now partnering with Ford to test self-driving cars for delivery. Photo courtesy of Domino'sShake Shack opened a kiosk-only, completely cashless unit at Astor Place in New York City. Customers place and pay for all orders via touch-screen kiosks or mobile app. Front-of-the-house staffers called "Hospitality Champs" assist where necessary. According to CEO Randy Garutti, the test unit represents an evolving business model for the future and the chain's dedication to digital innovation. By the end of 2017, McDonald's had installed digital ordering/payment kiosks in 3,000 U.S. units as part of its new Experience of the Future strategy. In the company's fourth-quarter 2017 earnings call in late January, President and CEO Steve Easterbrook said the self-order technology would be installed in another 4,000 units this year. McDonald's has also rolled out mobile app order and payment in more than 20,000 units worldwide, offering curbside, in-store or drive-thru pickup options. The burger giant continues to roll out digital menus that allow the chain to analyze big data and self-adjust based on time of day or weather, automatically highlighting items that appeal on hot or cold days, respectively. Dunkin' Donuts opened a new concept store in Quincy, Mass., in January with a dedicated drive-thru for orders placed and paid for using the DD Perks app. Inside, kiosks replace or supplement human order takers/cashiers. Domino's Pizza offers app ordering and payment systems across every platform and continues to test an array of pioneering automation technologies. Last year the chain introduced a virtual assistant that uses conversational artificial intelligence (AI) on its mobile app to assist with virtual online ordering and other customer service functions. The assistant can hold digital conversations with customers about menus, ingredients, store locations and operating hours. The company also rolled out the ability to order from the full menu via Facebook Messenger and Amazon Echo and is working to automate delivery by testing drones, six-wheeled robotic carts and self-driving cars.
These companies are far from alone. Virtually every major restaurant concept and noncommercial operation of any size throughout the industry continues to make, or gear up to make, the same or similar moves toward greater automation.
Now next-gen concepts are emerging that bake in automation from the start. For example, Café X is a fully automated, cashless specialty coffee bar brand that has grown to a trio of San Francisco locations over the past 18 months. Encased in acrylic and fronted by touch-screen tablets on which customers place orders and pay — if they haven't already done so on their phones — the kiosks house automatic coffee machines capable of brewing Americanos, espressos, cappuccinos, cortados, lattes and flat whites with customers' choice of locally roasted beans and milk types. Its barista, an industrial-style robotic arm, performs a set of predefined motions, such as pushing buttons, moving a cup from under the milk dispenser to the syrup dispenser, and delivering a finished beverage to a window for pickup. Depending on drink complexity, it can produce an average of two drinks per minute. The concept includes human staffers to help with the ordering process, educate customers about menu items and ingredients, and keep the cafe stocked.
Zume Pizza, also in northern California, employs pizza-making robots — named Pepe, Giorgio, Marta, Bruno and Vincenzo — that handle repetitive, low-skill tasks such as dough pressing (five times faster than a human can, and in perfect shapes), sauce spreading (exact amount every time) and placing pizzas into Zume's 800-degree ovens (no injuries) in the company's central production facility in Mountain View. Predictive technology guides each day's production, indicating both volume and types of pizzas that will likely satisfy demand. Customers order online or via mobile app, and their pizzas finish cooking in transit in specially designed delivery vehicles, each fitted with dozens of automated, smart pizza ovens. The robotics-assisted production, delivery-only model and on-route cooking combine to cut costs, speed service, and free up the startups' 120 or so human employees, all of which are full-time, with benefits, to focus on more creative, intuitive and skilled tasks.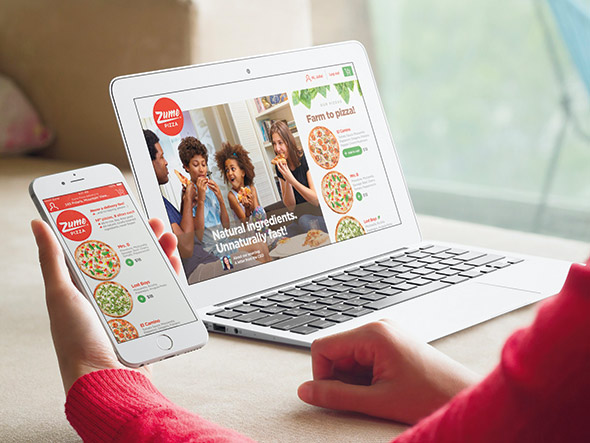 Zume Pizza customers order online or via mobile app. Their pizzas are finished in transit in specially designed delivery vehicles, each fitted with dozens of automated, smart pizza ovens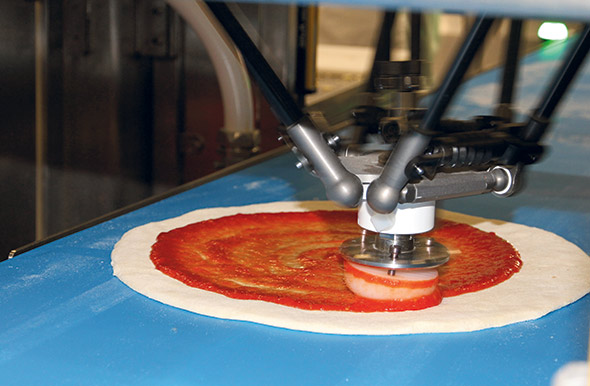 Zume Pizza depends on predictive analytics to forecast workflow and purchasing. The company employs pizza-making robots to handle repetitive, low-skill or potentially dangerous tasks in its central production facility.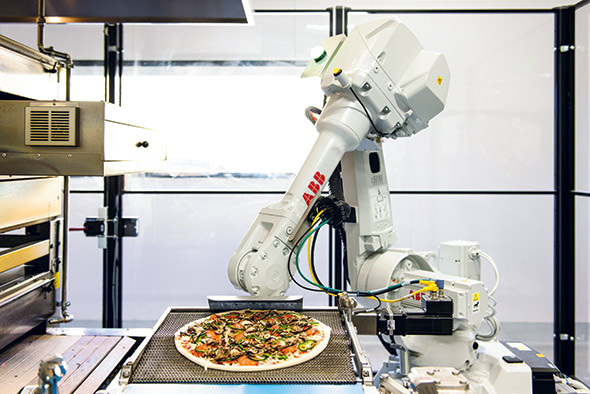 Photos courtesy of Zume Pizza
Other chains — including Eatsa, Wow Bao, Birdcall, Honeygrow and CaliBurger — are joining the fast-growing number of emerging brands tapping automation and other disruptive technologies to change how foodservice business is done, with innovations in food prep and delivery, order placement and payment, and staff training and development.
Momentum Building, Front to Back
"If you look at what's happening with front-of-the-house kiosks alone, all the big players are on it. Within five years, we'll see kiosks in every fast-food restaurant. That's a given," predicts Fred LeFranc, president of Results Thru Strategy, a strategic advisory firm that works with a number of leading restaurant brands. LeFranc, who this month will moderate a panel on restaurant robotics at the University of California – Los Angeles, says rising labor costs and increasing consumer comfort with self-serve technology keep fueling the fire.
Looking ahead, he predicts the back of the house will follow the automation curve, as concepts such as Zume and a handful of other new pioneers keep working to prove.
"For certain types of concepts, especially QSRs, automation and robotics will definitely be part of the future," LeFranc says. "It's just a matter of time. The cost and scarcity of labor will require that it happens, and technological innovations just keep moving forward toward greater automation. If you think about it, restaurant kitchens are little manufacturing plants. And we've now reached the point where, if you're paying $15 to $20 an hour as the minimum wage increases, investment in automation makes sense. It can be amortized over a period of time and the benefits of using robotics over humans for certain tasks — no turnover, no constant training and retraining, no vacation or sick days, greater consistency, etcetera — become pretty attractive."
Research by the National Restaurant Association supports the notion that the industry's first wave of automation hits squarely in the front of the house. Operators consider customer ordering (37 percent), payment options (25 percent) and loyalty programs (25 percent) as the most important area of restaurant technology development over the next five years, according to the study Mapping the Restaurant Technology Landscape. Eight percent of operators view robotics and physical automation of various functions as important tech developments, according to the study.
When asked if they would implement certain specific futuristic technologies if available, operators expressed interest in predictive ordering (53 percent), automatic menu price adjustment based on demand (36 percent), drone food delivery off-premises (16 percent), automatic food prep systems (13 percent) and automated food or drink delivery on-site (9 percent).
Analyses by McKinsey Global Institute provide a stronger, bird's-eye view of the potential for such automation in the years to come. Accommodations and foodservice represent the industry sector most ripe for future automation, surpassing even traditional manufacturing, according to a report titled Automation by Sector: Where Machines Can Replace Humans. McKinsey analyzed detailed work activities for more than 800 occupations from across the economy, assessing the percentage of time spent on activities with the technical potential for automation by adapting existing technology.
"Almost half of all labor time [in accommodations and foodservice] involves predictable physical activities and the operation of machinery — including preparing, cooking or serving food; cleaning food-preparation areas; preparing hot and cold beverages; and collecting dirty dishes," the report notes. "According to our analysis, 73 percent of the activities workers perform in food service and accommodations have the potential for automation, based on technical considerations."
To Labor Savings — and Beyond!
Of course, having the technical potential for automation is one thing, but making a solid business case for it is quite another. Rising minimum wage rates and the overall cost of labor are rapidly making that case, particularly in segments such as QSR and fast-casual where turnover is high and costs associated with the constant cycle of recruiting, hiring, training and retraining are a major drag on profitability.
But while labor seems the most obvious trigger, early adopters of foodservice automation insist it's just one of several benefits to consider. The speed and accuracy of transactions, along with food safety and product consistency are also key considerations, as is the by-now proven fact that customer-facing technologies such as kiosks lead to higher sales.
Tech-driven QSR brand CaliBurger debuted its first robotic kitchen assistant in Pasadena, Calif. Dubbed Flippy, it used automation and artificial intelligence to flip burgers and place them on buns. While CaliBurger pulled the plug on Flippy in March, industry observers expect this kind of automation to become more popular. Photo courtesy of Miso RoboticsWhen Pasadena, Calif.-based CaliGroup established its CaliBurger operating division, it did so in part to identify pain points and opportunities for automation, essentially using its restaurants as a proving ground for disruptive new technologies. In addition to developing the CaliBurger brand globally, the holding company invests in tech firms working to develop software and artificial intelligence (AI) solutions that change the way restaurants and retailers do business.
John Miller, CEO of CaliGroup, says the team's operational experience with CaliBurger helped to identify key areas in which automation — in this brand's case, introduced with front-of-the-house gaming technology and self-serve kiosks and Flippy the burger-flipping robot and facial recognition technology — can provide effective support.
"Consistency of product and preparations is the biggest predictor of success for chain restaurants, but that's often tough to achieve with humans at the grill, for instance," says Miller. "We found that consistency was the biggest opportunity for automation and robotics to effect change. Everyone's a bit different, people can have an off day, turnover is high, etcetera. Those are big issues for anyone in the QSR and fast-casual worlds, so we're applying robotics and AI to produce a more consistent product."
Developed for CaliBurger by Miso Robotics, Flippy made its debut at a unit in Pasadena earlier this year. Miller stresses that the robot, which taps the same type of technology used in automobile manufacturing, works alongside human employees. Its current scope of work is limited to flipping burgers and placing them on buns; but software development is ongoing, and other functions are expected to be added to Flippy's skill set.
Utilizing artificial intelligence, the robot is "trained" in a laboratory kitchen setting before being deployed to CaliBurger's open kitchens, where it is intended to become part of the overall brand experience. "The more it works, the more data it gathers and the more fine-tuned its performance becomes," Miller says. "When fully trained, the robot can produce faster results than a human grill cook can. Along with consistency, speed in this segment is also critical for ensuring guest satisfaction."
Of course, not every attempt succeeds right away. Such is the case with Flippy; CaliBurger pulled the plug on Flippy in late March, citing slowness as main cause for termination.
Food safety serves as yet another chronic pain point that automation can impact, Miller adds. By reducing contact with human hands, food-prep robotics can mitigate the risk of transfer of pathogens such as E. coli, for example. "And in the near future, we see opportunities to integrate sensors into the robotic kitchen assistants that will enable them to automatically detect if E. coli or other pathogens are present in the food," he says.
A pioneer in embracing robotics, OSUWMC has used laser-guided robotic transporters since 2004. The carts deliver food and supplies from central production areas to finishing kitchens near patient areas and return dirty dishes and trash from patient rooms to a central dish room.Ohio State University Wexner Medical Center (OSUWMC) in Columbus, Ohio, has used laser-guided robotic transporters since 2004, according to Julie Jones, director of food and nutrition services at the 1,000-plus-bed hospital. The specially sized carts deliver food and supplies from central production areas to finishing kitchens near patient areas. They also return dirty dishes and trash from locations throughout the medical center's campus from patient rooms to a central dish room, where they're emptied, put through a cart wash and returned to their home locations.
"It's like magic, and it's one of several forms of automation — admittedly the highest-profile one — that we utilize," Jones says. "It's all about manual cart movement throughout a very large complex. It means that we don't have to have employees pushing those carts, which means we save on labor but also have far fewer injuries."
Other forms of automation in play at OSUWCM include the same types of retail kiosk and mobile app technologies emerging as high-impact solutions in the commercial restaurant sector. And automated cooking technologies in the center's production kitchens save on labor, but also help to ensure consistency and food safety.
In the main hospital's cafe, customers now place roughly 1,300 of the operation's daily 4,700 orders via kiosk, and that number keeps growing fast as customer comfort with the technology rises. "We had a lot of people waiting in line to place an order, so the kiosks have been great for improving speed and efficiency," Jones says. "And we've also figured out other places where we can adapt and deploy that technology. We have a large surgery waiting area, for instance, so we put a kiosk there for families and others to use to order food and drinks for delivery. We're getting ready to put one on our Women and Infants floor, as well, for families and visitors there."
In the back of the house, automatic electronic tracking of production processes enhances food safety, and cook-tank technology has automated the cooking, chilling and holding process for many food items.
"For example, we partner with a local supplier who packs meats to our specs. They go into our cook tanks," Jones says. "Some may have an 8-hour cook time; some may go up to a 20-hour cook time. But we're basically taking products that are received in a sealed, reduced-oxygen environment and putting them through a fully automated cook-chill-hold process. Sometimes, it's how you think about changing steps in your process and tapping existing technologies," she adds.
In OSUWMC's main hospital's cafe, roughly 1,300 orders a day are placed via self-service kiosks, speeding service and efficiency. The operation is also now adapting and deploying the kiosk technology in other parts of its campus, as well, and offering delivery service. Photos courtesy of Ohio State University Wexner Medical Center
It's Not You, It's Me
To be sure, advanced equipment technologies, robotics, AI, increasing connectivity and big data-driven developments courtesy of the Internet of Things continue to rapidly change operational paradigms. And the implications run back upstream to distributors and suppliers, as well. For companies all along the foodservice supply chain, figuring out how to apply what's becoming available in ways that enable them to be competitive and meet customer expectations — whether end consumer or foodservice operator — is a massive challenge.
At the end of the day, however, operators will need to carefully and skillfully apply the various benefits that automation, robotics and other futuristic technologies might deliver toward reaching one bottom-line objective: enhancing the guest experience in ways that consumers value. Ultimately, it's about the customer.
"From a consumer perspective, everything that's happening right now is all around making it easier to get restaurant food into my stomach quicker. I can order food and have it delivered to me whenever I want, pretty much wherever I want, and the technology is evolving and developing to support that need," says Warren Solochek, president of NPD Group's foodservice practice. "With kiosks, I get in and out faster, and maybe there's a better chance of getting the order right because I'm doing it myself. If I'm in a full-service restaurant, tech is automating order transmission and payment processes and removing a lot of the very clunky, multistep things that have always needed to happen to get orders placed and checks paid. I don't see tech as replacing human labor, but supplementing it — all with the idea of meeting customer needs and enhancing the guest experience."
Solochek adds that one of the biggest challenges going forward is not only figuring out how and where to apply new technologies and finding money to pay for them, but keeping up with the pace of change. "Technology changes so fast that it keeps a lot of people on the sidelines. They know that soon after they make the investment it will probably be obsolete," he says. "The argument that you can amortize the cost over eight years or so sounds good, but what happens to that investment if the technology changes in two years?"
Mark Freeman, senior manager of global dining services at Microsoft in Redmond, Wash., agrees the pace of change likely holds many in the industry back from adopting game-changing automated solutions. And it's not just about phenomenally fast advancements being made in technology. It also has to do with operators' need to understand and absorb rapidly changing customer demands.
"As in every industry, there's a lot of interest in [automation] right now and in where things are headed," Freeman says. "But as an operator, how do you step into it as a way to meet the needs of the customer when customers' needs seem to be changing by the minute?"
At Microsoft, Freeman notes, robotics aren't yet in play, but cafe operations have been cashless and cashierless for the past four or five years. Humans who used to run the registers have transitioned to "ambassador" roles, focused on interacting with guests and improving the quality of their experience. "We've saved a bit on labor by going cashless, but what we're really up to is the employee experience, making sure that they're well taken care of, that they have a great dining experience and hang 'round Microsoft instead of some other high-tech company because the food is so good," Freeman says.
The company's current focus is on finding ways to use the data generated by its automated order and payment systems to improve its operations, cut waste and meet employee demands for fresh, nutritious foods.
"Using predictive analytics, we can predict within a 96 percent accuracy rate how many people will come into the cafe tomorrow, and we're at a 92 percent accuracy rate for predicting volume 30 days out," Freeman says. "When you can make those kinds of data-based projections, then theoretically you only produce the amount of food you need and you waste less. Those are the types of things we're embracing now. And I think, as you get further out, more opportunities start to happen. So, six months out if we can predict, say, what our usage is going to be on tomatoes, we can either grow our own and plant them at the exact time that we know they need to be planted, or tell a farmer partner to plant them because we know we'll need X amount by a certain time based on what the data tells us. And all of a sudden, we've got the most healthful, nutritious fresh tomato hitting the plate at the ideal time. Robotics and things like self-driving cars are definitely going to change our world, but the power of analytics and data in the future is just as exciting."
Freeman adds that Microsoft has already moved as many customer-facing functions as possible to mobile platforms, meeting its largely Millennial customer base where they now live — on their phones.
"It's what our customers demand," Freeman says. "It's their everyday reality to do everything on their phones, and we need to provide that and play into that world. It's transactional, but it's also informational. For example, we've installed Bluetooth beacons in our cafes so when a customer walks up and considers the salmon dinner, there's a beacon under the counter that automatically hits their phone. The phone tells the ingredients and nutrients in the dish, flags potential allergens, etcetera. But there's also a button they can hit that takes them to a video of the chef who not only explains but shows them exactly where the fish came from, how it was raised, harvested and processed. Our employees want that type of information."
For foodservice in general, Freeman adds, the expectations of customers may soon leapfrog beyond where so many in the industry currently focus, primarily on kiosks and mobile apps. "I'm a bit skeptical of what's going to happen in the front of the house, for example," he says. "With things moving the way they are, the dining room might not even exist before long. The 'dining room' is the customer's desk, it's their living room, or wherever they want it to be. Drones, robots, autonomous cars? For a long time I've tried to get my head around the idea of pneumatic tubes that would deliver a hamburger directly to someone's desk. Maybe it'll be all of the above. But as an industry, I think we're light years behind the tidal wave that's coming. How do we keep up? Where do we invest? I don't have the answers, but those are big questions that we all need to be thinking about."