Despite higher than average prices and consumer speculation on sourcing, seafood restaurants continue to keep their heads above water.
Seafood restaurants seem well-positioned for growth. This menu type offers variety, chefs can be creative with this food and, above all, it's a healthier option than red meat.
Chefs like GT Fish & Oyster's Giuseppe Tentori are getting more creative with seafood dishes to keep up with consumer demand. Photo by Eric Kleinberg
Although seafood tends to be pricey, one need not cast too wide a net to find this segment's success stories. The top chains in this segment include Red Lobster; Bonefish Grill; Pappadeaux Seafood Kitchen and Joe's Crab Shack, according to Chicago-based Technomic's 2018 Top 500 Chain Restaurant Report. Worth noting is Ocean Prime with sales growth of 20 percent in 2017.
Technomic estimates sales for the full-service seafood restaurant industry at $11.96 billion last year with the top 500 chains accounting for about $5 billion of this total. Total units for the full-service seafood segment numbered 9,434 in 2017, with 1,289 of those units allocated to the top 500 chains.
Americans' love for seafood remains evident. U.K.-based Mintel Group Ltd.'s November 2017 Fish and Shellfish, U.S. report revealed that 78 percent of consumers surveyed purchase seafood because they like the taste of fish and shellfish and 50 percent purchase this food because it's healthier than other animal proteins.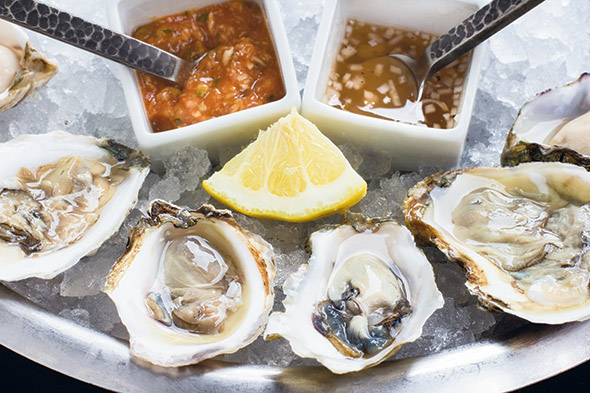 Oysters sourced from both U.S. coasts are front and center at GT Fish & Oyster.
Despite Americans' healthy appetite for seafood, some well-known restaurants in this segment have struggled. "Red Lobster, Bonefish and Joe's Stone Crab have been declining for a couple of reasons," says Bob Goldin, partner at Chicago-based research firm Pentallect Inc. "Seafood preference is not as deep or as broad as for other protein types, and these options are ubiquitous at non-seafood restaurants."
The Challenges
Each restaurant type, whether it's fine dining, quick service or fast casual, faces its own set of unique challenges. High price points may be the most universal hurdle for operators swimming in the seafood segment. This leads to lower rates of consumption compared to other proteins. The United States Department of Agriculture reports Americans consumed approximately 2.7 ounces of seafood and shellfish per week in 2014, the most recent year for which this data is available, compared with 17.1 ounces of poultry and about 12 ounces for beef, veal and lamb.
"Price point is an issue at the more upscale seafood restaurants, and the general level of mistrust among consumers about the origin of seafood doesn't help much," says Goldin. "There are questions about whether fish is fresh, frozen, farmed or fresh caught as well as where it's from and if it's sustainable. It would stand to reason that because it's a healthier option, seafood consumption would be on the rise, but consumption figures haven't changed much in 20 years."
Yet, seafood remains a popular item, especially when it's sustainably and locally sourced. In the National Restaurant Association's 2018 What's Hot survey, 700 professional chefs and members of the American Culinary Federation listed sustainable seafood as fifth in the listing of top 20 food trends and locally sourced seafood was listed seventh as a top concept trend.
"Having seafood on the menu that is certified sustainable lets people know a governing body is involved and that there is accountability," says Flowers.
While seafood restaurants continue to swim against the current due to the challenges in sourcing product and a tight foodservice operating environment, some experts expect changes in the years ahead. "There is a lot of overfishing, and subsequently we're running into species extinction," says Aaron Allen of Aaron Allen & Associates, a restaurant consultant based in Orlando, Fla. "[This has resulted in] a focus on sustainability and alternate species, and aquaculture has been around a long time."
One of the biggest struggles for seafood restaurant operators is selling enough seafood to minimize shrinkage and spoilage. To combat this some now freeze fresh fish, which presents a big disparity in terms of what the consumer believes is fresh vs. frozen. "Sous vide systems are starting to sell like crazy again [for this reason]," says Jared Flowers, senior consultant at National Restaurant Consultants, which has offices in Denver and Phoenix.
The focus has not only been on sustainability and sourcing issues but also the impact of the environment on today's seafood. "There is the consumer movement in terms of ingredient transparency," says Allen. Publicity about antibiotics and other drugs found in fish samples, for instance, has created controversy and mistrust.
Where the Growth Is
The top three limited-service chains by units are Long John Silver's, Captain D's Seafood Kitchen and Luke's Lobster, according to CHD Expert. The top three full-service chains by units are Red Lobster, Bonefish Grill and Joe's Crab Shack.
The casual-dining segment shows growth for seafood. "Casual dining in the seafood segment is up two percent in the last six months," says Flowers. "In fast-casual seafood, there has been an increased focus on breakfast dishes like seafood frittatas and shellfish dishes not typically associated with this day part."
Menus continue to become more flexible to keep up with today's consumer preferences. "For example, with full-service operations, it's more about adding sushi onto what was historically a traditional seafood offering," says Allen. "P.F. Chang's is expanding with sushi, which seems a natural fit, but when done well also offers higher margins." He also notes the prevalence of ceviche and Peruvian food, which are having an influence on seafood restaurant menus.
"Where we're seeing growth in the last six months is in poke shops," says Goldin. "Ten have opened in Chicago, and these are big in New York City, Southern California and mostly urban areas."
Despite the fact that salmon and tuna are top sellers, the higher price point for these varieties has led diners to become more adventuresome and chefs more creative. "Consequently, we're now seeing lower-priced seafood and shellfish offerings," says Flowers. This includes cod, walleye, trout and crawfish.
Success Stories
Many consumers are not aware that certain seafood, like crawfish, is seasonal.Poised for growth in this challenging segment is Shell Shack, which opened its first site 4 years ago and now has 19 locations, plus 3 restaurants under construction. It operates in Texas and Oklahoma, with mostly franchised locations — four sites are company-owned. Its menu is simple and centers around oysters, shrimp and crab.
"Seafood prices have gone up quite a bit, and customers don't always understand that," says Shell Shack CEO Dallas Hale. "When snow and King crab prices doubled in the last four years, we've had to raise prices."
Locations range from 3,300 to 6,500 square feet, with grills, fryers and pasta cookers supporting the menu. Top-selling items include snow crab, shrimp and crawfish tails when in season. Shell Shack sources its crab from Alaska's Bering Sea, crawfish from Louisiana and shrimp from both coasts.
"I attribute our growth to hard work, the focus on healthy eating and the fact that people love seafood," says Hale.
GT Fish & Oyster in Chicago, part of the Boka Group's brand lineup, is an anomaly in the restaurant segment. This casual seafood restaurant/oyster bar's menu is made up of 60 percent classic dishes and 40 percent seasonal offerings.
"We keep much of the menu the same, because it works well," says owner Chef Giuseppe Tentori. Oysters are the top seller at GT Fish & Oyster, which boasts sales of about $1.5 million since opening in 2011. The lobster roll, fish and chips, crab cake and clam chowder also are popular. Staff prepare these with a steamer, fryer and gas grill, which Tentori says are key pieces of equipment.
"Garnished oysters are becoming more popular topped with cocktail sauce or other ingredients in both casual and fine dining restaurants," Tentori says. "Chefs are getting more creative, but to be honest, oysters should be left alone so you can taste the freshness and water."
Tentori also notes an influx of monk fish, cod, scallops and sturgeon in the last couple of years. The chain sources its seafood from the Atlantic Ocean, with the exception of oysters, which come from purveyors on both coasts.
To combat customers' sourcing skepticism, Shell Shack operates an open kitchen, where staff shuck oysters in front of customers. Shell Shack also only adjusts the menu, buying specific types of fish, like halibut and swordfish, when they are in season. "People don't realize the seasonality of certain fish," Tentori says. "They also are more interested in its origin, whether it's farm-raised, fresh caught or imported. This does impact their purchases."
Overfishing and species extinction both concern Tentori, who says he wishes people were more open to trying fish like mackerel, which are more plentiful than salmon and halibut. "We have a lot of shellfish on the menu, but don't serve varieties that are pricier or have limited supply, like Chilean sea bass."
Looking ahead, Allen does not see any large systemic wholesale changes, such as cost control or the availability of delivery services, with seafood restaurants.
Regardless of the predicted turbulence, the seafood segment may benefit from smart technology, such as self-ordering, that provides operators with better insight into prep times, while minimizing the biggest challenges in this segment — spoilage, waste and shrinkage.
"We've been expecting seafood to get on a growth trajectory, but we've been saying that for two decades now," says Goldin.
Addressing consumer concerns, such as sustainability, food safety and affordable price points, may be a good place to start.
---
Equipment Necessities for Seafood Operations
Ice Makers:
Flake ice machines assist with fish storage, but just as with beverage service, it's important to determine the necessary volume. Most ice machines have two sets of capacity numbers that signify the air and water temperature required for the unit to run at peak performance. For example, ice makers' ideal temperature is 70/50, which means the air temperature is at 70 degrees F and the water temperature is at 50 degrees F. Since these temperatures are atypical of most environments, the 90/70 capacity assessment is more accurate for determining production volume.
Calculate how much space the operation can dedicate to the ice maker. Look at both the width and height of the machine.
Estimate the total cost of ownership.Because ice makers can run up to 10 years, it may be more cost effective to pay extra up front for a more energy-efficient model that will save money over the long term.
Look at the ease of cleaning and servicing. Most icemakers feature an automatic cleaning feature, which can save time and money spent on service calls.
Even when using ice for storage purposes, water quality remains a significant issue, since all equipment that uses water is susceptible to scale build up. This can be even more significant for ice machines where the water tables and chemistry are changing.
Reach-in Refrigeration
Today's reach-ins have built-in features to help prevent seafood spoilage. These include electronic controllers with built-in alarms to warn when reach-in doors are left open or when inside temperatures exceed a set point.
Glycol refrigeration in lieu of standard compressor systems is becoming more prevalent in commercial refrigeration. Reach-in units can connect to a remote glycol loop that helps cool the refrigerator, thus eliminating the need for each refrigerator to have a separate compressor.
Take note that the Environmental Protection Agency has new requirements for the phaseout of global warming refrigerants. These requirements will be incorporated into commercial refrigeration equipment over the next couple of years and are designed to significantly lower the global warming impact of equipment using refrigerants.
Other factors to consider when purchasing a reach-in include space constraints and whether the unit will be incorporated into existing cabinetry or fixtures. For operations with limited space, 180-degree doors facilitate easier loading of pans and trays.
Refrigerated Prep Tables
Seafood operators can choose from forced air prep tables that use one coil for cooling the base and rail zone, which operate best in lower heat/humidity applications, or wrapped wall or conductive cooling systems, which use copper lines wrapped around the tank or pan opening that provides thermo transfer of the cold through the unit's walls. This creates a cold blanket of air above the product to protect it from ambient kitchen conditions.
Refrigerated prep tables feature different sizes and configurations, so it's important to determine the one most suitable to the application. These units offer between one and four doors and may provide up to eight shelves or drawers for storage. The interiors generally accommodate between 6 and 15 pans, depending on the model.
Seafood restaurant operators may want to consider a prep table with an automatic evaporator fan motor delay, which prevents condensation from developing by mixing cold interior air with ambient air temperature.
Updated technology includes models that keep temperatures below 41 degrees F and above freezing to eliminate unsanitary defrosting, and redesigned louvers provide uniform distribution of cold air over food pans.
Steamers
Capacity is an important consideration when choosing a steamer for use in a seafood restaurant. Smaller steamer models will typically accommodate three to five 12-inch-by-20-inch-by-2 ½-inch steam pans. Most larger units will accept both sizes, generally holding 14 12-inch-by-20-inch-by-2 ½-inch steam pans and seven 18-inch-by-26-inch sheet pans.
Pressure steamers use boilers. These are recommended for higher-volume applications and cook at 228 to 250 degrees F. Low-pressure steaming units generally have a lower operating cost and higher productivity than pressureless units when preparing single items. Pressureless steamers put steam in direct contact with food, cook at 212 degrees F and transfer heat via convection of steam. With these smaller units, the cooking process is typically slower and doors can be opened to check or season food at any time. Connectionless units are most often used by small- and medium-sized operations that lack water utilities or drains. Although cook times are longer with these units, utility costs tend to be lower.
When choosing a steamer, considerations include portion sizes required per serving; number of servings required during production cycle per pan and per compartment; current production time for steamed items on the menu with the current steamer; desired production time for steamed items on the menu with the steamer; and how many 2-inch deep pans are needed per compartment to produce the number of portions/servings per pan.