Two food hall veterans outline key factors for success.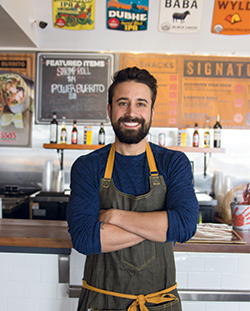 Andrew GruelAndrew Gruel, chef and CEO of fast-casual seafood concept Slapfish, vegan-friendly Butterleaf and Jidori-chicken focused Two Birds, faced some unique challenges when first expanding into a food hall. In similar fashion, Kevin Corsello, founder and CEO of Pork & Mindy's at Forum 55, learned a lot from his experience entering the food hall arena. They offer some sage advice that operators and their support teams should take into consideration when deciding whether to enter into a food hall agreement.
Consider the location. Many food halls operate in high-traffic business districts meant to draw busy workweek crowds. This serves as a double-edged sword: great during the week but not so much on the weekends. "When you see the population drop off suddenly, the food hall concepts are being cannibalized because you have a dozen concepts trying to fight for $16 worth of business," says Gruel. He also stresses the importance of studying the demographics in the proposed area to ensure they line up with your concept.
Kevin Corsello, founder and CEO of Pork & Mindy's at Forum 55, also heavily considered location before venturing into the food hall business. "We seek high-traffic, corporate neighborhoods such as the Chicago Loop and downtown Minneapolis," he says. "These areas are full of employees seeking convenient, quality options for breakfast and lunch. We also want to see other high-quality, chef-driven concepts become a part of the food hall, as we have a certain brand standard to uphold."
Pare down the menu. When Gruel first opened Butterleaf, his vegetable-friendly restaurant, in a food hall in Irvine, Calif., he admits he started with too many items. "I would stick to one or two items on the menu so you can have just one or two primary cooking vessels and maintain really high volume, speed of service and quick throughput in a short period of time," he says.
Kevin CorselloCorsello says Pork & Mindy's did not alter the menu for its food hall locations but rather chose to stick to a few, already popular smoked and barbecue items. At the same time, the team continually tests possible future items. "We use our flagship Wicker Park neighborhood restaurant in Chicago to experiment with new menu items, as we have already built a loyal customer base," he says. "Our executive chef and Food Network star Jeff Mauro spearheads our menu development, so as you can imagine, our standards are very high. Once the new items receive approval from our customers and team, we roll them out in our food hall locations."
Ask about marketing support. What is the food hall offering in terms of marketing and publicity support? Without enough support, it's easy for brands to get lost in the crowd of concepts under one roof.
Still, some brand awareness is already built in with the food hall. "While some food halls bring a smaller footprint, they still generate awareness and introduce the brand to an entirely new group of customers, who may never have heard of us without visiting the food hall," says Corsello.
Inquire about rent structures and facility maintenance. Some landlords offer rent on a sales percentage basis, rather than just a flat fee for all, which can hurt concepts with inconsistent weekly sales. Also, ask if the landlord offers cleaning and equipment maintenance services. These added costs may not be ones that an up-and-coming food hall brand can handle.