Breakfast and lunch success depends on high volume and quick table turns.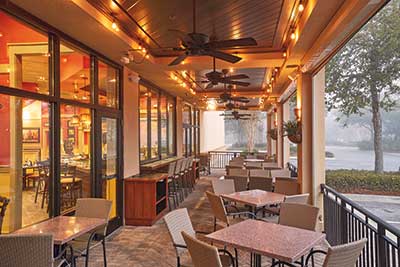 Another Broken Egg Cafe's base menu remains consistent across its locations, although limited-time offers can vary. Fast-food giants such as McDonald's and coffee behemoth Starbucks, among many other chains, continue to drive the breakfast and brunch renaissance in the restaurant industry.
To help keep pace in the fast moving and competitive market segment, operators continue to upend traditional breakfast and brunch offerings. These include twists like Einstein Bagel's breakfast sandwich of eggs with avocado, chorizo and spicy salsa on a green chile bagel or Taco Bell's Waffle Taco, both limited time offerings.
Lunch and dinner trends influence many of the breakfast innovations, and likewise, breakfast now appears on some chains' all-day fare. Today, anything goes at any time of day.
Breakfast accounted for 22 percent of all restaurant visits between June 2016 and 2017 according to Bonnie Riggs, restaurant industry analyst for the NPD Group, based in Port Washington, N.Y. That's a 1 percent increase in overall traffic compared with the same period one year prior. By comparison, lunch accounted for 33 percent of all visits from June 2016 to 2017, a decrease of 1 percent from a year prior.
"Fast food is growing strongly at the morning meal due to innovation and new products," says Riggs. "There [are] a lot more operators that didn't previously offer breakfast and have gotten into it, like Subway and Taco Bell."
Breakfast accounted for 24 percent of quick-service restaurant visits between 2016 and 2017, while lunch totaled 33 percent, according to NPD Group statistics. Quick-service restaurants, in particular, have seen a steady rise in breakfast visits, up 2 percent in 2014, 5 percent in 2015, 3 percent in 2016 and 1 percent by third quarter 2017.
The Challenges
Similar to the restaurant industry as a whole, labor remains one of the biggest challenges for those operators focusing on breakfast and lunch service.
"Labor is a driving force, with minimum wages fast approaching $15 an hour," says Ken Irvine, founder of Irvine Hospitality Group, a San Diego-based consultancy, and owner of San Diego restaurants Bleu Bohème as well as Sea 180, the latter with partner David Cohn. "Breakfast and lunch have an average spend of about half of the dinner hour in most places. To make up costs, it's necessary to drive sales and increase volume."
While many of these early limited-hour eateries set up shop in business districts where potential customers are scarce after 5 p.m. and on weekends, smaller cities and suburbs are seeing more of these operations popping up.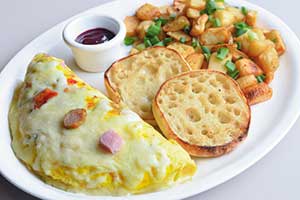 Egg Harbor did consider expanding its hours and menu to offer dinner, but it wasn't part of owner Mike Farrell's vision for the concept.Egg Harbor Café, which will have 20 locations by March of 2018 in the Chicago and Atlanta areas, has experienced positive growth in the 32 years the chain has been in business. Locations are open from 6:30 a.m. to 2 p.m. daily.
Corporate manager Graham Hallen says the company has flirted with offering dinner in the past, but this wasn't the lifestyle that owner Mike Farrell wanted for his employees.
Yet, Hallen contends that even without the 14-hour days, or being open nights and holidays, challenges remain for operators that focus on the early day parts. "There is a perceived idea of what prices are acceptable with breakfast and lunch; with dinner, there is almost no price limit," says Hallen.
Problems then arise for those restaurants serving less costly meals when taking into account the industry's increasing minimum wages and the disparity between staff members' pay. "Each time waiters get a wage increase, menu prices rise to offset this, but where does this leave kitchen staff who aren't earning minimum wage?" says Irvine. "People are now spending more on their meal and tipping wait staff greater amounts, and the kitchen staff wants a raise, too."
For limited-hour restaurants, this could be a double-edged sword from a labor perspective, with workers making less money from lower tips and fewer work hours. "Because breakfast and lunch places don't have as high an average spend, this can be a problem," says Irvine.
Egg Harbor credits incorporating ingredients and flavors more typical in dinner dishes than in its breakfast-and-lunch-only menu as a reason for increased revenues.One way to help circumvent overhead costs is to reduce back-of-the-house square footage. Bigger chains also have implemented commissary kitchens for preparing bulk items to enhance efficiencies and consistencies.
"Restaurants are implementing high-tech equipment, such as combi ovens and speed ovens, to help drive the bottom line," says Irvine. "In this case, operators require less staff, although they are more highly trained, which is better for overall productivity."
Atlanta-based Huddle House, which has 400 mainly rural locations either open or in development, serves all day parts, although close to three-fourths of its revenue comes from breakfast items. The company owns approximately 90 percent of its restaurants, with the remaining locations run by franchisees.
The three-year-old Marietta, Ga., location is in the process of totally revamping its back of house, which mainly consists of a cook line open to the dining room. "For us, because it's really cramped in the kitchen, our challenge will always be throughput," says Alison Delaney, Huddle House's chief marketing officer. Huddle House began a massive remodeling program at all stores about 5 years ago, with roughly 60 percent now complete.
The overhaul includes both the cook line and food prep area. The new prototype is dubbed EVO 1.5.; EVO stands for Evolution.
"
A recent revamp of Huddle House's kitchens included an overhaul of the cook line and food prep area.Our cook line must be very efficient to serve our guests high-quality foods quickly," says Delaney. "Some of the equipment in the 1.5 prototype is on the cutting edge, while others are repurposed to match our efficient footprint. One of the biggest opportunities we have is keeping the food hot as it is delivered to the table, as we have some temperature-sensitive finished products that lose heat quickly."
The operator hopes several equipment additions will improve temperature and production efficiency by moving prep from production times; reducing prep time; and decreasing cold holding requirements. Huddle House's new equipment package includes holding cabinets; radiant heat lamps; refrigerated racks for holding meats at the point of use; a fry warmer; heated holding drawer warmers for coffee mugs; induction burners; and a convection oven for biscuits.
Day Part Drivers
When looking at trends, three concepts have been driving the morning meal segment recently.
"Coffee places like Starbucks, donut shops like Dunkin' Donuts and the fast food burger restaurants like McDonald's have been big drivers of this day part," says Riggs. "Family-style restaurants saw decreases in breakfast visits, down 6 percent in 2016 and 1 percent this year, while lunch was down 1 percent in 2016 and 3 percent this year."
While some family-style restaurants continue to see morning meal declines, some continue to rise and shine. Take, for example, Another Broken Egg Cafe, which operates 66 locations across the country. The Destin, Fla.-based chain's hours of operation span 7 a.m. to 2 p.m. seven days a week. The first location opened in 1995, with much of its growth stemming from franchising, which began in 2005.
"Although full-service foodservice is continuing to trend down, our business is up quite a bit year over year," says Matthew Moberly, the company's senior vice president of logistics. "The driver behind our growth is culinary innovation, along with enhanced service."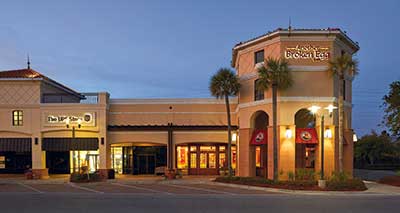 Breakfast-and-lunch-only operations like Another Broken Egg Cafe are capitalizing on the strong early day parts.Another Broken Egg Cafe's base menu remains consistent across its locations, although limited-time offers can vary. "We have test cafes that run LTOs to get guest and operator feedback," says Moberly.
The operation focuses on operational efficiency and ease of use when it comes to its equipment. "Our necessities are the grill for meat and pancakes; fryers for beignets and other products; and saute ranges for omelets and specialty brunch items," says Moberly.
Egg Harbor also puts an emphasis on guest feedback on menu offerings. "The biggest thing that has driven us over the years is the incredible amount of menu direction in terms of what we offer that sets us apart," says Hallen. "This is driven from customer ideas, with some of our top five items and staples coming from our regular guests' suggestions."
The restaurant also strives to stay ahead of trends, moving to cage-free eggs eight years ago, before most people were even aware of free-range chickens.
Expanding Offerings and Services
Operations that limit hours to breakfast and lunch have had to get creative in making up for nonexistent dinner revenue.
In addition to focusing on brunch, Another Broken Egg Cafe focuses on unique alcoholic beverages. "Our emphasis on expanding these offerings, including liquor, beer and wine, has led to us becoming very creative with signature drinks as well as the quintessential mimosas and Bloody Marys," says Moberly.
At Egg Harbor locations, incorporating ingredients and flavors more typical in dinner dishes than in traditional breakfast, brunch and lunch items has led to increased revenues. One dish in particular, shakshuka, which is an Israeli Tunisian dish of poached eggs in a spicy tomato sauce, became a staple menu item.
"No one had heard of it, but within weeks of releasing it, we saw it on the cover of all these magazines," says Hallen. "This is an example of a dish not necessarily associated with breakfast finding a home in that day part; people are really responding to it."
This thinking outside of the box has resulted in breakfast becoming a meal suitable for any day part.
For restaurants with more traditional breakfast, brunch and lunch offerings, like Huddle House, this isn't necessarily the case. Those in small towns and more rural areas are finding success in sticking with dishes that guests expect for the morning meal.
"One of the things at our center, or DNA, is the habitual, routine of breakfast," says Delaney. "We've tried to deviate in the past, but out-of-the-box type dishes don't work in our restaurants."
One revenue-building opportunity not typically taken advantage of by the breakfast and lunch foodservice segment is delivery. "Delivery is increasing and evolving for morning meals and emerging for lunch, as well," says Riggs. "This is a strong growth area due to third-party providers."
At issue is maintaining quality and food temperatures with delivery items or risking a bad reflection on the brand. When using a third-party provider, price also has to reflect not only that company's percentage, but also the fact that customers pay more for the service as well as a tip.
Huddle House plans to continue building on the success of off-premise formats like delivery and online ordering. "Online ordering is a convenience with our restaurants," says Delaney. "Like delivery, this is hugely important in today's climate."
With the breakfast category becoming more saturated at a faster rate than other segments of the industry, and lunch continuing to drive sales, operators focusing on morning and afternoon meals are in an enviable space.
"With new concepts popping up and existing concepts growing, you'd think it would negatively impact our business," says Moberly. "But I see this as a positive that's drawing more attention and focus on breakfast, brunch and lunch, which forces everyone to stay on their game to keep up with the competition."
---
Equipment Purchasing for Limited Day Parts
Here's what to take into account when choosing equipment for the breakfast/lunch segment.
Food Processors:
Determine what types of food the unit will prepare to determine the necessary horsepower, bowl size and attachments.
Consider extra-large feed chutes for high-volume operations, as these can reduce prep time.
Make sure the food processor provides safety features, especially in operations with less experienced cooks.
Determine whether food processor attachments and parts are easily or inexpensively replaced since they are easily lost or damaged in busy kitchens.
Look for units without a lot of nooks and crannies, which can harbor harmful bacteria and be more difficult to clean.
Griddles:
If staff use the unit to prepare more than 25 percent of an operation's menu items, seek out a more durable griddle.
Griddle plate size and thickness will help determine how much food can go through at peak times. The thicker the griddle plate, the more heat it holds.
Decide if manual or thermostatic controls are necessary. While manual controls provide users with more latitude in terms of temperature control, thermostatic controls can be easier to use for novice cooks.
Check out the grease trough location and the width of the chute to ensure it can handle the challenges of the menu. Some models provide a back grease trough, in addition to side and front troughs, to better accommodate high volume use.
Consider whether the griddle will be mounted, freestanding or used on a countertop. Refrigerated bases are another option worth considering for smaller kitchens with limited space.
Toasters:
Conventional toasters work best for toasting breads, rolls, buns, muffins, bagels, frozen waffles and similar items, while convection conveyor toasters are more versatile and work better for items such as sandwiches, pretzels and pizza.
Operators should consider the unit's output capacity, footprint and the types of products that will be toasted before deciding on a model.
Pop-up toasters have smaller footprints than conveyor models, but typically handle smaller volumes. Compact models should be considered by operators facing space limitations.
Toasters specifically geared toward bagels and thicker bread items are available.
Browning controls are an often-useful option, as are shade controls that monitor heat to assure toasting consistency.
Juicers:
The correct type of juicer depends on the menu, juice ingredients and consistency of the products.
Breakfast-oriented restaurants may need multiple juicers, depending on the volume, menu and juicing times.
Noise can be a factor with this equipment. Consider equipment location in the kitchen and proximity to the front of the house.