With healthier and more diverse menu options, the Middle Eastern restaurant segment is poised to become more prominent in the U.S.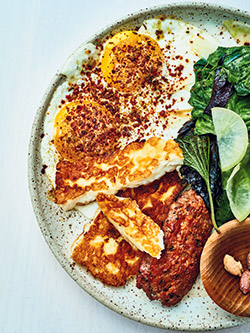 Tusk-2On the heels of the meteoric rise of Mexican, Italian and Asian fare, the next ethnic sensation — Middle Eastern — prepares to take flight. Flavor influence comes from the many regions of the Arab world. Dishes from countries such as Turkey, Egypt, Israel and Lebanon incorporate healthy ingredients, and each country has its own specialties and food preparation methods.
The overall rise of ethnic cuisines in America includes international flavors with more authenticity, according to Aaron D. Allen, founder and CEO of Aaron Allen & Associates in Orlando, Fla. "Although Mediterranean has been here awhile, the industry has tried to re-express what that term means."
The ongoing exposure to international foods through the media and travel, in addition to Americans' more sophisticated palates and focus on healthier living, continue to spur the rise of Middle Eastern cuisine. Yet, the American versions of these dishes are not necessarily authentic.
"Many foods have been adapted to American palates, and there is a different understanding as to what this food is, similar to Mexican food," says Allen.
Because consumers tend to migrate to the more familiar, the industry has been cautious in terms of being too authentic with Middle Eastern cuisine. "Still, it's a catch 22, because if you dumb it down too much, you miss the market," says Allen. "A big part of it is timing and differentiation."
Attracting a new audience and trying to educate them on tabbouleh, falafel and baba ghanoush can take a lot of effort, but it's important to differentiate between Mediterranean and Middle Eastern fare. "There have been many debates about this, but generally the right way to go is to have greater integrity to bring what's true to the cuisine than overly Americanizing it," says Allen. "What's successful is leveraging centuries-old culinary cuisines and flavor profiles and reintroducing them to the U.S. in a way that's unique and gives people something to talk about."
Refresh Ramps Up Growth
The redesign at Pita Pit's headquarters location includes a new reversible prep station as well as updated decor and menu graphics.A revamp at Coeur d'Alene, Idaho-based chain Pita Pit, which includes a new reversible prep station as well as an updated contemporary interior design package and menu graphics, comes on the heels of its monumental growth.
Since opening its first restaurant in the U.S. in 1999, Pita Pit Inc. has continued to be one of the country's fastest-growing quick-service restaurant franchises.
The company was founded in Ontario, Canada, in 1995, and acquired in 2005 by Pita Pit USA. Now with more than 600 locations across 11 countries, and 250 sites in the U.S., Pita Pit has been recognized as number one in its category by Entrepreneur Magazine's Franchise 500 and was ranked as the 14th fastest-growing restaurant chain in the world by Chicago-based market research firm Technomic in 2016.
"I started out as a customer and then started franchising and partnered with the owners in 2005," says president Peter Riggs. "Our biggest presence is in Canada, the U.K., Australia and New Zealand."
All of Pita Pit's fast-casual locations measure between 1,200 and 1,500 square feet and seat between 10 and 20.
The biggest change with the redesign was with the L-shaped counter, which contained two exhibition sandwich stations. "We chopped off the corner of the L and placed it at a 45-degree angle to create more room for customers, while increasing speed and efficiency," says Riggs. "Customers have a limited amount of time, we need to get them in and out in a hurry."
The dining room redesign is Americanized with Middle Eastern flare that incorporates new lights and red chairs with white tabletops.
Pita Pit's menu offerings center around grilled meat and vegetables with customized toppings rolled into a pita shell.Despite the front- and back-of-the-house changes, the menu remains the same. It centers on grilled meat and vegetables with customized toppings rolled into a pita shell. Customers also can choose from dishes like a traditional gyro; the Chicken Caesar with chicken, bacon, lettuce and parmesan; or the Chicken Souvlaki featuring Greek-seasoned chicken. The chain offers several vegetarian options, too, including falafel and spicy black bean patties.
Minor menu alterations are common based on customer preference and each dish's popularity. Pita Pit will soon offer specialty menu items with chef-inspired flavors. "For a long time, we've allowed customers to choose their desired pita fillings, but we're finding nowadays they want suggestions and to be pointed in the right direction," says Riggs. "As a result, we created meals with flavors that are complementary, and they can still deviate from those to customize their dishes."
Each location has the same equipment package, including a griddle in the front of the house for exhibition cooking. Most of the prep occurs in the back of the house. Staff slice all of the meat and chop all the vegetables on-site, storing the ingredients in walk-in refrigerators and freezers. Working on sandwich tables, staff construct pita sandwiches and then sear them in a panini press. Pitas are made from a proprietary company recipe at a Canadian bakery and shipped frozen, then steamed on-site. Pita Pit also offers fresh smoothies, which are prepared in blenders in its kitchens.
"We always try to be mindful of new eating and flavor profiles, but also want to make sure we're not lurching back and forth too much," says Riggs. "If we see something to benefit our pita, even if it's not a long-term trend, like certain sauces or a different vegetable, we'll test it and look to adopt it."
In the short term, the company will continue building new locations, adding drive-thrus to increase its speed of service.
"We're competing with people's time and energy, so working as efficiently as possible is key," says Riggs.
Starting Small Pays Off
When Jumana Bishara's mother Rawia opened Tanoreen in Brooklyn, N.Y., in 1998, it was a casual space with a small, open kitchen showcasing authentic Middle Eastern salads and sandwiches. Word spread that this concept was something special, and eight years ago Tanoreen moved to a larger, 2,000-square-foot space with an 80-seat dining room and full bar.
The vibe may have changed, but the emphasis remains on traditional fare as if prepared in a traditional Arab home. To ensure this is the case, Bishara's mother still controls the kitchen.
Tanoreen is known for its lamb as well as a large selection of vegetarian and vegan items. Despite incorporating dishes and ingredients that are unfamiliar to many Americans — including Mlookhia Leaves, fresh mlookhia leaves (part of the jute family) stewed with shredded chicken, coriander and lemon-garlic; and Mansaf, a national dish from Jordan of traditional rice pilaf topped with braised lamb meat, homemade yogurt and toasted almonds — the demographic for the restaurant spans all age groups.
"We're considered a destination spot in south Brooklyn, since we're off the beaten path in terms of transportation," says Bishara. "We still get people coming in from Jersey, Manhattan and Queens, as well as regulars from the neighborhood." As for Arab versus non-Arab guests, she estimates a 70/30 split, with the majority being non-Arab.
The front-of-the-house decor reflects a bistro style with a Middle Eastern accent. It includes art on the walls, ceramic knickknacks and traditional instruments decorating the stairwell that leads to the restrooms.
A separate entrance for takeout includes two to three tables and a deli display case with prepared salads. Takeout and delivery account for a quarter of Tanoreen's business. The restaurant also caters hundreds of events annually, Bishara says.
The open kitchen, located behind the takeout area, includes a grill, range top, fryers and a convection oven. It can handle production of up to 500 kibbie cups, a Levantine dish of bulgar wheat and lamb shell stuffed with eggplant, tomato, garlic and spices.
Although Tanoreen stays true to its Middle Eastern roots, the ingredients are not typical to the region. "My mother heavily uses basil, pesto, pablano peppers and quinoa, which are not typical ingredients in these foods," says Bishara. "There's definitely a movement in this segment toward different ingredients not available in the Middle East, such as Brussels sprouts."
With the restaurant's menu also incorporating gluten-free and vegan items due to increased demand, there is not much deviation from what customers expect with this cuisine.
"Middle Eastern food is delicious, nutritious and on par with food trends in general," says Bishara.
Atypical Arabian Fare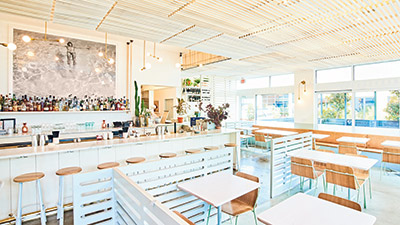 The ambiance at Tusk is atypical to many other Portland, Ore., restaurants, with a lighter color palette. Photo by AJ MeekerRecently honored by Food and Wine magazine as Restaurant of the Year, Portland, Ore.-based Tusk is not a me-too Middle Eastern concept. In fact, executive chef and partner Sam Smith hesitates to classify his restaurant as a part of this segment.
"We're not making traditional food, but taking the soul of an idea to fruition," says Smith.
He first learned about this style of cooking, its flavors, hospitality and style of eating while working with Michael Solomonov as the opening sous chef at Philadelphia's Zahav restaurant. Prior to this, both men traveled in Israel for a couple of weeks to become immersed in the cuisine.
After becoming part of the opening team at Ava Genes with Joshua McFadden, Smith opened Tusk in August 2016.
"Ava Genes was focused on vegetables and working closely with local farms," says Smith. "I fell in love with that idea, so a few years later decided to marry that style of food."
In an effort to perfect his vision for the concept, Smith traveled to Morocco to increase his scope of the food. "It became me wanting to capture the soul of what I was shown in Israel and Morocco with my own vision and voice using local produce with food that's inspiring to me," says Smith. "I'm not looking to make traditional dishes."
The menu reflects his nontraditional approach. Hummus and flatbread, served at every table at the start of the meal, are the only Middle Eastern fare identifiers.
The fact that the staff makes their pita from 100 percent whole grains in-house and produce hummus from scratch using Washington State grown chick peas are testaments to the focus on fresh.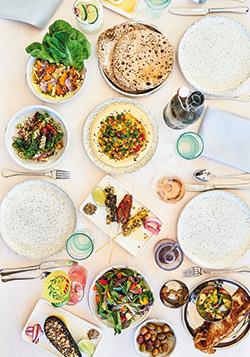 Tusk dishes center around seasonal produce with a little meat thrown in.Other than these two staples, the menu changes daily, with dishes dependent on ingredient availability. It includes sections dedicated to vegetables, fruits and grains, all regularly rotated. At press time, selections included broccoli, snap peas, crispy quinoa and spring onions. Greek feta secures a spot as a staple item, albeit with a unique twist; the team slices the cheese, dusts it with ground hibiscus powder and rose flowers and serves it on a sesame seed cracker. A crudité plate is always available.
"This is a great way to showcase our produce on one plate," says Smith. "We serve baby carrots, fennel, turnips, radishes, snap peas, broccoli and cauliflower with whipped feta and herbed tahini for dipping."
Among the minimal meat dishes is lamb tartare served with yogurt topped with chips made from vegetables, such as parsnips and potatoes. The salad of romaine lettuce, cucumber slices and onions, also topped with yogurt, definitely has a Middle Eastern influence, as well.
The large, 95-seat restaurant totals 5,000 square feet. The bright front-of-the-house decor lets in plenty of natural light and showcases marble accents. A white and pastel color palate contrasts the typical dark colors in many Portland restaurants.
Tusk's kitchen encompasses about 20 percent of the square footage. A Japanese-style grill cooks vegetables and skewers, while a French flattop, plancha and salamander support the hot food station. A dedicated oven bakes pita bread, Lebanese pizza and halloumi, an unripened brine cheese originating from Cypress.
"The big trend we're seeing is the restaurant community turning away from meat-centric menus to vegetables," says Smith.
For his next venture, Smith is exploring opening a fast-casual Middle Eastern restaurant. It promises to be anything but ordinary.
Connecting to the Community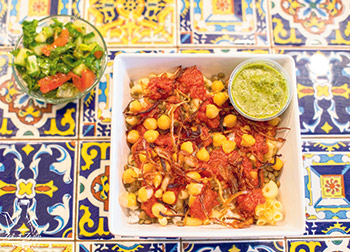 Zait & Za'atar's menu offerings are akin to Middle Eastern fast food or finger food.When Zait & Za'atar opened its doors in Minneapolis last March, the concept was positioned to connect to the community with cooking classes and other activities. The 24-seat quick-service restaurant includes tables and a counter inside and an outside eating area. Artifacts from owner Arafat Elbakri's Palestinian homeland decorate the space.
"The food we're doing is not gourmet, but more like Middle Eastern fast food," says Elbakri. "But everything is fresh and prepared daily."
The Palestinian finger food, or street food, as Elbakri calls it, includes the popular Chicken Shawerma and unique dishes like Msakhen, which is traditionally served on a big platter with onion, olive oil, chicken and sumac but is made into a sandwich here. Koushari preparation at Zait & Za'atar follows the Egyptian, as opposed to the Palestinian, method, which means cooking all ingredients such as rice, macaroni, chick peas, lentils and onions separately instead of together.
"I hardly see anyone serving koushari in Minnesota," says Elbakri.
In the approximately 8-foot-by-40-foot kitchen, production centers around the griddle, which only has two burners. A cooler contains all sandwich ingredients and garnishes.
"It would be great to have a traditional wood oven, but the cooking area is very small," says Elbakri. He is considering offering more fusion foods, or a cross between American and Middle Eastern fare, such as shawerma fries.
"We're trying to be as authentic as possible," says Elbakri. "It's good to serve what people are familiar with, but also to change it up."
Middle Eastern Food Synopsis
The most common Middle Eastern foods include dates, olives, wheat, rice, legumes, lamb and bread, traditionally served at the end of the meal, according to research from Jill Eversole Nolan, Ohio State University. These are typically seasoned with dill, garlic, mint, cinnamon, oregano, parsley and pepper. Grilling, frying, grinding and stewing are the most popular ways of preparing these meats, with olive oil preferred in food prep. Today's Middle Eastern recipes have been altered to require less prep time with less fat and fewer spices.
Chefs are embracing the Middle Eastern food trend. In the National Restaurant Association's 2017 What's Hot Culinary Forecast, which provides a chef's perspective of culinary trends, Middle Eastern flavors ranked No.4 in global flavors.