A complete renovation of the kitchen, servery, dining room, executive meeting room and a grab-and-go operation at a San Antonio military venue.
Food concept stations offer a wide variety of menu selections. The center section offers refrigerated menu items and bakery goods. One of the design goals was to provide adequate accommodation for wounded warriors.The Base Realignment and Closure Commission mandated a consolidation of military resources and services in San Antonio, Texas, in 2005. As a result, the U.S. Army's Fort Sam Houston, the U.S. Air Force's Randolph Air Force Base and its Lackland Air Force Base — all three adjoining but separate military installations — combined into Joint Base San Antonio. Since Randolph Air Force Base had only outpatients, inpatient care only affected Brooke Army Medical Center (BAMC), located at Fort Sam Houston, and Wilford Hall Medical Center, located at Lackland Air Force Base.
Following the base realignment and closure, inpatient care at Wilford Hall Medical Center closed. As a result, the 738,000-square-foot Consolidated Tower at BAMC was constructed. The seven-year project was completed in 2016 to serve the needs of an increased number of patients, staff and visitors, which necessitated a new kitchen, The Dining Room servery and seating space, Fast Fuel Grab 'n' Go outside the servery, and a grab-and-go kiosk in the Medical Mall in the original hospital tower.
BAMC Department of Nutritional Medicine now provides all food and nutrition support for patients, staff and visitors for the 425-bed, Level I Trauma Center in the original tower and new tower. BAMC at Fort Sam Houston also provides care to 242,000 beneficiaries in the local Military Health System (MHS) and civilian emergency patients.
The BAMC dining facility renovation and modernization project started in the summer of 2013. "The intent of the renovation was to update the inpatient foodservice and staff and visitor dining facility to be functionally and technically similar to current healthcare retail and full patient room service operations in the private sector," says Lieutenant Colonel (LTC) Sarah L. Flash, chief, Department of Nutritional Medicine.
Like all renovation projects, this one came with its own unique set of challenges. The department was landlocked and, aside from the small courtyard expansion, the footprint for the department could not change, LTC Flash says. "The increases in production and service capacity would need to come from more efficient layout, equipment and circulation."
The existing kitchen, servery and dining space were renovated to reallocate spatial areas making all areas more efficient in layout and circulation. "The renovation expanded the kitchen, servery and dining areas, improving the flow and efficiency of all areas," says Paul A. Mackesey, president, Mackesey and Associates LLC, who provided program consultation for the project.
The dining room allows in natural light and offers seating for individuals and small and large groups. Natural hues and greenery emphasize the operation's sustainable practices.The dining space increased by 3,477 gross square feet to accommodate 350 guests (150 more than in the pre-renovated area). Seating is also available outside. "The new foodservice facility, servery and dining space reflects modern trends, such as fresh and nutritious meals served in a bright, open and inviting environment," Mackesey says. "It also provides enough space for wounded warriors to access the serving counters and move through the dining space."
Receiving and Storage
In the back-of-the-house kitchen area, increased security includes limited badge access to all door locations, freezers and refrigerators, as well as more security cameras.
Foodservice product deliveries arrive at the clean side of the loading dock. Staff move food deliveries from the dock along a linear eight-foot-wide service corridor through double doors large enough to allow pallets and bulk packaging to pass through to the receiving and breakdown area that contains a weigh station and receiving office. "The design optimizes the efficiency of storage by considering all types of storage and grouping them together," says Katja Beck, senior associate and lead consultant, Systems Design International Inc. "All of the walk-in coolers and freezers are organized collectively, not only with the cold storage but also in connection with all of the dry food storage."
Culinary staff use a 60-quart floor mixer to make mashed potatoes and other starches.Dry food storage contains a high-density storage system that uses mobile open shelving to provide air circulation. The shelving runs on tracks, and staff can easily push and pull the individual shelves when fully loaded. Staff can also access the shelves from both sides. Can racks supplement the storage area to give first-in, first-out loading for proper inventory turns. "Compared with standard shelving, the high-density shelving doubles the storage capacity and reduces the physical storage space by up to one-third," LTC Flash says.
For cold storage, walk-in coolers hold meat, produce and dairy, each accommodating different storage temperatures and giving a clear separation of the product types to avoid cross-contamination from one product to another. The area also contains walk-in freezers. In addition to the bulk refrigerated/freezer spaces, the pastry/baking area houses one walk-in refrigerator and one freezer. A cook's holding cooler sits in the main cooking area and the patient room service area also holds a walk-in cooler and freezer.
"The entire refrigerated and frozen food inventory connects to the building's emergency power source," LTC Flash says.
Production and Room Service
The kitchen's wall-mounted, 40-gallon tilting braising pans and steam kettles in the bulk production area support all patient services, the servery and catering.The kitchen's food preparation, cooking and baking areas support patient room service and retail food operations, including the servery and four other retail locations in the hospital that provide grab-and-go options. Two of the retail locations provide hot food items and feature guest seating.
The flow accommodates a HACCP plan for food safety from raw material procurement and handling during production to distribution and consumption of the finished food products. A blast chiller quickly cools down cooked food, increasing food safety and reducing food waste.
Staff in the fruit and vegetable prep area have convenient access to the produce cooler and use cutters, slicers and knives to prepare these ingredients for salads and other menu items. This prep area attaches to part of the facility's pulping system, which connects through the produce sink and delivers food waste out via the back loading dock into one waste bin.
The pastry prep area supports all baking and dessert/pastry production and assembly. Staff use a roll-in rotating rack oven, proofing cabinet, deck baking oven and mixers, as well as a walk-in refrigerator that holds raw and finished pastry and bakery items. This area produces bread, specialty bread for the deli station, cakes, muffins, cupcakes, rolls, cookies and other baked menu items.
Cooking areas include bulk production in three zones. The steam center consists of tilting direct steam-jacketed kettles and skillets for the production of liquid foods such as soups and stews, as well as steamed vegetables and starches. Staff pan-fry bulk items such as meat and fish.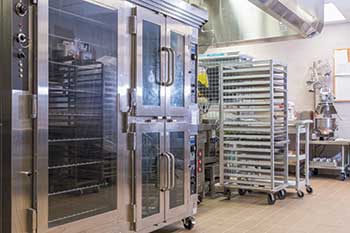 The bakery's proofer and convection ovens allow culinary staff to prepare bread, pies, cakes and other sweet and savory menu items for all foodservices. Mobile racks allow staff to move menu items easily from the bakery to service points.A bake/roast center contains four double convection ovens and four roll-in combi ovens to produce meats, fish, vegetables, casseroles and starches. The equipment package in the grill/broil center includes one griddle, one electric charbroiler and one electric range. The area receives support from the combi ovens in the bake/roast center. A pasta cooker allows staff to prepare pasta for the pasta station in the servery and on the patient menus. In addition, a mixing center features a 60-quart mixer at the cookline for producing mashed potatoes and other starches.
Prepared food and items cooked to approximately 85 percent completion move directly to the tray assembly in the patient food finishing area, the servery and other retail locations in the hospital for fresh finishing cooking immediately before they are served to customers.
Two chef supervisors share the chefs' office. One oversees food production in the Culinary and Hospitality Branch, and the other oversees patient tray service. Shift supervisors share a second office.
The dishwashing operation supports the servery and patient tray service.The new kitchen area allows full implementation and expansion of a la carte patient room service-style dining service for 425 inpatient beds. "The new kitchen layout provided the opportunity to expand the patient menu selection and optimize patients' health and healing," says LTC Flash. Patients can customize their meals when they place their orders.
A call center receives patients' calls and transmits the menu choice information to the room service assembly line area, where tickets are printed both on the hot side and cold side of the line. Staff prepare meals fresh on demand using equipment that includes hot wells, an induction cooktop, a high-speed oven, a combi oven, griddles and a charbroiler.
The area also contains sandwich and salad prep stations for made-to-order sandwiches and salads. "The result is a better-quality product that has improved taste, texture and appearance," LTC Flash says.
Servery, Tray Drop and Dishwashing
Brooke Army Medical Center foodservice staff prepare hot menu items on the patient service trayline.Culinary staff deliver food from the bulk kitchen to the servery where it is assembled, finished and made to order. "The transformation from a closed design to an open servery provides great visibility of all available food choices immediately upon entering," says Beck. "Dining guests can proceed directly to a desired station, saving themselves time."
The servery provides a clear and defined path of circulation for food preparation and demonstration and for staff and customers to move within the space without crossing in one another's paths. "Sustainable design created a balance between human needs and health of natural systems on which we are dependent," LTC Flash says.
The servery design promotes healthy meal choices. The placement of the fresh salad bar/fruit bar, soups and fresh-made sandwiches and wraps balances the large expanse of the servery entrance. Fresh colors, signage and programmable digital menu boards also enhance the area.
The functional layout, design and openness operate on patterns of traffic flow and speed of service. Entering guests move across the entry of the servery area — the widest physical space — at a higher speed. The entry's dimensions allow customers to quickly move in and away from the congestion at the main elevator and lobby and allow ease of movement for patients in wheelchairs or ambulatory-assisted devices.
Special care was taken in the design of the servery and dining area to accommodate wounded warriors. Wide circulation space allows wheelchairs to easily navigate from the different stations in the servery and throughout the seating area. Located at the servery entrance, the tray pickup area features some trays at a lower height, making it easy for wheelchair-bound guests to begin the process of getting their food.
The structure of the serving lines and the food displays encourage healthier choices and use nutrition architecture. For example, beverage grab-and-go areas are stocked heavily with water options at eye level and less healthy options at other levels. Staff also provide nutrition information signage.
Noodles station features cooked-to-order pasta dishes that staff prepare using induction cookery. World Flavors offers menu items with global flavors.Eight food concept zones provide variety. Customers see the Garden station first. It contains an expansive breakfast yogurt/fruit bar and salad bar that staff replenish from the back. "This avoids customer disturbance during peak times by allowing staff to replenish the station without interfering with customer flow," Beck says. Hot wells warm oatmeal and grits in the morning and soups at lunch and dinner.
Deli-icious features fresh made-to-order sandwiches with hot and cold options. Staff heat sandwiches in a high-speed air impingement oven and panini press.
Comfort Classics features comfort foods and chicken roasted in a rotisserie in plain view of customers. A heated cabinet holds the roasted chicken. Flame offers grilled items made to order
on a griddle, chargriller and combi oven on the line that produces meats, fish and sides. Meatless options are available at Vegetarian. At Pizzazz, daily pizzas and calzones bake in an attention-catching hearth-style pizza oven. Belgian waffles with toppings are available in the morning.
At Noodles, culinary staff cook made-to-order omelets and pasta dishes on induction cooktops. World Flavors features a variety of ethnic menu items, including a daily made-to-order special prepared on a griddle. Staff also use portable equipment for special items such as gyros. Fast Fuel Grab 'n' Go offers grab-and-go soups, sandwiches and salads as well as snacks and beverages.
The main kitchen's bulk and finishing areas, including all patient food cooking areas, are connected to the hospital's emergency power to ensure uninterrupted foodservice.
Efficient Solutions
During construction, in-house patients, staff and visitors had to be served nutritious meals every day, and the nutrition and dining operation could not be interrupted. "A compact but efficient temporary production kitchen in trailers located at the loading dock of the medical center was connected to the back-of-the-house corridor system so in-patient meals could be delivered safely and quickly, ensuring safe food temperatures and quality meals," Beck says. "Several remote dining spaces scattered around the hospital grounds provided quick and convenient access to food from snacks to full meals for staff and visitors."
Staff transported food from the back loading dock kitchen to a large tent, also known as a "sprung structure," which contained a serving line and seating space near the main entrance to the hospital. At the same time, two smaller service stations provided customers with convenient access within the hospital.
Sustainable Practices
The design provides a total separation between clean and soiled movement of products within the kitchen and strict compliance with HACCP regulations.
Separate paths for fresh food delivery and soiled tray returns help control cross-contamination within the space. A direct connection between the tray assembly area, call center, service corridor and cart storage areas gives these four functions immediate access to one another, as well as to the vertical service elevator. Efficient product flow minimizes cross-traffic and additional staff resources to move fresh and prepared food items throughout the kitchen.
For sanitation and cleanup, a space consists of separate warewash and pot/pan wash areas. For convenient flow, the pot/pan wash area sits near patient room service and the cook's production area. It contains an efficient three-compartment sink system and a dedicated pot wash machine. The dish room receives all soiled dining room trays on one side and patient tray service carts and soiled trays on the other side. A cart wash and sanitizing area are situated just before the reentry point for the cart storage and tray assembly area.
The waste pulper system includes grinders that are built into the vegetable prep area and the main soiled dish table, and also located in the pot wash room. These units grind and transport food waste from the production areas to the pulper extractor located on the soiled loading dock, utilizing a waste water piping system. The extractor presses the water out and returns it to the grinders. The solid waste from the extractor then drops into a waste cart. Waste can be reduced by up to 85 percent of its original volume. The pulper system can handle food scraps, napkins, straws, condiment packets and more.
The integration of a pulper system greatly reduces the manual waste transportation to the trash room because most, if not all, food scraps produced during prepping, food production and food waste returning from patient and dining room patrons are introduced to the pulping system and automatically transported to the soiled end of the loading dock. The pulper system also accepts cardboard from food packaging. The waste mixes with water to create a pulpable slurry, which is pumped to the extractor pulper at the soiled loading dock. The extractor then removes most of the water and discharges a semi-dry pulp. The extracted water is recovered and returned to the system.
Additional sustainable features include the following:
Direct steam for cooking and warewashing makes energy consumption more economical.
Energy efficiencies are realized with federal energy code lighting, HVAC and Energy Star equipment when available.
The exclusion of fryers complies with the Department of Defense menu standards, eliminates septic and sewer system backups from accidental dumping of oil into the drainage system and prevents the potential for grease fires.
Daylighting control in the dining area utilizes photo sensors.
Exhaust hoods feature demand-controlled variable volume of air flow as well as modern UV technology.
Dining areas contain single-duct variable air volume and displacement ventilation.
Key Players
Owner: Brooke Army Medical Center (BAMC)
Foodservice Directors: Colonel Sara Spielmann (now the nutrition consultant to the Army Surgeon General and Nutrition Program Director HQ, U.S. Army Medical Command) and Lieutenant Colonel Sarah L. Flash, chief, Department of Nutritional Medicine (retired in April 2017)
Program Manager: LTC Robert Schultz, U.S. Army, Health Facility Planning Agency (HFPA)
Architect and Interior Designer: Hoefer Wysocki Architecture LLC, Leawood, Kan.
Foodservice Program Consultant: Mackesey and Associates LLC, Chicago and Madison, Wis.; Paul A. Mackesey, FCSI, principal and senior consultant
Foodservice Design Consultant: Systems Design International Inc., Greenwood Village, Colo., and Hollywood, Fla.; Eli Osatinski, president, and Katja Beck, senior associate, lead consultant
Equipment Dealer: TriMark Hockenbergs, Lenexa, Kan.
Construction: JE Dunn Construction Co., Kansas City, Mo.
Facts of Note:
Overview: BAMC Department of Nutritional Medicine provides all food and nutrition support for patients, staff and visitors for the 425-bed, Level I Trauma Center. BAMC at Fort Sam Houston provides care to 242,000 beneficiaries in the local Military Health System (MHS) and civilian emergency patients. Approximately 8,500 staff members on the campus provide inpatient and outpatient services. BAMC is the Department of Defense's largest military medical facility and serves as the premier medical readiness training platform for both the Army and the Air Force. Forty of the hospital's inpatient beds are designated for the U.S. Army Institute for Surgical Research (USAISR) Burn Center. The Burn Center serves alongside the Level I Trauma Center to provide emergency services for residents from 22 separate counties in South Texas. The Emergency Department receives 80,000 visits annually.
Department of Nutritional Medicine Branches: There are six in total: Office of the Chief, Culinary and Hospitality Branch, Patient Room Service Branch, Clinical Nutrition Branch, Community and Outpatient Nutrition Branch and Education and Research Branch. The department is responsible for all inpatient clinical nutrition operations, medical nutrition therapy for inpatients and outpatients, outpatient and community nutrition, foodservice operations/support for all patients, staff and visitors at BAMC, as well as support for the U.S. Army Dietetic Internship Program and Army Graduate Program in Nutrition. Education and Research is the primary department that supports, but the dietetic interns rotate through all areas during their internship. The Nutritional Medicine staff consist of active-duty Army and Air Force personnel, the Department of the Army Civilians, and contractors.
BAMC Renovation Completed and Opened: March 2016
Scope of Project: Complete renovation of the hospital's lower level, which includes the department of Nutritional Medicine administrative area; a kitchen and food production area; patient tray assembly; The Dining Room servery and 350-seat dining room; an executive meeting room; and Fast Fuel Grab 'n' Go. The project also includes a remote grab-and-go operation located in the Medical Mall of the same building.
Size: 31,908 gross sq. ft.
Seats: 350
Average Check: N/A
Total Annual Sales: N/A
Patient Transactions: Approximately 280 inpatient meals per meal period; the kitchen can produce 400 inpatient meals per meal period at full hospital bed capacity.
Monthly Customer Transactions: The Dining Room cafe, 64,000; Fast Fuel Grab 'n' Go (outside servery), 14,000; and a grab-and-go kiosk in the Medical Mall featuring chef signature soups, salads and sandwiches, 18,000.
Patient Room Service Hours: 6:30 a.m. to 7 p.m.
Dining Room Hours: Breakfast, 6 a.m. to 9:30 a.m.; lunch, 11 a.m. to 2 p.m.; and dinner, 4 p.m. to 6 p.m.
Staff: 280 full-time equivalents
Total Project Cost (includes equipment): $33 million design-build contract funded through military construction funds
Website: www.bamc.amedd.army.mil