Chef de Cuisine, Retail Dining
University of Massachusetts Amherst
Educational Background: Bachelor's degree in finance from University of Missouri; currently an MBA student at UMass
Years in Foodservice: 18
Age: 34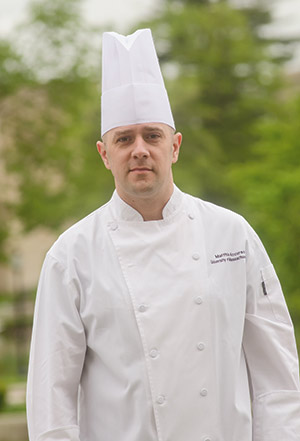 Matthia AccursoFE&S: What drew you to the foodservice industry?
MA: The attraction to foodservice and to culinary arts is the craft aspect, where there is a clear return on how much you give and how much you commit yourself to learning. Over time you can see real gains in your abilities and understanding of this demanding, continuously evolving art form.
FE&S: What led you to the campus dining segment?
MA: The campus dining segment has offered the opportunity to be a real influence on our students, by shaping their understanding of nutritious foods and helping to create dining habits that hopefully many of them will carry with them for years to come.
FE&S: What's the best career advice you have been given?
MA: Never stop learning.
FE&S: What's an important lesson you've learned about working in this segment?
MA: While cooking for such a diverse group of people on a daily basis I have gained a lot of experience in preparing delicious and nutritionally balanced meals for the many students we have with dietary restrictions and allergies. The lesson I have taken from this is to give these meals as much focus and attention as any other recipes or dishes that we develop.
FE&S: What trends and future directions in campus dining are most exciting to you?
MA: Some of the more exciting avenues that we are pursuing are emerging popular ethnic cuisines and dishes, as well as flavorful, healthy and balanced meals. An example is Mediterranean small plates made with local ingredients. It really allows our customers to customize their meals when they are given several choices of delicious, healthy, smaller courses that they can mix and match.
We are also working on some new pop-up stations that will appear at retail venues throughout campus, at which we'll be serving dishes such as ramen or poke bowls. This not only allows us to create new, trendy and exciting dishes, but also to quickly and efficiently make changes to these menus based on what is popular and to respond to students' requests.
FE&S: What are you most proud of?
MA: This is a difficult question, because I try not to focus on previous accomplishments. I feel like if I'm not constantly seeking out new challenges and pushing myself outside of my comfort zone, then it will lead to being stagnant professionally.
FE&S: Complete this sentence as it relates to your campus dining program: "I really wish we could ..."
MA: ... make everyone happy. While this is technically nearly impossible, it doesn't stop us from making this something we strive for every day.
FE&S: What keeps you in this industry?
MA: Our industry is constantly changing, which is really exciting to be a part of. I have worked in several different environments within foodservice, and I have to say that being in a university setting, specifically at UMass, I am constantly on my toes and no day is like the one before.
Also, the great thing about having students as our main customers is that they are very aware of current food trends and they actively seek out and appreciate it when we are able to provide them with new and relevant culinary experiences.