Although a crowded space, smaller players in the coffeehouse segment find success with proprietary brews, on-site roasting and creative offerings.
One would be hard-pressed today not to find a coffeehouse, either a large chain like Starbucks or Peet's Coffee & Tea, or an independent local spot within a five-minute drive. While that sounds like a mature market, creative brews, new technology and a focus on coffee origin continue to keep the market on a growth trajectory.
Cold-brewed coffee ranks high among the most prevalent trends in the coffeehouse segment. The cold-brew process starts with room temperature or cold water, followed by a 12- to 24-hour brewing time. "Cold-brew coffee is a huge and growing trend, with many coffeehouses now making their own blends using different extraction methods and devices," says Rocky Rhodes, owner of International Coffee Consulting, based in Simi Valley, Calif. "Artisans try to do cool and different things with this technique, and operators can get some return on it.
"Everyone has their own spin on why theirs is great, and because there's so much innovation, there is increased demand for this product," says Rhodes.
However, for low-volume coffeehouses, or those making a half gallon at a time, offering the time intensive cold-brew beverages may not make sense.
Also on trend, single-serve brewing is overcoming its stigma as a low-end, noncommercial technology and becoming more prevalent in the specialty coffee segment. The single-serve brewing method offers both speed of service and cost efficiencies.
"Now, there are inexpensive single-serve machines that provide the little guys with more opportunity, and there are many folks that want a piece of that," says Rhodes. "In the specialty coffee industry, the more players there are, the more there will be [moving forward]. A buzz is created when more market share is produced."
Transitioning from a Pop Up
Cognoscenti tested the waters in different locations as a pop-up shop prior to setting down roots in two Los Angeles neighborhoods. Menus at both locations revolve around a coffee-centric offering, with limited baked goods.Los Angeles' Cognoscenti Coffee may have the most unique startup story in the industry. The three-store operation got its start in 2009 as a makeshift popup cart that targeted local businesses interested in taking coffee service to the next level.
"We would approach businesses we thought would benefit from our coffee and that would give us added visibility," says Yeekai Lim, Cognoscenti's owner. He first tested the waters with his architecture business, miL Studio, then moved to a cafe in Burbank, Calif., for a month before relocating to a yogurt shop in Eagle Rock, Calif., for another four weeks.
Finally, Lim established a six-year partnership with Proof Bakery's owner Na Young Ma. During that period the first standalone, 400-square-foot coffee shop, dubbed Cognoscenti Coffee, opened in Culver City, Calif.
Two additional sites opened in Los Angeles in 2016. The 1,200-square-foot location in the South Park neighborhood rests on the ground floor of The Level, a furnished apartment complex with hotel-style living. The other store, a 2,200-square-foot shop in Los Angeles' Fashion District, is about to implement on-site coffee roasting. "We just received our roasting license and plan to sell our blends to area restaurants," says Lim.
All three locations feature similar menus; top-selling beverages include espresso, cortado (espresso cut with warm milk) and single-origin coffee. Food items are limited to locally baked goods from Proof Bakery.
Not only are Cognoscenti's beginnings atypical, so is its approach to coffee equipment. While the Culver City location's espresso machine comes from The Netherlands, the equipment at the Los Angeles stores comes from Italy and the roaster from Seattle.
Cognoscenti's roasting and brewing process brings out the nuances in the coffee."We like exploring different equipment, because it allows us to experiment with various extractions and flavor profiles, as well as test speed of service," says Lim.
Lim sees a real craft in the roasting and brewing process that brings out different nuances in the coffee, similar to the process of aging wine and brewing craft beer. "For example, when you roast lighter, there are more acidic, floral or fruitier flavors, and it's easier to distinguish these in different coffee origins," says Lim.
Cognoscenti creates its own in-house cold brew beverages, but Lim says the next big movement in this segment will be micro-roasters.
"Retailers are realizing you have to do volume to survive in this industry, and although the demand is getting there, it's challenging," says Lim. "Roasting introduces a level of interest for the public and gives shops better control in how they're presenting their coffee." It also allows for increased customer education about the coffee bean farmers and sourcing, which rests at the core of the specialty coffee industry.
"Starting as a pop up, we were able to present our product in different neighborhoods and test out the market," says Lim. "We're also one of the earlier adaptors of multiroasters, or sourcing coffee from different roasters, which gives people more options to try in terms of origins and roasting styles."
A Family Success Story
Menus at Conscious Cup and Cook Street consist of baked goods, breakfast offerings, sandwiches and paninis.Conscious Cup in Crystal Lake, Ill., has built its business on community engagement.
Facilitating fundraising programs with local organizations, schools and the community, plus creating custom blends, helped the coffeehouse relocate to a larger, 2,800-square-foot location just four years after opening in 2006. The Crystal Lake, Ill.-based company also purchased a second 1,400-square-foot location, Cook Street Coffee, in nearby Barrington in 2013.
"We're a family business that includes my parents, co-founder brother Jason and myself," says Michael Shipley. "When we started, we did wholesale and retail, and we've grown on the wholesale side."
Shipley also consulted for other cafes and businesses, which ultimately led to the Cook Street Coffee purchase.
He says Conscious Cup benefits from competition of national powerhouses like Starbucks and Dunkin' Donuts, as well as regional coffeehouses. "Although there is a lot of competition for the share of the specialty drink market, there is also opportunity," says Shipley.
To compete against the big guys, Conscious Cup builds customer service into the way the company operates. Along with community engagement, management makes deliberate decisions regarding front-of-the-house ambiance to ensure both locations remain both communal and approachable.
"We roast all of our coffee in the cafe and make all of our syrups and sauces from scratch," says Shipley. The menu centers around craft lattes and signature syrups and sauces. For example, its chai stems from a spiced black tea, steeped for 17 hours with crushed fresh ginger. Best-seller Sweet Honey Bee includes sweet lavender syrup and locally sourced honey.
Conscious Cup's operation includes a coffee roaster and the ability to create custom blends for organizations and charities.The operation also sells a lot of bagged coffee.
"Customers are more interested in origin and processing, so we're approaching a singular coffee perspective, which is more culinary in nature," says Shipley.
Menus are similar in both locations and include the ubiquitous baked goods from a small circle of local bakers, along with breakfast offerings, paninis and simple sandwiches. The panini menu was recently changed to focus on stronger sellers. Varieties now include classic egg and bacon and pepper and egg. The breakfast sandwich with egg, bacon, pepper jack cheese and homemade chipotle sauce on an English muffin is a customer favorite.
"Our food menu provides ancillary revenue, but we enjoy doing it," says Shipley. Like the menu, the equipment setup is simple. Espresso machines, coffee brewers, undercounter refrigerators, a coffee roaster and display refrigerator handle the coffee side of the business. On the food side, the lineup consists of a large oven for baked goods; two tall boy refrigerators; a packed double door freezer that may soon be replaced with a walk-in; a sandwich prep table; a panini grill; and a speed oven, which handles most of the cooking needs.
"We don't have a stove, because we didn't want to deal with a hood, so we need to be creative, since everything is made fresh on site," says Shipley. "We found that the speed oven and panini grill combo is a really smart way to go."
Conscious Cup has streamlined its sandwich prep area to produce high-volume panini sandwiches that feature similar builds, but with unique ingredients. All include egg with various combinations of vegetable, cheese and/or bacon.
Shipley compares the specialty coffee segment to the fashion industry, as both debut new products that are popular at any given time. "Coffee is a very trendy industry where there is a greater appreciation for specialty coffee or a singular focus on the quality of beans and how they're being purchased, roasted and presented to customers," he says. "We have a single-origin espresso machine on the counter and can talk about the coffee in depth, which more people are interested in."
As customers seek unique alternatives, cold brew, particularly nitro draft cold brew, is becoming a standard offering. "If a coffeehouse isn't offering these products, they're already behind the curve," says Shipley. Conscious Cup rolled out its nitro cold brew last summer (coffee infused with nitrogen) and he expects it to become a menu staple this year.
Rather than franchising, Shipley intends to actively seek out investors for future stores. "We will be opening partner stores in the image of our Cook Street location that work with the communities they're in," he says. "There are some similarities to a franchise concept, but we will partner with 10 to 15 investing families from the area to invest in equity for singular cafes that will be managed, operated and run by Conscious Cup."
A Dedicated Labor Force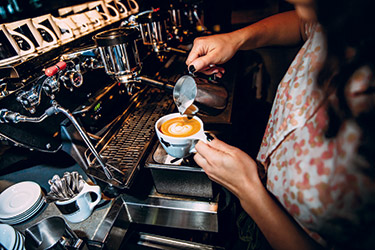 The espresso equipment at Houndstooth's coffeehouses varies, depending on the location.When Paul Henry joined Dallas-based Houndstooth Coffee, which his brother Sean founded in 2010, he wasn't planning on sticking around too long. Seven years later, Paul, now the general manager, has changed his tune. This is indicative of the chain's culture, which centers around extensive coffee training for Houndstooth's solely full-time staff, which totals between 8 and 12 people at each location.
"Everyone works here full time; it's their main focus," says Paul. "We certainly don't expect people to stay forever, but we want them to be interested in being here and in the guest experience. We provide a job people are satisfied with."
While his brother runs the two Dallas coffeehouses, which opened in 2012 and 2016, Paul oversees the two Austin locations, the original store and a second site that opened four years ago. Its newest location, opened in July 2016, pushes the coffeehouse boundaries a bit. Located at Sylvan Thirty — a popular West Dallas-area development — this Houndstooth connects to a cocktail bar, Jettison, and includes a full-service kitchen. Both the cocktail bar and coffeehouse boast numerous architectural awards.
The decor and ambiance of every Houndstooth reflects the respective neighborhood. The downtown Dallas location combines wood, low lighting and a bright red backsplash, while the others have a more mid-century modern design. Sizes also vary, with the first Houndstooth totaling 1,000 square feet and the largest, in Austin, at about 1,900.
Beyond design, it's the quality and hospitality that Paul says tie the four locations together.
The menu is described as somewhat limited and basic. Espresso, cappuccino, lattes and manual pour-over coffee are available, as well as unique specialty drinks at each site.
"We're currently doing R&D for a cold-brew coffee slushy that's playful," says Paul. "It's like a slushy, but made with high-quality coffee, so it's clean and crisp."
Houndstooth's downtown cafe combines wood, low lighting and a bright red backsplash as its signature.Houndstooth receives pastry deliveries at its stores each morning, and its newest Sylvan Thirty location offers a variety of premade meat and veggie sandwiches and wraps.
The company's first Austin location and the newest Sylvan Thirty site both have liquor licenses for beer and wine. Houndstooth also cross-promotes with Pint House, an Austin craft brewery that uses Houndstooth's coffee to brew its beers.
"We're a roaster cafe, so we roast our Tweed line in Dallas and also buy coffee from multiple roasters across the country," says Paul. "We offer rotating espressos, so customers can try different coffees each day or week."
Espresso equipment varies at each location. The first unit was imported from Italy. It features Cadillac-type fins on the side and provides three different extractions at one time. According to Paul, it's a statement piece where form meets function and draws customers' eyes to the coffee bar. He describes the other espresso machine as a workhorse designed for high volume, which also requires a lot of amps to run.
Houndstooth's expansion will continue, with cafes opening in Dallas and Austin before fall.
"We're proud of the work we do and of our staff," says Paul.