In an attempt to broaden their demographic appeal, traditional Japanese restaurants continue to add signature items to their menus.
Japanese food, particularly meals prepared on a hibachi grill, hits on everything consumers seek when dining out: fresh ingredients, prepared to order, in front of diners — all expeditiously. It's no wonder that this foodservice segment has not experienced significant changes over the years like other concepts. If it's not broke, there's no need to fix it.
Still, this ethnic food is not the American diet staple that Italian and Mexican cuisine have become.
According to a report from the Washington, D.C.-based National Restaurant Association, only 13 percent of consumers say they frequently eat Japanese cuisine, other than sushi, and 28 percent eat it occasionally. Surprisingly, 20 percent of those surveyed were not familiar with this cuisine and 12 percent have heard of it, but haven't tried it. Only one in five consumers ages 18 to 34 say they eat Japanese food at least once a month. The majority of these diners are from the West Coast.
"Hibachi restaurants are typically for special occasions," says Richard F. Weil, senior consultant at National Restaurant Consultants, based in Golden, Colo. "People don't generally go out to [these types of establishments on a whim]."
According to the NRA, among consumers who say they eat Japanese cuisine other than sushi frequently or occasionally, 63 percent dine at a sit-down table service restaurant, while 26 percent prepare it at home and 22 percent order takeout or delivery from a restaurant or fast-food place. Older consumers are more likely to seek out this cuisine at a table service restaurant.
Though the traditional hibachi Japanese restaurants have largely remained unchanged, the segment has seen the emergence of izakayas, or Japanese-style bistros, in recent years. "Izakayas, which are popular eating and drinking establishments in Japan, are becoming more popular in the U.S.," says Weil. "And more places are using binchotan, a charcoal imported from Japan, to cook foods like meat and skewered fish."
Binchotan charcoal, more compressed and denser than the traditional type, imparts extremely high heat that produces a good sear and flavorful result. This is most often used in conjunction with charbroilers, although it requires hoods that can handle high heat.
"The makeup air has to be in line when using this charcoal, due to the amount of heat expelled," says Weil. "A restaurant's fire suppression system has to be adapted as well."
The high heat and ventilation in tableside hibachi cooking are the biggest challenges in the segment. Not only do operators need to take the hood system and fire suppression requirements into account, but they must also take into consideration regulations in terms of food safety with the lack of sneeze guards, use of raw meat and fish and proximity of the guests to the food preparation area.
Relative to others, this segment uses less equipment — basically hibachis and items for prepping — which keeps the investment cost at a reasonable level, says Weil.
That is not the case with sushi, which many hibachi restaurants now offer due to its rising popularity and more reasonable price points.
"More people associate Japanese food with sushi, which requires a lot of prep, refrigeration and display cases as well as deep freeze chests that hold below 40 degrees F," says Weil. "These restaurants need to receive, hold, cut, refrigerate and serve fresh, uncooked fish. Because this is accomplished with bare hands, health departments may require a waiver, and there is stringent HACCP (Hazard Analysis Critical Control Points) monitoring and recording that must take place."
Sushi offerings can help expand a Japanese restaurant's demographic and also increase traffic. Among Millennials who are frequent ethnic cuisine eaters, 38 percent say they eat sushi at least once a month, with 78 percent of those who eat it frequently or occasionally ordering at a table service restaurant, reports the NRA.
Adapting to the Market
When Michelle Lin, her husband Jian and their partner Peter Chin opened Sumo in Alexandria, Va., five years ago, it was a hibachi-centric concept. Jian had formerly worked in a Japanese restaurant and the couple wanted to create a family-friendly place that their two young daughters would enjoy.
"My daughters love eating sushi and healthy foods," says Michelle Lin, whose husband is a chef, but not a sushi chef.
Sumo seats 180, not including its 20-seat party room, sushi bar and cocktail bar area. It separates into two dining rooms, one for sushi and the other with hibachi tables where chefs perform their feats in front of customers in traditional Japanese style. "We offer hibachi at lunch, which is pretty busy, although the sushi room tends to be busier during these hours," says Michelle Lin.
The hibachi menu offers the standard favorites, including a selection of meat and seafood, fried rice and noodles. Dinners include the customary clear, miso or seafood soup; salad; fried rice; noodles; meat and/or seafood; and vegetables.
Hibachi tables seat 8, but more often than not, the staff push together 2 tables in a circle to seat 16 to 18. Sushi bar seating overlooks the production area and three chefs. Equipment in this section includes two refrigerators, an ice maker, a wooden sushi boat, and sushi knives and a cutting board for prep.
The sushi/sashimi menu provides meals and a la carte selections, such as regular and hand rolls and rice-free options.
Sumo's most popular selections include the Volcano roll with shrimp tempura, red hot sauce and avocado wrapped inside out, deep fried with crunchy spicy salmon, tobiko and scallion on top; the Tiger roll with spicy tuna and avocado wrapped inside out with tuna, white tuna, salmon and a crunchy ingredient on top, served with the chef's special sauce; and the Angry Bird, which includes shrimp tempura, cucumber and mango inside the wrap topped with lobster salad, eel, avocado with eel sauce, mango sauce and tobiko.
The main kitchen team prepares all rice for sushi items with a rice cooker. The back of the house, which comprises about a quarter of the restaurant, includes a convection oven, range, fryer, steamer and microwave for cooking.
"I'd say the most integral piece of equipment is the fryer for preparing tempura, which we make a lot of," says Lin. "We also get a lot of use out of our flattop, which is used to prepare hibachi items for takeout."
Sumo has a happy hour each day between 3 and 6 p.m., offering a sushi roll and drink for half off the regular price. Its bento boxes for kids also have been well received, with options that include chicken, beef or shrimp teriyaki, or shrimp or chicken tempura. This year, the restaurant plans to expand its menu to ramen in response to customer requests.
"Sushi is definitely becoming more popular, but local ingredients are not a trend we're seeing," says Lin. "Instead, people are seeking authentic Japanese food."
Sushi with a Southern Influence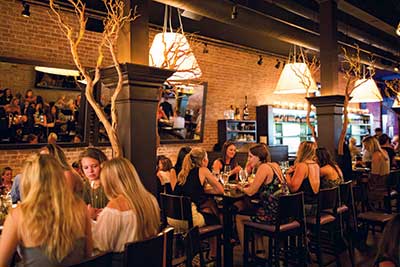 What sets O-Ku apart is its relaxed atmosphere that includes up-lit tree branches and exposed brick.The southern U.S. may not be top of mind for cutting edge sushi restaurants, but O-Ku aims to change that perception.
The first location opened in Charleston, S.C., seven years ago, with expansion into Atlanta in 2015 and Charleston, N.C., last September. Managing partner Kimball Brienza describes the concept as high-end Japanese sushi with high-end Southern items.
"We source from local fisheries and farms, and include exotic fish offerings with seafood from Japan and Chile as well as Virginia, Maine, California and Oregon," says Brienza.
A relaxed atmosphere sets O-Ku apart from other upscale Japanese/sushi spots. Each location features different designs that contain common themes such as up-lit tree branches and exposed brick. The same holds true with the menus, which have similar formats, yet include signature offerings unique to each restaurant's chef.
"We have staples on all three menus so guests that come more frequently can order their favorite dishes," says Brienza. "Yet, our sushi rolls are different at each restaurant."
One sought-after offering is Black Magic, a hakosushi or box-type sushi that includes squid ink pressed rice stuffed with fresh lobster tails, masago aeoli and scallions layered in a classic Napoleon style. Another signature item is A5-Graded Wagyu Beef, which is sourced in Nagasaki, Japan, from specially-bred cattle. "Guests can sear this beef at the tableside on hot stones," says Brienza.
Another signature item at O-Ku is the Lemon roll, which has crab, avocado and cucumber on the inside, then Scottish salmon wrapped around the outside with paper-thin lemon, then pressed for a citrus blast. And the restaurant's Caronara, squid ink pasta combines candied bacon and fresh sea urchin with fresh lemon on the side. "The bacon is candied, so the lemon juice sets it off," says Brienza.
But the highlight throughout O-Ku's menu is fresh fish, notably the salmon tartar. The dish incorporates a ring mold of wasabi guacamole, wasabi relish, Scottish salmon and seasoned micro greens topped with fried lotus chips. Another fish dish, Crudo, features paper-thin slices of flounder or white fish topped with extra virgin olive oil, lemon juice, sea salt and basil pesto.
Emphasis is put on clean flavors, with ponzu a common ingredient. Ponzu is a citrus-flavored soy sauce that's less salty and includes truffle oil.
No larger than 4,000 square feet, each of the three restaurants seat 120 and reserve just 800 square feet for the kitchen and sushi bar.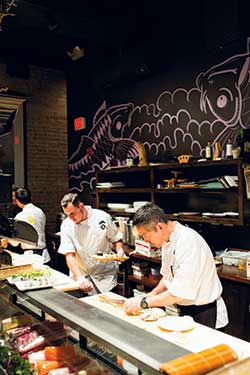 O-Ku's sushi bar is in the dining room, but still considered a food prep area."The sushi bar is in the dining room, but still considered a food prep area," says Brienza. "The kitchen backs up to the back of the sushi bar, where guests sit and have dinner on plates made of cured South African bubinga wood. The great texture and dark brown color with a hint of red and pine are a perfect backdrop for the sushi."
This area contains refrigerated sushi cases with fish on display, along with low boy reach-in coolers. Chefs prepare items on cutting boards atop the coolers. Small broilers for heating eel and other items, plus three hand-washing sinks, sit nearby. "This is an important element, as sushi chefs are needing to constantly wet their hands to work with the sticky rice as well as wash their hands," says Brienza.
One of the difficulties for restaurants with separate sushi areas is timing the sushi to link up with hot dishes prepared in the kitchen so everything goes out to the table at the same time. "Timing is the biggest issue, since we can't prepare the sushi too soon if the hot food is not ready at the same time," says Brienza. "That's the hardest thing when opening a new restaurant, getting the expediter acclimated."
O-Ku's restaurants feature an in-line design with pass-thru windows for sending food from the kitchen to the expediter. Heat lamps keep plates warm — never the food — for brief periods.
The operation features other unconventional aspects as well. Rather than a traditional grill, O-Ku utilizes an infrared version — similar to an upside-down broiler — to cook fish, particularly the black cod popular in Japanese restaurants, along with skewers. To avoid the high heat of the grill, skewers cook on racks that hover above the actual heat source. Suspending them conserves the meat's moisture.
A couple deep fryers handle the tempura items used for appetizers and in sushi rolls. Dishes are sauteed on a six-burner range. The main kitchen includes a number of sinks used for cleaning and breaking down the whole fish. "Our health codes require a vast amount of sinks for vegetables, poultry, meat and fish prep," says Brienza.
Another unique piece of equipment at O-Ku, the super freezer holds fish prone to harboring harmful bacteria at temperatures of minus 60 degrees F. "While some sushi restaurants receive fish frozen, we try to get as much fish as possible in whole form," says Brienza. "Some have to be
broken down, wrapped properly and put in a super freeze state as a precaution. We also use this unit for creating specialty cocktails' cylinder ice cubes and storing ice cream."
O-Ku will continue its growth trajectory in 2017, with a fourth location in the works in Washington, D.C. — its first in that market. Future sites will concentrate on Southeast states, says Brienza.
Steeped in Tradition
Shoji is divided into a hibachi section and a sushi dining room.With so many traditional Japanese restaurants in the hibachi space, it can be difficult to set a concept apart.
Though Frisco, Texas' Shoji Sushi & Habachi restaurant offers strictly traditional fare, its goal is to be distinguished by its service. It opened almost exactly a year ago. "We set ourselves apart with our service, which has to be family-friendly and good enough to get people to become regulars," says Daniel Jung, general manager. "Every Japanese restaurant essentially has the same menu, unless it's trendy or in a downtown area. For us, it's more about meeting people's expectations in being traditional."
Shoji's main focus is hibachi cooking, which comprises about 50 to 60 percent of its business, followed by sushi at 15 to 20 percent and alcohol at 10 percent. "We have a small bar, as we mainly attract families, so parents may order one drink with their meal," says Jung.
The dining room includes eight grill tables, and there also is a private hibachi room.
Like other hibachi concepts, the menu includes meat, seafood, vegetables, fried rice, soup and salad. Shoji recently added Kobe steak to its offerings.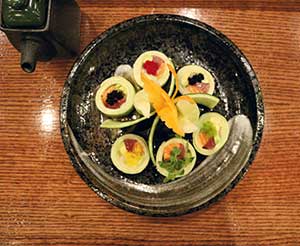 Below: Shoji's sushi menu includes 70 specialty rolls, among other traditional offerings.The sushi menu contains approximately 70 specialty rolls. Among the most popular are Climax, with spicy tuna, three sauces, green onions and jalapenos; and the Texan Steak Roll, combining jalapeno, asparagus and fresh avocado, topped with spicy crab, seared New York strip steak and the chef's
special sauce.
"Our restaurant is mainly based around steak and sushi rolls," says Jung. "We're in a traditional Dallas suburb with many families, so we also offer kid portions for the hibachi."
The 800-square-foot kitchen includes a cook line with a wok, oven, fryer and broiler. The back of the house also includes a prep refrigerator, walk-in refrigerator, walk-in freezer and prep tables. Staff prepare hibachi items in the back and bring them out in carts. Staff prepare these ingredients, which includes hand slicing, for lunch and dinner.
The sushi bar opens to the dining area and sits adjacent to the kitchen. It contains a display refrigerator and freezer. Fish is delivered three times a week.
Well-known by locals for its birthday recognitions, Shoji marks the occasion with a gong, drums and songs sung by the servers.
The dining room at Shoji includes eight grill tables, where chefs prepare and serve meat, seafood, vegetables and fried rice.A second location, currently in the works, will be identical to the current concept.
"The Dallas area is growing very fast right now," says Jung. "We have started offering an app card that people can upload on their smartphones where, after nine visits, guests get $30 off their meal. We're also stepping up our e-mails and personal notifications, offering discounts and incentives to try and get customers in more than once a week."