Facility serves as a model for green and regenerative building design.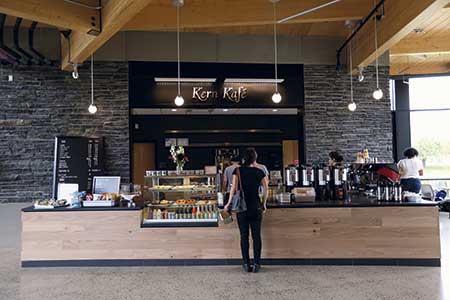 Kern Kafé brings a much-welcomed service to the R.W. Kern Center, the first major new building constructed at Hampshire College, Amherst, Mass., in three decades. The cafe sits in the center's airy, double-height commons space, an area filled with natural light, and provides drinks and refreshments to members of the entire community, including students, faculty, staff and visiting families of prospective students.
The 17,000-square-foot R.W. Kern Center serves as both a new gateway to campus and a beacon of sustainability. "The Kern Center is designed to meet the Living Building Challenge [LBC], the most rigorous green building standard," says Jason Jewhurst, AIA, principal, Bruner/Cott Architects.
The vision for Kern Kafé is consistent with the LBC's overarching philosophy of striving to create a new model for green and regenerative building design. The building is expected to operate on 100 percent renewable energy on an annualized basis, supplying its own water and treating its own waste water on-site. The building's grey water gardens, sitting on the ground floor, treat the waste water. The building is also 100 percent powered by roof-mounted solar 118kW PV array, and 100 percent of the water supply will soon come from water harvested from the roof and treated to potable-use quality. Equipment automatically turns off at night and when not in use.
With high-efficiency equipment and design elements, the cafe features net-positive energy, not just net-zero energy. The on- and off-site composting program contributes to the zero-waste operation. All of the cafe's dishware, cups and utensils are compostable. The electric appliances must go through a vetting process for power demands. The coffee bar is 100 percent Red List compliant, which means it contains no harmful materials and meets the Living Building Challenge 2.1 design requirement.
R.W. Kern Center's commons area offers a spot for students to enjoy their Kern Kafé purchases and socialize. Photo by Robert Benson PhotographyR.W. Kern Center also serves as a living laboratory where students and the public study its systems and performance, tied to sustainability measures.
"The main challenges in the design were commissioning the grey water treatment system and continuing to reconcile actual energy usage verses budgeted usage values," Jewhurst says. He adds that another challenge for the cafe was "finding the right operator willing to adjust to the unique opportunities and challenges that come with a net positively operated venue."
Hampshire College's answer to that challenge was to partner with Howard Wein, founder of Howard Wein Hospitality LLC, to manage Kern Kafé. Wein, an alumni and former trustee, oversees hiring, menu development, staffing, training and profitability. The owner of The Alvah Stone, a restaurant featuring American cuisine in nearby Montague, Mass., Wein joined the project after the space was designed but selected the coffee brewing equipment and espresso machine. He also brought along several associates from The Alvah Stone to work at Kern Kafé and its support kitchen: Ken Scriboni, general manager; David Schrier, chef; and Jessica Pollard, pastry chef.
"I have a deep relationship to the college, providing the campus community with high-quality baked goods, sandwiches, soups, salads and espresso drinks is very appropriate," Wein says.
Hampshire College partners with Bon Appétit Management Company to provide foodservice for its other dining locations.
Preparing and Serving a Rustic Menu
Food for Kern Kafé arrives on an electric vehicle from Prescott Bakery, located across campus in Prescott Tavern. Prescott Bakery, formerly a commercial kitchen that hadn't been used for years, was specifically refurbished so Wein and his team could prepare menu items for Kern Kafé and Wein's on-campus catered events. A storeroom behind the unit contains a large collection of equipment for the catering program, including coffee service, fresh-baked breakfast items, lunch items, such as sandwiches with the house-made focaccia, soup, noodle dishes and grain-based salads.
Prescott Bakery Manager Eli Horowitz works in the Prescott Bakery kitchen. Photograph by Andrew Hart"The menu changes daily, which gives the cafe as non-institutional a format as possible," Wein says. "We make all of our baked goods from scratch from raw ingredients at Prescott Bakery. " The bakery menu includes focaccia, other breads, pastries, muffins, brownies, blondies and pretzels. Team members also prepare two soups daily and salads.
Food purchases follow guidelines established in 2014 when Hampshire announced its aim to source 100 percent of its food from within a 150-mile radius, with minor exceptions, such as coffee, citrus and fish. Wein pursues these goals by working with vendors supplying products for the Alvah Stone.
Prescott's Bakery equipment includes a six-burner range, a griddle with two convection ovens beneath, a double-stacked convection oven, and a work surface with flour bins beneath that can be rolled over to two 30-quart floor mixers. Team members roll out all of the dough and proof it in a box.
"We ship food to the cafe as many times each day as we can so the food stays extremely fresh," Wein says. "We're trying to produce exactly what is consumed. Our philosophy is we'd rather run out of food than throw out food."
At Kern Kafé, a small storeroom behind the cafe holds compostable serviceware, napkins and plates, coffee, tea, sparkling water, soda and supplies provided by a local company for making chai drinks.
"We designed the coffee counter to showcase locally sourced wood and stone materials that echo the material palette of the building's interior spaces," Jewhurst says. Warm wood tones are offset by patterns in the locally quarried stone that surrounds the cafe. Reclaimed oak planks were milled from trees that were removed from the site for the project. Custom inlaid wood coffee tables were also constructed out of the same reclaimed oak.
At the serving counter, an ambient display case holds locally sourced pastries. Four undercounter refrigerators hold cold beverages, salads and sandwiches. Only a few sandwiches and salads are displayed on an ambient counter at any one time in order to minimize the energy output needed to keep them at proper temperature. Two soups stay warm in a bain marie. A hotel pan contains bread for warming. The drip coffee machine and espresso machine sit on the serving counter.
Students, faculty and staff send rave reviews about the fresh, rustic products at Kern Kafé. They're also impressed with the mission of the cafe and pleased that the building represents a sustainable future.
---
Kern Kafé by Design
By rerouting an existing dead-end road and strategically placing the new building, the R.W. Kern Center project frames a new campus quad. Inspired by the surrounding mountain range, the center features a roof that organizes the design, produces energy and collects rainwater. The building sits beyond a meadow that replaced an asphalt drive.
The south facade's operable exterior shades balance daylighting and solar gain. The functional landscape expresses the path that water takes from collection to groundwater recharge. The size of the rooftop array, a solar power station, provides all building energy annually.
Kern Kafé anchors the lobby of the R.W. Kern Center. The natural light from floor-to-ceiling windows connect the space to the outdoor environment and minimize electric lighting use. Photograph by Robert Benson Photography
Key Players
Ownership: Hampshire College
Director of Dining and Event Services, Bon Appétit: Michael McKenna
Director of Facilities: Carl Weber
Hampshire College Farm CSA Program Manager: Nancy Hanson
Kern Kafé Manager: Howard Wein Hospitality LLC, Montague, Mass.; Howard Wein, founder
Prescott Bakery Manager: Eli Horowitz
General Manager at The Alvah Stone, owned by Wein: Ken Scriboni
Chefs at Alvah Stone: David Schrier; Jessica Pollard, pastry chef
Architect: Bruner/Cott Architects, Cambridge, Mass.; Jason Jewhurst, AIA, principal
Interior Designer: Bruner/Cott Architects
Foodservice Consultants: Colburn Guyette, Rockland, Mass., and Kohler & Lewis, Keene, N.H.
Equipment Dealer: Gillette Restaurant Equipment, Holyoke, Mass.
Construction: Wright Builders Construction Inc.; MJ Moran and Crocker Electrical Company
Facts of Note
Opened: June 2016
Scope of Project: New-build cafe and coffee bar designed to meet Living Building Challenge Red List materials design requirement. Also included was the renovation of a preparation space, called Prescott Bakery, in another building
Seats: 30 in lobby of R.W. Kern Center
Size: R.W. Kern Center, 17,000 sq. ft.; Kern Kafé, 250 sq. ft. behind the counter; 500 sq. ft. of table seating in commons space in the building lobby
Average Check/Kern Kafé: $5
Total Projected Annual Sales: $200,000
Daily Sales: $1,300
Hours: 8 a.m. to 5 p.m., Monday through Friday; 9 a.m. to 2 p.m., Saturday
Menu: Made-to-order hot and cold drinks, bakery items, sandwiches, soups and salads
Staff: 1 kitchen manager and 1 full-time production person in the bakery; 12 student workers
Total R.W. Kern Center Project Cost: $10.6 million
Equipment Investment: N/A for cafe; $18,000 for bakery
Website: www.hampshire.edu