Stadium foodservice programs drive revenue by capitalizing on chef partnerships and implementing the hottest menu trends.
Stadiums count on food and beverage sales as a major revenue source, so it should come as no surprise that today's trends mirror the restaurant industry as a whole. As a result, menus now play a more substantial role in these venues.
"The good news is food has become the star of these facilities, which is something we didn't see 10 years ago," says Chris Bigelow, president of The Bigelow Cos., a consultant firm based in Kansas City, Mo. "Now it has a featured role."
Food and beverage revenues for the top three stadiums ranged from $49 million to $59 million in 2015, according to Chicago-based research firm Technomic. The breakdown among the top 3: $59 million at Los Angeles' Dodger Stadium, $53 million at San Francisco's AT&T Park and $49 million at Chicago's Wrigley Field.
The segment also faces its fair share of challenges. Sponsorships, which often help drive foodservice offerings, may not always be in line with fan expectations or preferences. This can often lead to a push-pull scenario. "Sponsored foods aren't always in sync with what customers are seeking, but these companies pay a lot to be featured, so sports teams struggle with this," says Bigelow. "It's a choice between going with sponsors or featuring local companies."
While a decade ago there were few exceptions, it has become more common to opt for local, especially with the current trends. That includes implementing more chef-driven concepts, such as Master Sushi Chef Katsuya Uechi's Katsuya at Los Angeles' Staples Center and Traci Des Jardins' Public House restaurant at AT&T Park.
"Almost every major stadium and arena right now has some connection with local chefs and restaurants for authentic, rather than concessionaire versions, of popular menu items," says Bigelow.
That translates into greater demand for full on-site cooking at stadium point-of-sale locations which now have equipment packages that include ovens, grills and fryers incorporating ventilation hoods. Portable equipment, like carts and kiosks, play critical roles in this segment, as do hand sinks, induction units and ventless hoods.
"Fans want cooking out front, so we're removing walls and eliminating back rooms," says Bigelow. "These operations are emulating the Chipotle chain's concept."
As a result, commissary cooking has been relegated to expanded menus for club seats, suites and catering operations. While the commissary may be going away, these foodservice operators still continue to use central back-of-the-house storage designated for delivery and refrigeration space.
In an attempt to keep the competition on the playing field and out of the back of the house, where storage and refrigeration space can be tight, stadiums are more likely to use master concessionaires that serve as the main licensee for restaurant brands. "Many stadiums adhere to this to avoid dealing with six or seven different operators," says Bigelow. "This is why the majority use management companies, although more sports teams are hiring contract compliance officers to oversee it all."
Bigelow also notes a big shift to packaged products due to health department regulations and customer preferences. That has led to innovative creations, including self-serve walk-in beer coolers that emulate a convenience store environment for packaged beer, which was popular a couple of years ago.
In this segment, success is as much about quick execution and speed of service as it is keeping current with menu trends.
It's not unusual for the popularity of a brand to wane after a year or two and subsequently not drive the volume needed to be profitable. "If a venue can get three to five years out of a concessions concept, that's a good thing," says Bigelow.
A Total Refresh
Today's stadium redesigns focus on updating equipment to increase efficiencies, while also promoting a higher quality menu with more visibility during the cooking process. Salt Lake City's 25-year-old Vivint Smart Home Arena fits that bill as it undergoes a major facelift that includes a complete overhaul of its foodservice program.
Scheduled for completion last fall, the renovation increases points of sale on the main and upper concourses to 172 from 151.
"The idea is to have low profile countertops so customers can see food being prepared," says Mark Stedman, general manager of food services at the arena. "This way, there's a real connection between fresh, on-site food preparation and the fans."
Four new corner concession locations total about 2,500 square feet. Two feature fare from local restaurants that were still being negotiated at press time, but are expected to be Mexican food as well as healthy pub fare. Burger and pizza concepts round out the offerings.
The new design offers traditional concession items to those sitting in the suites and club seats, rather than just upscale dishes. This new sports food menu includes pizza, burgers and sandwiches like cheesesteak.
A new concession kitchen on the main concourse, the first for the arena, supports the new concepts, in addition to a couple of newly added catering kitchens.
"One of the key changes we're making in all clubs and suites is going toward induction warmers in place of chafing dishes," says Stedman. "This is a huge change for us in the premium areas." Club areas will expand from seven to nine with the redesign.
New concession equipment located throughout Vivint's concourse foodservice areas includes deck ovens for pizza, plus a variety of grills, broilers and fryers. Combi ovens replace stacked convection ovens.
"We're basically replacing almost all of our equipment, aside from sinks and stainless tables, since most of our concession units are outdated," says Stedman. "We're looking to increase energy efficiency, but also add traditional units that will help expand our menu offerings."
The event-driven nature of stadium foodservice makes staffing and managing inventory the biggest challenges.
Post redesign, more batch cooking vs. cooking and holding food will service premium areas. That will ease fresh product distribution from the production kitchens, which will in turn be located closer to the club seats and suites.
"Everything used to come out of one kitchen and was then transported to all locations," says Stedman. "The idea is to have people come early for dinner here, rather than go to restaurants. With the new concession areas, we'll be able to offer customers more variety."
Adapting for Fans
Oakland Coliseum has expanded its foodservice offerings for baseball and football fans.Unlike other segments, stadium foodservice programs need to adapt to sporting events' schedules. For example, rush periods are less defined in a three- to four-hour baseball game. With no singular designated break, fans leave their seats at different times. That does not hold true for football games, where fans seek food and beverages primarily during halftime. In both cases, speed of service is key.
As the only stadium that houses both a baseball team — Major League Baseball's Oakland Athletics, and a football team — the National Football League's Oakland Raiders, California's Oakland-Alameda County Coliseum is the exception.
"The equipment needs are the same for all sporting events, but how the menu is engineered for speed of service and production varies [depending on the sporting event]," says Jay Satenspiel, regional vice president for Spectra By Comcast Spectacor, the coliseum's foodservice provider.
When Spectra took over the 49-year-old stadium's foodservice program three years ago, it was evident the design was not conducive to guest satisfaction or innovative offerings. The plan was to think outside the box and create a vision to change things up. With the outdated infrastructure, this was more easily said than done.
"We were very limited, as the stadium was already built and didn't utilize any cooking equipment," says Satenspiel. "We had to get creative."
A new pizza stand expands the menu at Oakland Coliseum.Most of the concession stands don't include vents or hoods, which restricts equipment possibilities. The 6,000-square-foot commissary was an option, but also had to support 150 suites and the entire catering operation.
Tight concourses and large crowds, which make it prohibitive to rely on the central kitchen to back up concession stands, also add to the difficulties at this stadium. For this reason, the foodservice department has to look at past events and historical data to determine food amounts for each point of sale location.
The decision was made to combine fan favorites, such as chicken sandwiches, Philly cheesesteaks and fries, into all of the concession stands and expand the beer offerings. Previously, each point of sale location was limited to one beer tower, so domestic and imported brands were sold at separate stands.
The Westside Club restaurant, which was lacking in both quality offerings and speed of service, was transformed into a bar and grill with gastro pub offerings. A brick oven was installed, along with 20 beer towers in an effort to create a destination.
"There are beers from local breweries available solely at this location, which have been a hit from the get go," says Satenspiel.
Two years ago, Spectra did away with a dormant, non-producing stand, transforming it into a mixology station in partnership with liquor companies. The beverage lineup includes four different types of cocktails, including specialty margaritas.
The dark Irish pub also was revamped to not only improve aesthetics, but also move crowds through at a faster pace. "The point-of-sale ratio wasn't considered when the pub was built, so we had to look at expanding this," says Satenspiel. "We moved the bar against the wall, doubled beer handles to 20 and added six seats."
Being in the Bay area, the menu considerations needed a healthier bent. In came the Metro Deli, which includes salads, fruit cups, gluten-free items and three hand-carved sandwich options. The only equipment this station requires other than slicers are a couple of display coolers.
Tables to serve carved tri-tip sandwiches are set up during football games, along with barbecue and hot dog stands.
"We're able to stay within the limited equipment specifications with support from the commissary kitchen," says Satenspiel. "With a new pizza stand, a mac and cheese of the day, the barbecue station and brisket offering, we tripled our sales in those areas. We don't want a huge investment, so the goal is to stay in line with what the building can produce and utilize the equipment we have."
For the mac and cheese, this includes a pot well table and steamer, while the pizza stand employs double conveyor ovens that have ramped up speed for service in seven minutes.
Plans for this year include blowing out more concession stands to increase the food variety during Oakland A's games. That includes adding a second chicken tenders and fries stand, possibly adding loaded tater tots to the menu and installing another grill concept.
"We need to look at the big picture and ask how we can make it efficient in the best way possible," says Satenspiel.
Something New
Sloan Park's menu combines Tex Mex with Chicago favorites for those attending Chicago Cub's spring training games.Whereas the Oakland Coliseum's foodservice operations are limited due to its decades-old infrastructure, at Sloan Park, the 2016 World Champion Chicago Cubs' two-year-old spring training stadium, the sky is the limit.
Also run by Spectra, this 15,000-seat venue is the newest and largest spring training facility in the country. It houses six permanent concession stands — three with full cooking capabilities, plus 34 portables.
"Ten years ago, clubs looked at spring training as a necessary evil, but now this has become a major revenue center for clubs and an experience for the fans," says Satenspiel. "In contrast to the coliseum, the planning that goes into a new building includes the vision of what the client wants to accomplish."
While many stadiums consider foodservice more traditional with hot dogs, nachos and popcorn, others focus on aesthetics and how point-of-sale areas blend into the facility's overall construction.
The point-of-sale ratio is a major component, as well. "When we look at this, it is about how many points of sale we have for each guest, since fan experience is the most important thing to bring to a foodservice operation," says Satenspiel. "Fans are buying a ticket, but foodservice can play an important role, so we need to dial in and be on point."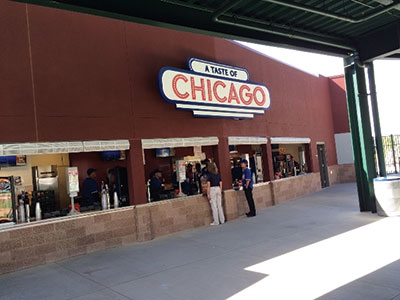 Chicago favorites, including Italian beef, hot dogs and brats, are staples at Sloan Park. The point-of-sale ratio determines how many people staff can help in one line, a significant part of every plan. For sold-out games, Sloan Park generally features a POS ratio of 1 to 110, compared to the standard ratio of 1 to 150. This not only helps drive revenue, but turns lines more quickly, leads to more efficient operations and, as a result, improves fans' overall experience.
The next step is looking at the overall construction picture and what equipment the stands provide. At Sloan Park, some areas have hoods for frying and grilling, while others don't have that capability. Menus are then planned around the equipment.
"People eat with their eyes and nose first, so it's important to create a stadium with great smells," says
Satenspiel. "Here, everything is cooked fresh to order."
The menu includes basic fan fare, such as hot dogs, nachos, soda and beer, along with Chicago stalwarts, like deep dish pizza and Italian sausage. The stadium also sells such Southwest favorites as tacos and burritos, which creates a unique regional symmetry.
"The plan was a taste of Chicago meets the Southwest," says Satenspiel. "Those who are retired and living in the area can still get a taste from home, such as Portillo's Italian Beef, Vienna Beef hot dogs and Old Style beer."
The full cooking stands' equipment package includes hood systems, fryers, charbroilers, flattops, steamers and convection ovens. From a menu perspective, these locations can crank out just about anything and provide greater flexibility. Products not moving are changed out for another item. Menus reflect the changes, which are unlike cookie cutter food programs at other stadiums.
By comparison, stands without hoods have more limited capabilities and offerings. Roller grills produce hot dogs, and prepared wraps, salads and fruit cups are sold in these locations.
Preparations for opening day are extensive for Sloan Park's main kitchen and commissary.An approximately 2,500-square-foot kitchen and commissary sits adjacent to the warehouse and loading dock. The operation not only supports all concession stands, but also the stadium's extensive catering operations and baked goods program. It houses almost any type of equipment, including large walk-in coolers and freezers, double convection ovens, double steamers, fryers, tilting skillets, flat tops, ovens, char broilers and combis.
"This is the heartbeat of our operation, since both cooking and non-cooking stands are provided with a certain level of support from the main kitchen," says Satenspiel. "For example, if we have a stand overrun with hot dogs and can't keep up, we'll go back to the kitchen and throw 300 hot dogs in the steamer."
In this business, it's key to know the type of crowd by the promotion and day, and look at past stats to gauge the crowd numbers, which constantly evolve. "It's easy to get complacent, so we're always pushing the envelope to ensure a positive guest experience," says Satenspiel.
Like at most stadiums, staffing presents Sloan Park's biggest challenge. With spring training facilities only open one month out of the year, revenues are dependent on about 15 days. It can therefore be challenging to recruit staff looking for a longer-term commitment.
"This facility is only open in March, so we're training people and then they leave," says Satenspiel. "It's a constant battle."