Changing the industry one system at a time
Customers pick up food at the Eatsa cubbies assigned for their orders.Eatsa in San Francisco takes customer-facing technology to the max. No humans work in the front of the house. Customers use tablet computers to place their orders from a menu that features quinoa bowls. Cooks assemble the bowls behind a wall lined with cubbies. When the orders are ready, an electronic sign directs customers to the cubbies where they can pick up their food. This particular automated restaurant represents the extreme, and the concept works best with a very limited menu. However, many chains continue to look to technology to improve their customer experience and help enhance the bottom line.
"Given the continued emphasis on speed of service and freshness, designing facilities is constantly evolving," explains Scott Gamble, senior foodservice designer, operations planning and design at WD Partners. WD Partners bills itself as a customer experience expert, with its business development office in Columbus, Ohio. "Not only are operators utilizing front-counter serving methods to build orders and increase throughput, they are also incorporating separate work stations dedicated to filling online orders. Like the front serving counters, these stations are typically located adjacent to the cooking line to maintain a steady flow of fresh food."
This turn to technology also affects the back of the house. "As we design the back of the house, we have to program in the space and equipment needed to create efficient work stations dedicated to online ordering," Gamble says.
When a kiosk houses both the ordering and payment system, the restaurant space has to accommodate both the customers ordering at the kiosk and those who order through traditional counter service. Gamble says they plan the flow so it creates a clear space to go directly to either ordering method as well as to the pickup area. Each path should be easily recognizable. The spatial design also has the goal of moving lines quickly to eliminate congestion at kiosks and the counter.
Kiosks at Wow Bao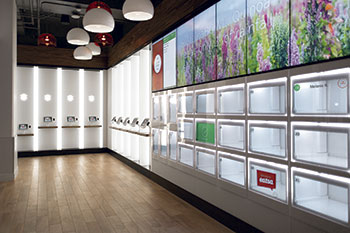 The fully automated Eatsa restaurant operates without human interaction in the front of the house."Self-ordering kiosks are great on many levels," says Geoff Alexander, managing partner of Wow Bao and executive vice president of the chain's parent company, Chicago-based Lettuce Entertain You Enterprises Inc. (LEYE). "They never ask for a day off, they never take vacations, they never ask for a raise, so all that is really positive from an operator standpoint."
LEYE now operates five company-owned Wow Bao stores serving Chinese bao (buns), rice, noodles and salad. Each unit has two kiosks. Alexander points out that consumers use kiosks every day for banking, ticketing and any number of electronic tasks, so they take quickly to kiosk ordering and payment. When the chain started, there were two to three cashiers per restaurant. With the kiosks, only one cashier is required.
The process starts with the swipe of a credit card. That brings up the previous four orders. The customer can press a button for any one of the orders and be done. Customers can also customize orders. Pictures depict all of the menu items, eliminating any language issues. When a customer selects a picture, a message that is the equivalent of "Do you want fries with that?" appears. The order goes into the regular queue, and the customer picks it up in the same place where cashiers take orders.
The kiosks, by reducing the number of cashier stations, allow Wow Bao to occupy a smaller footprint, which saves on buildout costs and labor. "With the kiosks, we can separate them from the regular traffic flow of the customer," Alexander says. "You have two different lines. The lines can be shorter overall, so from a customer experience perspective, they don't feel they've been waiting long at all."
The only downside of the kiosks is that the technology can unexpectedly go offline, crash or need an update. "It's the same potential problems as a POS system," Alexander says. "The same kind of headache."
Both Wendy's and Panera Bread are also installing kiosks and reducing the number of cash registers. Wendy's expects to roll out the systems by the end of the year. Panera, which has dubbed its kiosk and online ordering efforts "Panera 2.0," is revamping all of its units.
Panera 2.0 has had an impact on both the front of the house and the back of the house. Customers can order from a cashier, kiosk or mobile app (either at their table or from outside). Panera locations now include a rapid pickup shelf for online orders. For customers dining in Panera stores, staff members deliver food orders to tables. As a result, customers no longer have to stand and wait for their orders. This helps with the flow of people through the restaurant. Customers can also view the order status on monitors to see where their food is.
In the back of the house, verbal confirmation of modifications to menu items and a person checking orders before they go out improves accuracy. While the production area used to be open to the dining area, a wall now closes it off. All of the changes were designed to improve the customer experience.
Third-Party Online Ordering Is Convenient but . . .
Customers collect food at assigned cubby.Third-party online ordering systems (TOOS) continue to surge in popularity. Also referred to as aggregators, examples of TOOS are UberEATS, Grubhub, EAT24, and DoorDash. Consumers order through apps on their phones. A restaurant unit may use as many as seven or eight aggregators. They increase business but have one drawback. Each TOOS equips the unit with a tablet that records the orders. With even one tablet, a staff person has to monitor the tablet and enter the order manually into the POS system. If the unit has agreements with a number of TOOS, more people are needed to manage the orders, and inaccuracies are more likely. With the current lack of labor, this presents a significant problem. Nothing will hurt repeat business more than delivering the wrong order to a customer.
As a result, some companies continue to develop software that integrates the TOOS with the restaurants' POS systems. This saves the labor needed to monitor the TOOS tablets and manually enter the orders.
In addition, these systems help make online menu changes and can automatically call each TOOS to let it know when the order is ready to be picked up. Without the integration software, this also has to be done manually.
One restaurant using this integration software is Oaxaca Taqueria, a 15-unit chain in Manhattan. Oaxaca doesn't have ordering technology in the units. According to Frank DeSalvo, director of operations, they want good interaction between counter staff and guests. They do, however, partner with a number of aggregators and use the Chowly system to support that. DeSalvo says that, before using Chowly, they had to dedicate staff, and the human error in manually entering orders from the TOOS tablets was significant.
Staff who had previously monitored and entered orders can now focus on the food and customer service instead. DeSalvo says they will also now be able to engage with additional aggregators.
Equipment Needs Can Change
Some chains adopting mobile ordering systems now incorporate holding equipment into their operations. There may be a need to hold product at the front of the serving line or to hold orders until time of pickup.
Overall, there is a trend to downsize space to lower operating costs, Gamble says. At WD Partners, they look at how product is stored, prepared and delivered to the customer with the goal of reducing the footprint while improving flow to achieve efficiency.
There is also a trend toward rapid cooking methods and equipment, such as combi ovens, to ensure speed of service.
Just Because You Can Doesn't Mean You Should
Vicky Leavitt cautions operators not to jump to use technology just because it's there. Leavitt is the CEO, consumer and retail brand experience for North America at Interbrand, a New York–based company specializing in design, building and rollout.
First, Leavitt says, the operator needs to gain insights around the guest experience with the brand. "It's the role of technology to support the iconic brand experience," she says, "not the other way around."
When considering the use of ordering technology, identify what determines successful customer satisfaction. What are the customers' expectations? Is it grab and go? Is it a sit-down meal that requires the attention of a server? Leavitt gives the example of a certain large, independent restaurant. The owner saw an example of interactive tables where customers could not only order but play games. Why not put one of these in his restaurant? Leavitt searched out another restaurant with the system and saw that each person at the table was totally engrossed in the buttons in front of him. No one was interacting.
In a case like this, Leavitt says, the server becomes a delivery person only. Her client actually wanted to increase the time that servers could interact with guests, so she pointed out the negative of using the technology for technology's sake.
Ordering kiosks at Wow Bao stores reduce the number of cashier stations needed.In fast-food or fast-casual restaurants, that focus on speed makes it necessary to step back and determine what the brand means and what defines success. It may be about speed. It might be about accuracy, or it might be about labor efficiency. Once the priority is determined, the design and equipment can be adapted to achieve the desired outcome. "You have to have a clear idea of who your guests are and why they are there," Leavitt points out. "Then, you can create the space and logistics that serve their needs and wants best."
WD Partners' Gamble says that it is easier to design these changes brought about by technology for new construction. "It's relatively easy to plan and program in space requirements for ordering kiosks, pickup and grab-and-go areas," he says. "The challenge is to pull this off when, for example, adding kiosks into an existing operation. You have to incorporate them in a way that they don't look or feel like an afterthought."
The positive outcome of customer-facing technology is an increase in business. Wao Bao's Alexander says, while traffic volume varies by daypart, they can serve more than 300 people an hour. At least half, if not more, order through the kiosks. And the check average is about $1 higher for kiosk orders.
Customer-facing technologies can have the potential to decrease the footprint, improve operational efficiencies and cut down on labor. The things to be careful of are the design of both the front and back of the house, the flow of ordering and pickup, the appropriate equipment to support the systems and, most importantly, how the technology will make the guest experience better.
In a Nutshell
From ordering kiosks and tablets to third-party online ordering systems, (TOOS), customer-facing technology continues to change the way operators do business. Defined as hardware or software that a customer deals with directly, the systems are a high-tech response to consumers' ever-increasing demand for convenience. They represent a lifestyle change, helping make consumers' lives easier and hassle-free. However, the technology can also have a significant impact on an operation's design and equipment needs.