Wine bars transform in an effort to attract a broader, more diverse demographic.
The metal wine bottle tower at the center of the dining room showcases Purple Café's concept. Photo courtesy of Purle CaféLargely viewed as an occasion destination, wine bars offer a unique experience. Strangers are far more likely to interact in a wine bar format than in traditional full-service restaurants, and guests more frequently share menu items.
"Consumers are looking for dining options that offer exploration and discovery, and wine bars have built this into the service style and food approach," says Aaron Allen, owner of Aaron Allen & Associates, an Orlando, Fla.-based restaurant consultant. "There's still room for growth and expansion in this segment.
"We're also seeing unique things in terms of flavor profiles, with South African wine and dessert wines from Hungary," Allen continues. "Consumers are looking for more authenticity and profiles, and wine bars give operators a point of differentiation among non-wine bar competitors."
Overall, restaurants now offer a larger variety of wines. In fact, wine menus grew by 33 percent between 2012 and 2015, according to market research firm Mintel, based in London. While dessert and sparkling wine showed the biggest change, growing 61 percent over a 3-year period, almost every type of wine experienced growth — wine coolers and rose/blush varieties were the only exception to growth trends.
While port wine makes up the bulk of the dessert wine category, many other dessert wines also show strong directional growth. These include sherry, ice wine, fortified wine and Madeira wine. Sparkling wine's popularity bumped that segment to 81 percent growth between 2012 and 2015. Many more young people drink sparkling wine today, according to Mintel data. While Baby Boomers are more likely to drink wine than Millennials, the younger generation is more likely to drink sparkling wine.
For restaurant operators, wine bars also offer a lower barrier to entry, as many have more limited food offerings. That means lower overhead, equipment costs and labor. "These concepts fit into small spaces, so there is less capital investment," says Allen. "With rent and labor costs increasing, wine bars can do very well with margins."
An Evolving Experience
The appetizers and cheese and meat plates at Purple Café & Wine Bar make up almost half of the menu. Photo courtesy of Purple Café.Although California and the Pacific Northwest are hot spots for wine connoisseurs, the wine lineup at Seattle's Purple Café and Wine Bar spans the globe. This operation's eclectic, always-changing menu features a diverse wine selection. Owners Heavy Restaurant Group also operate several other Seattle-area dining concepts.
Since its inception in 2001, the Purple Café has grown to four locations throughout the extended Seattle area. The concept's flagship Seattle wine bar imparts an urban, chic feel. Residing in a 2-story glass building, the 2 levels seat a total of 225 people, including a private party space. The mammoth metal wine bottle tower in the center of the dining room offers definitive proof of the concept's vino focus.
"Our wine really is what drives our cuisine," says Harry "Coach" Mills, executive chef. "We typically use wine-producing countries and the regions' flavor profiles to inspire our menu."
Selections include soup and salads, pizza, pasta, sandwiches and main dishes. The appetizers and cheese and meat plates make up almost half of the menu. Best-sellers include the burrata and stone fruit and baked brie served with apricot preserves, caramelized onions, candied walnuts, grapes and house-made crackers. The restaurant works directly with a local orchard for sourcing high-end tree fruit.
Signature entrees include king salmon with Argentine-style sweet corn pudding topped with olives and bacon in a chimichurri sauce and Muscovy duck and sweet corn served with spaghetti alla chitarra, scallions and ricotta salata.
The chef and sommelier team work together to recommend a wine pairing for each menu. "One of the advantages to having every dish on the menu paired with wine is it won't stagnate," says Mills. "The wine list will change, so we need to make sure each dish is properly paired with another wine, and the same goes for the food."
Although the menu uses upscale ingredients, Purple Café's ambience remains casual and approachable, in the vein of a brasserie.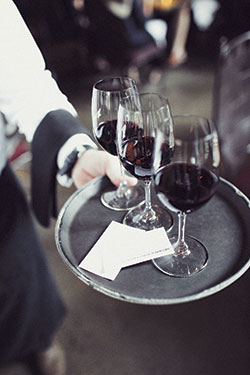 Purple Café typically offers between 80 and 100 glass pours and builds its wine flights with three 2.5-ounce pours. Photo courtesy of Purple Café.The restaurant typically offers between 80 and 100 pours and builds wine flights with a trio of 2.5-ounce pours. The Purple Café typically themes these flights by country, region or wine type, like Bordeaux. "The pour and flight program is what the food is centered around, while the bottle selection is for any taste," says Mills.
The kitchen, which runs about a third of the restaurant's total square footage, includes a trio of 6-burner ranges, a 5-foot grill, a pair of double-basket deep fryers, and a 700-degree F wood-burning pizza oven. A separate prep and bakery area have double-stack convection ovens, a six-burner range and the majority of Purple Café's worktop coolers with towers. The back of the house also holds a walk-in freezer and several large reach-ins. Mills considers it a functional configuration for a kitchen staff of 42.
"We used to have a satellite cold food kitchen on the second level, but with the economics of the restaurant industry changing and the additional labor, it was not profitable," says Mills. That area was moved to the main kitchen and labor was reduced from three cooks to one, who takes charge of the beef tartare, cheeses and charcuterie.
The back of the house runs as an intricate organization, making a small space work. Efficient storage, which includes clear containers in the walk-in, enhances productivity.
Generally known for having extensive wine selections, wine bars often face storage issues. Creativity becomes key, with the focal point bottle tower at the Purple Café a perfect example. "Our storage facility is the centerpiece of our restaurant," says Mills. "People come by to take photos of it, because it's not only spectacular but also serves its purpose by storing thousands of wine bottles." Additional space next door helps with storage, plus Purple Café uses the basement to cellar wine.
Given the menu's hyper-focus on pairings, sampling the food and wine to find a combination that works proves costly. "It's a big commitment in time and money if a restaurant is serious about wine, because any time the menu or wine list changes, the other has to be readdressed," says Mills.
A Process That Works
Crú Food & Wine Bar's modern European decor includes Venetian-plaster white walls with black trim and cognac-colored wood accents. Photo courtesy of Crú Food & Wine Bar.At Crú Food & Wine Bar, wine flights offer customers an approachable, risk-free way to taste multiple wine varieties. The 14-year-old chain includes 9 freestanding locations, 3 at airports.
To keep wine fresh, Crú uses a cost-effective wine preservation system that removes air from the bottles and essentially brings the beverage back to a sealed state. "With this machine, we can extend the wine's shelf life about two weeks, because we re-vacuum it after every pour," says Patrick Colombo, the chain's president and CEO. "But bottles are typically tapped out in about two days."
Crú remains ardent about adhering to proper wine storage temperatures, which the operation strictly controls. The chain holds whites between 54 degrees F and 55 degrees F and reds between 66 degrees F and 70 degrees F, depending on the type. "Many times, people drink wine that's too warm, so we try to regulate the temperature as much as possible," says Colombo. "When wine is stored at proper temperatures, the customer experience is enhanced."
Each restaurant offers 60 different wines by the glass or three 2-ounce flights. The full menu includes 16 flight options, but customers can mix and match from different vintages, vineyards or regions. The chain doesn't serve liquor.
Crú's menu centers on its small plates, which include artisan cheese flights; tuna tartare, a tower with avocados, tomatoes and olives served with warm flatbread; and baby lamb lollipops with a fig demi-glace topped with gorgonzola and prosciutto bits. Shareable by design, the dishes allow customers to taste multiple items with a variety of wines.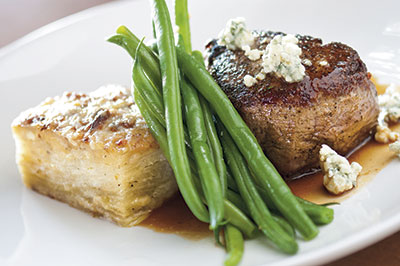 Crú Food & Wine Bar's dishes are meant to be sharable, so customers can have tastings with a variety of wine types. Photo courtesy of Crú Food & Wine Bar.Restaurant locations average between 1,500 and 2,100 square feet, with between 12 and 14 tables. "Due to our size, the management staff and sommeliers get to touch every table, and many times the chef delivers the food," says Colombo.
The European decor, featuring Venetian-plaster white walls with black trim and cognac-colored wood accents, provides a modern yet airy and intimate ambiance. There's no mistaking this is a wine bar, as bins and bottles are merchandised throughout the front of the house.
The view of the open kitchen, which encompasses about half of the restaurant's square footage, includes the wood pizza oven. "Unlike the majority of wine bars, where the menu consists of cold plates, cheese and crostini, we take a lot of pride in the culinary side of our operation," says Colombo.
In addition to the pizza oven, the simple cookline consists of an eight-burner range and deep fryer. A small cheese cave in the back of the house keeps products at the desired serving temperature, about 48 degrees F. "With traditional refrigeration, the cheese is too cold and flavor is impacted," says Colombo. "This method keeps varieties softer and more flavorful for immediate consumption."
Crú uses seven different types of stemware to serve its wine. The very thin yet upscale Austrian line of stemware helps enhance the varietals.
Female customers account for roughly 65 percent of Crú's clientele, mainly due to its locations in lifestyle malls. This greatly limits the competition. "Many operators don't want to get into chef-driven concepts that are small like this," says Colombo. "We also are one of the few in this segment that have been able to expand into multiple markets and
succeed without franchising."
In addition, Crú capitalizes on its Millennial customers, who have sophisticated palates, are more open to exploring new wine types and stay up-to-date on cult wineries.
Opportunity and Accessibility
Mark Ohlson, owner and sommelier of MJ's Wine Bar, focuses on educating customers about wine in an effort to make wine more approachable. Photo courtesy of MJ's Wine Bar.MJ's Wine Bar in Portland, Maine, works hard to take the smoke and mirrors out of wine tasting. "I drive a car and don't know what's going on under the hood, so instead of making people feel inadequate about wine, we try to provide knowledge that makes the process more enjoyable," says Mark Ohlson, the restaurant's owner and sommelier. "This also ensures customers will order what they'll enjoy most."
Since the wine bar opened three years ago, the educational component has grown, becoming the centerpiece of the restaurant. To accomplish this, Ohlson concentrates his efforts on training a staff that shares his passion for wine.
Initially, MJ's offered about 25 wines by the glass. Since it has incorporated a procedure that allows the wine to be accessed through the cork without opening the bottle, the restaurant has expanded its by-the-glass menu to include 45 varietals. Four coolers with five temperature zones are used for storage.
Honored as one of Wine Enthusiast magazine's Top 20 Wine Bars in America for 2015, MJ's is more apt to feature smaller producers from more obscure wine-producing regions, like New Zealand. It offers eight dessert wines and six sparkling versions by the glass. A short reserve list includes pricier selections.
"In the wine industry, Maine is about a year and a half behind California in terms of trends," says Ohlson. "Here, people are more apt to purchase a $25 glass as opposed to a $65 bottle, so we've begun offering high-end pours." MJ's also pours half-glass samples geared to provide value to customers at a price point that works for their commitment level.
The wine takes center stage here, complemented by a limited menu of cheese plates, nuts, olives and chocolate. The upscale selections range from Aussie, a combination of Australian cow cheddar, fresh apple and raspberry whole-grain mustard, to Bucheron, a French goat chevre that includes dried apricots and mint essence. High-end olives come from Greece, Italy and Morocco.
"We want to provide a good-size cheese plate, but we're not focused on making money on cheese," says Ohlson. "Food is only about 10 percent of our revenues."
Because theater holds a key piece of the concept, MJ's makes many of its cheese plate components in-house and in front of customers. Limited equipment includes an induction burner, which cooks down a compote and apricot chutney; waffle irons for Sunday brunch and a high-temp dish machine that doesn't impart chemicals on the crystal stemware.
"One of the things that's nice about not doing food is we don't chain ourselves to a specific wine type," says Ohlson. "This allows us to offer both European and non-European varieties, since we don't have to worry about food pairing."
A mix of clientele fills MJ's seats, which include 20 at the bar, 30 on the floor and 25 on the patio in summer. Still, the restaurant's bread and butter are regulars who come in four to five days a week, with the rush period typically happy hour and after dinner.
"It's important for wine bars to adapt to trends and listen to what customers want," says Ohlson. "Product knowledge is key, as is investing in staff."
| | |
| --- | --- |
| Growth of alcohol at restaurants, Q4 2012 - Q4 2015 | % growth |
| Shots (all) | -42 |
| Cocktail (all) | -9 |
| Liqueur (all) | -7 |
| Beer (all) | 10 |
| Wine (all) | 33 |
| Liquor (all) | 35 |
| Source: Mintel Menu Insights | |
| | |
| All wine at restaurants, Q4 2012 - Q4 2015 | % growth |
| Red wine | 22 |
| White wine | 33 |
| Non-grape wine | 39 |
| Sparkling wine | 81 |
| Dessert/fortified wine | 102 |
| Source: Mintel Menu Insights | |
| | |
| Top red wines at restaurants, Q4 2012 - Q4 2015 | % growth |
| Shiraz/Syrah | -30 |
| Merlot | 1 |
| Cabernet Sauvignon | 12 |
| Pinot noir | 36 |
| Red blend (all) | 39 |
| Malbec | 77 |
| Source: Mintel Menu Insights | |
| | |
| Top menued white wines at restaurants, Q4 2012 - Q4 2015 | % growth |
| Chardonnay | 11 |
| Pinot Gris | 21 |
| Riesling | 25 |
| Sauvignon Blanc | 67 |
| Muscat | 107 |
| Source: Mintel Menu Insights | |