Shipping container restaurants continue to pop up across the country, providing operators with an affordable and flexible way to start or expand a business.
The Utah restaurant chain, Even Stevens, includes a nomadic pop-up container that travels to different local events. Photo courtesy of Even StevensShipping containers may not be top of mind for restaurant operators as an option for housing a thriving foodservice business, but since being introduced to the industry about three years ago, this medium has been thriving.
Coffee shops, sandwich operations and breweries account for just some of the segments taking advantage of these low-cost, high-return and sometimes mobile facilities. While some use containers to test the waters in new markets, others are expanding operations in nontraditional or smaller spaces that cannot support a brick-and-mortar locale. Some traditional operators even use smaller-sized container restaurants like food trucks at events or in parking lots, most often to tote their goods and expand their reach.
In addition, a number of container parks have popped up in blighted areas, providing economic viability in neighborhoods that need it most. "This trend is something we started to see in small batches just a couple years ago," says Lizzy Freier, managing editor of menu analysis at Chicago-based market research firm Technomic Inc.
Although the big surge in these concepts is recent in the United States, containers have been used in Europe and Asia for years as restaurants, bars and residences. Experts say the container restaurant segment is now at the same place food trucks were in 2009, emerging as a viable alternative site and developing as more sophisticated businesses.
The low barrier to entry represents one key reason for the popularity of container restaurants. As more jurisdictions can accommodate containers, restaurant operators are growing more aware of the versatility these units provide.
Containers do not need a foundation and are suitable for use in blended spaces, parks, beaches and parking lots. Also, although similar in cost to food trucks, this mode is versatile and self-contained; containers can also be permanent and are typically tied to utilities. The larger container restaurants can accommodate refrigeration and, unlike food trucks, don't require a commissary for prep space or storage. Operators can specify full-size equipment, such as a traditional hood and exhaust system, depending on the menu and jurisdiction. In addition to being more versatile in terms of positioning and configurations, containers can accommodate more staff. Placing multiple containers side by side or stacking them can create more space as needed. And special insurance isn't required as with food trucks.
Container restaurants also mirror the much larger trends of sustainability and transparency. "Many of these shipping containers go unused for some time, so from a design aspect, these allow operators to focus on sustainable practices at their most basic — reduce, reuse and recycle," says Freier. "Also, with restaurants cooking and serving from these small shipping containers, transparency is a given. Everything is done in front of the consumer."
The Perch, Las Vegas
Las Vegas' The Perch container restaurant has a light and airy color scheme, with a glass wall overlooking the complex's performance stage.Formerly an events bar container operation in Las Vegas' Fremont Street East district, The Perch is part of a $350 million land redevelopment project that includes 42 restaurant and retail spaces comprised of repurposed containers. "We are in a rough part of town, the older part of Vegas, where money wasn't invested," says Dan Adams, director of food and beverage.
The ambiance is unexpected for a container restaurant, with a light and airy cranberry and yellow color scheme and a glass wall overlooking the complex's performance stage. The 600-square-foot restaurant seats 40 inside and 30 on its wrap-around balcony.
When the restaurant opened in September 2014, the concept started out with a French bistro and international theme, but over the past couple of years, it has gradually shifted toward international comfort foods. Signature dishes include quinoa tuna tartare; a tuna parfait with fresh mango, avocado puree, tuna, black radish and sesame seeds; roasted corn salad with avocado and chimichurri shrimp; and a chimichurri chicken sandwich. "Our biggest seller is our perch burger, finished with fried green tomatoes," says Adams.
The Perch's kitchen, which comprises just 30 percent of its total square footage, includes a six-burner range, oven, two-basket fryer, convection oven and charbroiler with refrigerated drawers underneath.The culinary team creates these dishes in a kitchen that comprises just 30 percent of the restaurant's total square footage. The main line includes a six-burner range and oven, two-basket fryer, two-door convection oven, and charbroiler with two refrigerated drawers underneath. A 10-foot-by-6-foot cooler, a two-door freezer and two sandwich stations make up the cold station.
As in the majority of container restaurants, storage poses an issue at The Perch. "My advice for those considering a container restaurant is to make sure the menu complies with the available space," says Adams. "We've had to eliminate food items due to the lack of storage."
Every space in the kitchen is occupied to the point where shelving had to be retrofit into nooks and crannies to create usable space. "We had to remove one of the two sandwich stations and prep tables/expediting stations to wheel in the two-door freezer and then reload the equipment," says Adams. "Our biggest challenge now is we can't find a salamander that's small enough to fit into our hood space."
Because the container has no insulation, which would take up even more valuable space, air flow is compromised. Even with air conditioning constantly running due to Nevada's hot climate, it can be difficult to keep inside temperatures balanced.
Mei Mei by Design, Boston
Mei Mei's low-cook, low-prep menu focuses on market bowl meals that combine sustainable and healthful ingredients.Boston's Mei Mei by Design's container restaurant is the third entity of a sustainable Chinese-American concept and highlights its commitment to serving food in innovative spaces as well as its goal to recycle and reuse as much as possible.
Located adjacent to other container operations on the promenade of the Innovation and Design Building, a mixed-use office complex in Boston's Seaport District anchored by the Boston Design Center, the small size provided the opportunity to set up shop in a space that won't fit a full-size restaurant.
The concept is run by siblings and co-creators Margaret, Andrew and Irene Li. Mei Mei's food truck debuted in 2012, followed by a brick-and-mortar location in 2013. The container began operations in November 2015.
Although experience operating a food truck helped get the container site off the ground, the siblings quickly discovered that the operations differed substantially. "The food truck goes back to our restaurant every night, which serves as its commissary kitchen, while the container is self-contained in terms of prep work and service," says Margaret Li.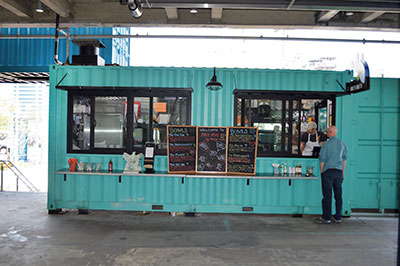 Mei Mei's 8-foot-by-20-foot container has no seating. Customers order from a window, similar to a food truck setup. Photos courtesy of Mei MeiThe 8-foot-by-20-foot container has about 160 square feet of usable kitchen space. Like the food truck, there is no seating, and customers order from a window to the outside.
Due to the lack of space, the foodservice equipment had to be carefully considered. Although no custom pieces were needed, it took some effort to find the appropriate sizes to ensure there was enough walkable space in the kitchen. "This meant rethinking the way we laid out drinks versus food versus prep versus food access," says Margaret. "The spatial layout of the equipment had to be more carefully considered than was typical, taking advantage of every square inch."
For example, a shallow bar refrigerator was utilized rather than a traditional lowboy. Also, changes were made with the hood based on local codes and fire department recommendations. A few inches of space were lost due to insulation requirements as well.
At the container's entrance is a storage area and sandwich prep refrigerator, with a hood, and food warmers with refrigeration underneath to the right. An oven sits adjacent to this area and near an upright refrigerator. Across from this section is a three-bay sink and prep sink as well as more refrigeration. "For this concept, we decided not to go with a grill or fryer, like we have in our food truck, due to the lack of space," says Li. "Instead, we can do all we need to do with a cook-and-hold oven and induction burners."
The container has a low-prep, low-cook menu that focuses on market bowl meals. This offers a mix of locally sourced, sustainable ingredients, such as grains, greens, meats and cheeses.
The Li siblings didn't expect the complexities of combining a small space with the hard-wired necessities of a traditional restaurant, such as plumbing, ventilation, heating and electricity.
"It helped to work with experienced professionals throughout the process, since a container operation involves both the creative thinking of a food truck but also the need to follow most of the same codes as a restaurant," says Li. "It's important to be open to adaptations, as surprises are sure to occur along the way."
The container operation recently expanded its offerings to breakfast and lunch specials, including a Scalzone, a scallion pancake calzone filled with egg, meat, cheeses and vegetables. "Containers provide restaurant operators with a great opportunity to run a business in an innovative, small space," says Li. "For us, it has been a nice feature in our array of business models."
Ska Brewing, Durango, Colo.
To accommodate a kitchen container add-on, Ska Brewing's existing exterior wall was removed, and the container size reduced 10 feet. Photo courtesy of Ska BrewingThree years ago, when Ska Brewing was seeking a year-round tasting room with a more permanent solution, the decision was made to replace the tacos produced in an on-site Airstream trailer with a more permanent menu prepared in a container kitchen.
"We needed the annual venue and wanted to continue with a tasting room food truck culture that is ubiquitous in craft brewing," says Jeremy Storm, general manager and executive chef for Ska Brewing's tasting room and container operations.
To accomplish this, an exterior wall of the existing building was removed, the container was reduced in size from 40 feet to 30 feet and then attached to the brewery. Service windows enable ordering from the outside, and a pass-through connects the kitchen to the tasting room.
The operation's vivid colors complement its craft beers and overall concept. The menu has a Caribbean and Creole flavor, and along with the beer, pays homage to ska music, a mixture of calypso, jazz and rhythm and blues. Along with sandwiches, salads and pizza, popular dishes include the jerk chicken sandwich and jerk smoked wings. Beer is a featured ingredient in many dishes, including the house-smoked pastrami sandwich topped with sauerkraut and beer mustard made from one of the brewery's IPA selections.
The full-contact container kitchen measures slightly less than 8 feet wide and has a nontraditional setup. Along with a lot of foodservice equipment overlap, it is a stretch for more than two people to be working at one time. "With what we wanted to do with the menu, we couldn't use standard-size ovens due to the smaller hood size, so we had to make do with a 30-inch size with four burners instead of a 36-inch with six burners," says Storm. "Also, the pizza oven was a kit we purchased and customized a stand to fit the footprint."
One of the challenges was working around the narrow prep area, which contains a compartment dish sink and vegetable prep sink. With the limited floor space, building up has been the most effective solution. As a result, the deli slicer found a home under the pizza oven on a hydraulic jack that can be pulled out for use.
The equipment lineup also includes a 35-pound fryer, a four-burner range with an oven in place of a convection oven, a 30-inch chargrill and a 36-inch lowboy refrigerator. The back of house also contains one pizza/cold station and one grill/pantry cold station, a 40-inch-wide custom pizza oven that holds four 12-inch pizzas, a standard three-
compartment sink, a hand sink and a prep sink.
In the tasting room, a half wall conceals a 30-quart mixer for preparing pizza dough and shredding cheese for pizza. The limited space can make it challenging to handle more than four to six food items at a time.
Because the goal was to create an exhibition kitchen in view of the beer garden, a number of windows were added to the original container.
"Fortunately, as a large brewery that produces 40,000 barrels a year, we have room for dry storage in an adjacent facility, but this is functional fitness for the cook," says Storm. "It takes climbing three sets of stairs to get to the warehouse, and our walk-in freezer is on the back side of the building, with stairs needed for access. When it's busy, there's an extra hurdle to get through the tasting room into the kitchen."
Despite the kitchen's limited size, this is a high-volume operation. The tasting room has 75 seats, and the brewery's second level accommodates 90 for private events. "With a container kitchen, it is important to be dialed in and think three steps ahead," says Storm. "Thankfully, we've seen an increase year over year in our business, but if we could have a double-wide container, we'd be happy."
Even Stevens, Salt Lake City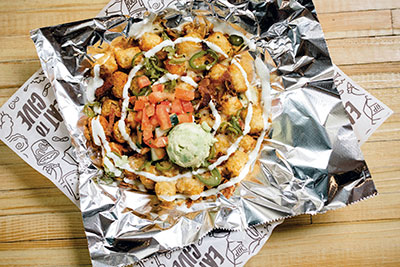 ne of Even Stevens' most popular menu items at both its brick-and-mortar and container sites is the Party Tots, a nacho-type dish made with tater tots.A craft-casual sandwich concept created by self-proclaimed serial entrepreneur Steve Down, Even Stevens has grown to six Utah locations and one site in Boise, Idaho, since it opened in 2014.
Not included in this number is a container pop-up shop, a nomadic operation created last March that travels to local events, such as the Utah Beer Festival and annual Craft Lake City DIY Festival. "This offers the complete Even Stevens experience, with four to five tables," says Jamie Coates, brand director. "We'll drop this at events that draw a couple thousand people, but also at those aligned with who we are, like a benefit concert or craft fest that supports local art and culture."
What makes Even Stevens unique is its philanthropic business model. Down sensed the turning tides with his kids' generation in terms of how the restaurant industry was becoming not just more environmentally aware, but also in tune with social issues. He came up with an idea to donate a sandwich for every sandwich sold.
Down brought in a team passionate about food and interested in working for the type of company that seeks to improve the lives of others, not just profit from the business. The restaurants and pop-up container business donate to four local nonprofits. At the end of each month, all locations tally the sandwich revenues and deposit these funds into Even Stevens' national food distributor's account. This is accessible by local nonprofits, which order food items directly from the distributor as needed.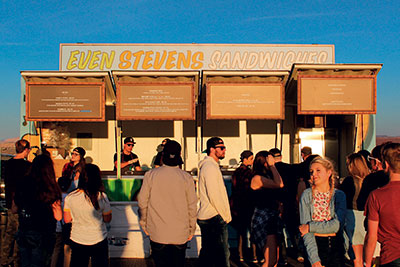 Even Stevens offers an abbreviated menu at its pop-up container operations that includes its best-selling sandwiches and salads. Photos courtesy of Even Stevens"Our partnership with our distributor is why we can scale this program across the country," says Coates. "Because nonprofits order food through the same channel, the same way as a restaurant, it's a great system for creating sustainable change with our partners. Rather than handing out premade sandwiches, we're allowing these charities to order the food on us to offset the cost of their programs."
In terms of logistics, because the container is larger than a food truck, transportation can be more challenging. "It's not as mobile, but we love telling our story of repurposing, so it's worth the logistic challenges," says Coates.
The concept's altruism goes beyond philanthropy, with all locations sourcing locally from farms, farmer's markets, regional breweries and independent coffee suppliers. "We want to support our communities by sourcing locally and inviting these companies into our supply chain," says Coates. "Every community has a favorite craft beer, bakery, cheese maker, etcetera, and we bring it together by coining our niche in the craft casual space."
Although the menu at Even Stevens' brick-and-mortar sites has more than 20 items, the container version has about 8. It focuses more on festival and portable food items, including the popular Mihami Vice, a take on the Cubano sandwich, and Party Tots, which are tater tot nachos with cheese, bacon, avocado, salsa fresca and garlic-roasted jalapenos.
The plan is to expand locations, while also testing markets with the pop-up concept. "We are a sandwich shop, but our concept goes far beyond that," says Coates.