Along with incorporating authentic and healthier ingredients, this cuisine has evolved to include other international flavors.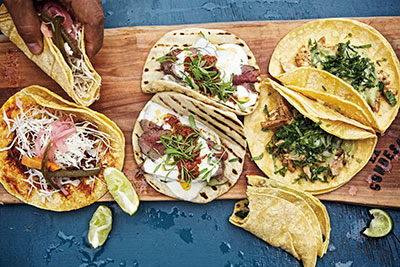 La Condesa's menu balances lighter ingredients and flavors compared with traditional Mexican food.As Americans continue their love affair with Mexican food, foodservice operators in this segment keep experimenting with unique and healthier ingredients — and now they are incorporating other ethnic flavors as well.
This Mexican fusion trend, which started on the West Coast and in Los Angeles, is quickly making its way across the country. "We're definitely seeing this with Korean and other ethnicities like South American and even African foods built into Mexican fare," says Jeffrey McNeal, president of Fessel International, an Arcadia, Calif.-based hospitality consultant. "Tacos also have become just another vessel for delivery."
A report by the National Restaurant Association (NRA) found that half of the consumers surveyed eat Mexican food at least monthly, while almost a third eat it occasionally throughout the year. Given the burgeoning U.S. Hispanic population, the opportunities for this cuisine continue to grow. The survey revealed 43 percent of respondents prefer to eat ethnic foods tied to their family's ancestry or heritage.
The preference for this cuisine is somewhat regional, with 62 percent of those in the West and 36 percent of those in the Northeast regularly eating Mexican food, according to the NRA. Fifty-seven percent of consumers eat this fare in full-service restaurants, compared with 37 percent at limited-service restaurants.
As the segment continues to grow, several recent developments have changed the landscape of Mexican fare. This includes operators increasingly incorporating Latin flavors and ingredients and Spanish language menus into their concepts in the coming years, according to the 2015 Hispanic Foodservice Consumer Trend Report from Chicago-based market research firm Technomic.
More restaurant operators in the segment combine international cuisines and ingredients that include Mexican components, such as cheeses, sauces, meats and spices. Latin American–Asian fusion cuisine remains on trend. Further, nearly two-fifths of U.S. Hispanics are bilingual, and these consumers visit restaurants most often and are the most adventurous diners of the three demographic groups, according to the Technomic report.
Authenticity represents the predominant trend for this foodservice segment. This doesn't necessarily entail that traditional Mexican dishes are on the menu but rather that the flavors and ingredients are reminiscent of these foods.
"These menus are typically centered on fresh, high-quality ingredients and food that is made to order," says McNeal. "Consequently, with production and equipment, these foods are not so much about holding, but more about display cooking in open kitchens."
Food safety, including safe food handling throughout the supply chain, represents the biggest challenge for concepts like these that rely on fresh and perishable ingredients. "The emphasis on fresh and local products changes the equation, which can be good and bad," says McNeal. "Food safety has to reign above all, and it's a challenge the industry will have to contend with."
A Differentiated Approach
The majority of the fresh ingredients used at Velvet Taco are prepped by hand.As its name implies, Velvet Taco is anything but a traditional Mexican concept. And corporate chef John Franke goes to great lengths to keep it that way.
His menu concept stemmed from taking creative dishes typically eaten off a plate and transitioning these into a tortilla. "We use a taco as the vessel or bowl to serve up flavors, profiles and ingredients not stereotypical of this medium," says Franke. "This represents an international landscape, with the taco not defining our brand, but instead representing a specific region or cuisine."
The restaurant works hard to overcome the expectation of rustic, cheesy and heavy ingredients by differentiating with a lighter Latin approach and unexpected twists. For example, the flank steak taco with grilled portabella mushrooms, onions and queso is a play on the Philly cheesesteak.
"We do have queso, but its red curry coconut queso," says Franke.
Velvet Taco's first location, in a building that previously housed a quick-serve chicken concept, opened four years ago in Dallas. Subsequent sites opened in Ft. Worth, Houston and Chicago. The chain plans to open additional locations in Austin as well as in cities in which it already operates.
Though Franke describes the concept as quick service, it is not in the same vein as Chipotle, since wait times average six to eight minutes. Each location uses an almost identical menu that includes between 16 and 19 taco varieties. Each site also features one signature taco. The Dallas taco features fried oysters, while Houston offers a soft shell fish taco. Chicago's pork belly taco pays homage to the city's beloved hot dog, while Ft. Worth's contains barbecue pork with fried jalapenos.
The traditional roasted chicken with queso, pico de gallo and cilantro taco is a top seller, along with a fried chicken tender and tzatziki sauce version that includes cilantro rice. Breakfast and vegetarian tacos are also available, but the meat and fish versions are the most popular.
"Everything is inspired by something, whether it's a plated entrée, region of the country or sandwich," says Franke. "There is a backstory for every taco, and there are no real duds on the list."
In Velvet Taco's first six months in business, the goal was to line up the four sites' menu offerings to streamline ingredient purchasing. The chain re-evaluates its tacos annually, and diligence is the rule of thumb. Typically, a simple shift in proteins occurs, such as switching out oysters for fried catfish, or the culinary team may opt to slightly alter a garnish, sauce or cooking technique.
One unique element is "WTF" — Velvet Taco's weekly taco feature— which is Franke's take on a current food trend that is offered at all locations. "We don't have to wait for a menu change to keep up with the trends, which is very freeing," says Franke. "Right now, we're doing a Nashville Hot Tofu taco, but we can include seasonal ingredients, such as peaches, fresh figs and wild Copper River salmon."
Like the menu, each location uses an identical decor package, one that simulates a Latin ambiance with a hot pink and green color scheme. The unfinished, industrial loft feel incorporates tall ceilings with exposed ducts. Customers sit on machinist stools at communal, hand-made wooden tables with iron legs. Square footage ranges from 3,200 square feet in Chicago's 3-story location to just 1,200 square feet for Velvet Taco's first location in Dallas.
The kitchens measure between 500 and 600 square feet and contain old-school equipment with a focus on efficiency and minimal labor. The cookline includes two fryers, a grill, a flattop and sauté burners, in addition to a glass-front wood-burning rotisserie that is visible to the dining room. "The vertical rotisserie is a signature item for us, and customers can see flames shooting out," says Franke. "Our electric cook-and-hold oven rolls anywhere we need it, operates 24 hours a day and has been invaluable."
Adjacent to the cookline is a worktop area with another flattop for heating tortillas, two steam wells for pulled chicken, pork and queso, and a cold sandwich table.
The biggest challenge with Velvet Taco's concept has been overcoming Texans' Tex-Mex expectations and differentiating tacos from traditional Mexican fare. "With the many new taco restaurants opening and big chains expanding, the challenge is staying fresh, on trend, international and different," says Franke. "We dare to be different."
A Twist on Tradition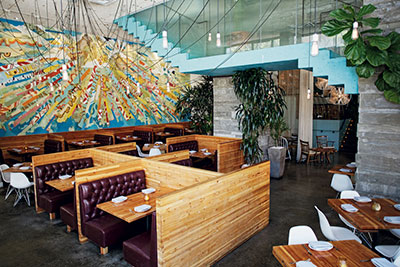 Austin's 145-seat La Condesa restaurant caters to a young, hip clientele.Located on the ground floor of a condo development in downtown Austin, Texas, La Condesa reflects the chic nature of its young and hip clientele.
The 145-seat, 2,500-square-foot restaurant has been pushing forward the idea of modern Mexican food with a new take on classic, traditional dishes. "When I travel to Mexico, I'm amazed at the balance of traditional and cosmopolitan," says executive chef Rick Lopez. "With my approach, I want the food to be something customers can relate to, but also blow them away."
La Condesa's menu offers a modern take on traditional Mexican fare.La Condesa's menu has evolved from the more authentic rustic style of grilled and fire-roasted items since Lopez took over the restaurant five years ago. Along with cleaning up the classic ingredients by adding more vegetables and incorporating lighter flavors, Lopez balances acidities and chilies whenever possible.
While lunch offerings include the more familiar fare of tacos, tostadas, tortas and ceviche, the more upscale dinners include pan-roasted grouper with glazed potato, black garlic puree, chayote slaw and chile de arbol vinaigrette; roasted cauliflower steak with chipotle raisin puree, marcona almond, chile de arbol vinaigrette and garlic-cauliflower soubise; and grilled hanger steak with garlic mojo, bone marrow, beef tongue and radish.
"Our kitchen is tucked in the corner and only comprises about 20 percent of our restaurant space," says Lopez. "I'm still amazed at what we can push out of there."
The traditional straight cookline includes an oven, a wood-burning grill that's fired up with oak as well as a salamander for roasting vegetables. Culinary staff prepare tortillas on a plancha in the center of the kitchen and also use a French top griddle, cooking on the hot center and warming on the outer circle. A circulator prepares cauliflower steaks and eggs.
"We have started playing around with our grill ashes to develop unique flavors and tapped into cooking techniques from Oaxaca and Chihuahua, Mexico," says Lopez. "Old-school tools and techniques are fun, and we often use mortar and pestles for salsa and crush chiles by hand."
For this high-volume restaurant with multiple covers during the week and in the evenings, it is necessary to cater to the crowds by mixing traditional dishes with unique flavors. "We need to push forward ideas the regular diner hasn't always thought about with Mexican cuisine, such as peasant dishes," says Lopez. "It's all about balance; we want to educate our customers and open their palates up to different regions, but not go too far out of the box."
Community Validation
Taco Bamba has minimal sit-down space and relies on its thriving carry-out business.Falls Church, Va., may not seem like a hotbed for Mexican cuisine, but since opening there in 2013, Taco Bamba has been contending with thousands of covers a day and consistent lines around the block.
At this 1,000-square-foot operation with no dining room, a speed-food concept is built around an innovative menu of authentic Mexican street fare. "The entire operation is really unique, and in our case, we don't use the word 'phenomenon' lightly," says chef Victor Albisu. "There are lines all day long, so it's a great testament as to what good food can do."
Located in a predominantly Hispanic community, the restaurant is three doors down from Albisu's mother's Latin market. Taco Bamba was originally conceived as an authentic Mexican concept but evolved from traditional tacos to the chef-driven variety.
The eatery soon became sought after for its innovative versions of Mexican-style street food, and its demographic quickly expanded to include professionals from surrounding businesses, in addition to blue-collar workers, day laborers and stay-at-home moms.
Taco Bamba's offerings continue to evolve with changing food trends."Now we have the most interesting and expansive clientele mix from the neighborhood and surrounding areas," says Albisu. "While this is a fun and cool environment, it can be daunting and intimidating for first-timers."
The menu constantly evolves for this mainly carry-out business that has customers piling around 12 waiting-area seats. Most eat standing up.
Those entering the packed restaurant for the first time generally veer toward the familiar, more approachable items such as the carne asada, one of Taco Bamba's best-selling items. But returning customers tend to venture out into the more unique dishes, including the popular crispy fried tilapia taco with squid aioli and spicy citrus slaw or the soft shell crab taco with Green Goddess dressing, spicy slaw and chicharrones. The french fried taco simulates the Canadian poutine, combining spicy mayo, escabeche onions, Cotija cheese and bacon. Arabe is a version of Greek chicken souvlaki with ancho mayo, cucumber pico and chipotle yogurt.
"We do have menu mainstays, but as the concept grows and as we look for other locations, we will change our tacos and evolve our offerings," says Albisu.
The kitchen makes up a majority of Taco Bamba's square footage, and includes a plancha, grill, range, cheese melter and fryer. A food processor also is constantly prepping the restaurant's many ingredients. Durability is the key factor with this equipment, as dishes are produced nonstop throughout the day.
The operation's success has led to additional Taco Bamba locations opening in Vienna and Springfield, Va., that will include seating and a full-service bar. "It's our goal to make sure everything we serve is authentic," says Albisu. "We want to inspire people's memories of Mexican food."