More often, retirement community foodservice programs are reflecting the trends of retail restaurants, with from-scratch cooking, local fare and cleaner, more nutritious ingredients.
Seventy percent of people over 65 years old require some form of long-term care, according to the U.S. Department of Health and Human Services. And more than 733,300 older adults reside in senior living communities. With the aging of Americans and a more discriminating clientele on the horizon, continuing care retirement communities (CCRCs) will continue to grow and evolve in the years ahead.
Along those lines, a growing number of CCRCs continue to shun the more institutional approach of the past and now formulate their operations around resident requests. Looking specifically at the foodservice component, this approach results in more individualized programs that include a diverse choice of meals, more upscale dining environments with a restaurant setting and a focus on customer service.
"There has been a culture change with today's initiatives," says Virginia Ohanian, culinary and nutrition services director for St. Andrews Estates North in Boca Raton, Fla., an ACTS Retirement-Life Community.
In newly renovated communities like St. Andrews, residents have more dining options, ranging from formal dining rooms to branded restaurant concepts and smaller neighborhood eating areas with homelike atmospheres. CCRCs also cater to residents' desire to be more nutritionally savvy. The menu production program at St. Andrews provides residents with nutritional values, including fat, sodium and sugar contents. "Food is now cooked to order rather than prepared in batches, and residents are experiencing more of a one-on-one relationship with the cooks and waitstaff," says Ohanian.
Additionally, a growing number of CCRCs now place a greater emphasis on dining's social aspects. For example, operators now plan more events and activities around meals, such as food demos with action stations, cooking contests and theme nights.
To deal with space constraints in the back of the house, more CCRCs now turn to multifunctional equipment,
including combi ovens and blast chillers. "Chefs in these facilities want the functionality without spending a lot of money," says Ohanian. "Cleanability, space efficiency and value also are paramount with CCRC foodservice equipment."
Successfully Interfacing
Variety is the hallmark of Heritage Community's foodservice program.At Heritage Community of Kalamazoo, Mich., the foodservice program uniquely centers on staff interaction, essentially putting a face to the food. This CCRC, which was first established as a skilled nursing center in 1945, provides its approximately 400 residents with a menu that includes shrimp scampi, Asian cuisine and meat-carving action stations designed to get staff members in front of residents on a regular basis.
"Rather than cooks, we've hired chefs with country club experience and have purchased more equipment to handle our made-to-order menu," says Mark Hudgins, Heritage Community's director of dining services. "Our executive chef, Jeff Hanson, is a Culinary Institute of America graduate who formerly ran banquets at Las Vegas' Bellagio Hotel and Casino."
Heritage Community implemented a number of initiatives to elevate its foodservice program to the next level. Three years ago, chefs at the independent living, assisted living, memory care and skilled nursing care communities began holding a cooking competition judged by residents — and in the process proved that, when it comes to foodservice, all communities are created equal. The skilled-care sous chef, Jon Prolo, won the top prize twice in the last three years.
Chefs also regularly hold food tastings that allow residents to provide feedback about menu items. This helps keep dining service survey satisfaction scores in the 90th percentile. The most popular dishes include Michigan grilled chicken salad made with fresh apples, blueberries and cherries, as well as prime rib, grilled salmon, made-to-order omelets, Asian stir-fry and barbecue ribs.
The foodservice program's outreach extends to other Heritage Community staff members. "We've been really successful in terms of building community and relationships with residents and staff," says Hudgins. "A few times a year, we serve a family-style meal, where our management, nursing, housekeeping and laundry staff sit down to eat with residents."
Because many residents can no longer travel, Heritage hosts events that highlight international cuisine throughout the year. "It's about life enrichment," says Hudgins. "With our menus, we take advantage of the holidays, such as St. Patrick's Day and Cinco de Mayo, although Mother's Day and Easter are really big here too."
The foodservice operation that supports this multifaceted 27-acre senior care campus uses four main kitchens, with three feeding multiple communities, and two satellite kitchens. These kitchens service four main dining rooms, five smaller neighborhood dining rooms and four formal dining areas for residents and their families. Seating accommodates 88 for independent living and 110 for skilled care; a pair of separate dining rooms for assisted care seat 70 and 30. Dining services staff also handle room service orders.
The independent living segment's menu is the most flexible, as it continuously evolves and takes advantage of seasonal items. It also includes a base menu shared with the assisted and skilled care communities. "We used to have two main choices on this menu, with four to five other items, but we've expanded on this to include specials and other dishes that are reevaluated as needed," says Hudgins. "Our menus rotate but aren't on a specific cycle."
Meals are made to order at cooklines that include a griddle, char grill, fryers, stove tops and convection ovens. "A couple of our facilities don't have char grills, so staff will mark steaks at one kitchen and finish them off in another," says Hudgins. "Also, when I came here, there were only a couple of deep fryers, so we added more to provide authentic fried food."
The skilled nursing care kitchen is undergoing a renovation to better support its made-to-order program. This will include a puree station with three blenders and a wash sink. Only between 5 and 10 residents require pureed food, which used to be prepurchased. Because these offerings didn't match up to what the menu offered, Heritage Community instituted a new program that molds purees to look like actual dishes.
"We can make puree look like a real burger or grilled cheese, for example, and all the flavor components are there," says Hudgins. "As a result, we've seen a lot more use of smaller food processors in this segment, and all of our kitchens employ these."
Because staffing typically emerges as one of the biggest challenges in CCRC foodservice, Heritage Community teamed up with the Association of Healthcare Foodservice and the American Culinary Federation to develop a culinary apprenticeship program for this segment. The goal is to provide staff at senior care communities with culinary skills that are not typical in healthcare environments.
A Local Perspective
A built-in outdoor barbecue station was recently added to the Gazebo Grill, a retail dining concept at OceanView at Falmouth, run by Glendale Senior Dining."Local, innovative and compassionate" is the tagline for Glendale Senior Dining Inc., a foodservice provider for the not-for-profit market located in Manchester, N.H. The tagline also aptly describes the company's operations at OceanView at Falmouth, a Maine CCRC.
The foodservice operation at OceanView aims to use mainly local products sourced within 30 miles of the community for its meal ingredients. When these items, which include locally caught fish and seafood, free-range chicken and eggs, organic Maine beef and coffee from a local roaster, are depleted, the chefs will substitute other items.
"We also have to take into account how far the vendor is willing to travel to deliver products," says Todd Lindsay, who handles Glendale Senior Dining's new business development.
OceanView at Falmouth is a traditional CCRC that houses 40 people in assisted living and about 200 people in independent living. It includes a combination of cottages, apartments, condominiums and a main assisted living center. A separate building houses 25 dementia care residents.
A foodservice director reports to OceanView's general manager and handles the meals for independent living, assisted living and memory care operations. With this program, those housed in independent living are allotted seven meals a week, including five dinners and a Sunday brunch. Assisted living residents have three meals daily and can choose from multiple meals.
Fresh fish dishes are popular menu items at Glendale Senior Dining's OceanView CCRC.Popular selections include soup and dessert made from scratch and fresh local fish, including haddock, cod, scallops, striped bass and rainbow trout. "Fresh fish is a big mover in the northern part of New England," says Jim Hecker, president of Glendale Senior Dining. "We've taken over locations where residents won't eat salad or soup, but when we offer them fresh fish, they're happy."
In addition to the main dining room, which offers formal dining five nights a week, the independent living community includes the Gazebo Grill, a retail restaurant. Open seven days a week for breakfast, lunch and dinner, the menu includes paninis, salads, soup and dessert made to order.
"It's like a combination of Panera and Starbucks," says Hecker. "This restaurant was recently renovated to expand the seating and add a built-in outdoor barbecue station."
OceanView's specialty dining room, Whipple Farmhouse, provides residents with gourmet dining two nights a week by reservation only. Chef Chris Ventimiglia, who also handles the on- and off-site catering program, prepared the menu at Whipple Farmhouse. Catering is big business at this community. A lobster dinner that included chowder, clams, corn on the cob and strawberry shortcake attracted hundreds of residents and their families last summer.
Three full kitchens and a satellite kitchen, ranging from 1,500 square feet to 2,500 square feet, support OceanView's foodservice program. This basic setup encompasses six-burner ranges, convection ovens, steamers, mixers, steam tables, walk-in coolers and freezers, ice machines, and dishwashing areas.
"An in-house pastry chef bakes bread from scratch at many locations utilizing convection and conventionally heated ovens," says Hecker. "People underestimate the impact of fresh-baked rolls and bread, and desserts are big with the senior population."
Other aspects of the foodservice program include a meals-to-go program and sick trays for assisted living residents.
Not content to rest on its laurels, planning is underway at Glendale Senior Dining to be ready to accommodate the shifting foodservice requirements new generations of residents will bring with them. "The next group coming in will be expecting multiple venues, branded concepts, gourmet dining, international cuisine, and vegetarian and vegan options," says Hecker. "These seniors will require a different cadre of foodservice choices, not just for CCRCs, but also in traditional retirement communities."
An About Face
Presence Resurrection Retirement Community has focused on creating more of a restaurant setting for its tabletops rather than a more typical institutional look. Like an increasing number of senior communities, Presence Life Connections has made big moves away from being an institutional setting and is now offering its residents more of a fine-dining experience.
One game-changer was a combi oven with smoker attachment incorporated into the program two years ago. "It has not only allowed us to provide smoked ribs but also brisket, chicken, cold-smoked salmon and other items we couldn't previously offer," says Thomas Ryan, director of food service at Presence Resurrection Retirement Community. "It is a very versatile piece of equipment."
Another key piece of equipment, an extra-large deli well that holds ingredients on top and provides storage below, has helped the communities to expand cold meal offerings, such as salads and deli sandwiches. "What we have in place is an alternative menu with items that are always available, and this unit provides additional choices and variety," says Scott Dahlin, district manager for Presence Health's foodservice provider, Unidine, which was brought on about two years ago.
In the front of house, china and glassware have replaced single-use disposable tableware in an effort to enhance the dining experience and provide restaurant-style service.
Baby Boomers remain the impetus behind the shift from institutional to restaurant-style dining in terms of menus and service, yet these facilities must accommodate multiple age ranges. "For this reason, we create menus that transcend generations," says Dahlin. "For example, there's the meatloaf and comfort food contingent, then those who prefer dishes with a unique twist, like mac and cheese made with smoked cheese and chicken breast."
It can be a challenge to be versatile on a large scale. Presence Health is the fifth-largest Catholic health provider in the nation and includes an array of healthcare and senior living operations. It operates 27 senior living campuses in Illinois, including skilled nursing and rehabilitation centers and retirement communities, the latter of which have an average resident age of 87.
Each facility has its own menu specific to the community and created by a food committee made up of residents and community members. These include seasonal dishes and operate on a four-week cycle. As a scratch-cooking foodservice company, Unidine culinary teams roast meats, make salad dressings and bake in-house.
"We are constantly updating dishes based on the availability of ingredients," says Ryan. "But staples like meatloaf and ribs are very popular."
Within the system's skilled nursing and rehabilitation centers, a registered dietician assesses new residents to determine if any dietary needs or restrictions should be adhered to. Still, the focus tends to be on liberalized diets with low sodium and healthful preparation.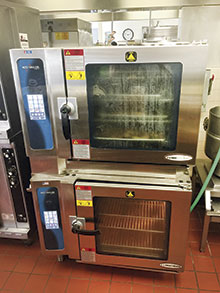 The addition of combi ovens has enabled Presence Resurrection Retirement Community to expand its foodservice offerings. "Our meals are prepared using steamers, convection ovens and burners; there are no fryers in the kitchens," says Diane Cobb, dining service director at Presence Resurrection Life Center.
Due to a more health-conscious and savvy senior population, Presence has turned to local produce suppliers who can provide insight on where fruits and vegetables are grown.
There are other initiatives unique to the senior care segment. For example, Unidine's Puree With Purpose program utilizes molds and piping tools to create more appealing dishes that have a traditional appearance. Another program incorporates grains like quinoa and bulgur into dishes to up the nutritional quotient.
"We serve guest trays for residents' families at the Life Center, and they are pleasantly surprised at the quality of the food," says Cobb. "Our foodservice program is very well received, [which] is reflected in our residents' satisfaction scores."